What you need to know about a Kohler pull down faucet
Last month our old faucet that I talked about here stopped working like it was suppose to. The idea of state of the art, 'no touch to wash your hands and do the dishes' was to good to be true. I'll share a review of that faucet down the road. Since washing hands and dishes is a critical component in the kitchen, we had to find a new one. We went with the Kohler pull down. And I love it.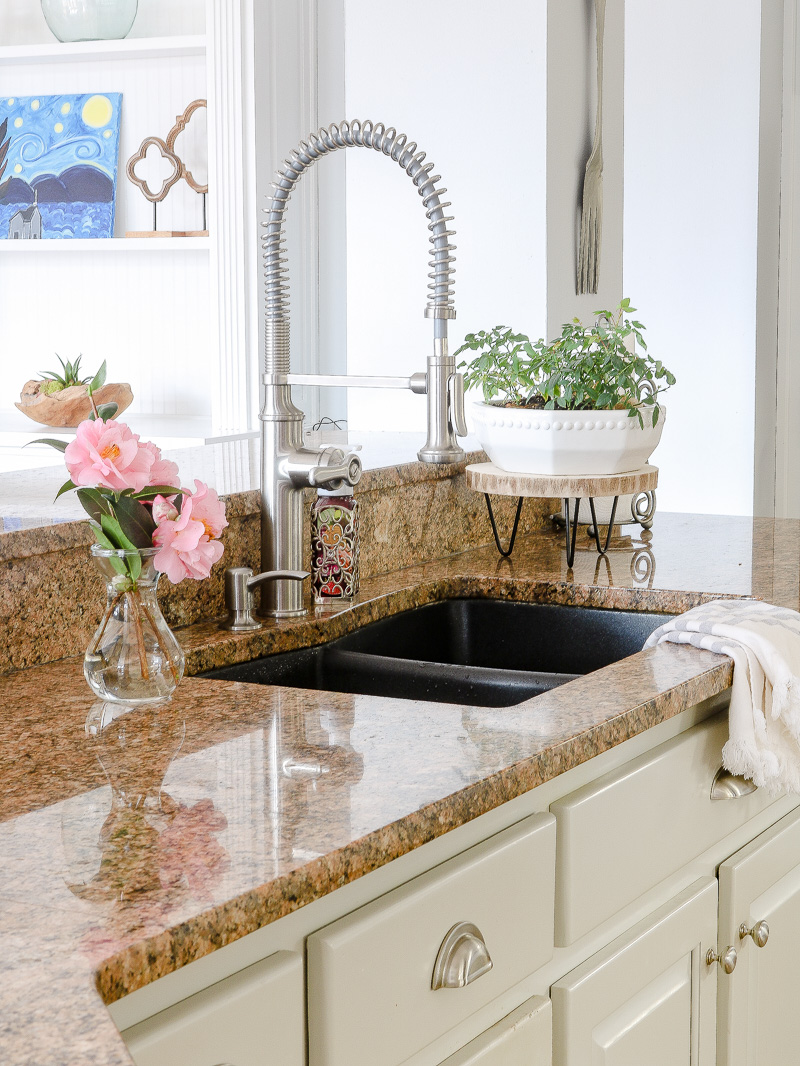 Never in my wildest dreams did I think I would be writing about how much I could love a kitchen faucet…..but I do. This faucet is not only interesting to look at, it's also pretty . It has amazing features that would work well for any kitchen. I had actually wanted this style faucet when we needed to replace the last time, but hubby came home with the touchless one. Not surprising, he's a gadget guy. Since I'm into design and how something looks in a room…. this Kohler faucet does not disappoint.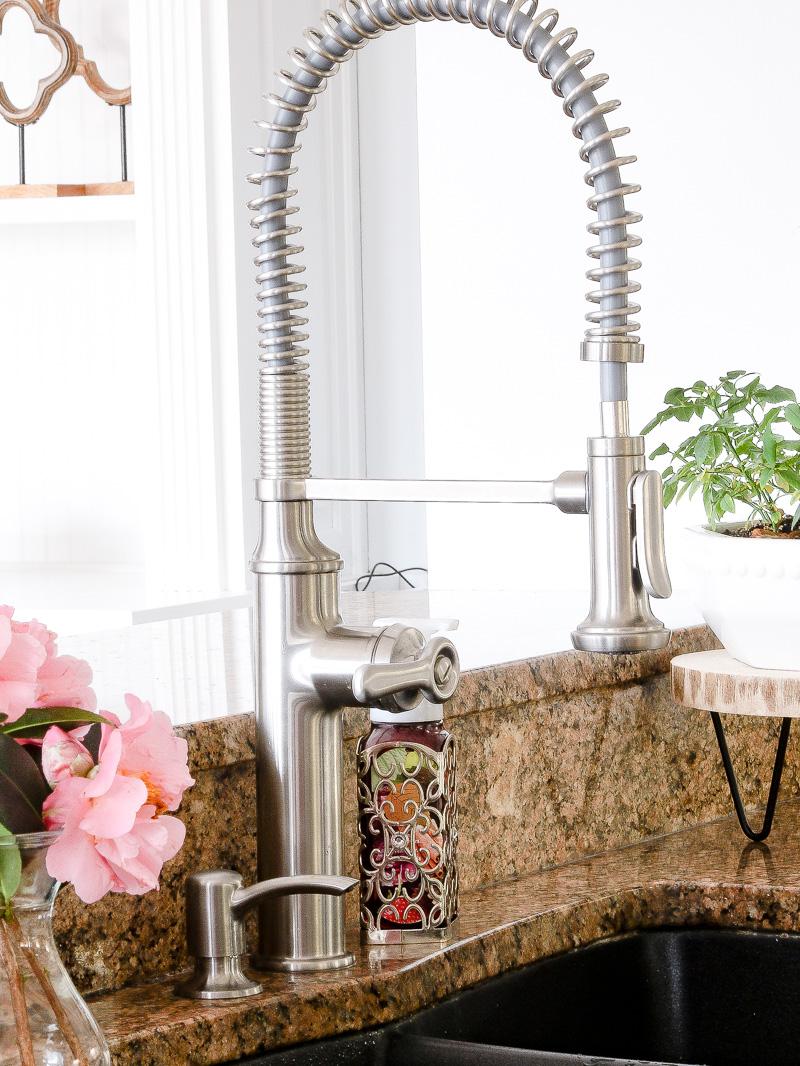 Pull down feature
Because of the distance between the sink and the neck of the faucet, the pull down feature let's you get closer to the items in the sink without splashing water everywhere. I also like that the spring is pretty heavy duty, so there is no chance that my kids will pull the coils off.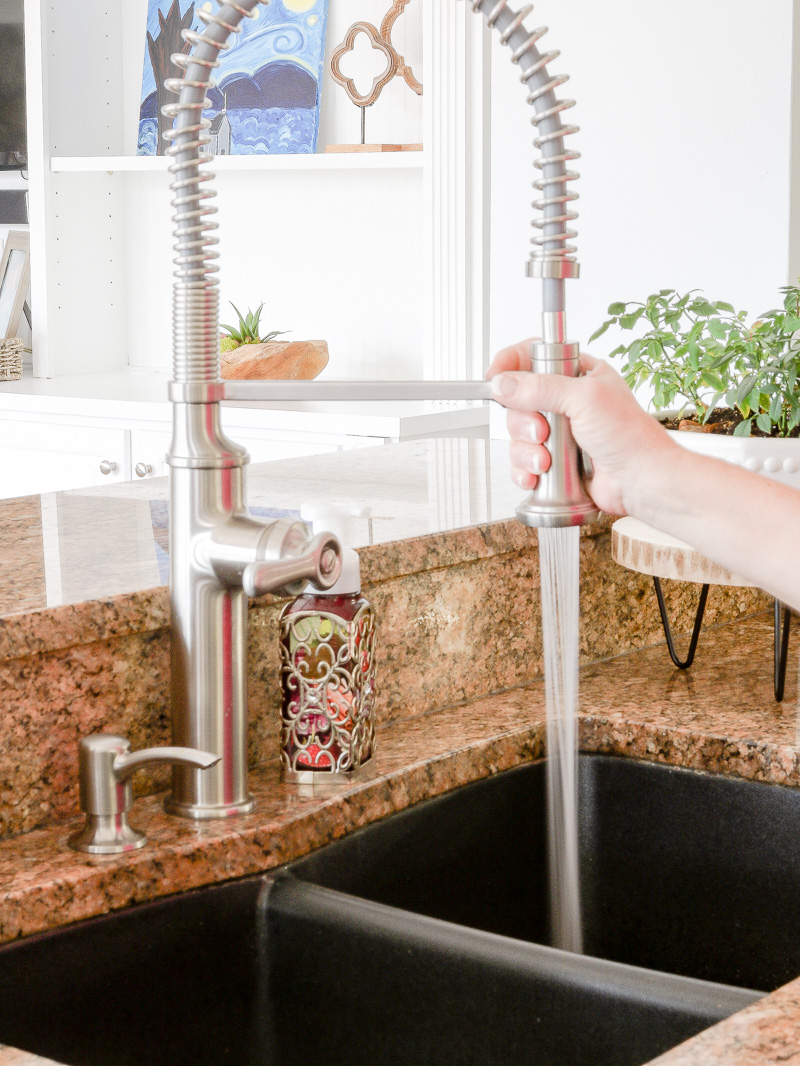 Spray feature
I love this feature the best. The spray feature let's me rinse my dishes off in less time because of the power of the spray action. The neck can rotate 360 degrees so it moves easily into either sink. Perfect if you want to spray off the kids while they are sitting at the counter. Ha..just kidding….not really.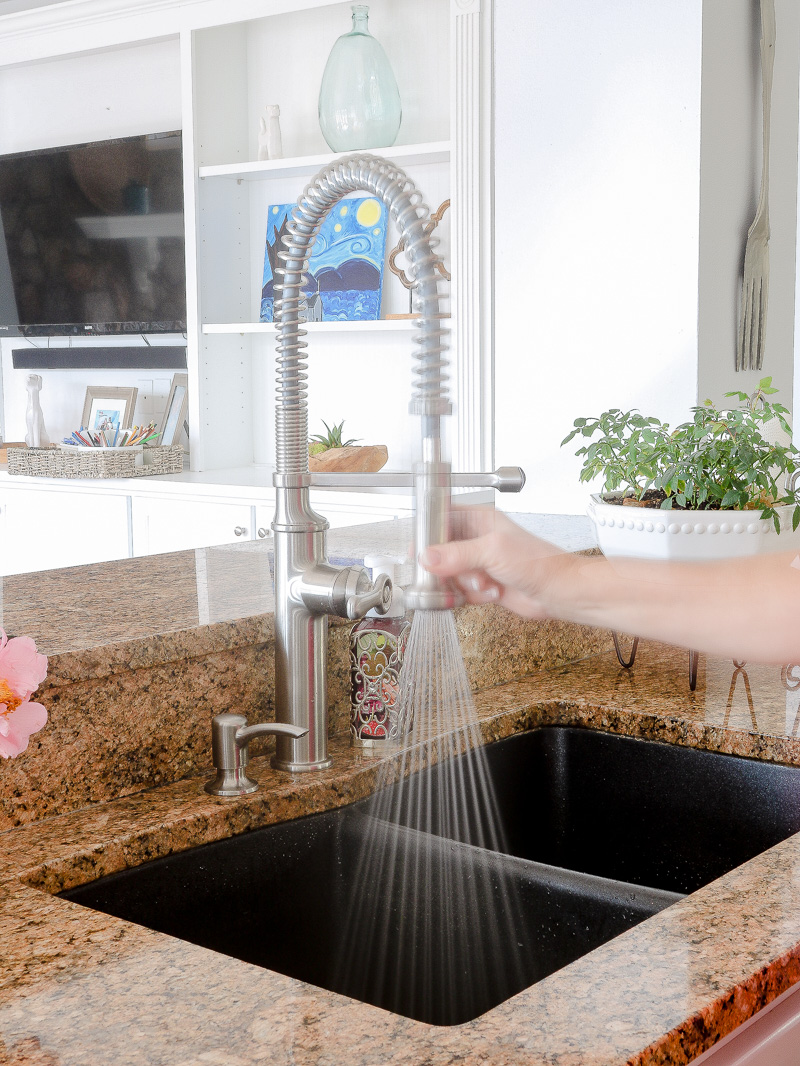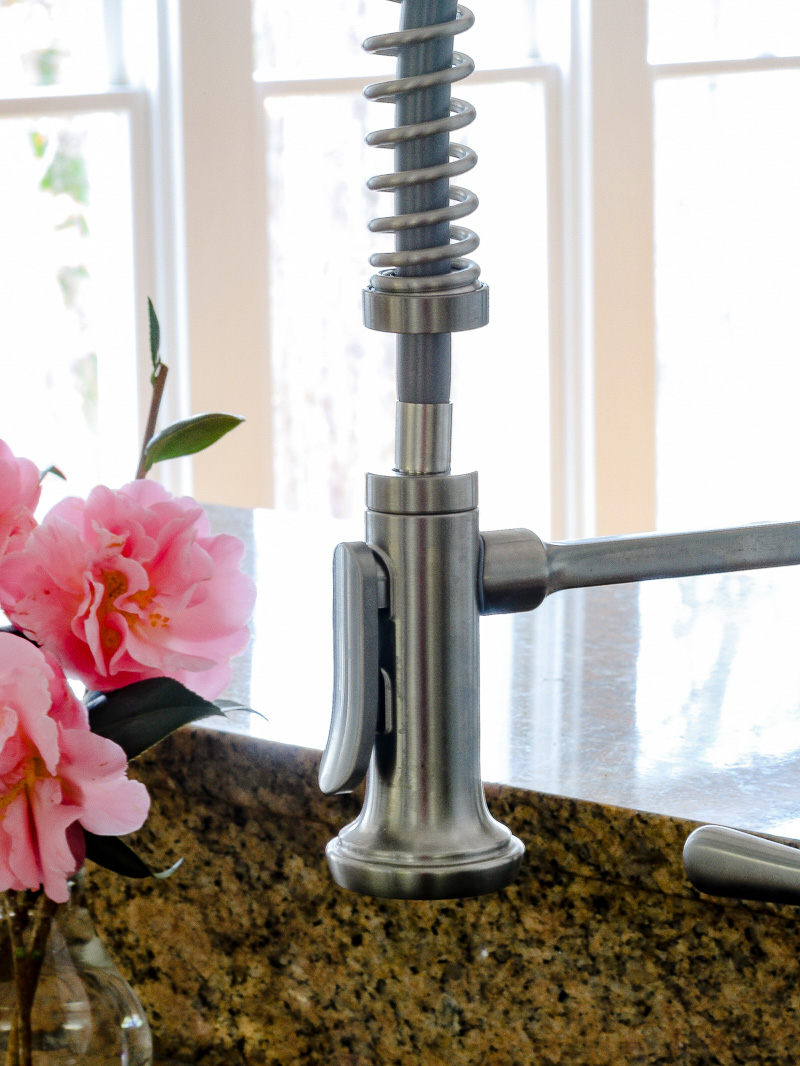 This is the Kohler Pull Down Kitchen Faucet with Soap and Lotion dispenser in vibrant stainless finish. Installation is relatively easy that I probably could have managed it, although my hubby installed it. The only glitch we had was I have 3 holes cut in my granite and you only need 2 holes with this faucet. Prior to getting this dispenser for hand soap, I covered it up with the soap bottle. The faucet cost $250.00 and I picked it up at Home Depot, although I am sure that any hardware or plumbing store that sells Kohler would have it. It comes in Stainless or Chrome finish.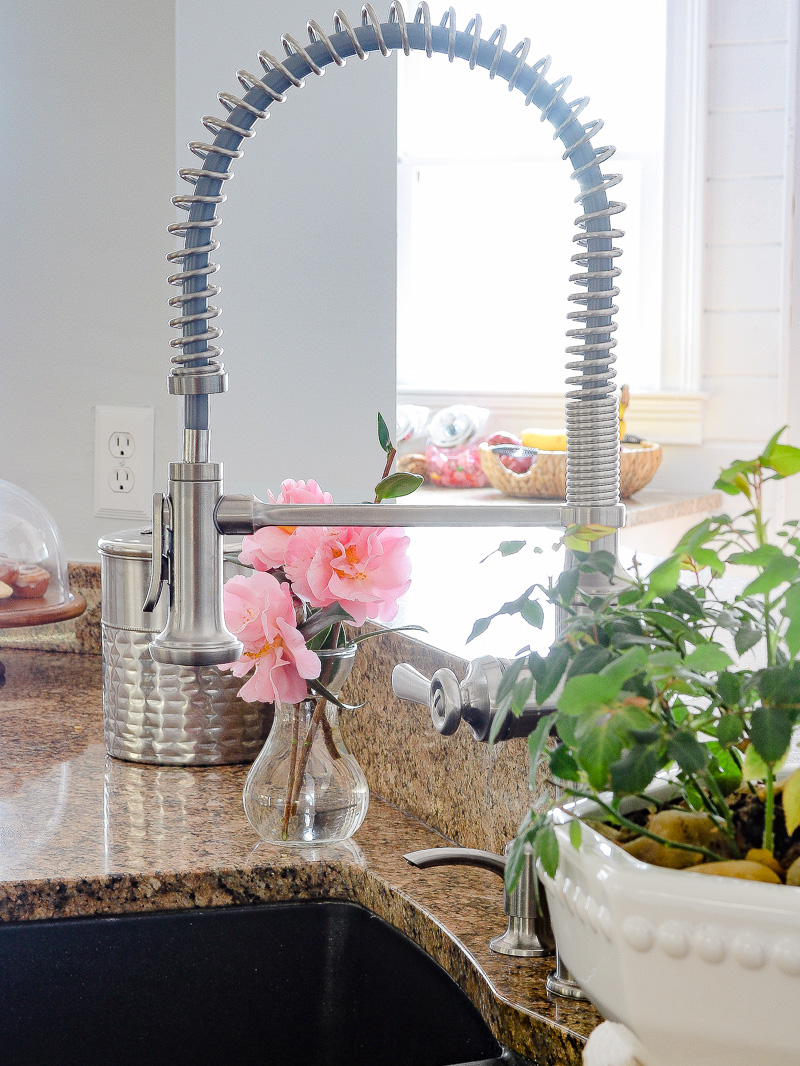 The new faucet makes doing dishes a tad bit more enjoyable these days!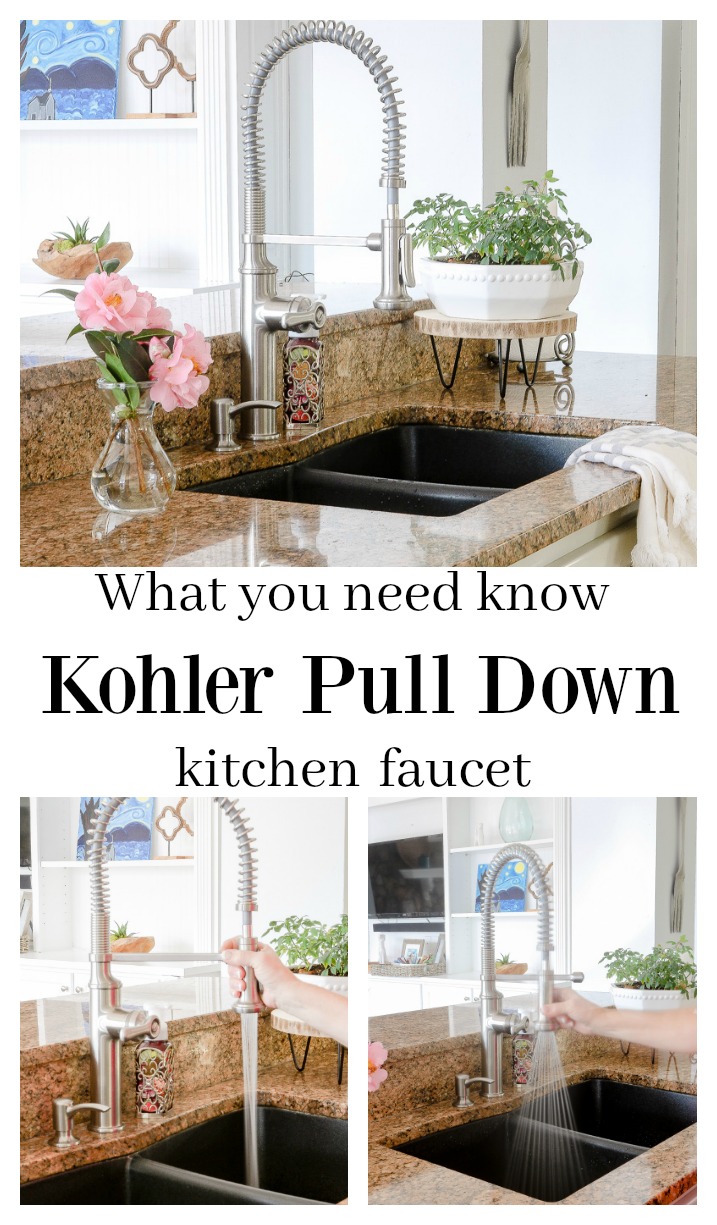 grateful
for a hubby that cooks
affiliate link used