What to look for when buying a new refrigerator.
About 8 months ago our refrigerator stopped working. Just .Like. That. Although we had not planned it, we expected it. For 15 years it served my kitchen proudly. We had a GE Profile and loved it. When we bought it when we first moved into the house, it was just my husband and I so it was sized perfectly. Since then, the family grew and so did our need for a bigger refrigerator.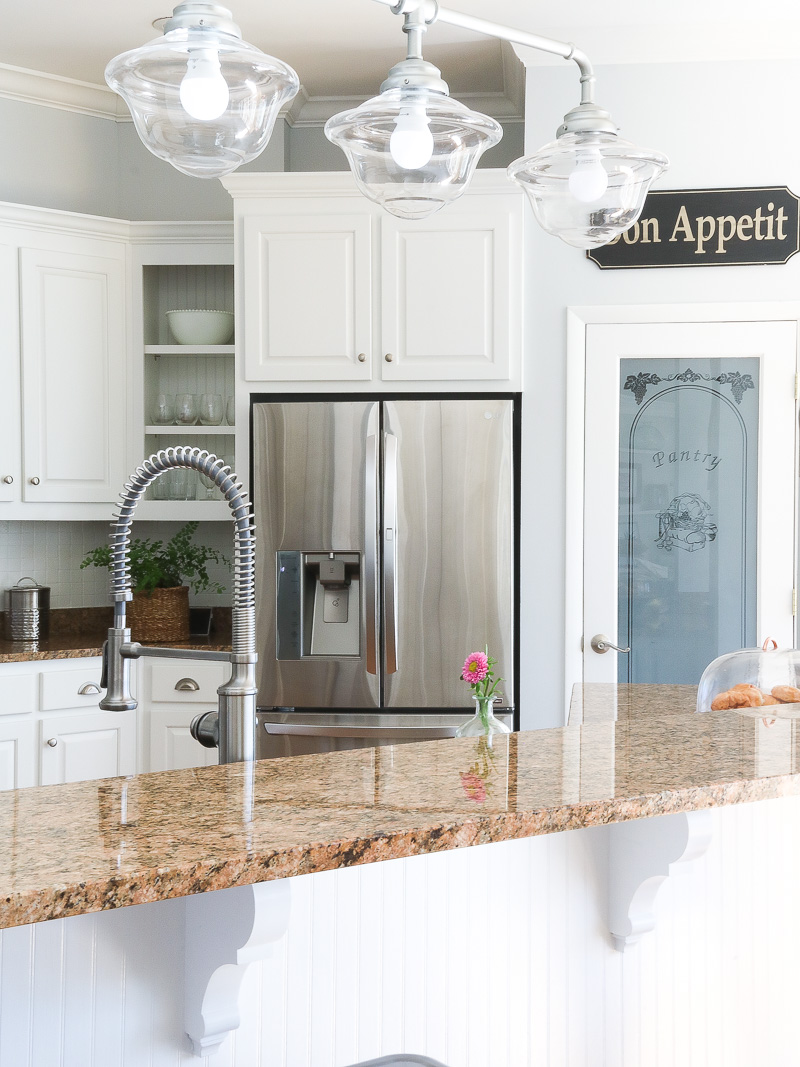 When it stopped working, we decided to buy a temporary one ( think back to your first apartment ) that we could use until I figured out what direction I wanted to go with the appliances. Color, brand and size. Since my appliances were all black in my kitchen and I knew I wanted to transition to something else, I was also mindful of timing and waiting till I needed to replace another appliance as well. But honestly, 8 months was as long as I could wait until my dorm size, with no ice maker refrigerator would last.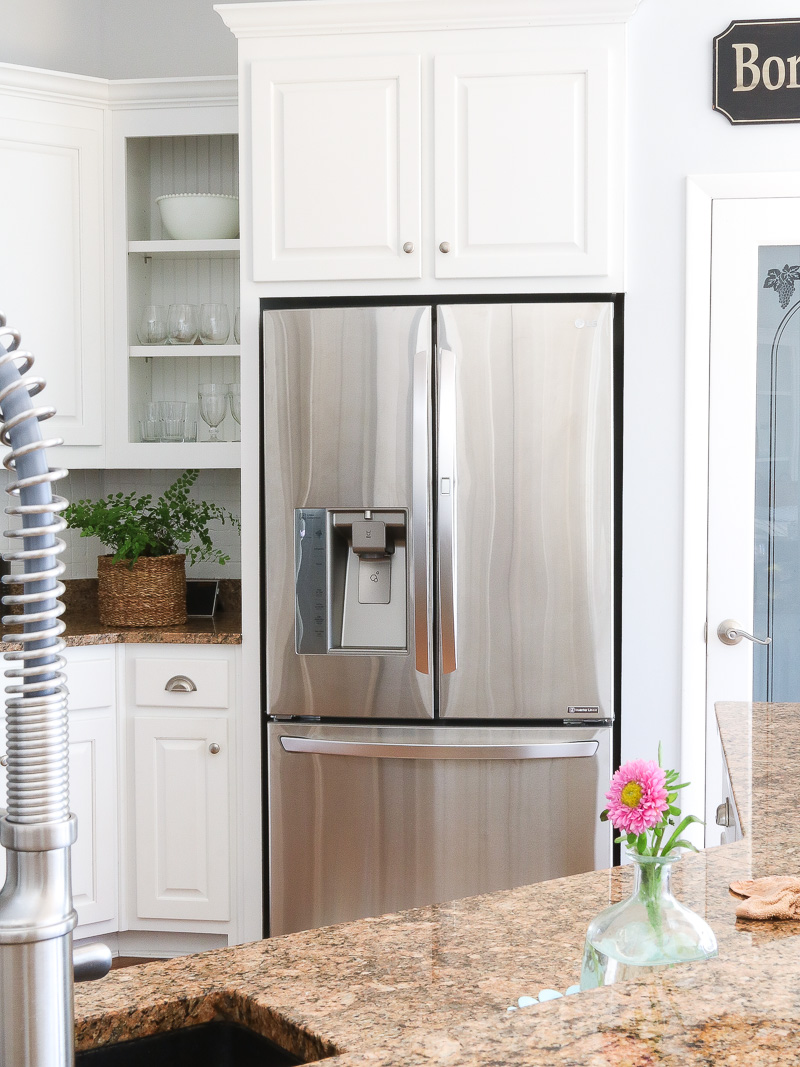 So I figured out what I wanted and we shopped around for the best price and got an LG French Door Refrigerator. I bought the 28.5 cubic feet in stainless steel. It has so much more space then my previous GE one. I had the Profile model. We have only had it for 2 months but so far so good. And if you asked my kids, ice never tasted so good. Here's a few things to keep in mind as you shop for a new refrigerator based on my experience.
What to look for when buying a new refrigerator
What will fit
Before I began looking for something new I took measurements of our existing area to see what would fit. Since re configuring the current opening was not an option I had to find something that was going to fit seamlessly into the space.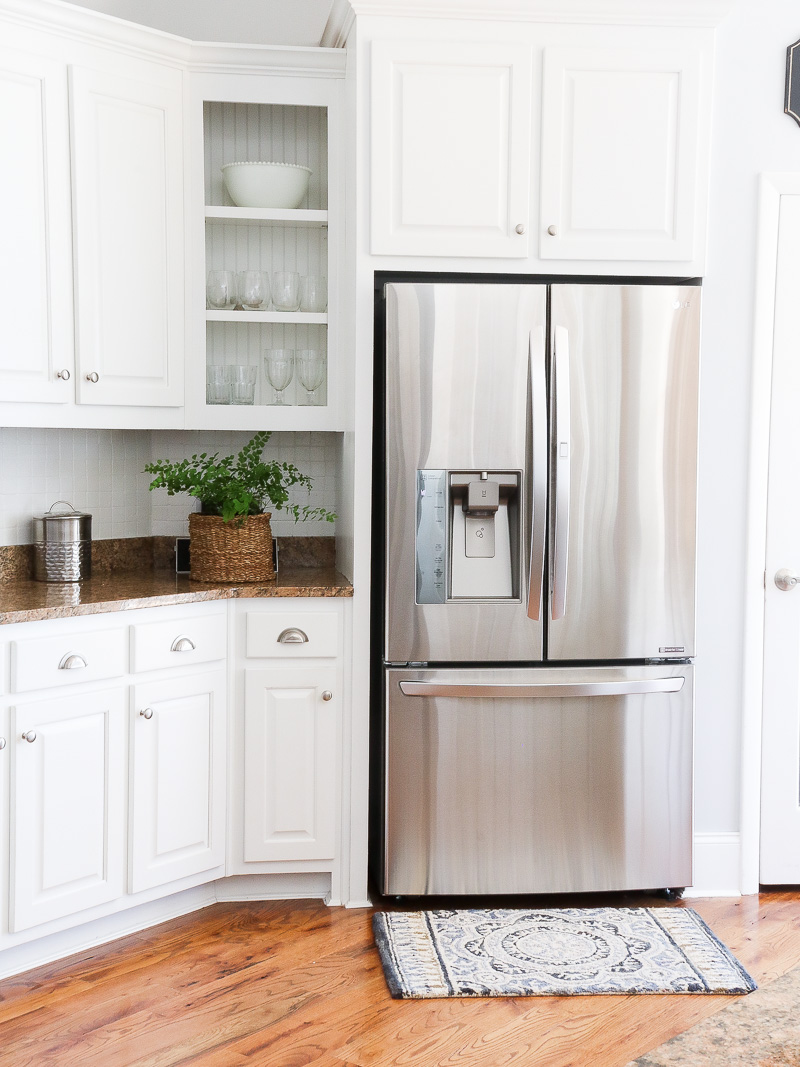 Getting it into the house
I have to admit this is not something I think about….at all. We had to be creative when trying to get this into the house. Came in through the front doors, out the Dining Room french doors, into the breakfast area door and into the kitchen. In addition the door handles needed to come off for the frig to get through the openings. It was a little challenging, but it made it. I say all this to say, make sure you measure your desired refrigerator and the openings it will need to go through to get into the house before you buy.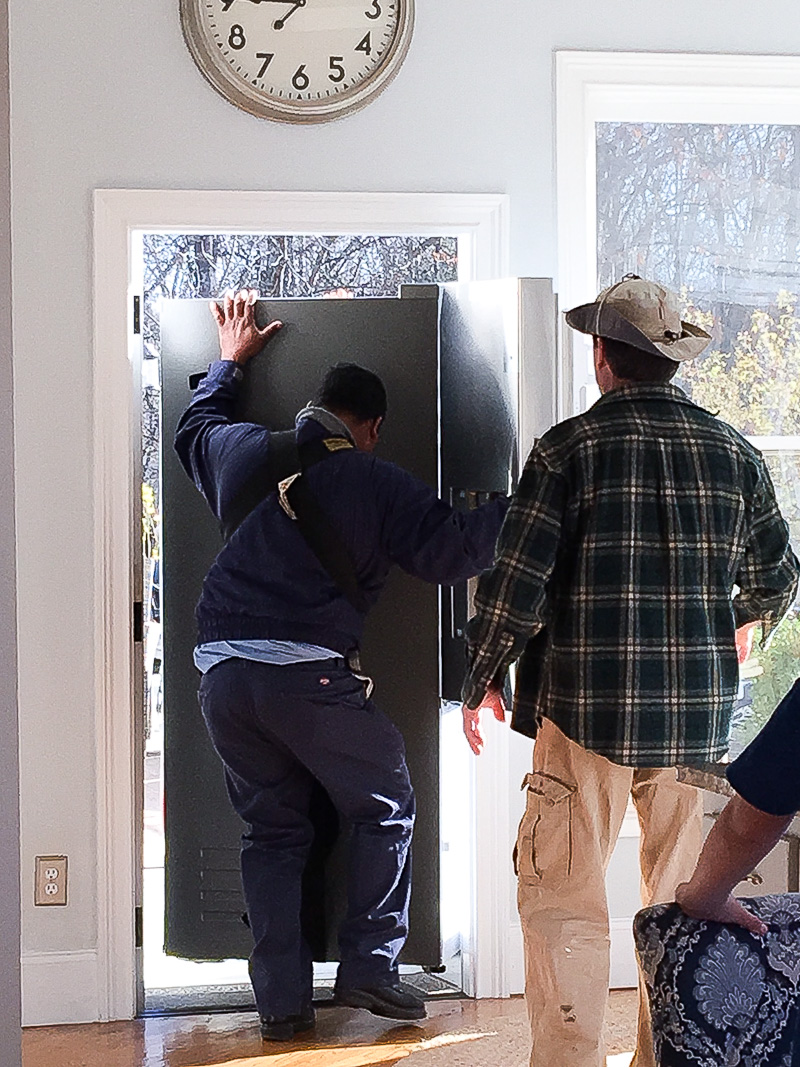 What's important to the family
I listed all the things that were important to my family when it came to the new refrigerator. Since an ice maker was at the top, this LG was perfect since it has 2 ice makers. One in the door and one in the pull out cabinet. We also fill water bottles up quite a bit so we needed this area to be big enough to handle that, without water splashing all over the place. Although not as important, the 2 freezer sections allow me to organize stuff easily and be able to find it faster.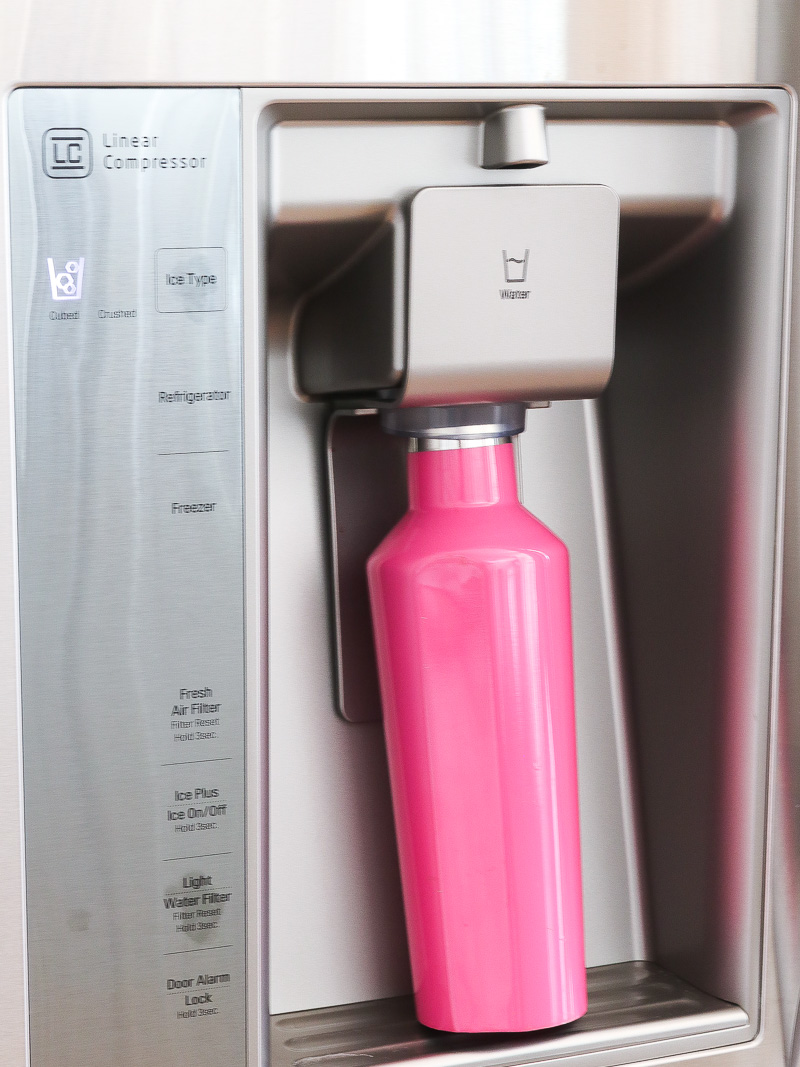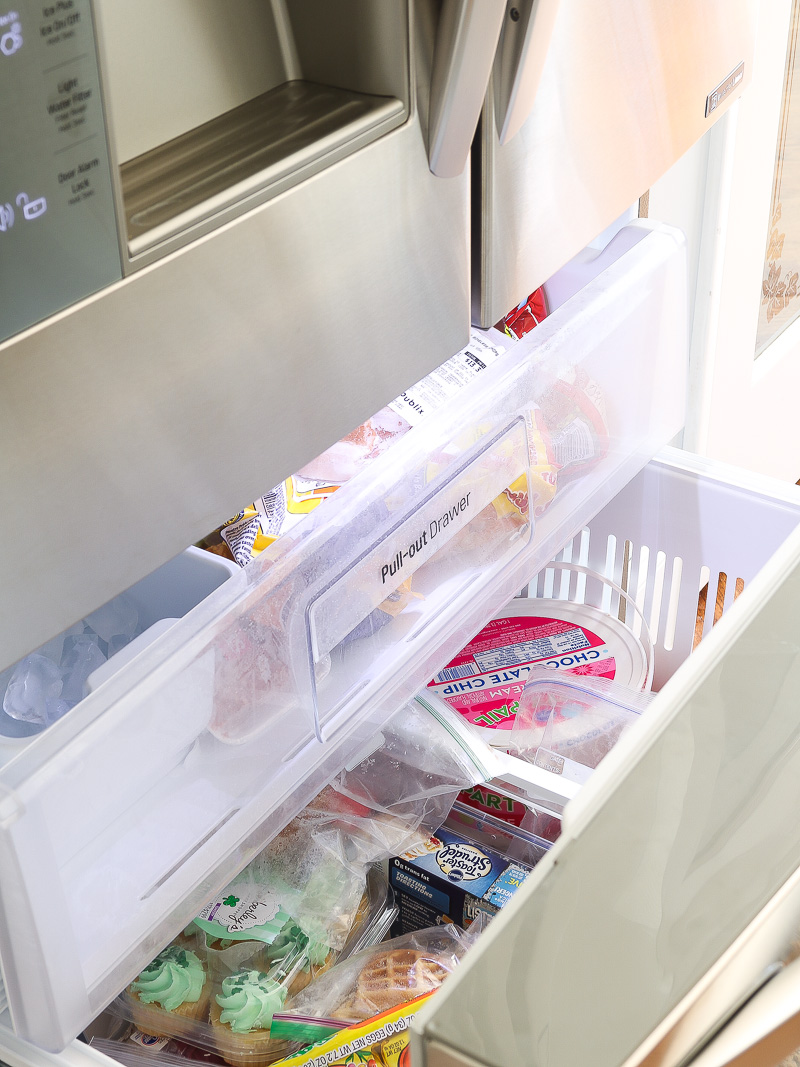 When I posted the new refrigerator here, I got a couple questions regarding how I keep it clean and without little paw finger prints on the outside. When I decided on the stainless finish I had to let go of having a perfectly shiny surface at all times. Since I don't want to use anything that would be abrasive and scratch it , I simply use a damp washcloth with soapy water. Nothing special with the routine, and it works. Someone did mention how they used paper towels on the refrigerator and it scratched theirs, so you may want to keep that in mind.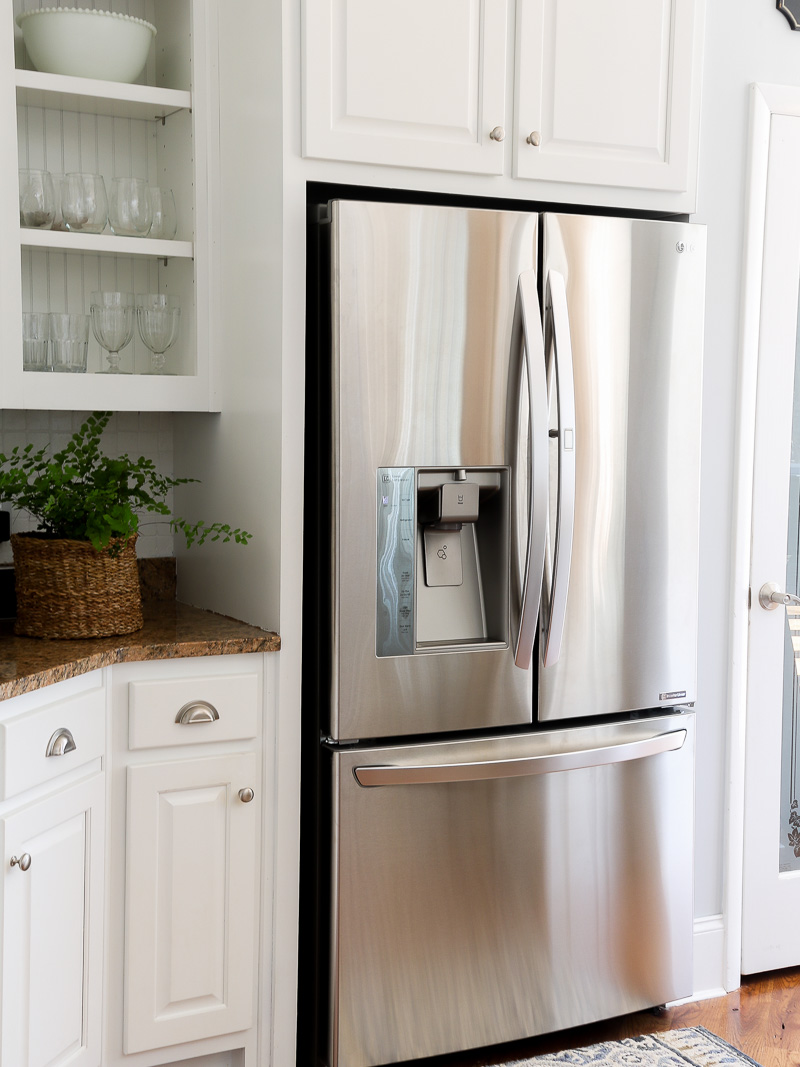 I'll keep you posted as time goes on how this refrigerator holds up. Unfortunately our oven is not working as well these days and may have to be replacing that out in the near future…..but as long as we have ice, we're happy.

grateful
for family
affiliate link used