The sofa every active family should own.
About a year ago I decided that the hand me down couches that I had in the downstairs Den needed to be moved out, those couches have since gone to the game room. One couch I inherited from my sister and one I bought when we first moved in 15 years ago. I thought it was time to buy the Den a brand new couch of it's own. One with no history, stains or missing pillows. So I did, and the Den is very happy.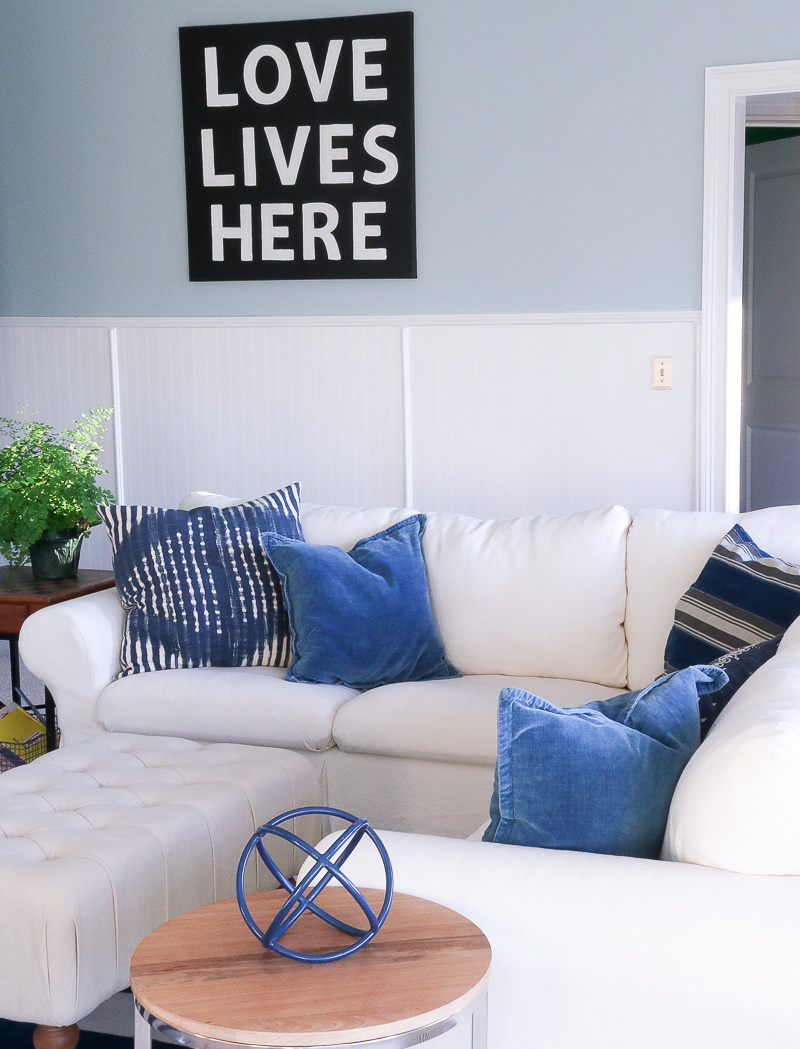 The sofa every active family should own…. and why
The couch that I got was the Ektorp sectional from Ikea. I got the couch in Vittaryd White. Although I had never sat on the couch, I knew of a few other people that had the couch and were happy with it so I decided to hit the send button on the website and order it. Risky I know, but because it was affordable for my budget ( around $900.00) , sized perfectly for my space ( fits 5 comfortably) and it is slip covered, it sounded like the perfect choice. Since we have a 'no eat or drink' rule on the couch, the washable slipcover was the biggest benefit of all….just in case they break that rule. Case in point, eating chocolate on the couch.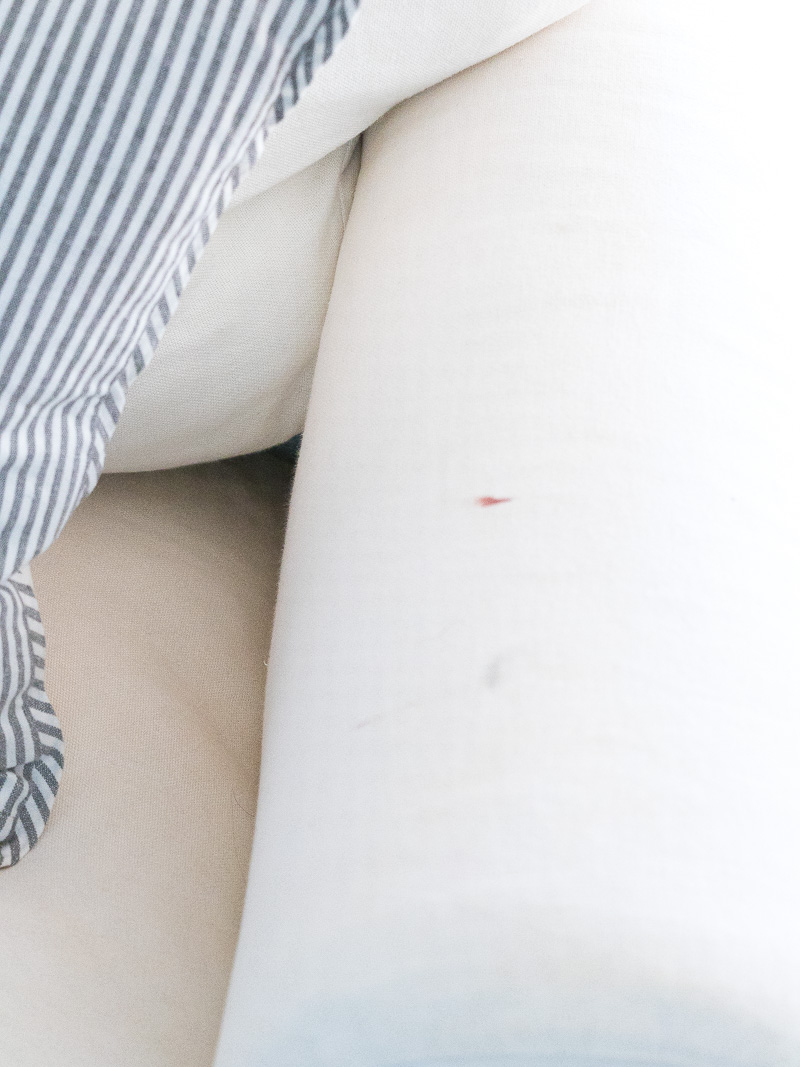 Since I had never ordered a couch from Ikea before, I did not know what to expect. When the couch showed up in a few boxes, I thought what the he%$ have I ordered. My husband, who did not think I should have ordered the couch because I would not be happy, sat back and rolled his eyes in what appeared to be snap together furniture. Which it is….sorta. But honestly, it's perfect for my very active family. This is how the base of the couch looks with no cushions on it. See what I mean.

The best thing about the couch
Overall the couch is comfortable for the way it is constructed. The cushions are more on the firm side so it's definitely not a couch that you sink into. Although I like that the cushions maintain their shape and size. You can also order replacement cushions if needed. Washing and putting the covers back on is really easy. Even my kids can do it. That chocolate stain….gone. No problems keeping it clean. Besides, if the candy smuggling problem did become an issue, and stains didn't come out, I think I can also get a replacement cover.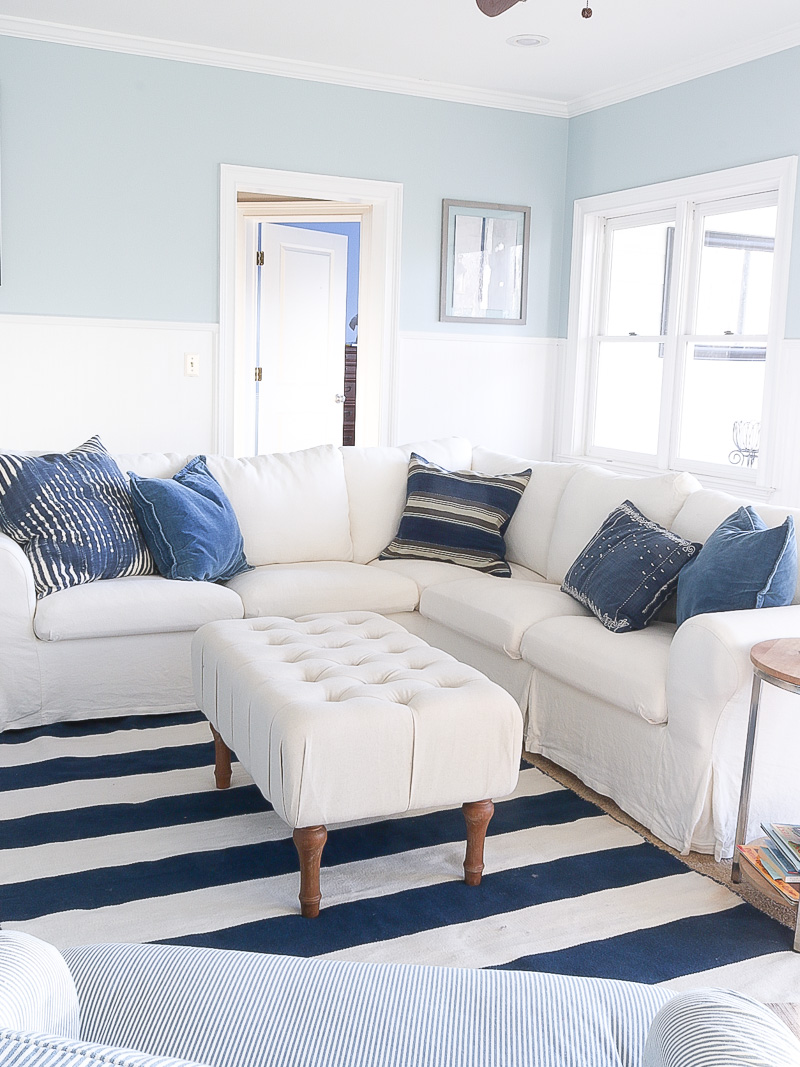 ottoman, stripe pillow, lumbar pillow, velvet pillow,print pillow, navy stripe rug
So if you are looking for a great sectional and have kids like mine…… that may occasionally break the 'no food on furniture rule', this may just be the couch for you….just sayin.

grateful
for family movie night….on the couch
affiliate links used