Refresh your bedroom for Spring with these 5 simple tips.
Spring is always such a great time to look at our spaces and see how we can freshen things up. Sometimes it doesn't require anything more then some pretty blooms or a swap out of some pillows to usher in Spring. In fact, a spring refresh can be quite easy especially if you follow these 5 simple tips.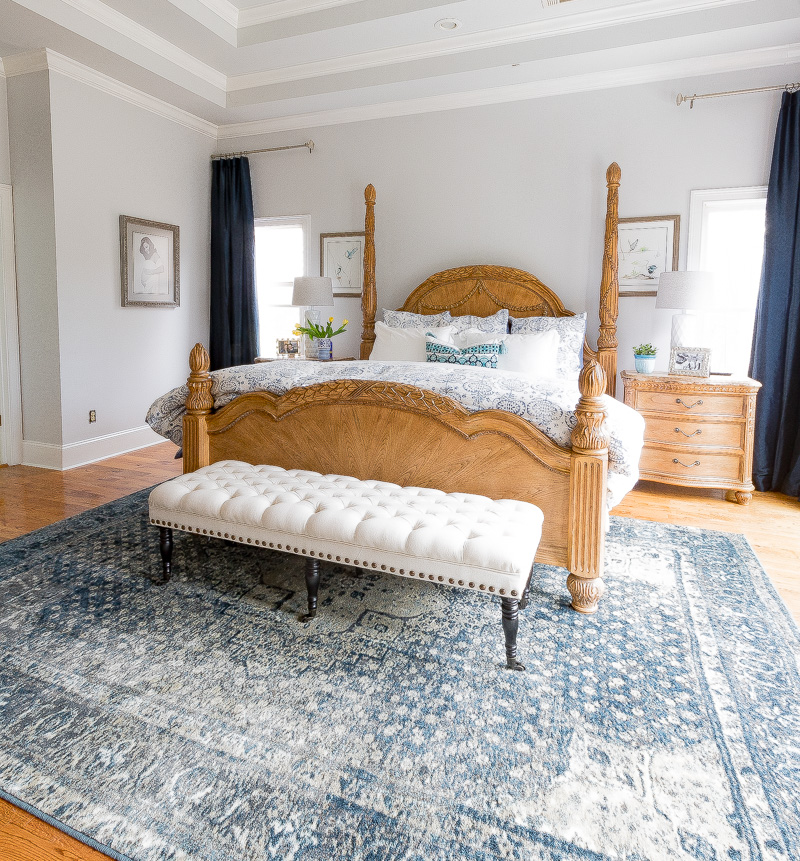 Refresh your bedroom for Spring with these 5 simple tips
Rearrange the furniture
Ever notice how moving one piece of furniture can make the space feel completely different. Moving around your furniture is one of my favorite decorating tips. It's quick and it cost's nothing. Ask my husband bedroom….. I rearrange my bedroom every couple of years. The last time you saw this room, the bed was along the other side of the room. Although we have no shortage of light in this space, I wasn't crazy about it blocking the backyard view. Especially with all the fun stuff going on back there right now. I did though just get these beautiful curtains to shield some of the hot sun in my room. And for the 108 inch length that I needed and being fully lined, you won't believe the price! So good, I actually bought the same panels for my office!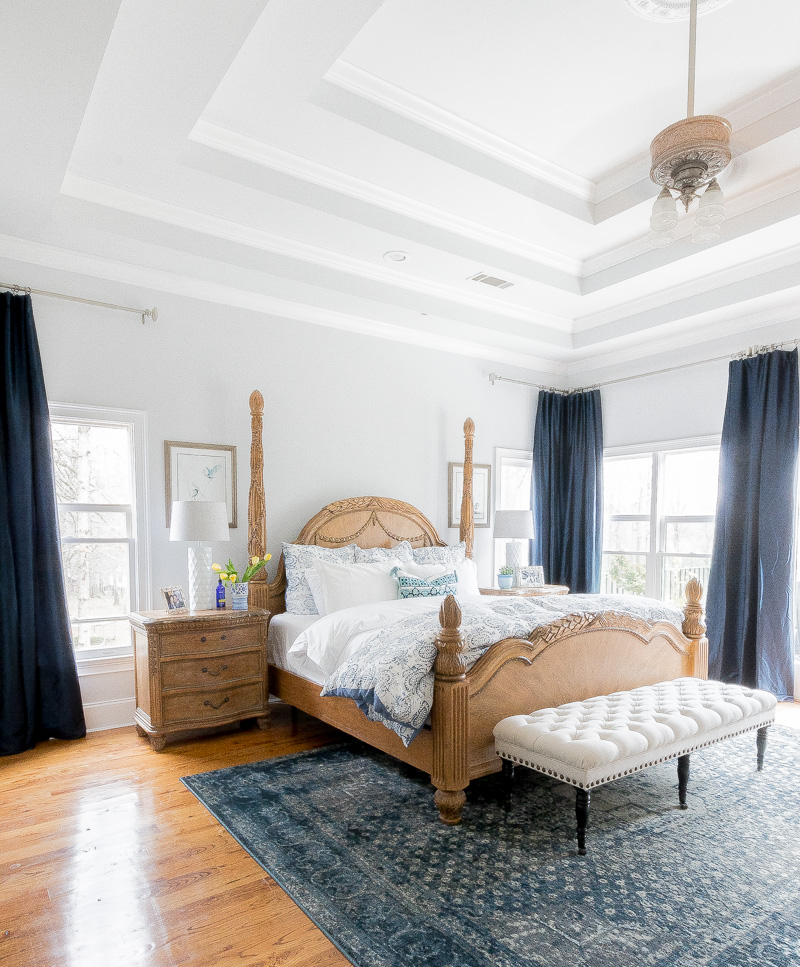 ottoman/navy blue curtains/rugusa
Bring fresh flowers or greenery into your space
I found these blue and white vases at a local shop a few months back and fill them with easy, low maintenance blooms every couple of weeks. Although the vases look pretty on their own, there is something about fresh flowers in a space that changes everything. Am I right? Fresh green stems are always good to use instead of flowers. I find that when you change out the water regularly and trim the stems, they live a lot longer then most flower blooms will.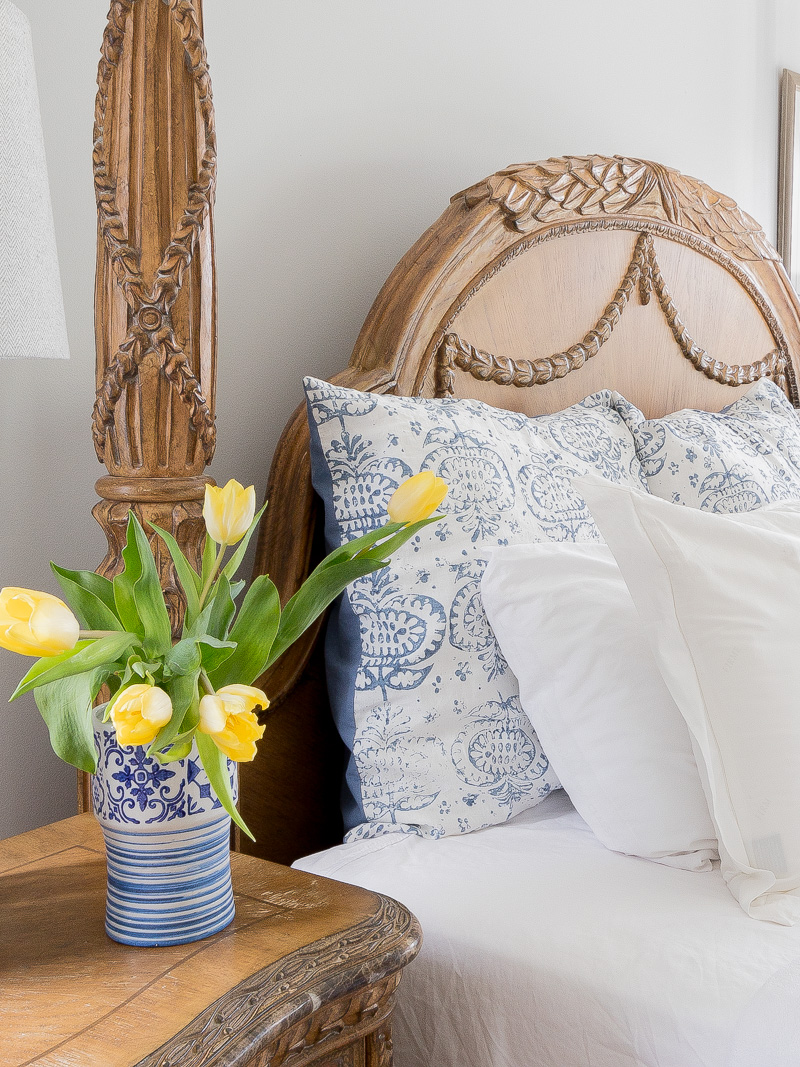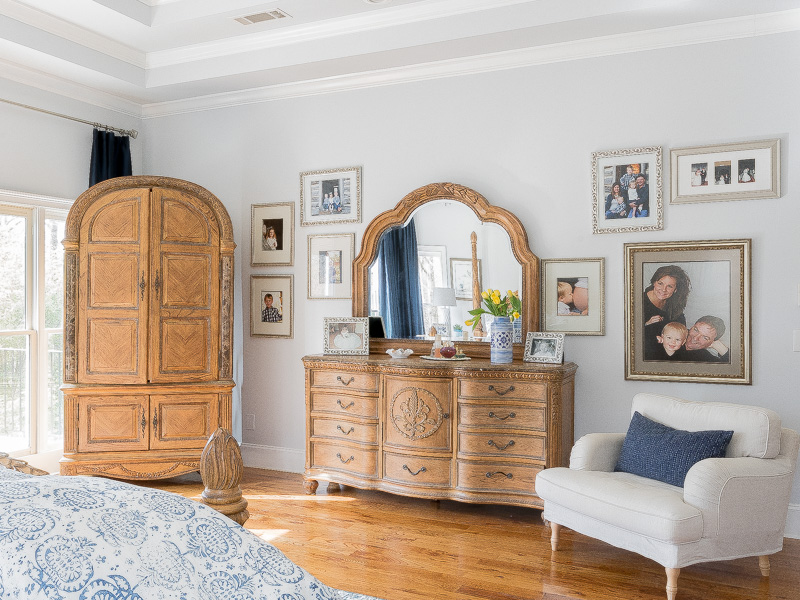 I bought our bedroom furniture right after I got married and because of the cost, promised my hubby that it would be the only thing in the house that I would NOT paint or alter! Since a promise is a promise, I would probably have to paint him first before I put a brush to this furniture. I do love it. It's a bit traditional meets old world style, and has such special meaning to me, and I try to incorporate different fabrics and textures to break up all the wood. Eventually I may swap out one of the nightstands for something else. The beige accent chair is hanging out in here till I find something to replace it with.
Swap out bedding
I swapped out my heavy winter blankets for a crisp, white duvet cover. For an accent color, I kept the blue and white comforter folded down, although I will probably be taking it completely off my bed pretty soon. During Spring and summer, I will swap out the blue and white shams for my all white ones, so I can have fun with seasonal color.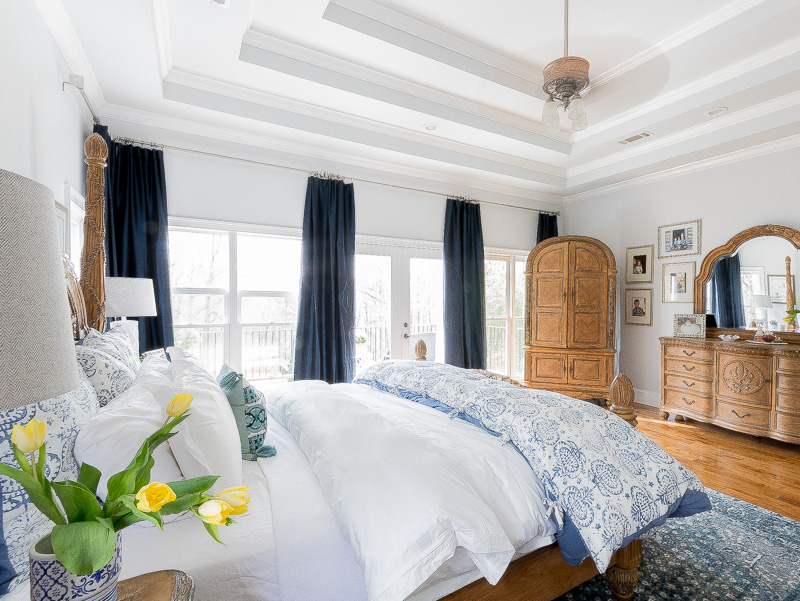 Clean
Put a little pep in your step and do some Spring cleaning. Spring is a perfect time to dust the baseboards, clean up the walls and get those windows ( inside and out) sparkling clean. A quick tip for baseboards- use a swifter cloth to get all that dust off. Don't forget the ceiling fan!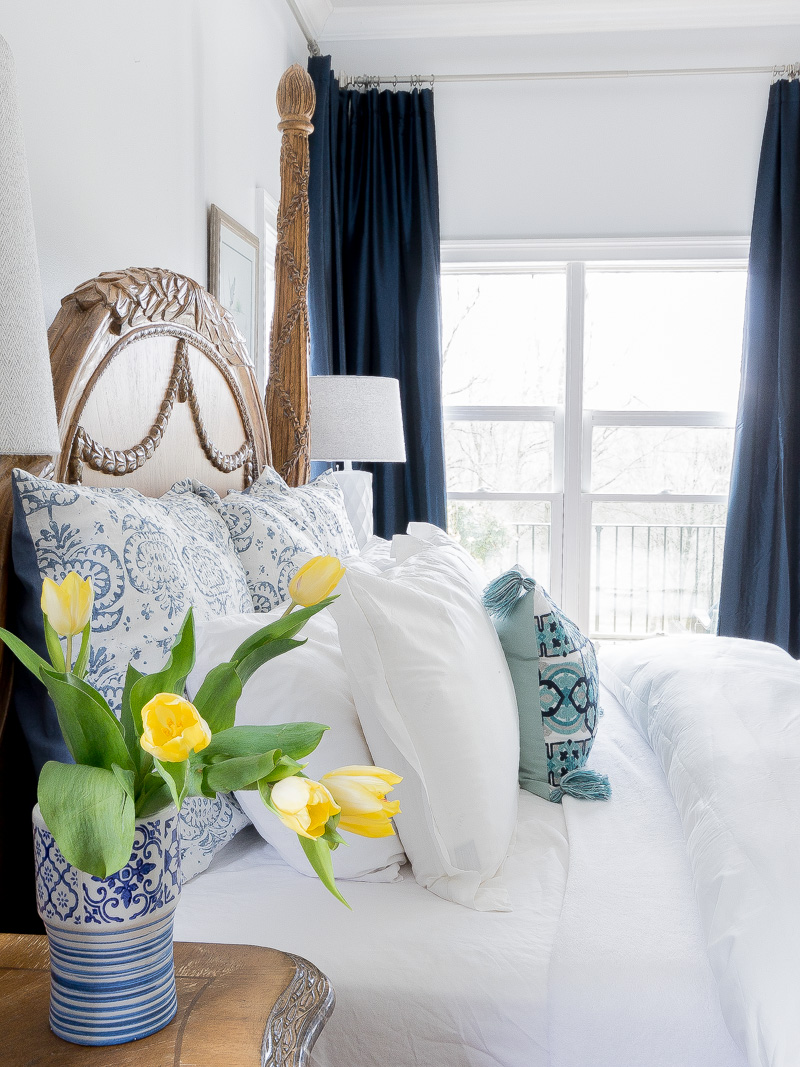 Add a pop of color
Spring is a perfect time to add some color. Colorful accessories or accents are an easy update for Spring. I found this pretty pillow with touches of Aqua in it and thought it would be the perfect complement to the navy in my room. For a bit more aqua in the space, I placed an aqua planter that I put a succulent in and placed on my hubby's nightstand.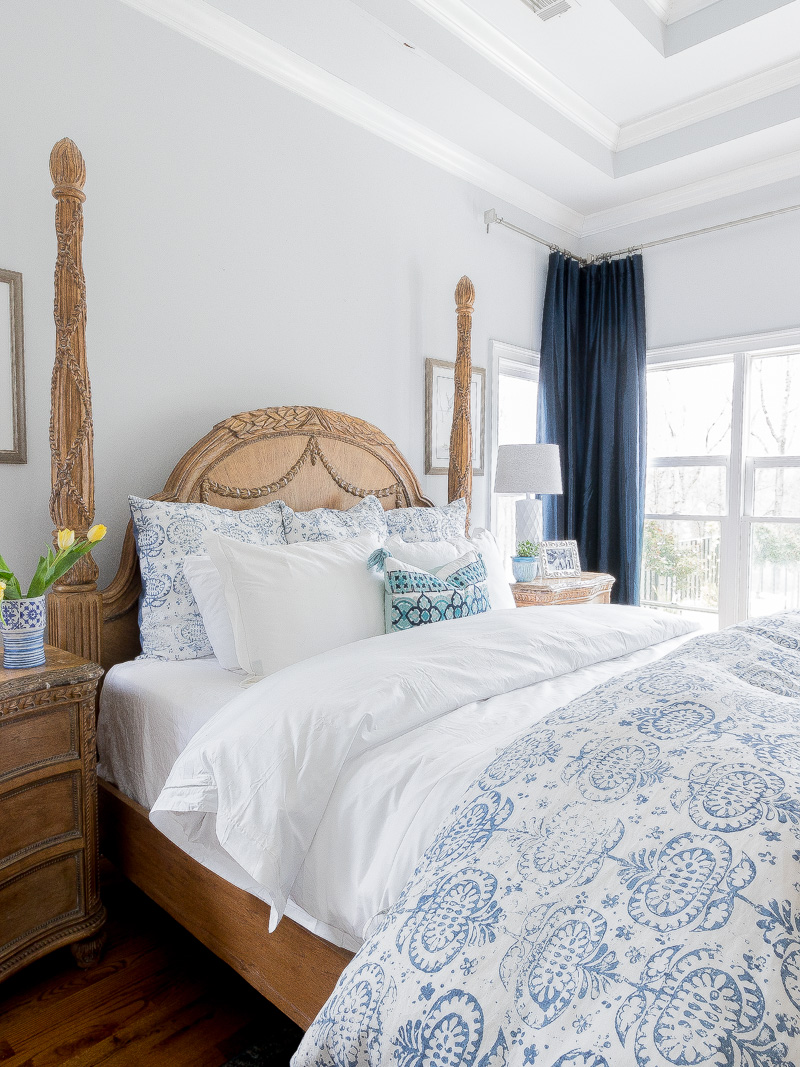 lamps– I painted mine white/the blue and white duvet is no longer available but here is something similar/
blue and aqua pillow-HomeGoods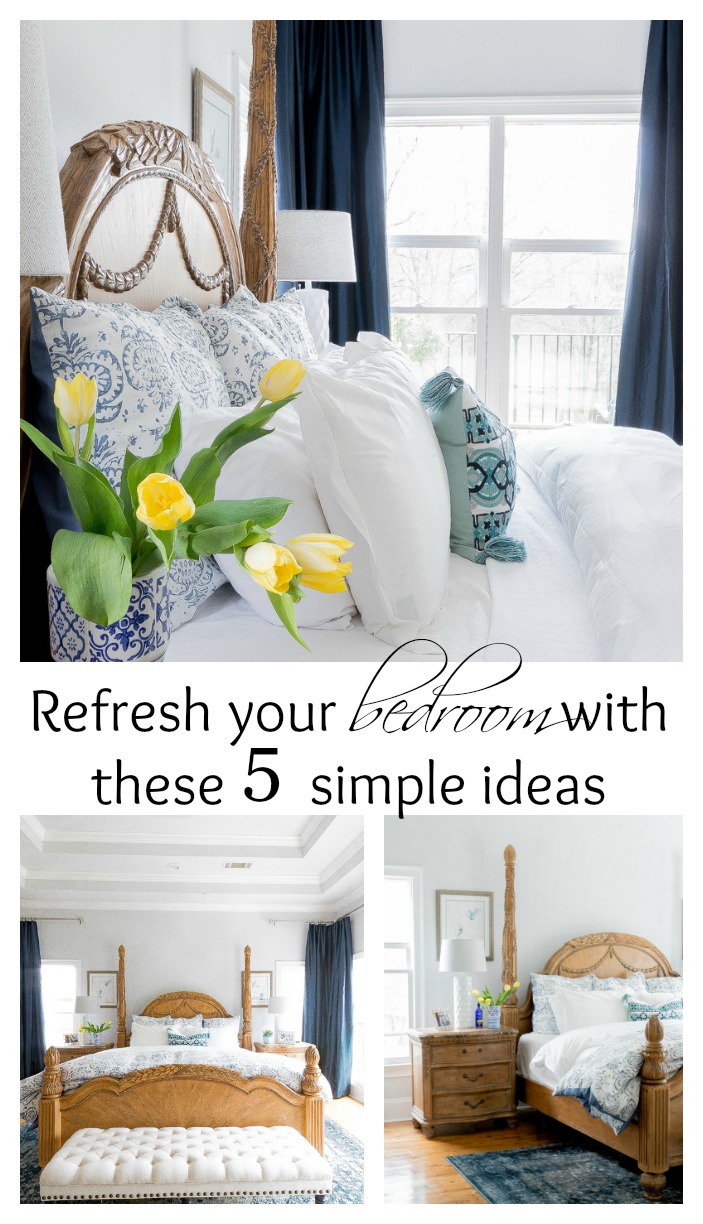 I hope these 5 simple tips to refresh your bedroom will make things much sunnier indoors as well!

grateful
the hugs from my kiddos
affiliate links used in this post