Holiday Front Doors at Duke Manor Farm
I'm kicking off my holiday decor today with the front doors at Duke Manor Farm and a giveaway for you. It seems only fitting that I begin with the front door since the porch is always the first place that I start with my holiday decor….and the first thing you'll see when you come to the house. More details on the giveaway later in the post.
Holiday Front Doors at Duke Manor Farm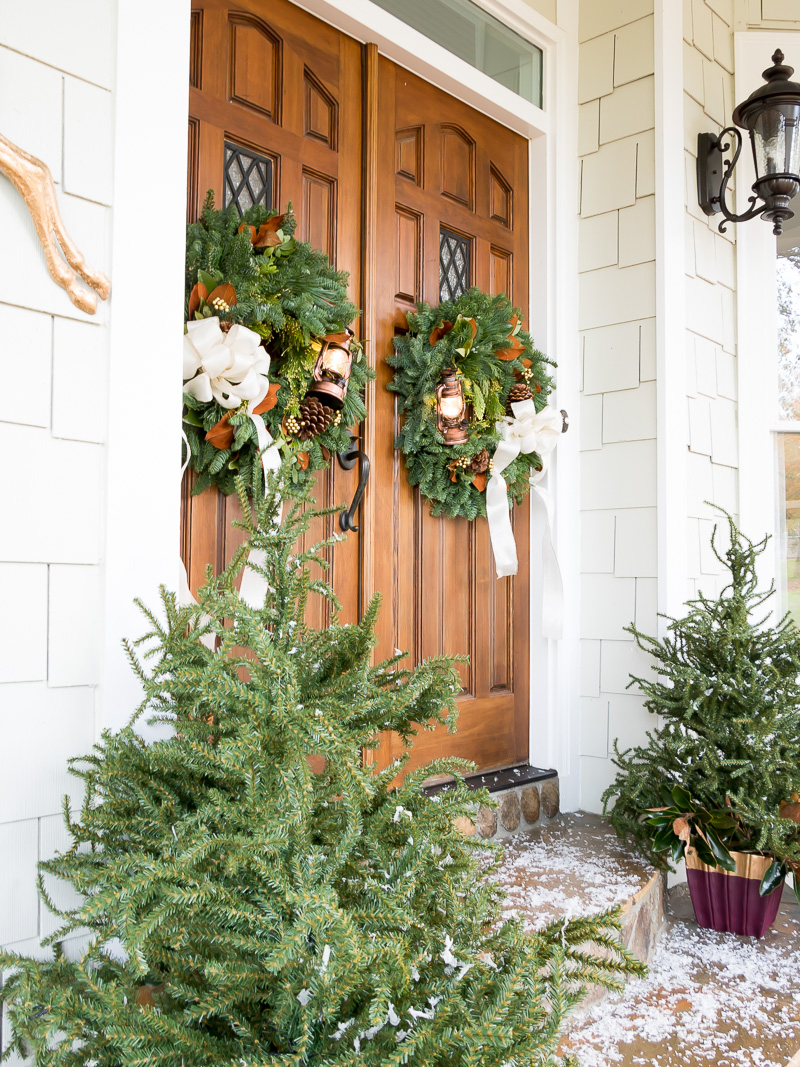 How gorgeous are these Bronze Magnolia wreaths from Lynch Creek Farm? I knew the minute I saw them how amazing they would be gracing my doors. What a wonderful way to greet my guests this holiday season. These are the 26" wreaths.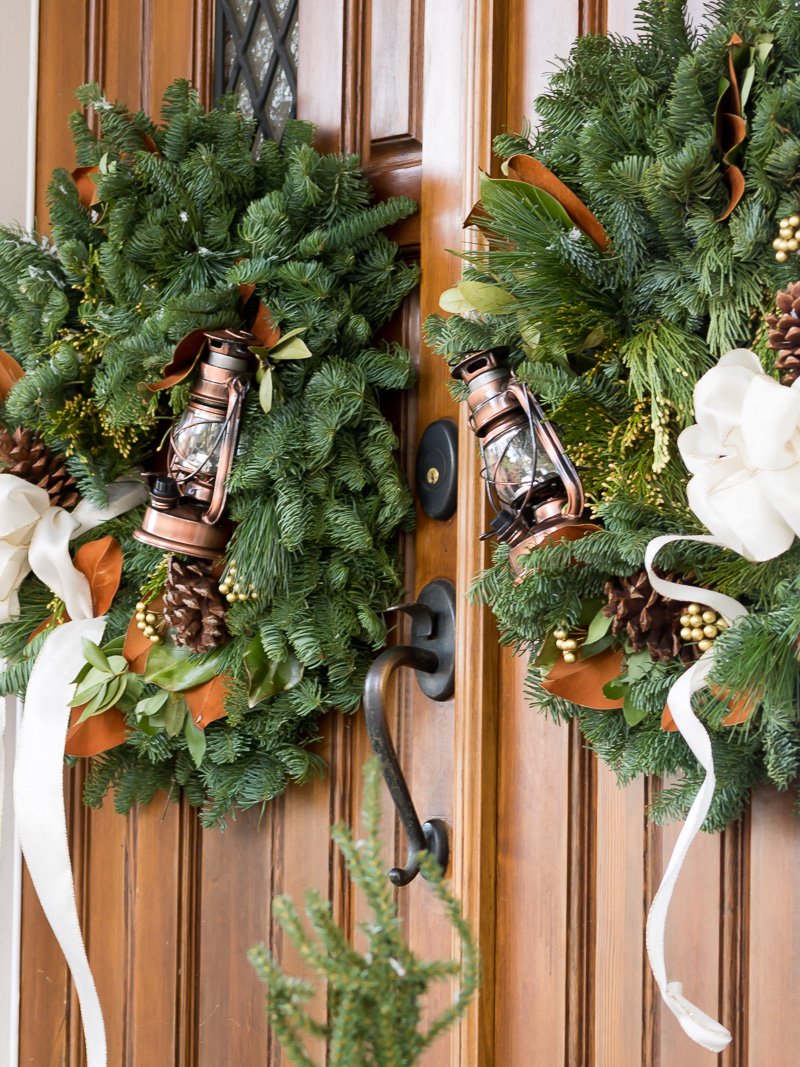 Quick Wreath Tips
It is almost always a good idea to hang your wreath outside. Because the product is breathing, fresh air will extend the lifespan of the wreath. If you place your wreath inside, it will last about 3 weeks when properly cared for.
Wreaths absorbs moisture through it's evergreen branch cut ends. To really increase the health and lifespan of your wreath, simply spritz some water onto the branch cut ends every 2-3 days.
In colder climates or Northern states, the wreath will last (6-8 weeks) if properly cared for. Outside they may last as long as through March.
In dry climates or southern states, the wreath will last (4-6 weeks) if properly cared for. Outside they may last as long as through the middle of January.
Climate and direct sunlight drastically affect how long your wreath will last. Hanging your wreath in a cool location with a good amount of shade will help your wreath live longer.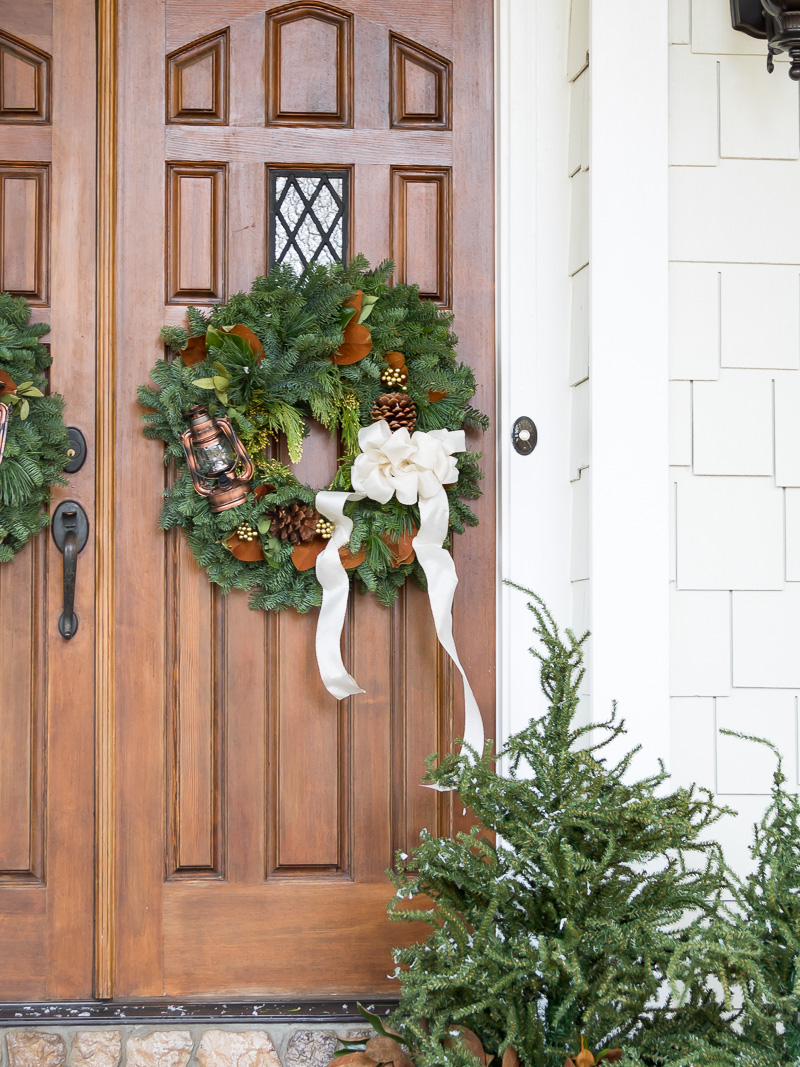 The wreaths are so full of mixed evergreens, pine cones and magnolia stems. There is also a battery operated lantern in the perfect bronze color that gives off just the right amount of light when turned on.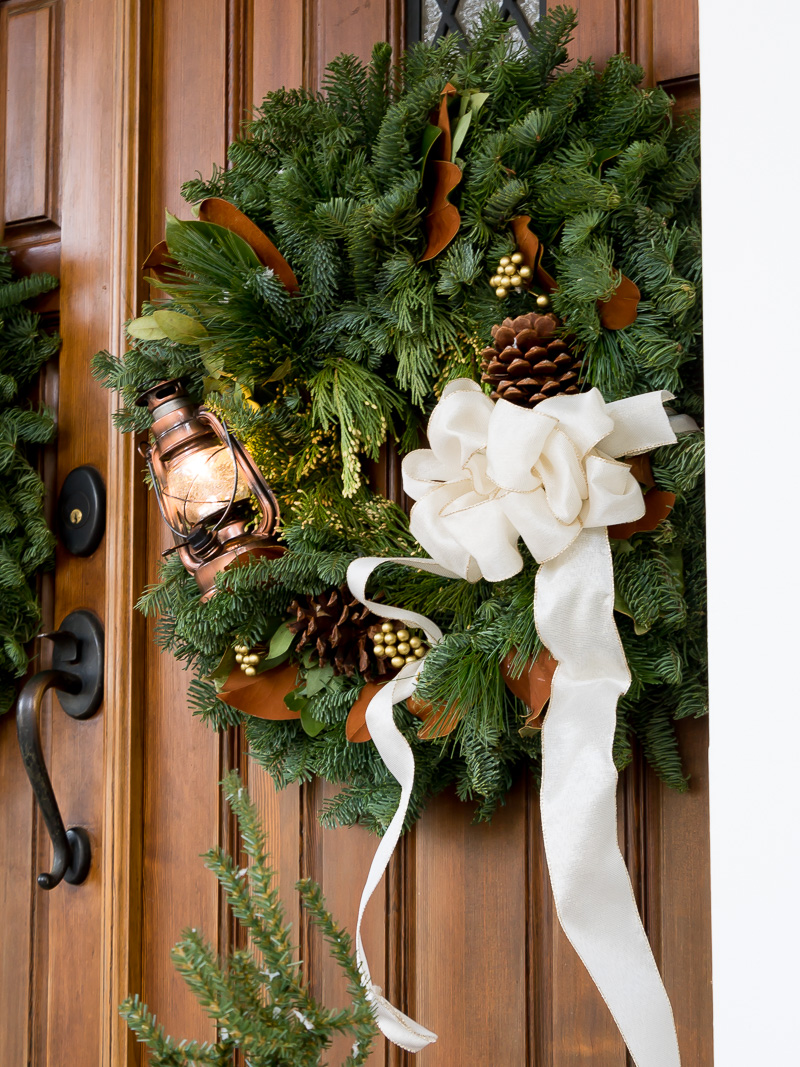 My wreaths came with a red ribbon that I easily swapped out for something that complemented the color scheme on the porch. Initially I debated whether to replace the ribbon or leave it bare, as it looked equally as gorgeous without a ribbon too. Speaking of bare, check out last years front doors here when I went au natural.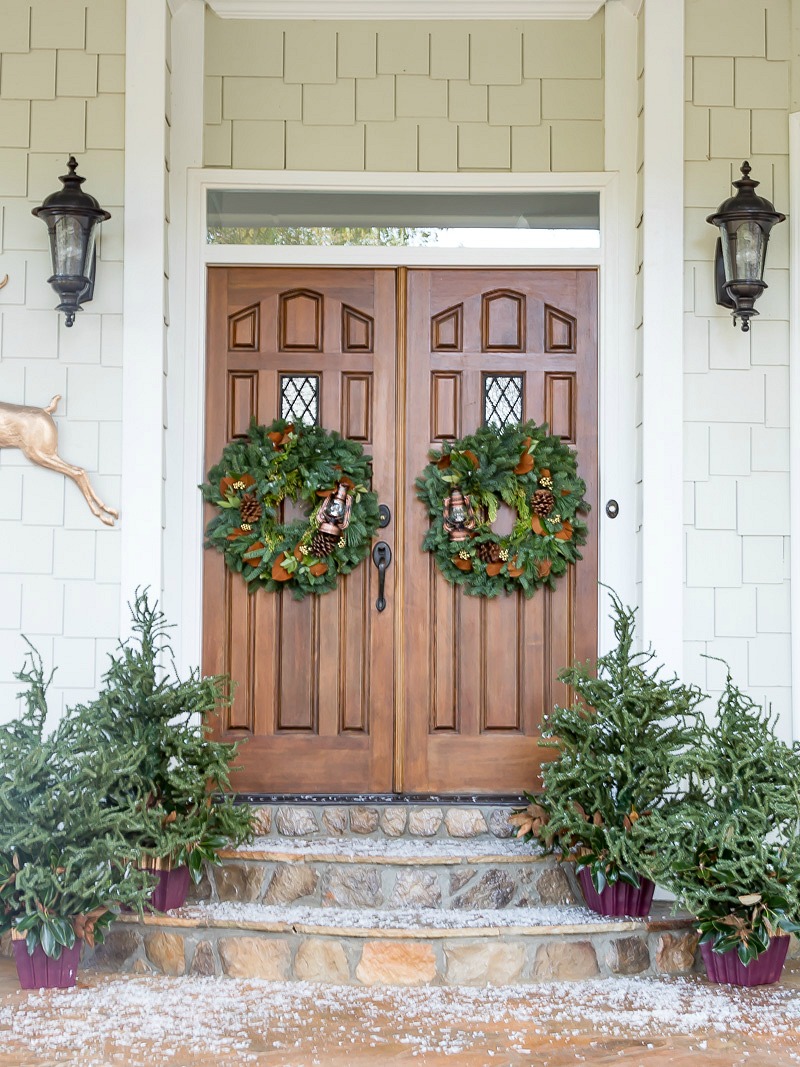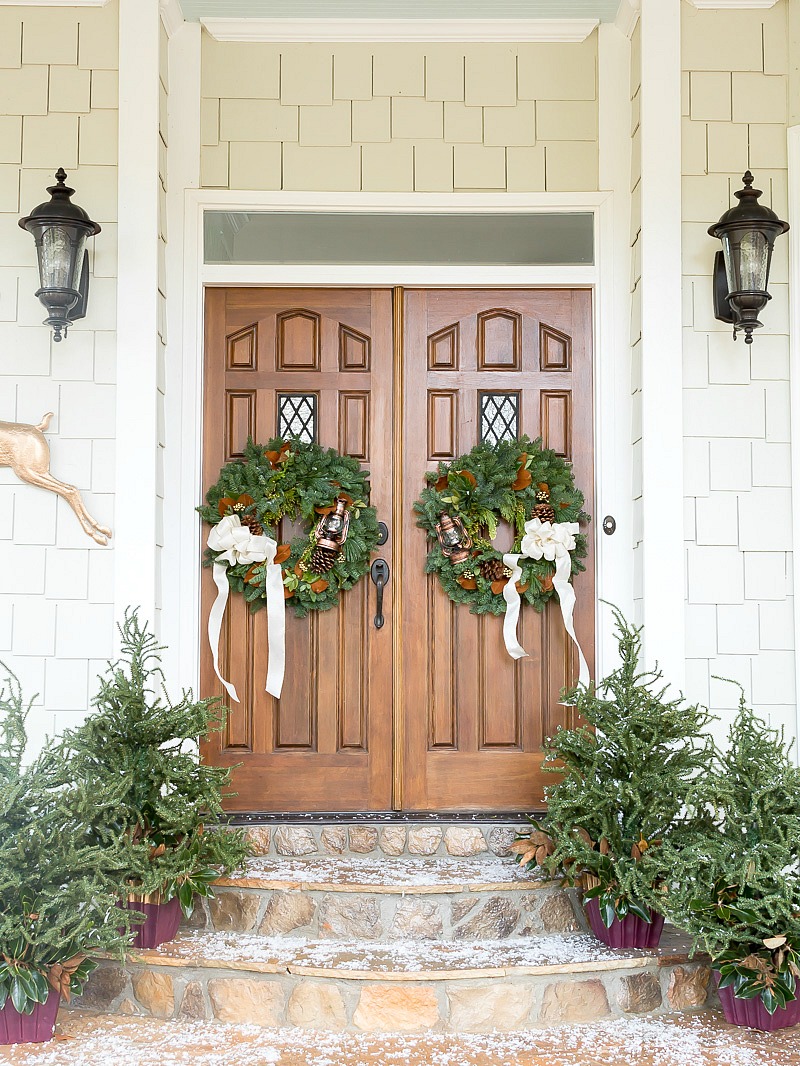 I also had some fun with the faux snow. You should have seen the faces of the kids when I was throwing this stuff all around…..like mama had lost her mind. But hey, at least I was having fun…and it was snowing, if only pretend.
Speaking of fun. Let's talk about the giveaway!
Lynch Creek Farm has been very generous in offering my readers a chance to win one of their truly amazing fresh wreaths or a centerpiece of your choice. All you have to do for a chance to win a wreath or a centerpiece is to visit Lynch Creek Farm and come back here and tell me in a comment what item (wreath or centerpiece) you would love to win. AND you can have more chances to win, as each of us is giving away a wreath or centerpiece, just by visiting my other 5 friends on the tour and leaving a comment there too!
Also, very important that you include your email address with your comment so we can contact the winners! This giveaway is limited to residents of the Continental U.S. and Canada.
The deadline for this giveaway is midnight, Sunday, December 3rd. Giveaway is closed.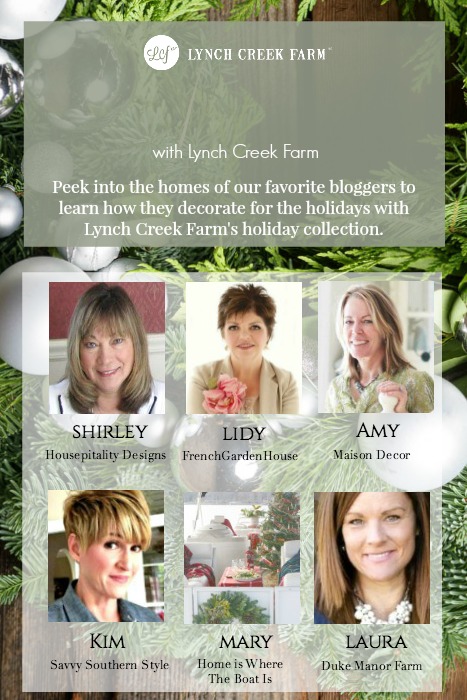 Hope you enjoyed my Holiday Front Doors at Duke Manor Farm. I hope you will visit my other pals sharing their beautiful Lynch Creek Farm holiday greenery. And a special thanks to Lynch Creek Farm!

Hospitality Designs Savvy Southern Style Duke Manor Farm Maison Decor Home is Where the Boat Is French Garden House

grateful
for slow, relaxing moments with my family
This is a sponsored post with Lynch Creek Farm. All opinions about the beautiful wreaths and the faux snow are mine.