Holiday Bedroom using Navy and Blush Colors. This year I was only planning to put trees up in the family room and the den. Last week I decided my bedroom was entitled to some festive cheer as well. Besides, the folks at Balsam Hill kindly offered me a beautiful tree and some new ornaments. I wonder if they heard about how the kids vetoed the blush in the family room?
Holiday Bedroom using Navy and Blush Colors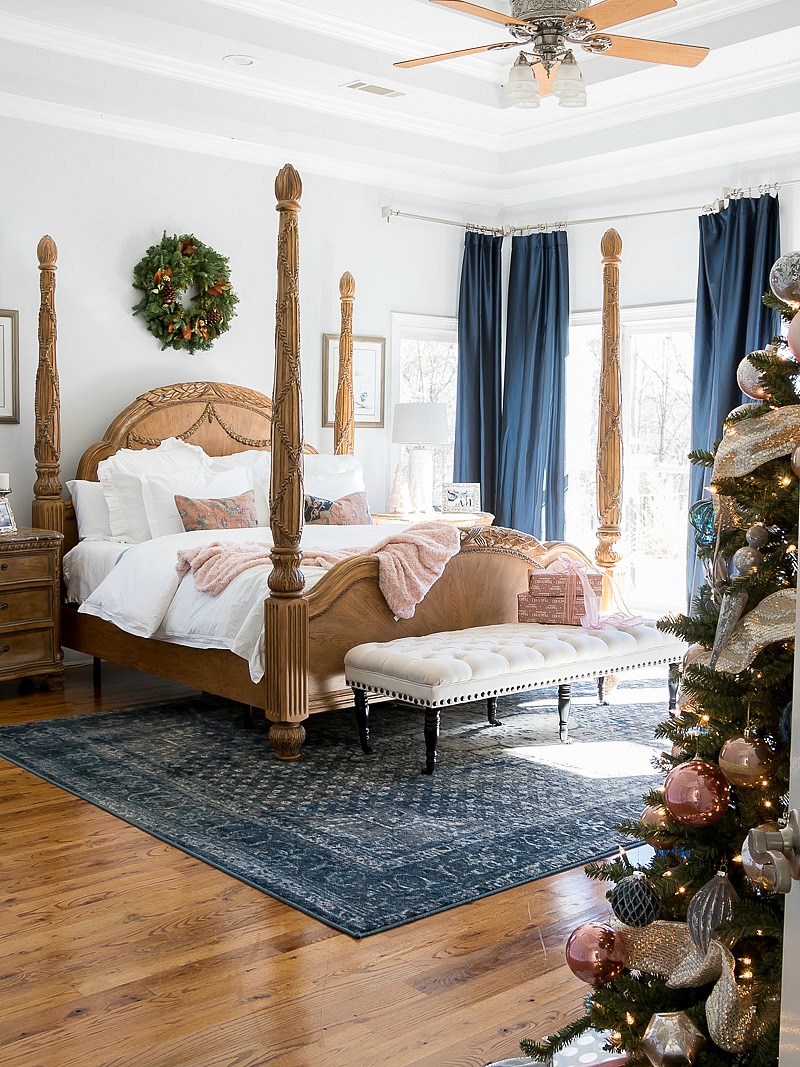 My kids jurisdiction on decorating input ends at the door to my bedroom. So blush mixed with some navy it will be, for my holiday bedroom.
The inspiration this year to add blush to my holiday decor started with these pretty pillows. ps. they are currently on sale. The pillows look perfect with my all white bedding for the winter months. I also layered the coziest blush colored throw. Now that it's in my room, the kids can't fight over it.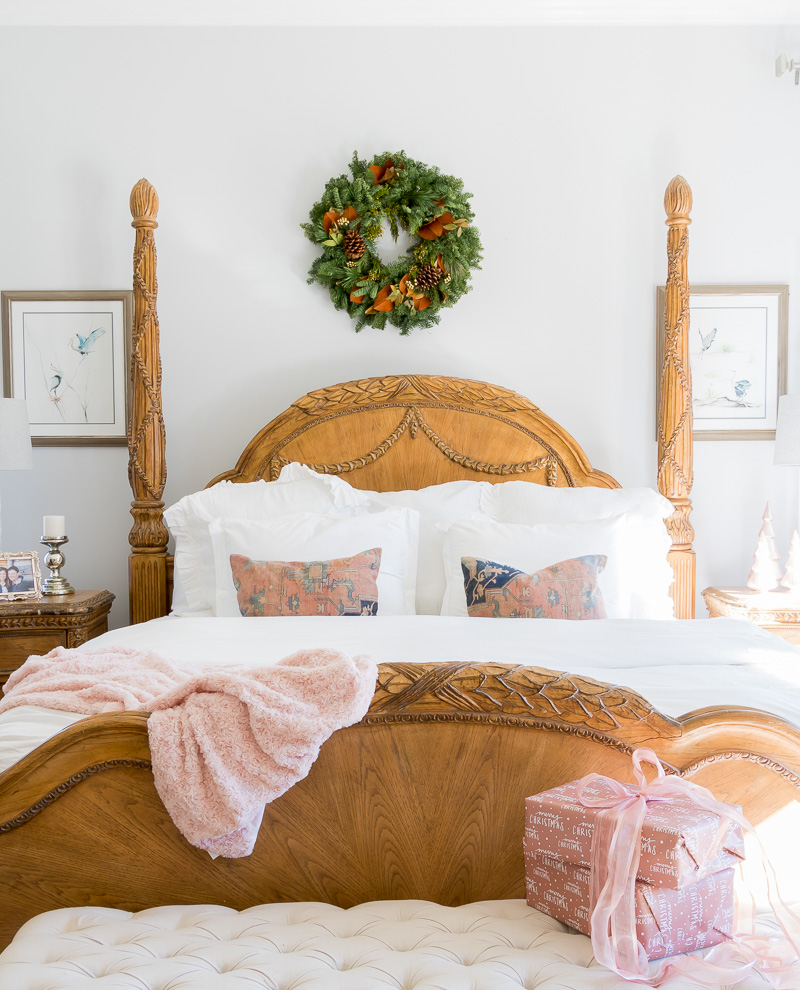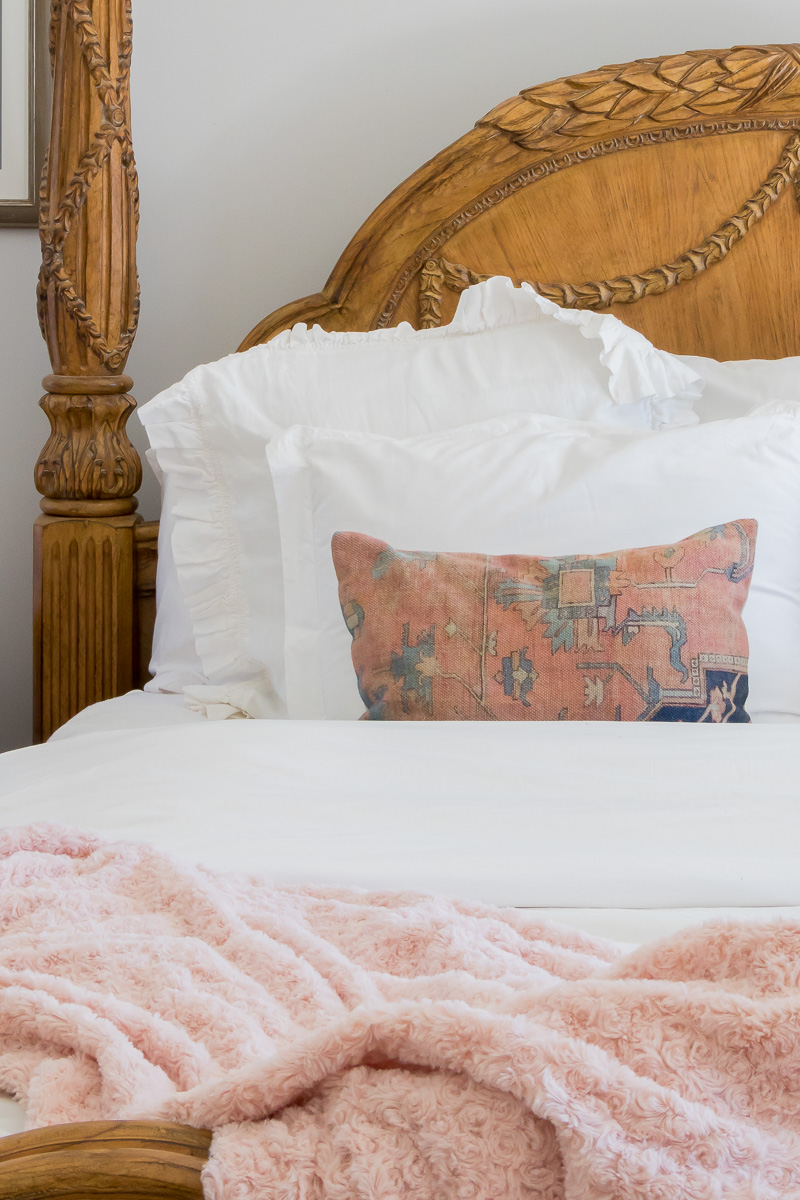 I started with the narrow Classic Blue Spruce. With 20 foot ceilings, I probably could have gotten something a bit taller then 6 feet. But the size of the tree doesn't take over my room, which I like. My blush ornaments that I originally got for the family room tree were mixed with some beautiful silver and navy one's from the midnight frost ornament set. I wrapped the tree in a beautiful silver Basketweave Ribbon, weaving in and out. I originally placed the ornaments on first and ended up moving them around once the ribbon was on. Next time I will add the ribbon before adding the ornaments.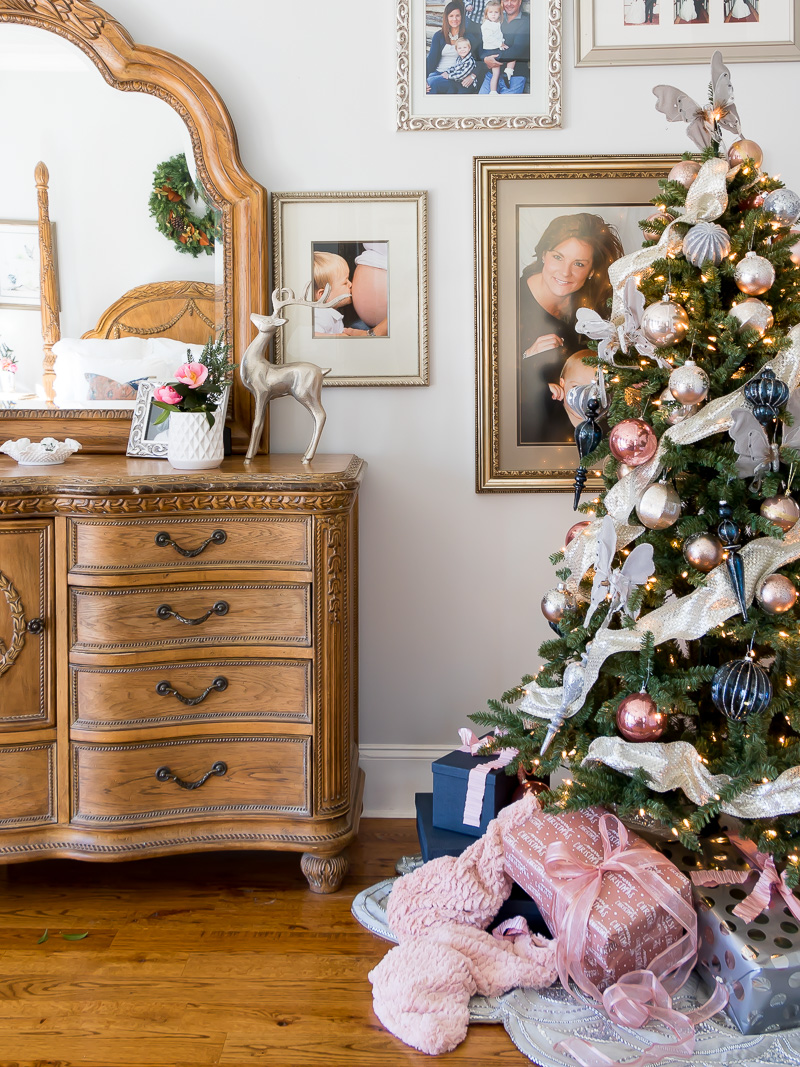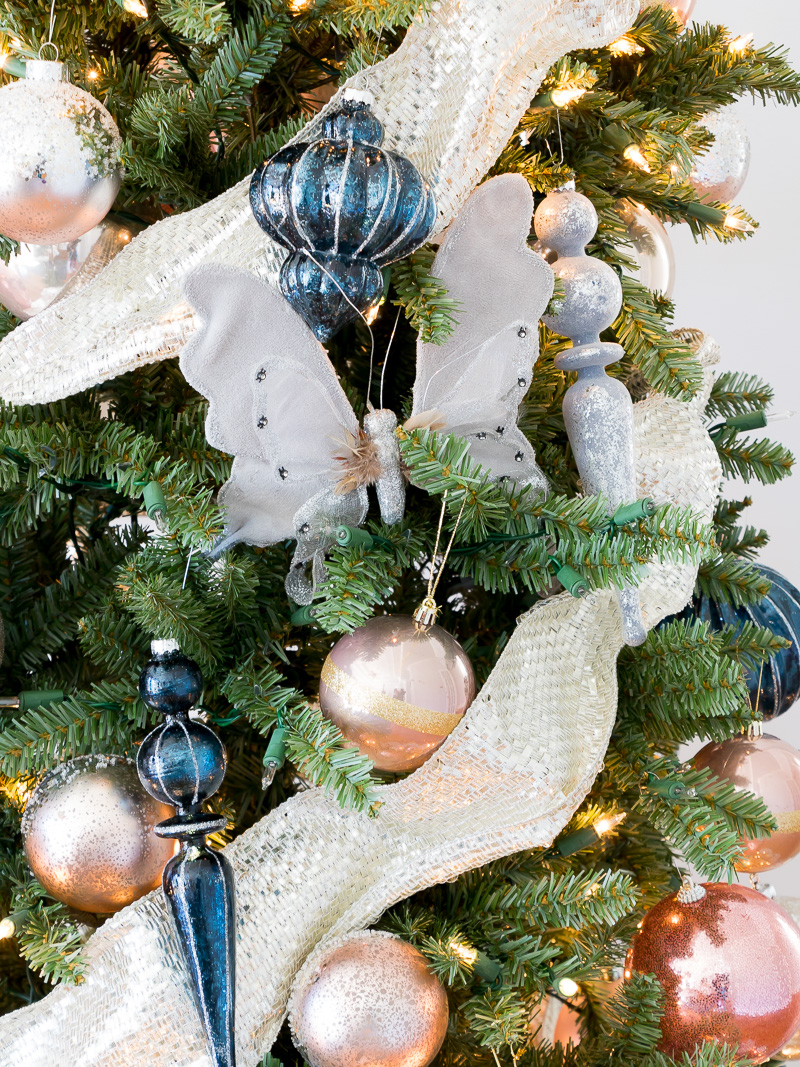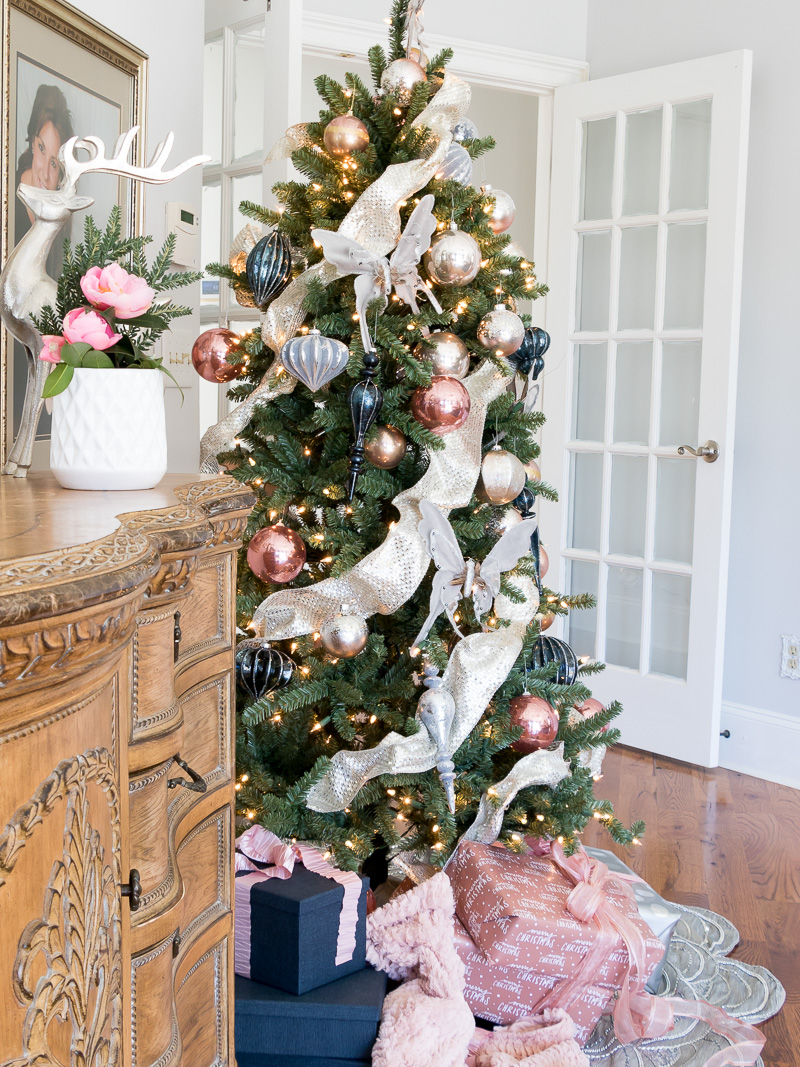 And as pretty as the tree is during the day, it gets more magical as the day turns to night.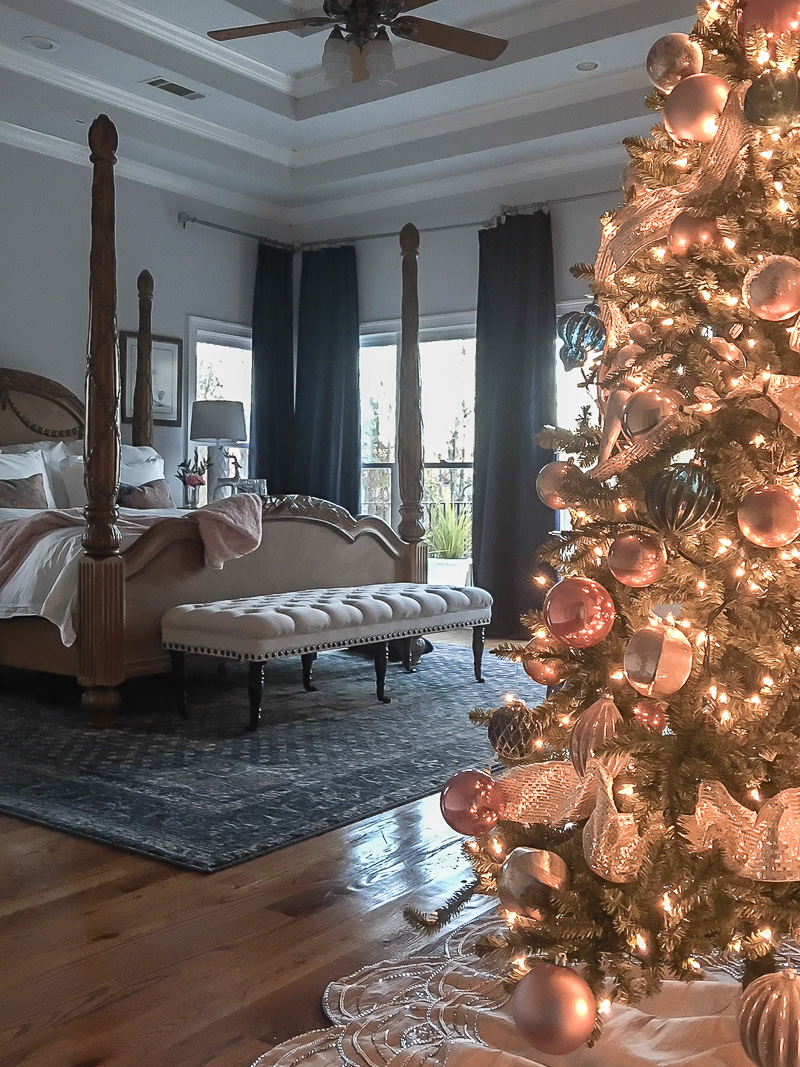 Sweet dreams.
With only a week until Christmas Day I hope you are taking time to slow down and really enjoy the holiday season. So often we get so busy and caught up in holiday preparation, shopping and running around that we forget to take time to stop, reflect and enjoy the true meaning of the holiday season.

grateful
for the beauty during the holidays
Balsam Hill provided me with the tree and ornaments for my holiday bedroom. This post may contain affiliate links for products that I use or recommend