How to make a fresh magnolia wreath for Valentines Day using cuttings from the tree and a heart shaped form
I planted two magnolia trees on the farm a couple of years ago. Not sure why I waited so long to plant them. I have always thought it would be so neat to have fresh cuttings throughout the year for decor, projects….and wreaths. Not to mention the amazing beautiful scented flowers in most months of the year. Fresh Magnolia wreaths are so pretty.Ha, If only I had planted them 15 years ago when we moved to Duke Manor, I would be making wreaths for everyone in the state of Georgia.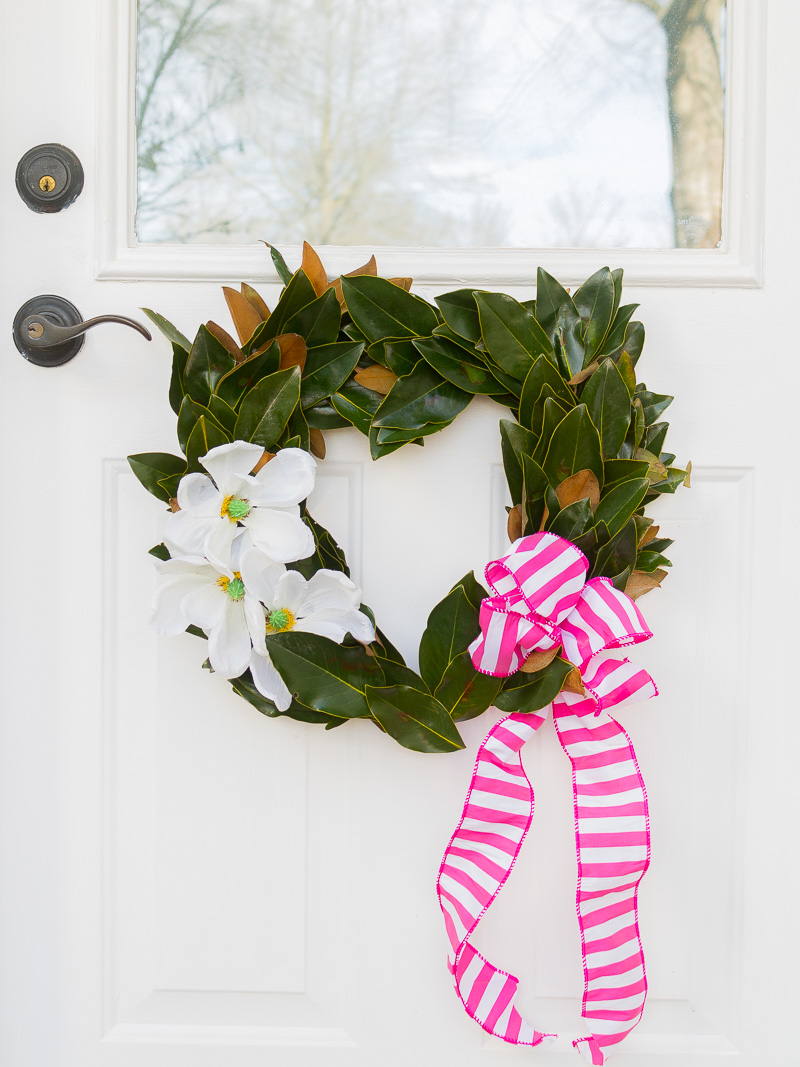 And as simple as it sounded, creating a heart shaped wreath using fresh magnolia stems wasn't exactly a walk in the park….like I expected. It was easy, looks pretty but it did take more time then i expected. I could not for the life of me shape it into the heart it was meant to be withing snipping and moving the leaves around. I'm guessing something circular is going to be so much easier. But because it basically cost me $2.00 and 48 mins of my time, I thought I would provide some pretty inspiration for you to make your own.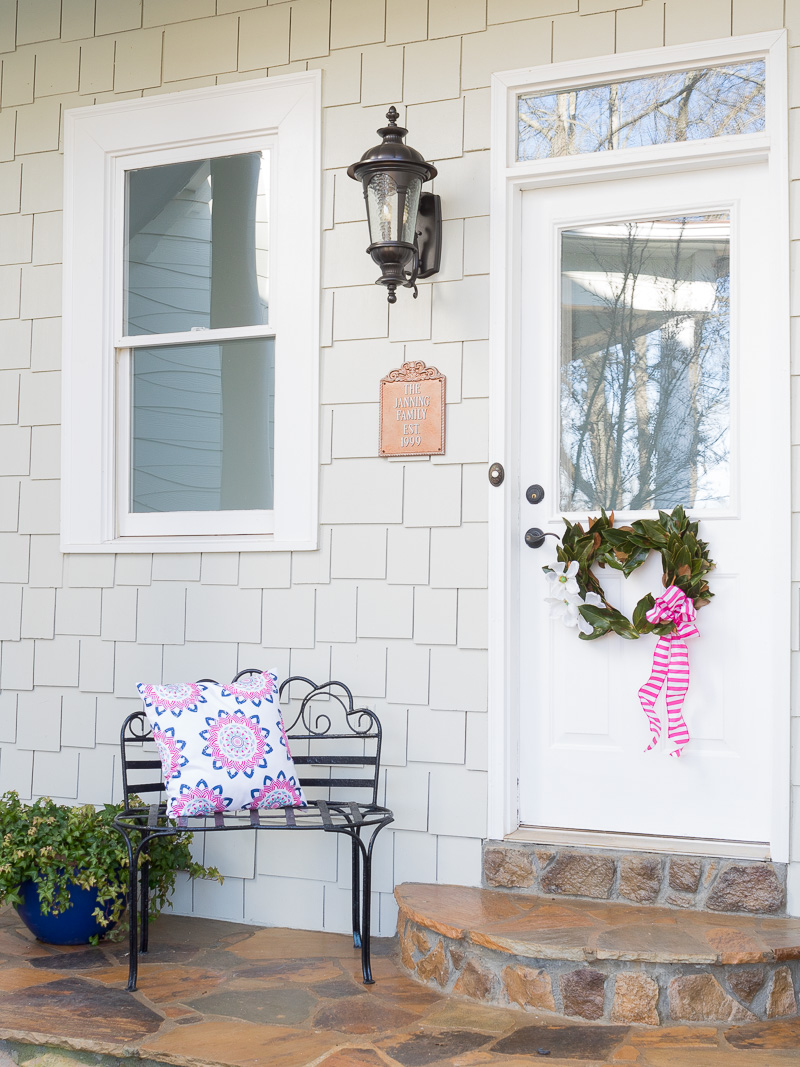 How to make a fresh magnolia wreath for Valentines Day
Materials Needed: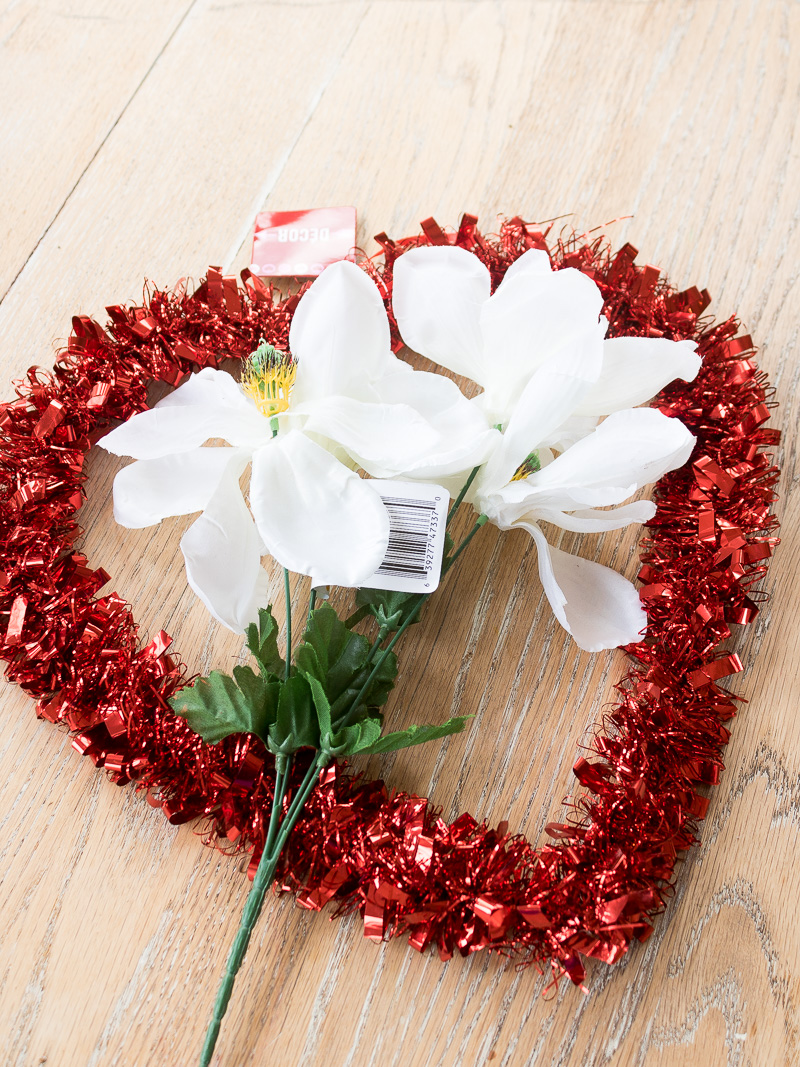 Magnolia stems from the yard, neighbor or the park
Green floral wire
1 heart shape form. I got mine from the Dollar Store but I have seen them in a bunch of places
Scissors to trim up your heart
Pretty ribbon for a bow
Faux or real magnolia blooms…depending on where you live. I picked a bunch up at the Dollar Store.
Hot glue gun to secure your magnolia leaves together
Steps to assemble magnolia wreath: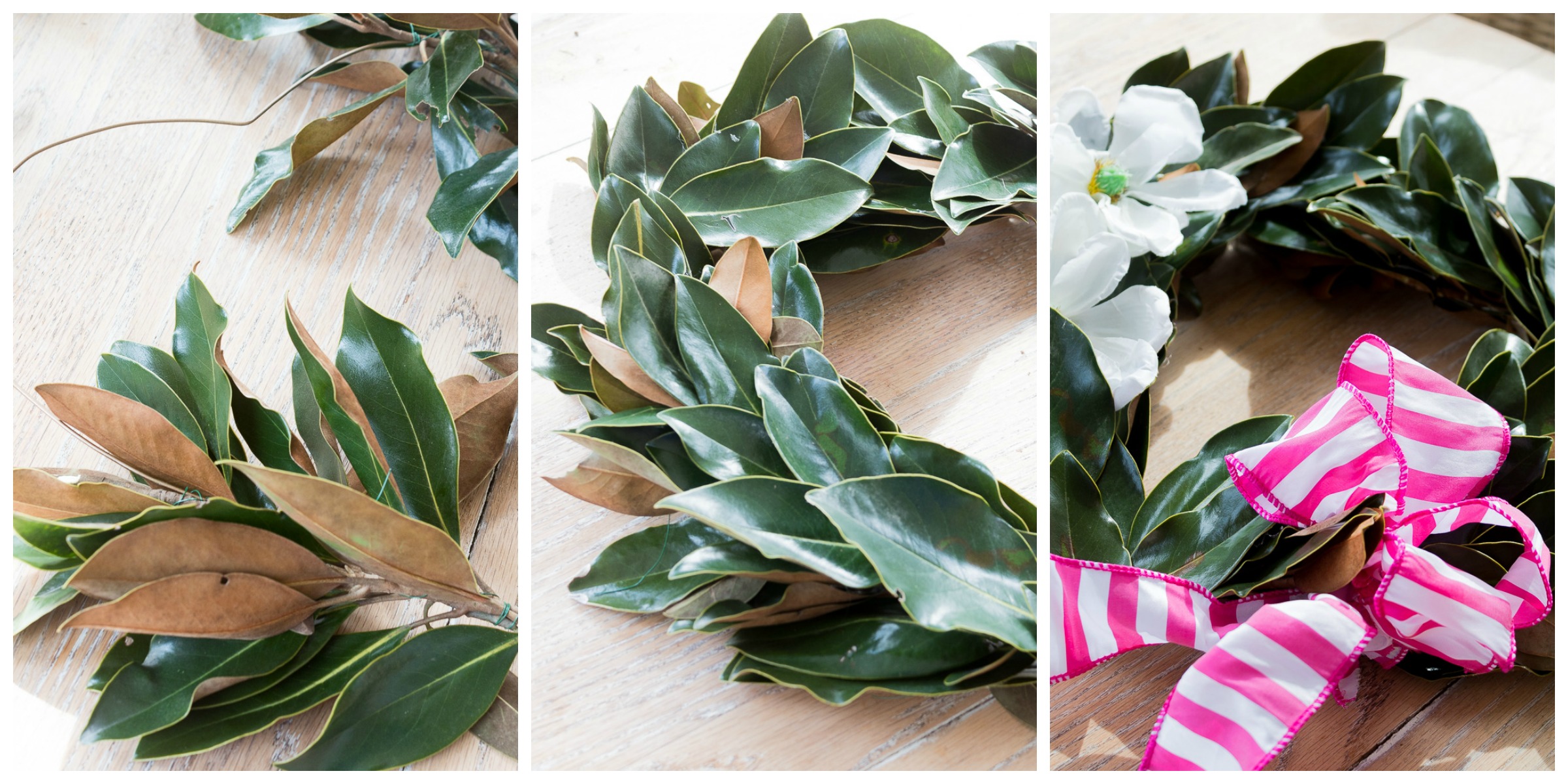 Remove the red material around your heart form. You don't want red to be showing underneath your magnolia leaves.
Take two stems and wrap them together with floral wire. Secure them to your wire wreath.
Continue to do this all the way around the wreath.
Fill in bare spots with single leaves securing with hot glue.
Embellish with faux or real magnolia blooms.
Tie a pretty bow in the corner
Tips to keep in mind: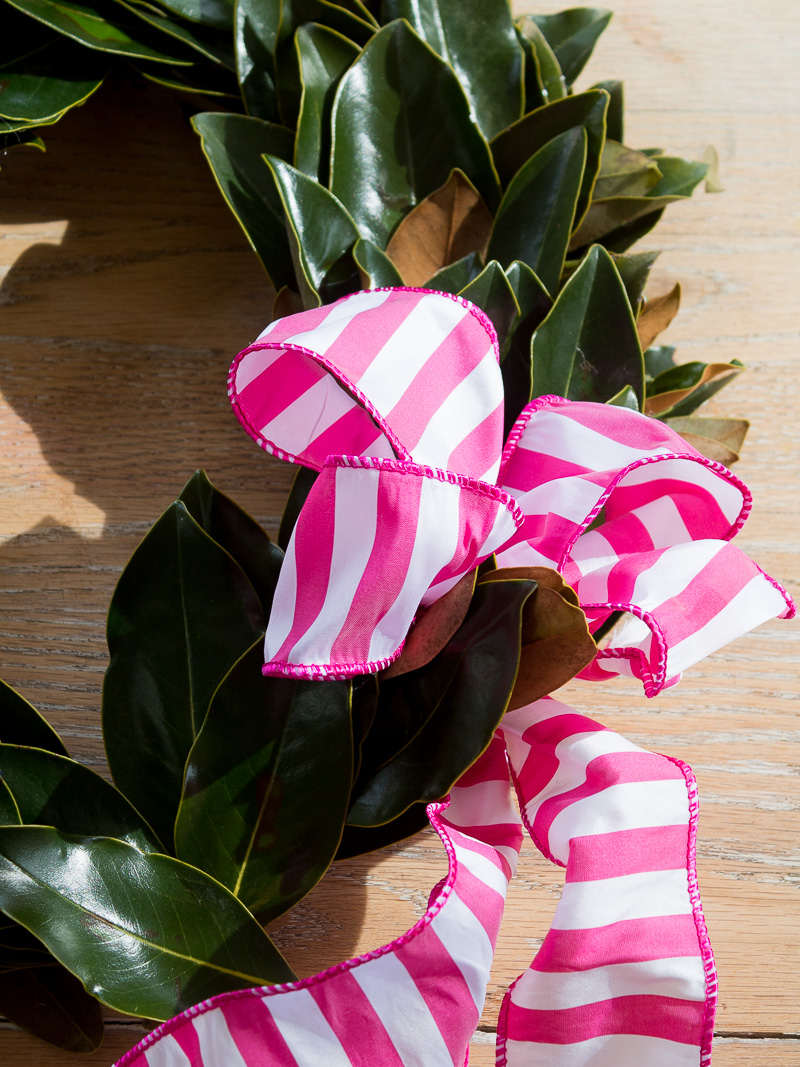 Even if you follow the heart shape, your wreath will probably not look like a heart until you shape it up with scissors. Shaping the wreath was the part that took the most time. Particularly where the two sides of the heart meet in the middle.
I wanted more of the green side of the magnolia to show instead of the under side so I glued more green side leaves on when i was finished.
To create a fuller looking wreath, continue to layer on the leaves randomly around the heart.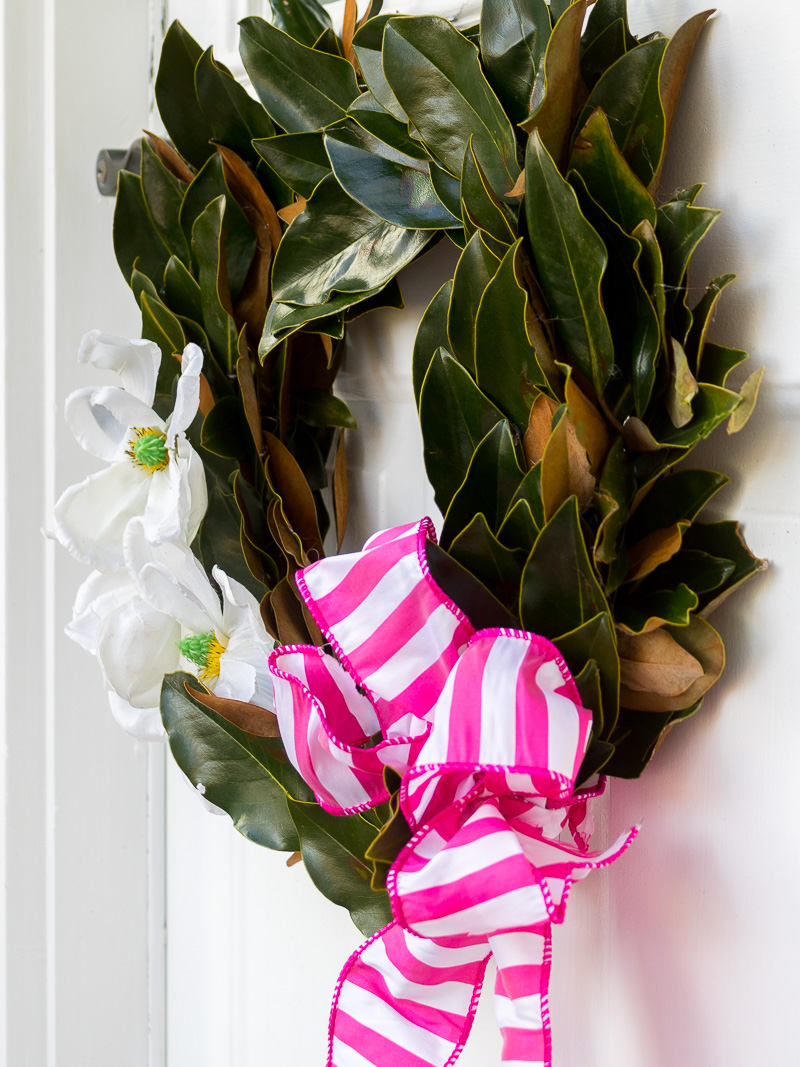 What I love about this sweet magnolia wreath is that I can change out the ribbon and keep it up for several more months or longer on the side entry door. I might even replace the faux flowers for real one's when my magnolia's are in bloom.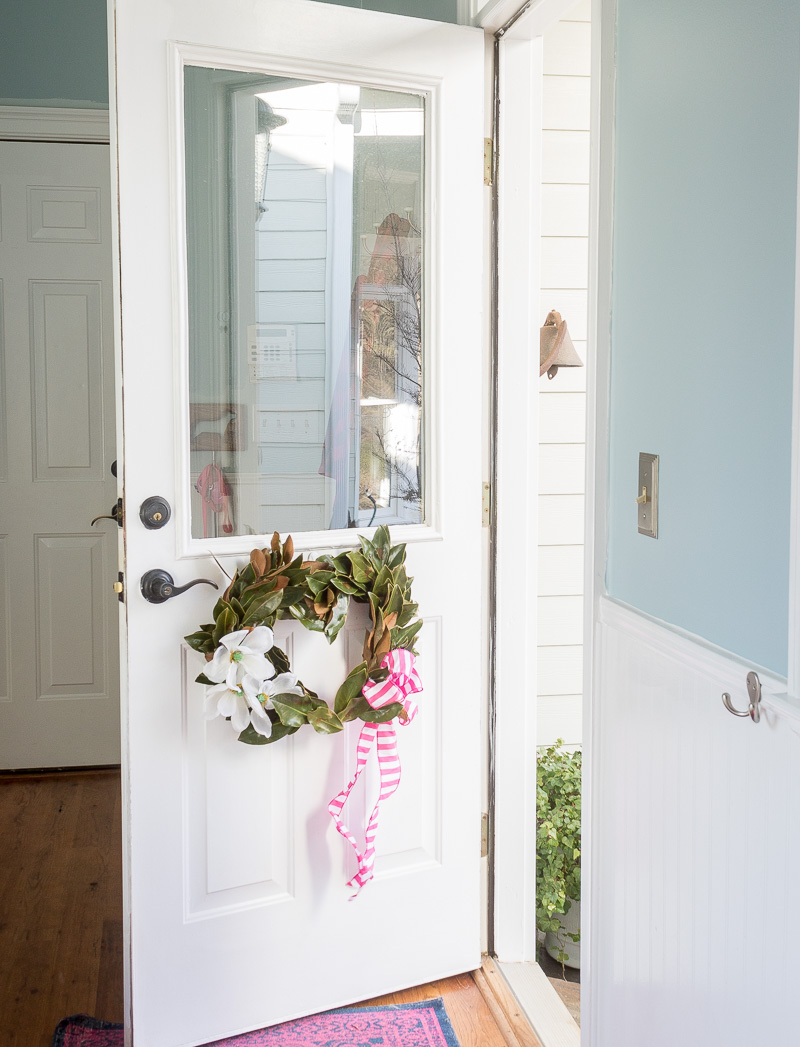 I hope I provided some inspiration on how to make a fresh magnolia wreath for Valentines Day. If you are looking for more wreath ideas for Valentines or Spring time you can click here.
Do you have any magnolia's on you property and what have you used them for?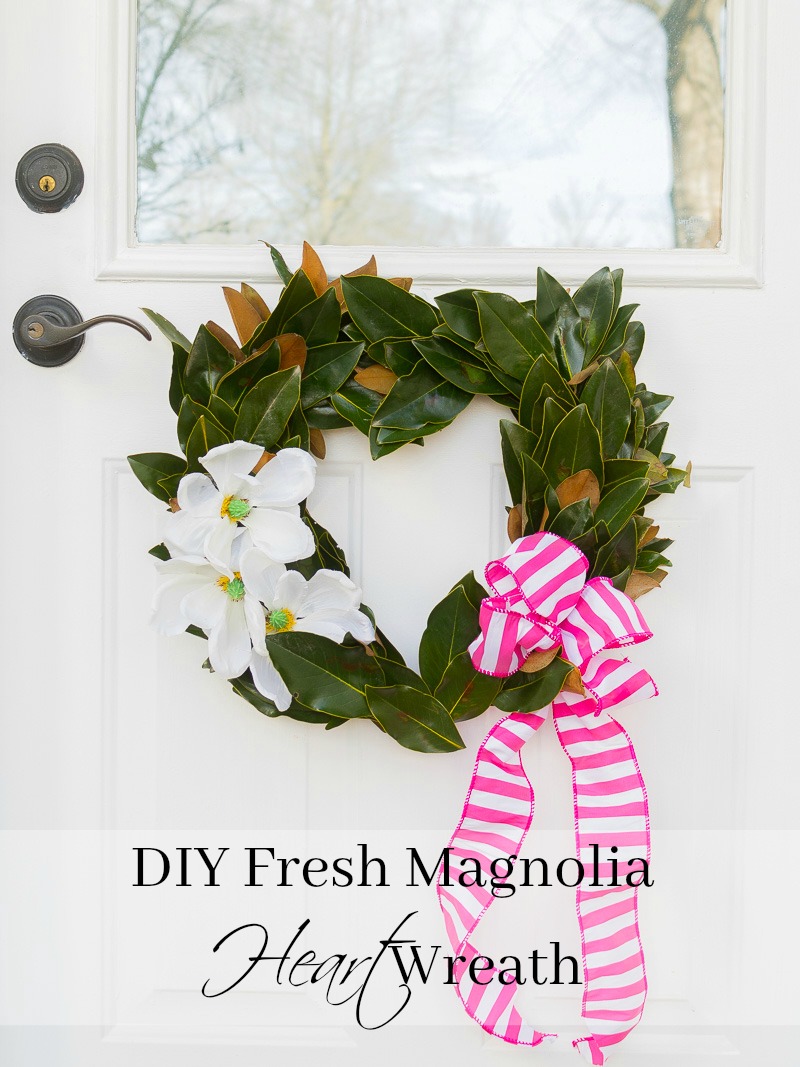 grateful
for love