Welcome to the Summer Tour at Duke Manor Farm 2016. If you are joining from Jenna's at Rain on a Tin roof, welcome. I am so happy to have you here. If you are new to Duke Manor Farm you can catch up on my real life funny farm here. Yes…it's true, donkey's and chickens really can be bff's.
I generally don't put a theme to these kinds of blog events, but I decided this time I would as I was considering the spaces that I wanted to share with you. Ready…here goes. The Relax and Eat tour, which is how we are going to enjoy the next couple of months of summer in the spaces that you will see today.
Relax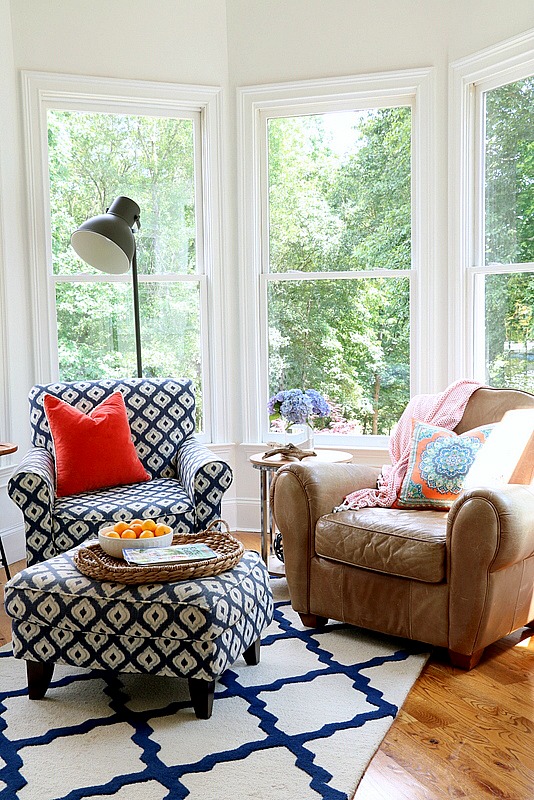 Next to being any where outdoors on the property or the front porch, this is one of our favorite spots in the house….our keeping room. It's a small area right off the kitchen that kinda belongs to my husband and I…although anybody in the house is welcomed. It's that little cozy corner of the house where weekend 'sit in our jammies, drink hot tea and watch tv' moments happen.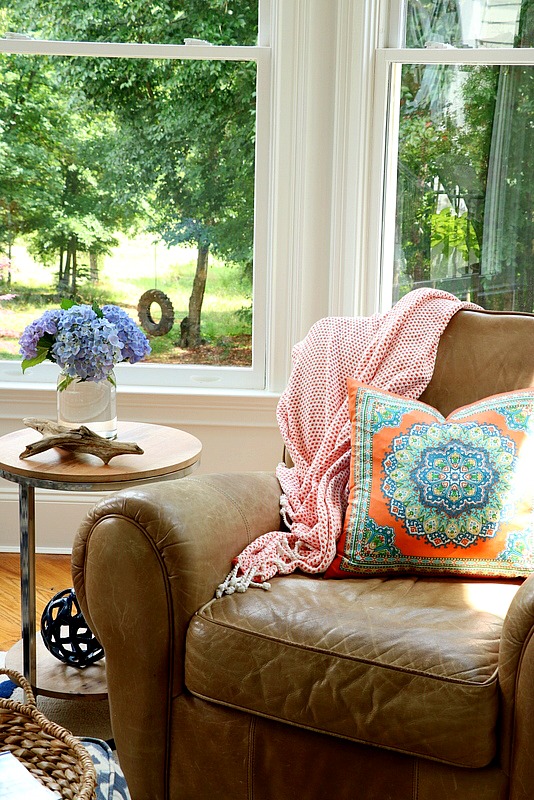 similiar leather club chair/table/pillow ( currently on sale)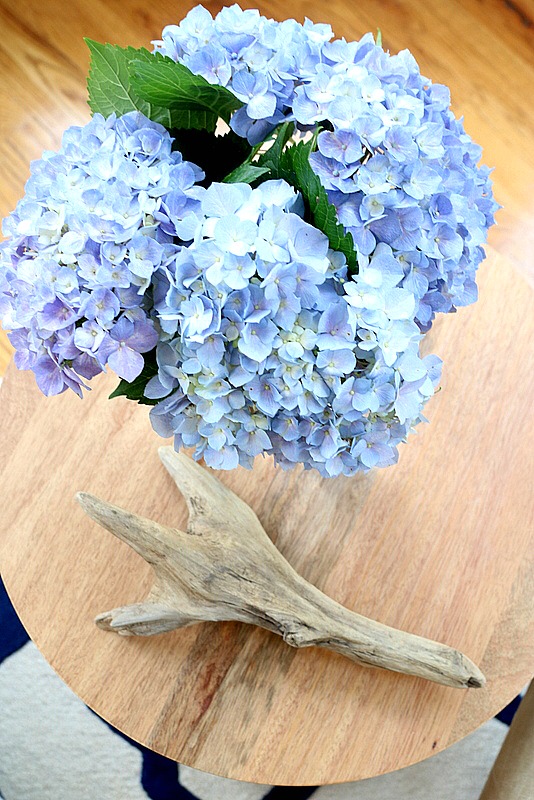 table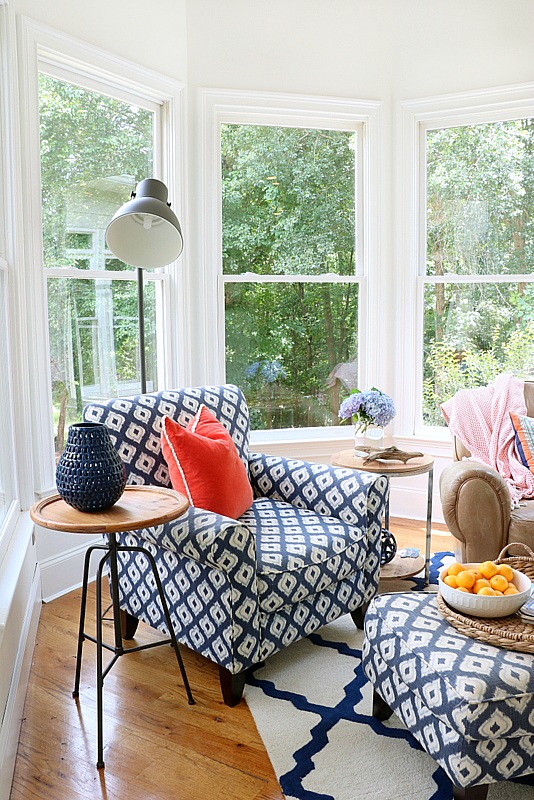 This room actually was designed to house our kitchen table but when we moved in we realized that the table was a tad bit too big for the space so we made some changes. I think the table actually got bigger while sitting in storage. If you walk out that door to the left, I will take you to the next space….where we eat.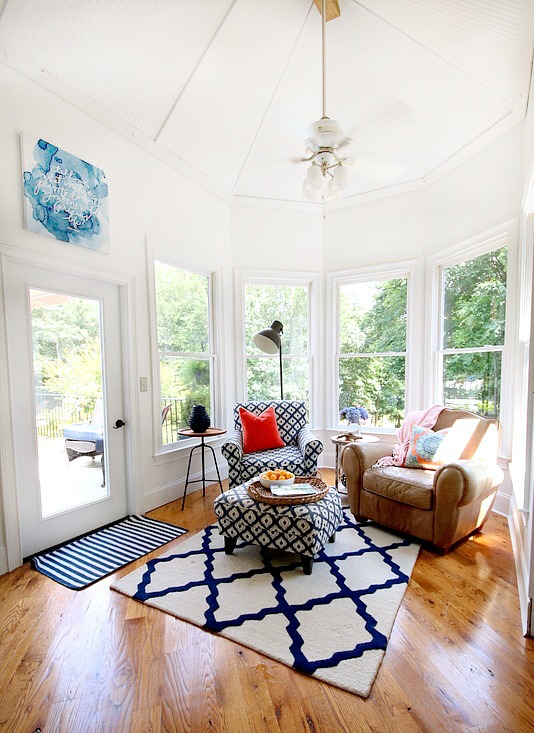 Eat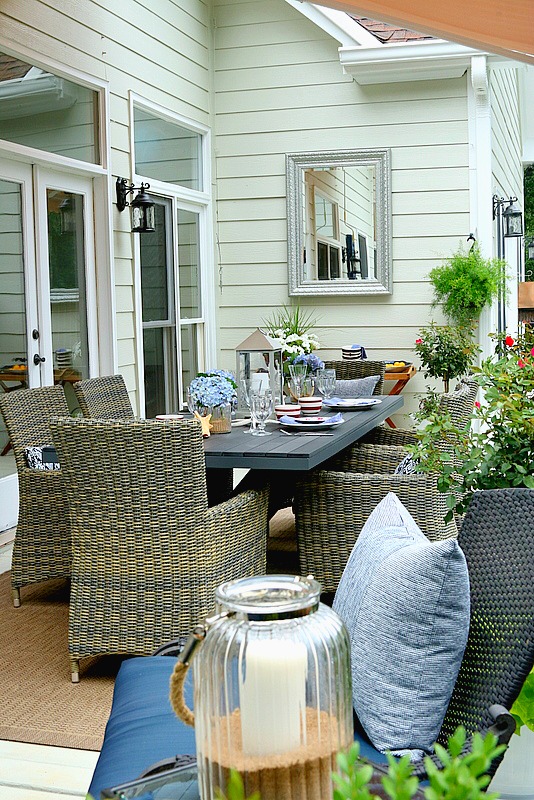 This is the back patio off the kitchen area. It is used a lot for entertaining…and eating. It's prime time is in the morning and later in the evenings. We love this space more when it's not so hot out. A couple of years back we got a retractable awning that works like a charm to keep those harsh sun rays off and keep things a tad bit cooler.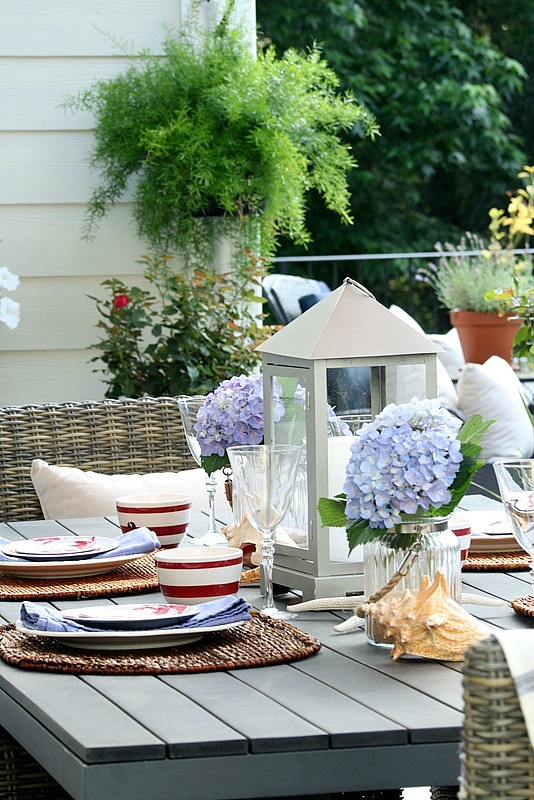 About a month ago I retired the small, wonky table that I had for years and got this one to replace it. Not a bad a trade. The old table actually got moved to another part of the backyard that we have been working on it for many months. Here's a peek.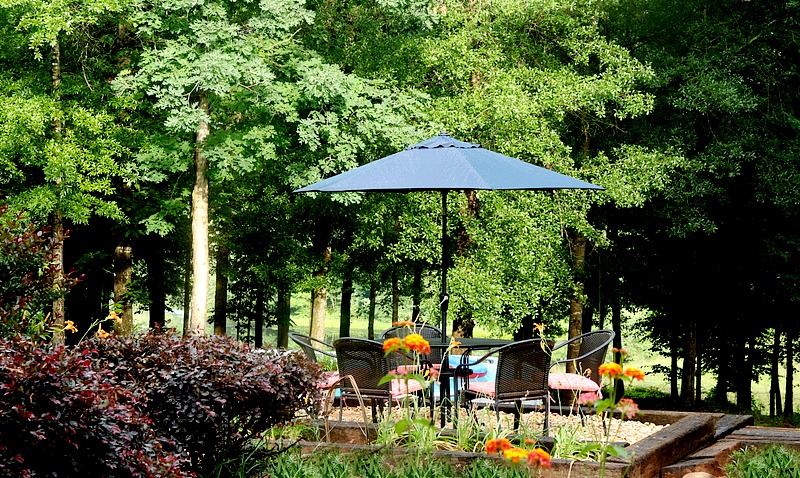 I will say flowers from the garden definitely look prettier on this table. If you don't have a few hydrangea bushes planted in your yard, you are missing out on the most wonderful summer cut bloom.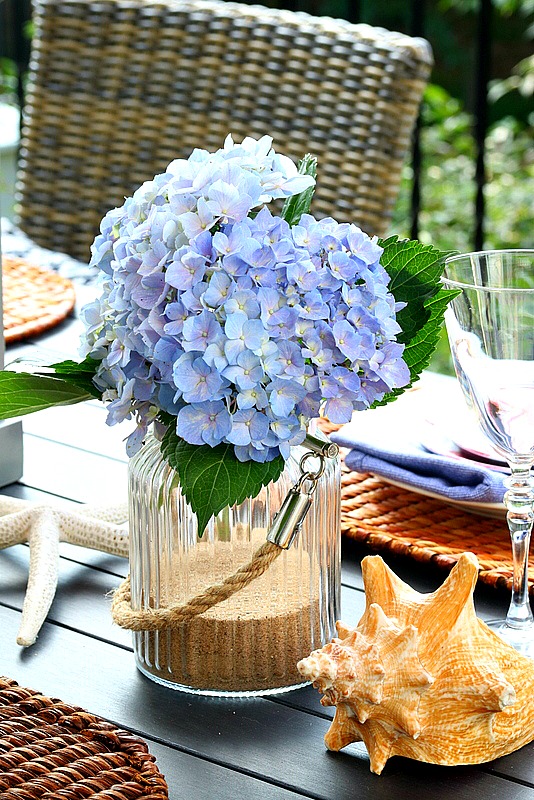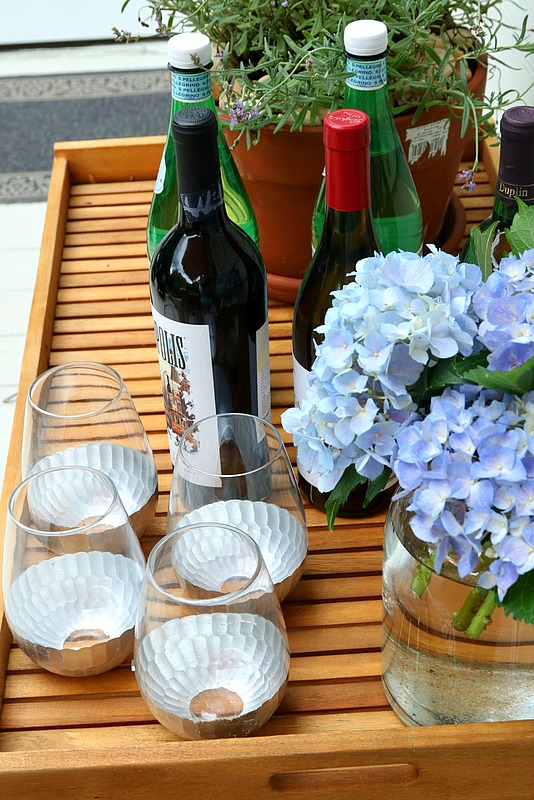 Silver stemless wine glasses/Wood Butler Table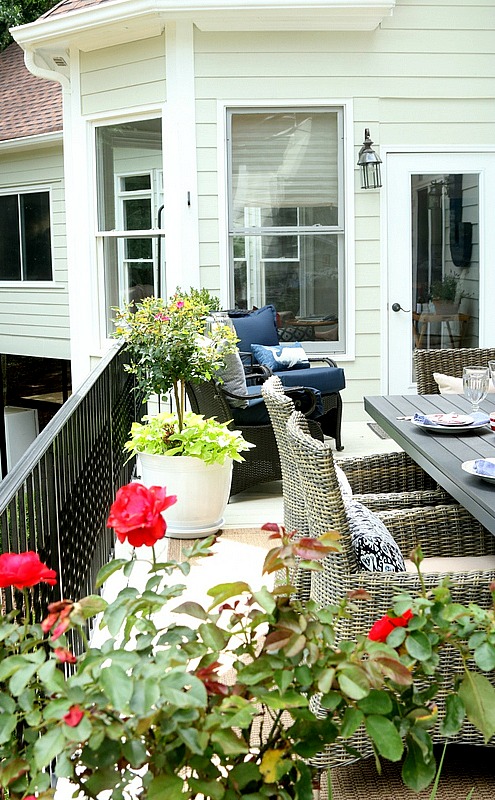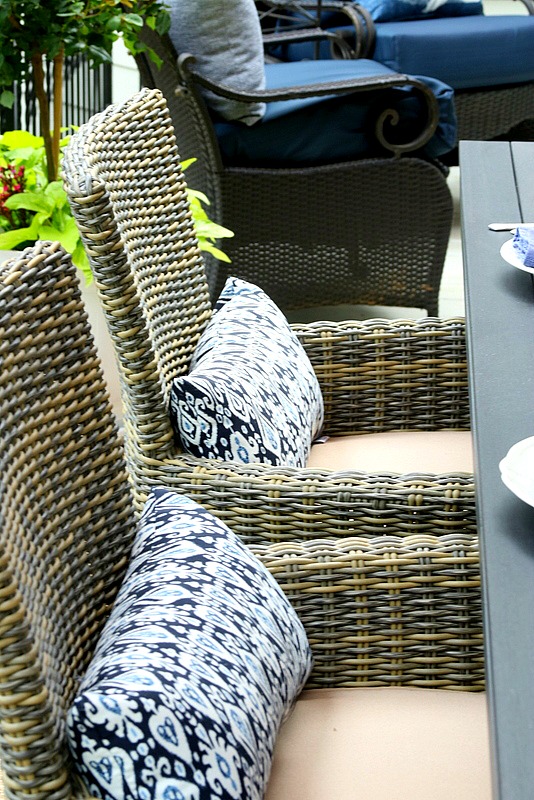 This area is right outside of our master bedroom. I occasionally will grab my morning tea and sit back and start my morning out here..before the summer chaos from the kids begins….for like a split second.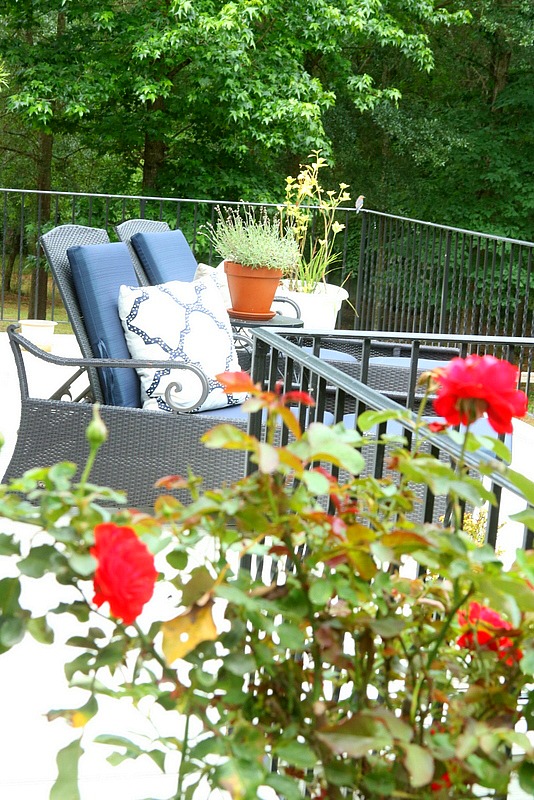 Here's a few more summer spaces around Duke Manor Farm.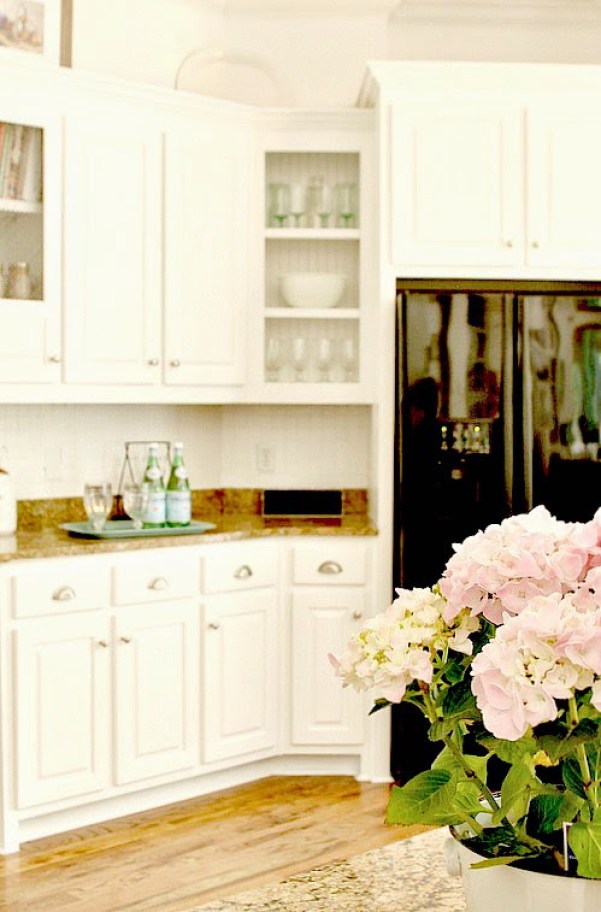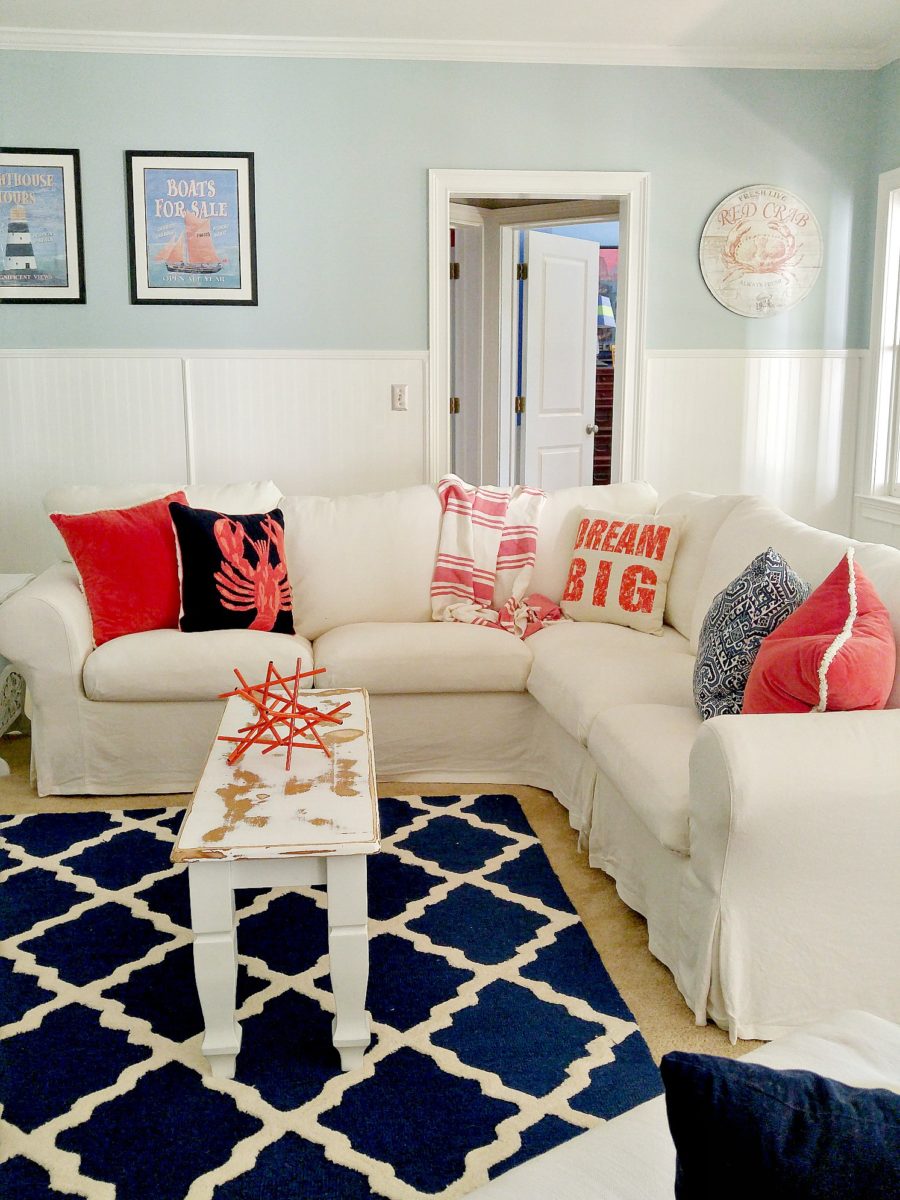 To see my front porch at Duke Manor Farm click here.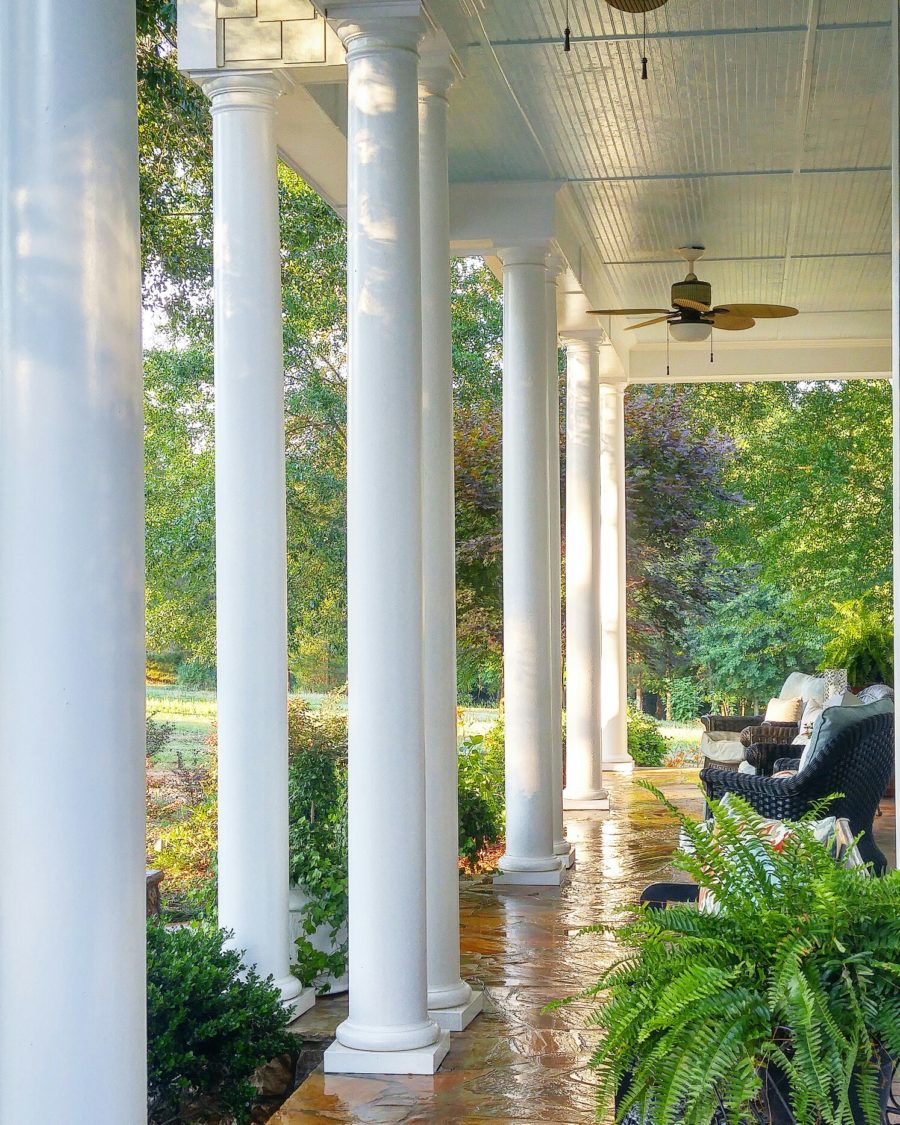 To see last years summer home tour, click here and to see my full home tour click here. I will be back throughout the month with some other summer spaces from Duke Manor Farm. Hope you will come back to visit!
Don't forget to follow Duke Manor Farm on instagram and on facebook for daily updates and pictures
from around my real life funny farm!
Special thanks to Marty over at A Stroll Through Life for putting together this fabulous tour. Here's the full lineup.
Monday
A Stroll Thru Life | Life on Virginia Street | Remodelando La Casa | Thrifty and Chic | Rain On A Tin Roof | Duke Manor Farms
Tuesday
Life Love Larson | Haneens Haven | Claire Brody Designs | My Uncommon Slice of Suburbia | The House of Silver Lining | Hymns & Verses
Wednesday – June 8
Dimples & Tangles | Our Southern Home | Simple Details | Decor To Adore | A Thoughtful Place | 21 Rosemary Lane
Thursday
Our Fifth House | Decorating Delirium | Driven By Decor | Making Home Base | Simple Stylings | Cuckoo4Design
Friday
Refresh Restyle | Splendor Styling | Monica Wants It | Life and Home @ 2102 | It All Started With Paint | Far Above Rubies
Happy Summer!

grateful
for mornings on the deck….quiet or not
disclosure: some affiliate links used