Changing Tradition and using pink in my holiday home
Welcome to Duke Manor Farm! I am so happy to be joining this amazing holiday home tour that has been going on all week. If you are joining me from Aprils at House by Hoff welcome to Duke Manor Farm , if not you will to visit her pretty holiday home. Special thanks to Marty from A stroll thru life who coordinates and hosts this lovely tour every year. If you have never been to Duke Manor Farm before you can catch up on me and my real life funny farm here.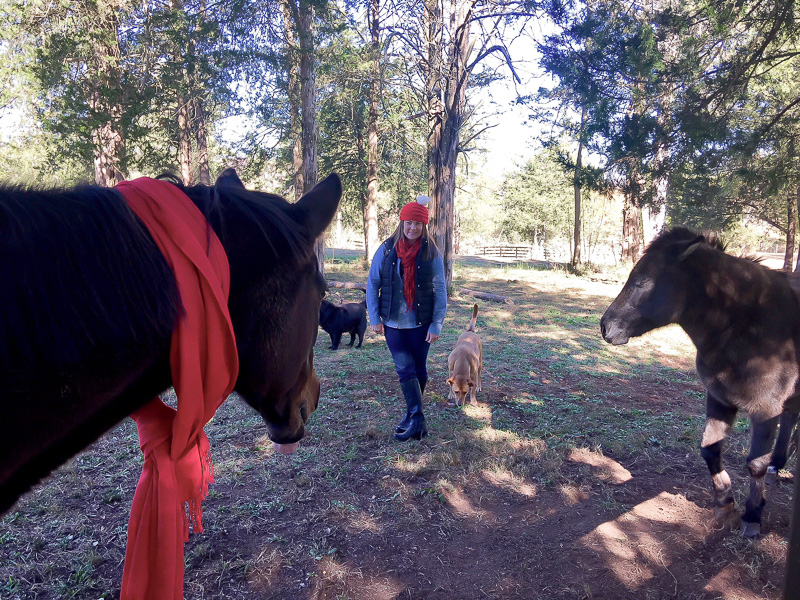 Changing Tradition and using pink in my holiday home
I defied our traditional holiday colors and went with a totally new color this year…. Blush. I just love the softness and calmness of it all. It feels so peaceful. We need more of that, don't you think?. Although to be frank, the kids weren't in love with it, like at all. Especially my boys. "Yuck…pink!" They walked around for weeks asking when we were going to put up the real christmas tree. The "family tree" with all the homemade ornaments. The tree with all the red. So, one afternoon I decided to revert back to good ole tradition and replace the blush with red. And since I had photographed it all in blush, that's what I'll show you today. Another story, for another day that I'll share next week. Until then, you should know that the kids are happy.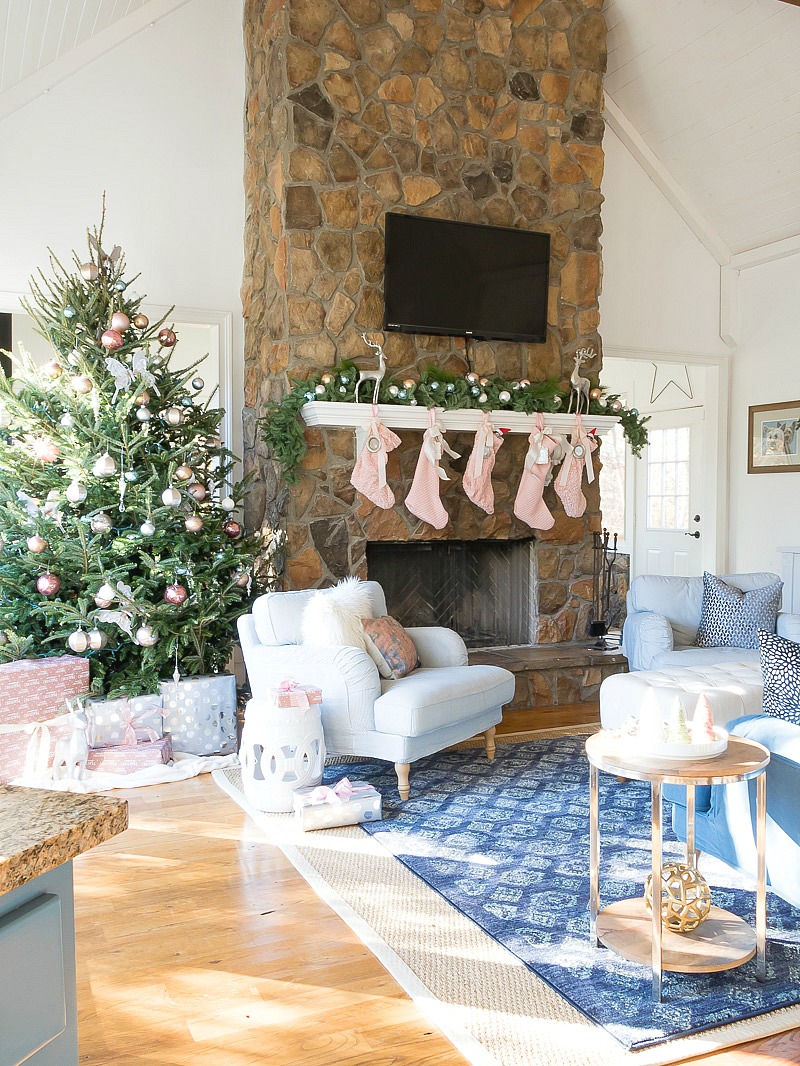 The inspiration for the color switch were these pillows. I love the mix of blush and navy on them. Actually I got them for my bedroom but decided to see how they looked out here in our Keeping room. This area is between our Kitchen and Family Room. Immediately I was smitten and decided blush it was for the holiday color. I guess I should have had that family meeting with the kids first!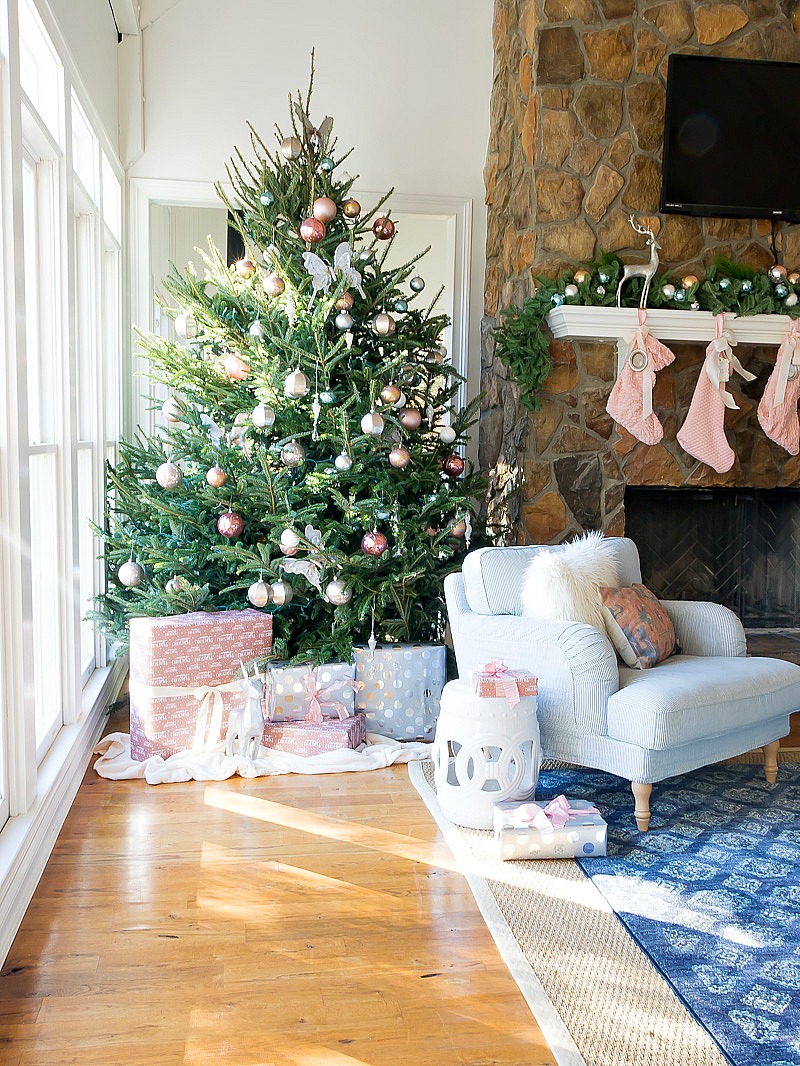 chairs Ikea/patterned rug/garden stool/fur pillow/blush pillow
Before the tree went up I whipped up these stockings. You can get all the details on how to make them here.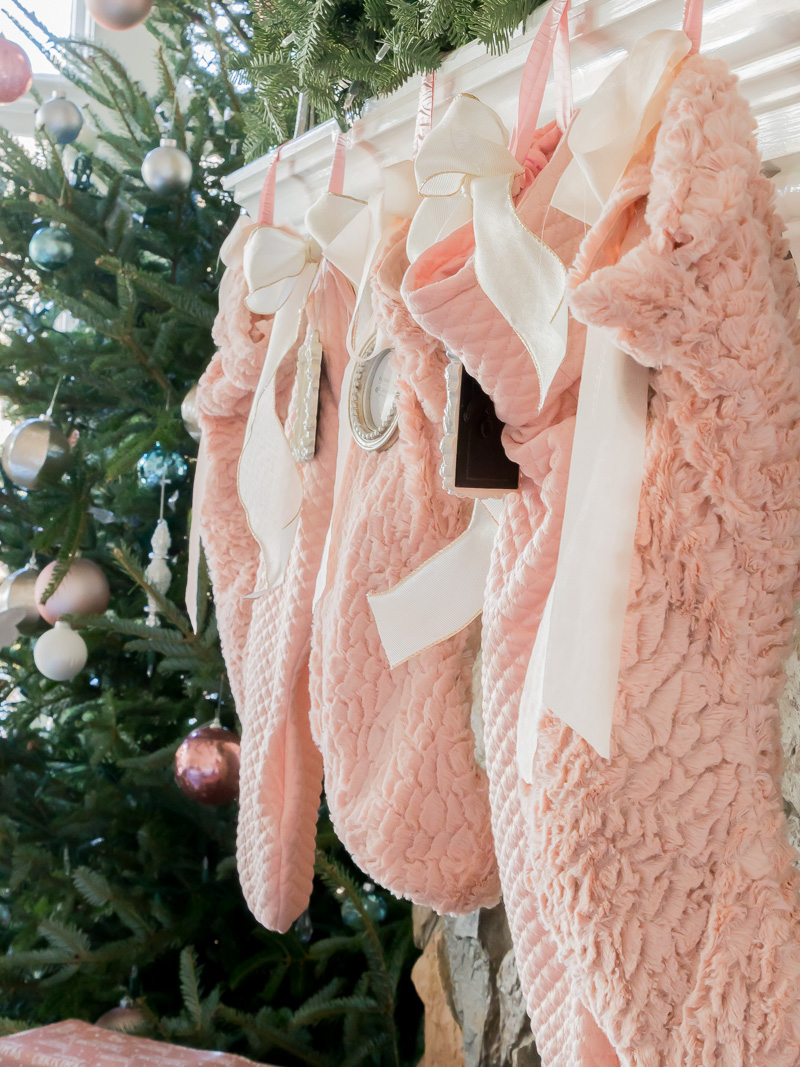 I found some blush glass trees and grouped them with some silver ones that I had. The blush trees look like something vintage. They are so pretty and have little lights in them. New Lanterns with faux snow and mini lights are on a timer and are so magical at night.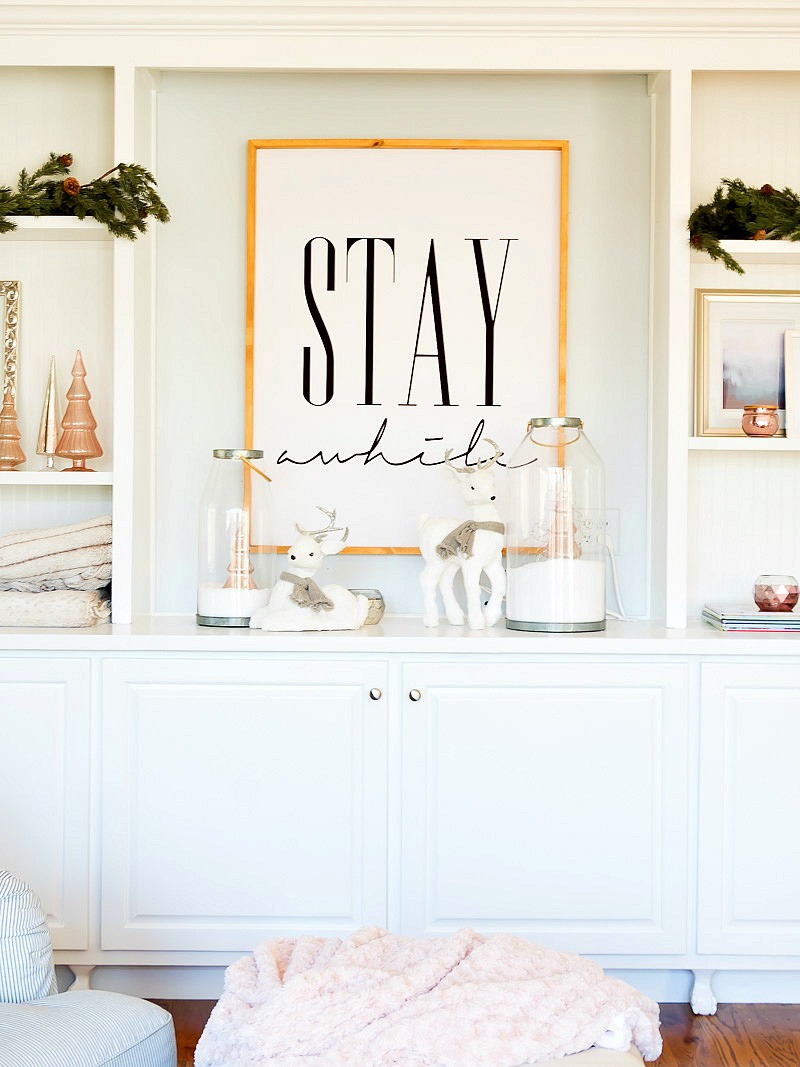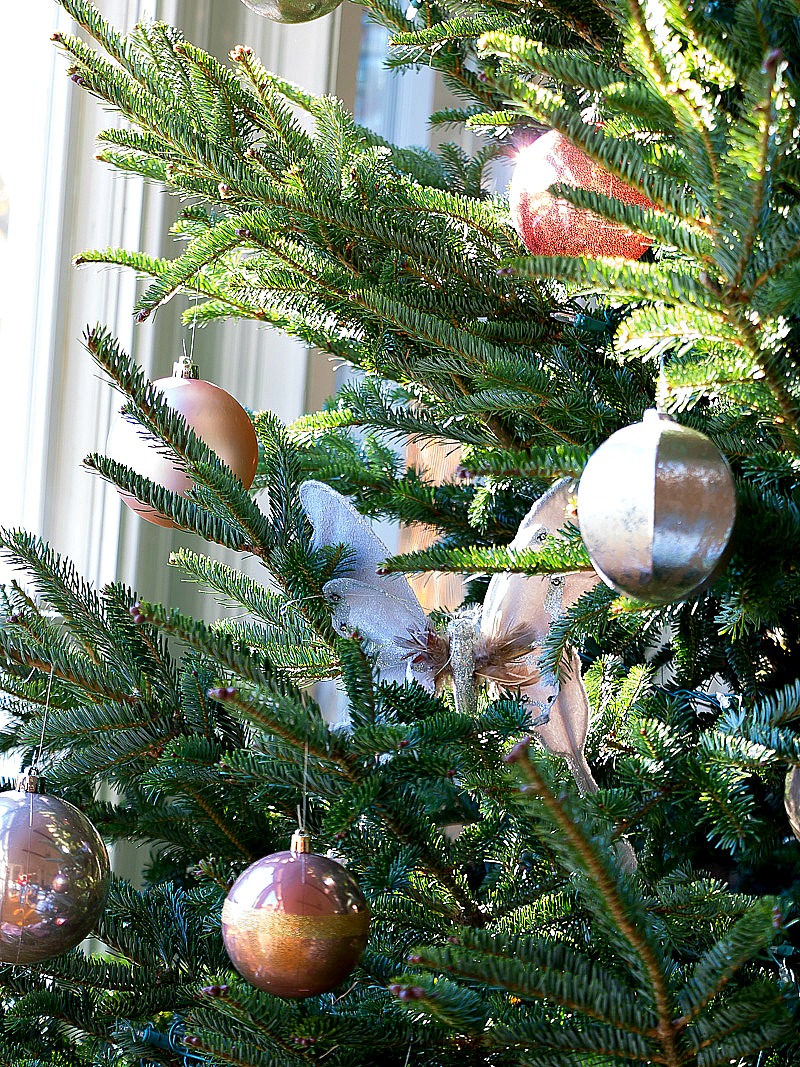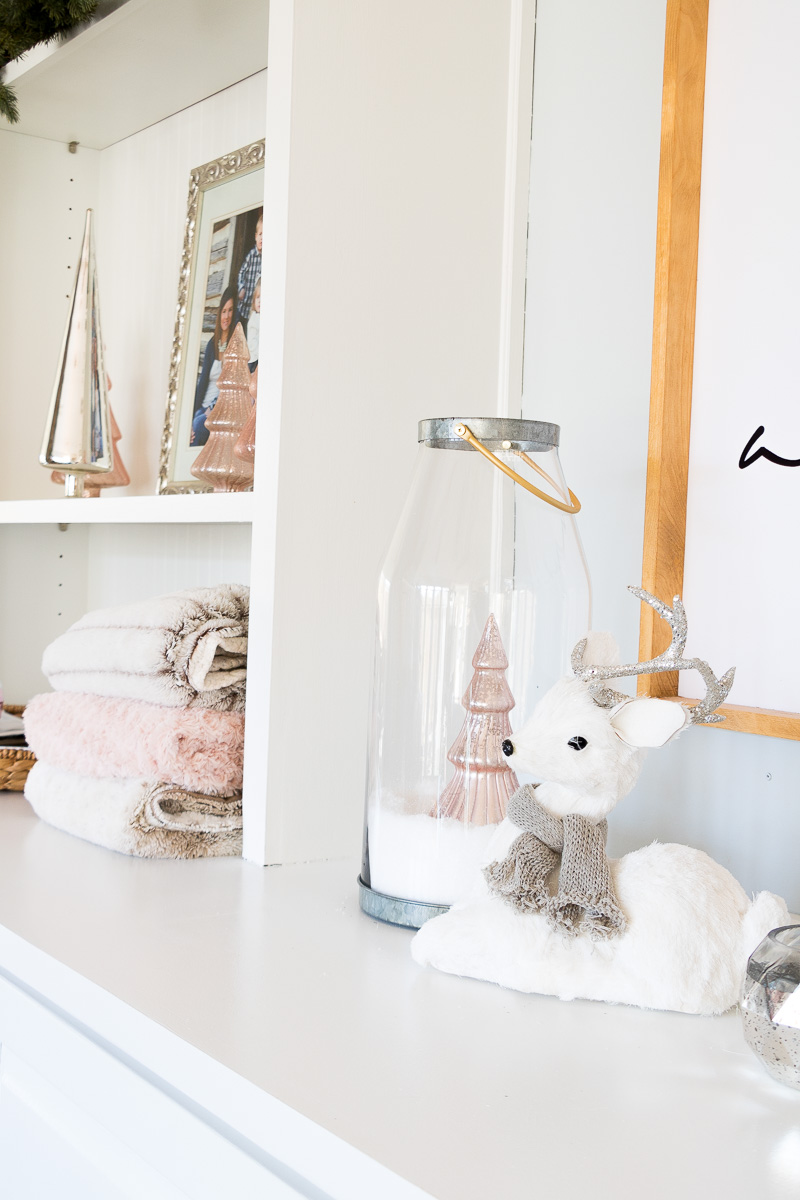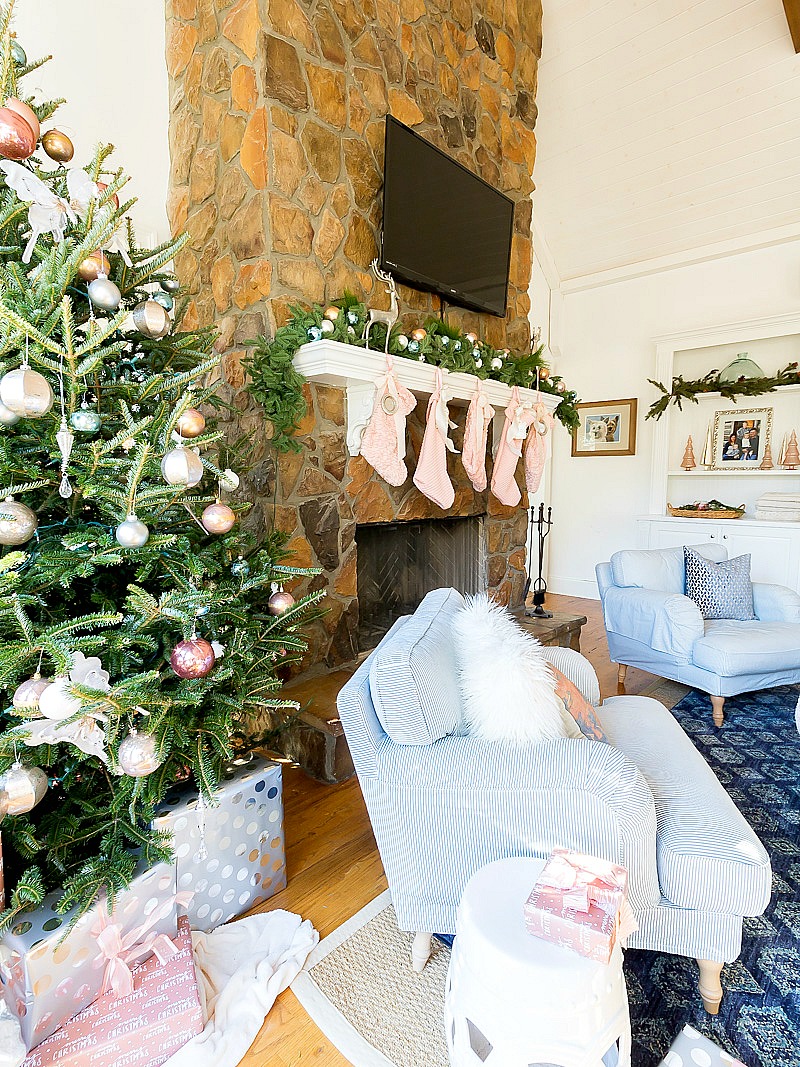 Holiday Kitchen
I don't really do a lot of decorating in the kitchen other then the mantel above the cook top. I wanted simple and sweet, so a few trees and little brass deer are hanging out. Actually I'm finishing a paint job on the other side of the island so this is the only view you will see today. #getitdone Time to make some updates to my 15 year old kitchen.We are actually getting new counter tops and appliances soon. So next time you come by things could look a little different.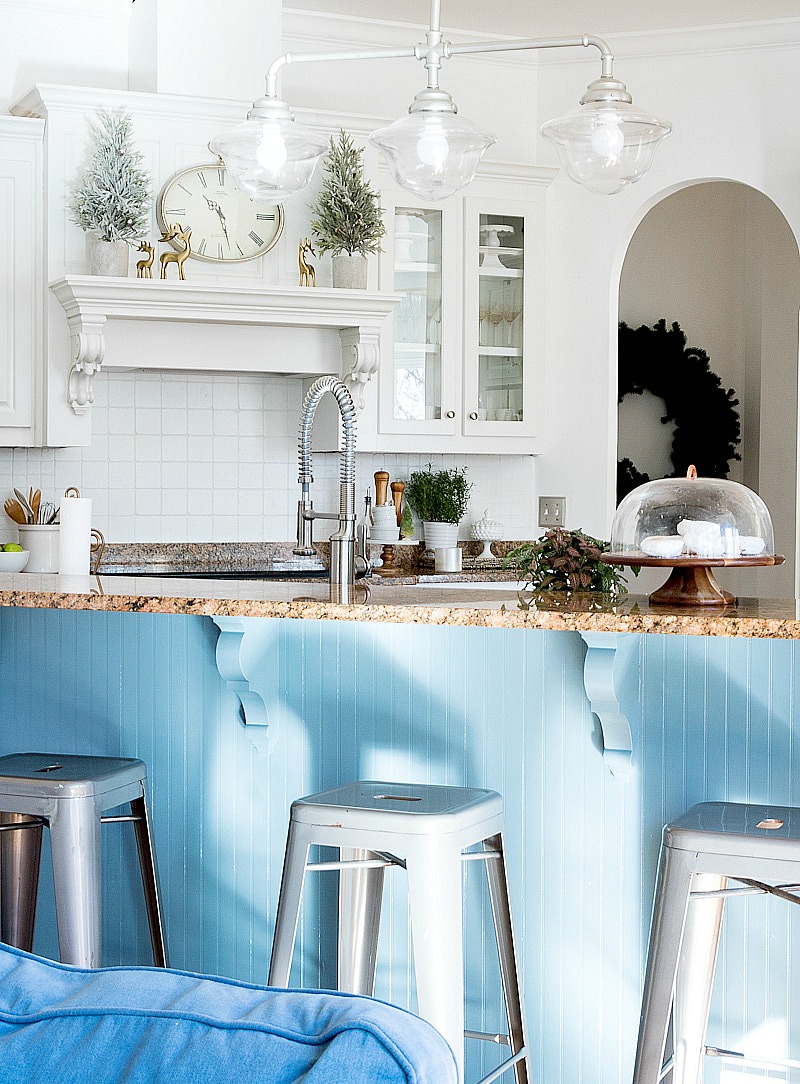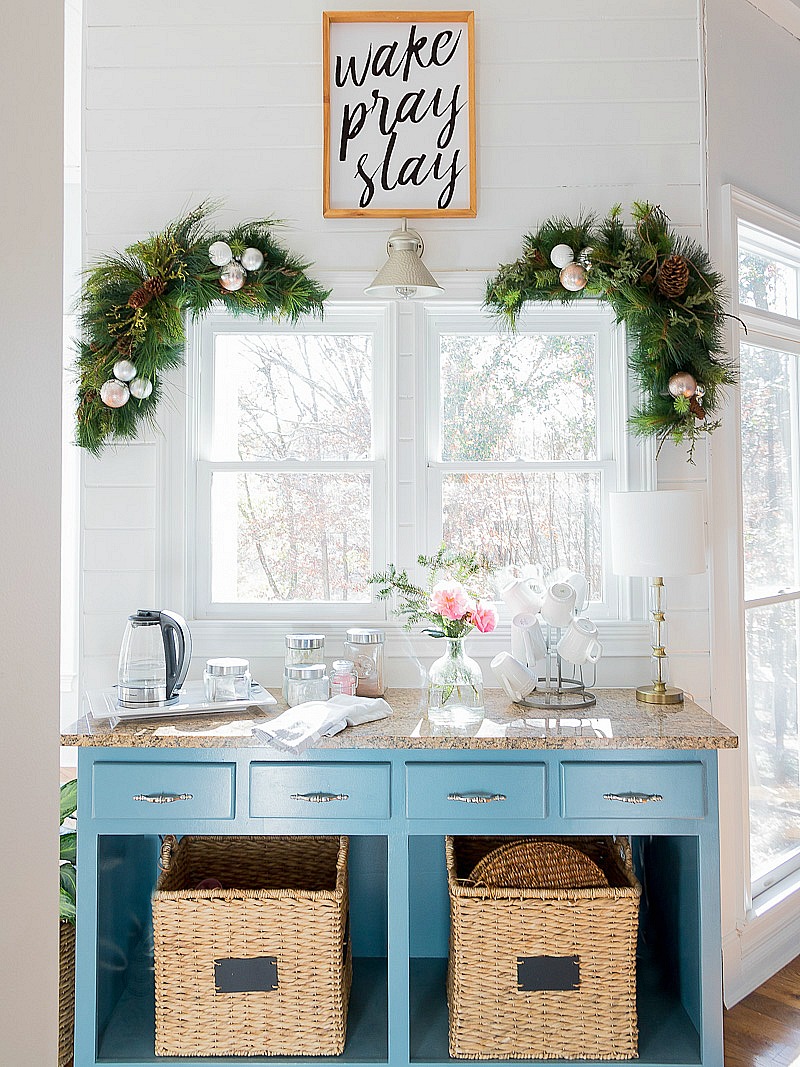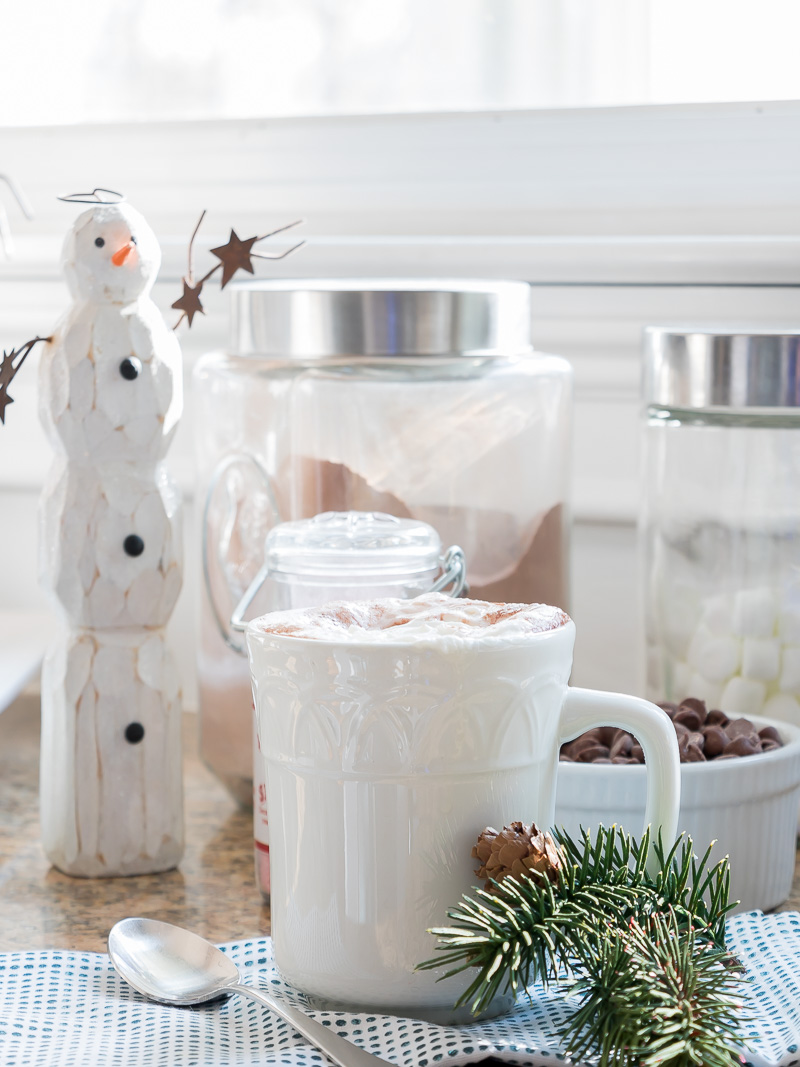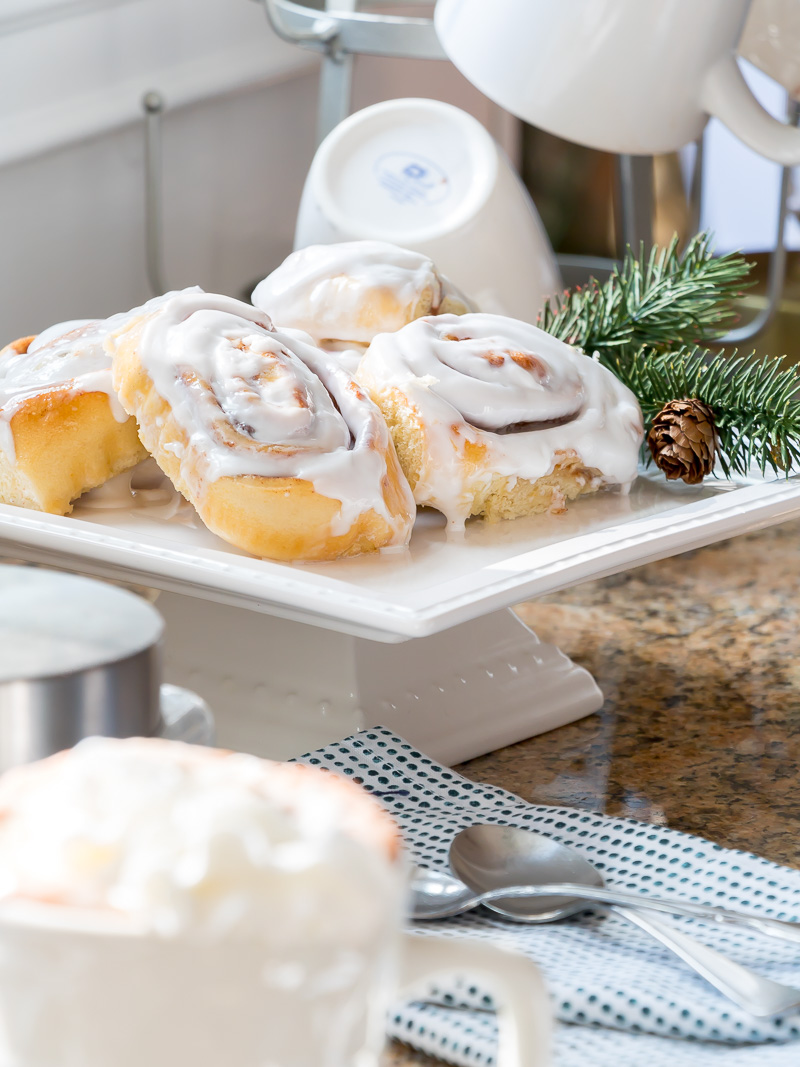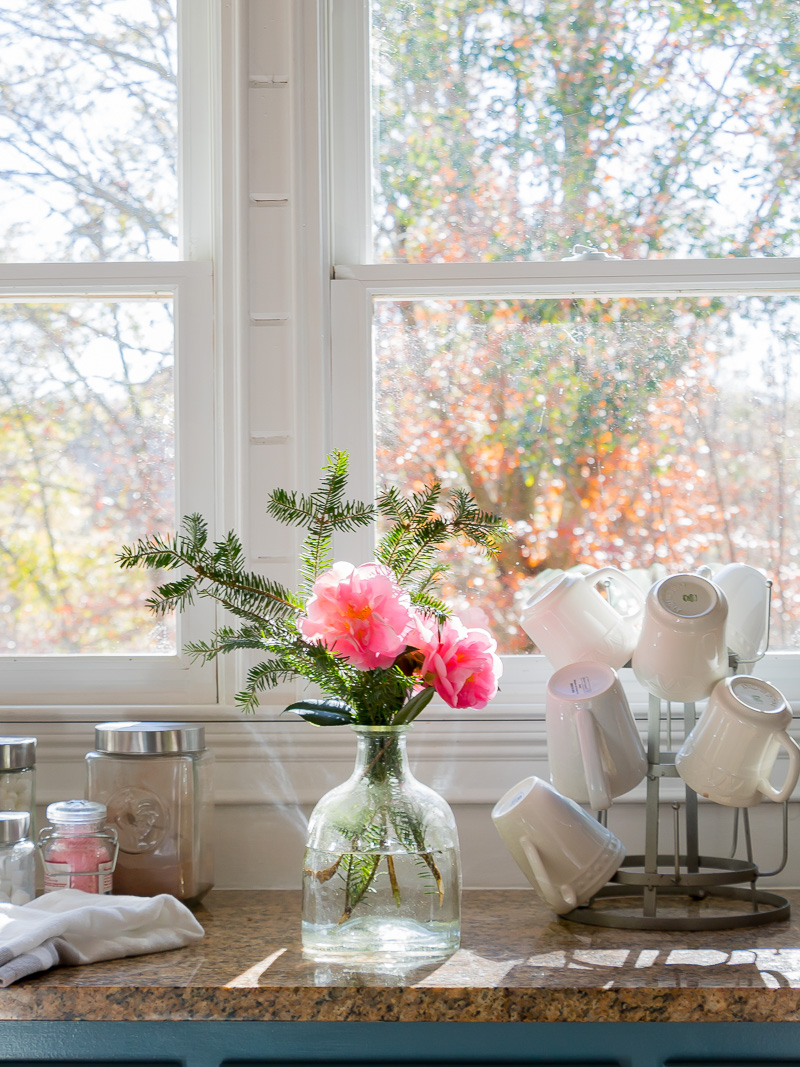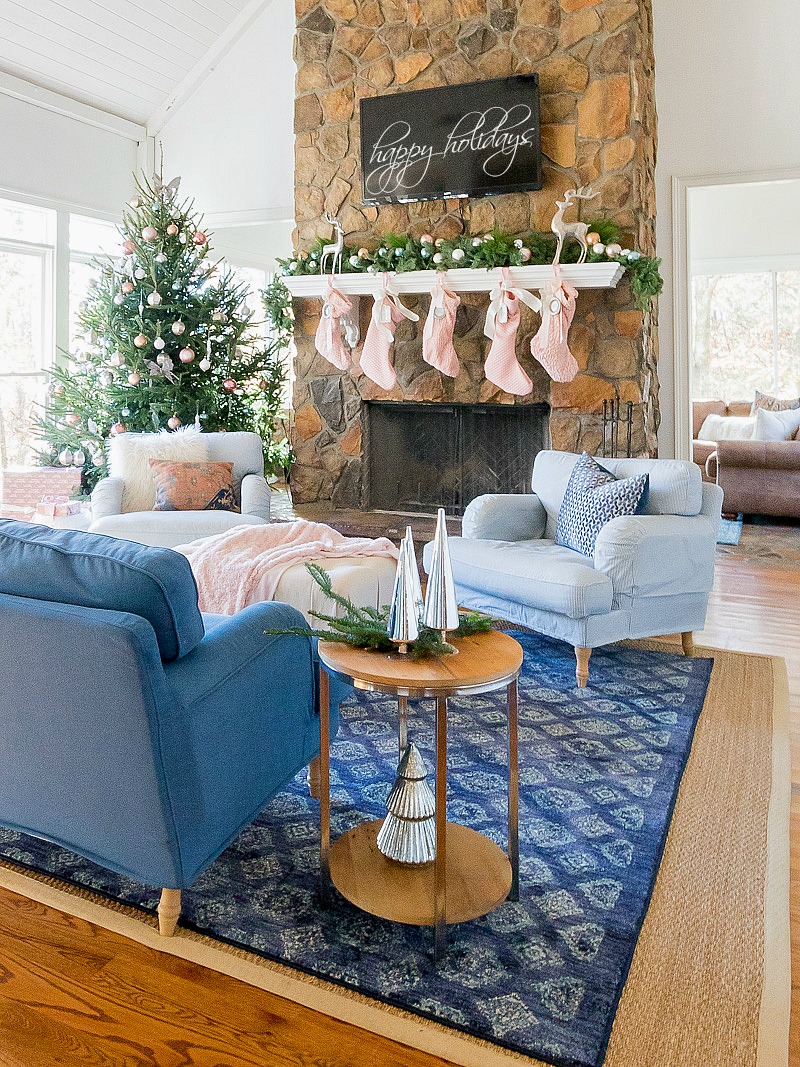 The blush is not lost forever
Since I was hell bent to have blush this year , I will share where I moved the blush next week. I hope you enjoyed the tour and that I maybe even left you with some inspiration as you start or finish up your own holiday decorating. You might even consider blush….but talk to your kids first!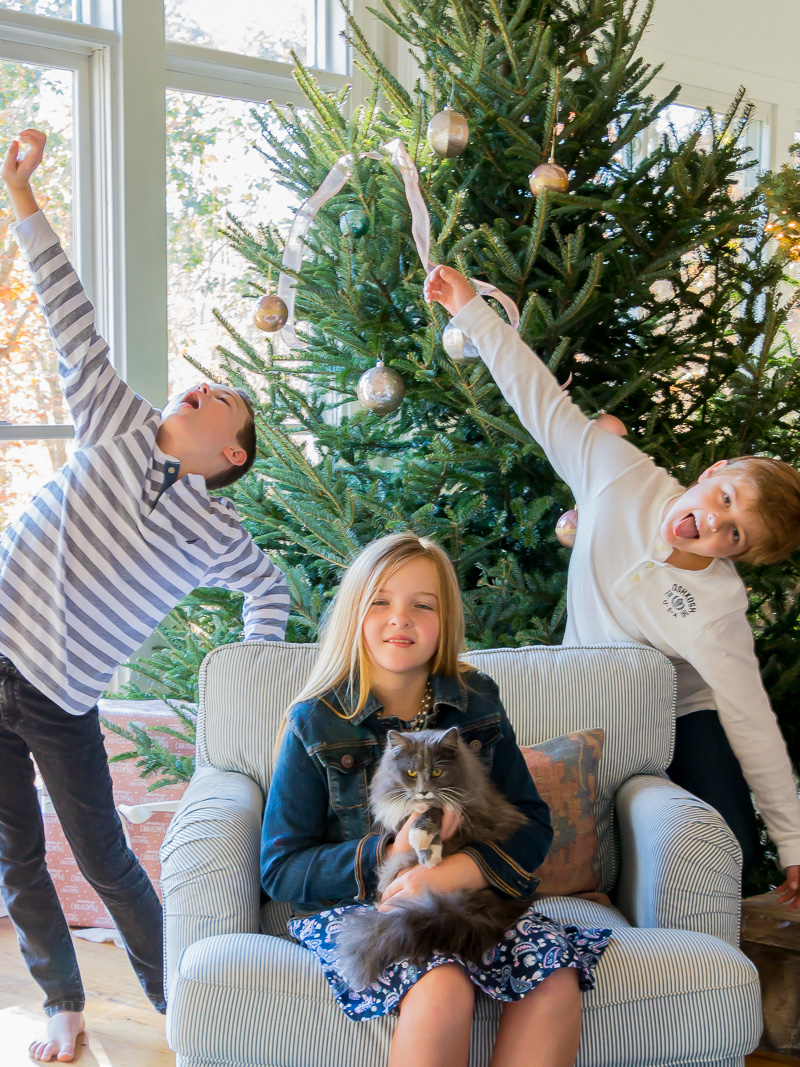 I hope you have a lovely holiday season. I'll be back this weekend with a recap from the entire tour this week with highlights of my favorite spaces from the 30 holiday homes. I have included the links for the full tour below. Until then, from my home to yours and my perfectly imperfect 158 outtake for our holiday card…..Merry Christmas!
Next up on the tour is Debra from Common Ground. I know you will enjoy her holiday home!
Monday – Dec 4th
Tuesday – Dec 5th
Wednesday – Dec 6th
Thursday – Dec 7th
Friday – Dec 8th
Don't forget to follow Duke Manor Farm on Instagram and Facebook where I share tips, projects and behind the scenes of Duke Manor Farm. Or sign up for my emails or newsletter to never miss a post.

grateful
for the season
This post may contain affiliate links for products that I mention