Oh no. I think I owe you an apology. I am so sorry if I had you running around all weekend looking for my mailbox that I showed you here.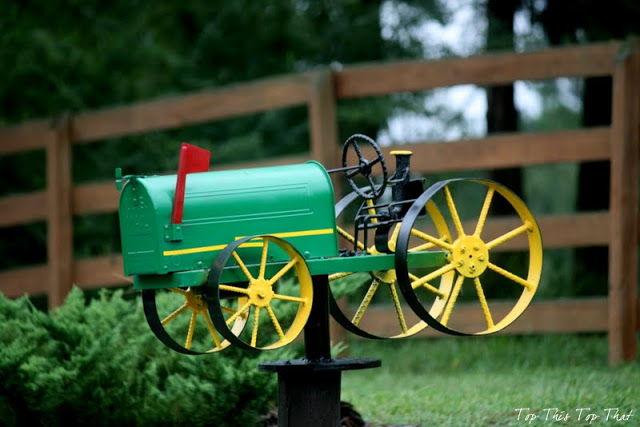 Sorry if I mislead you into thinking you could buy it at some tractor supply place somewhere on a dirt road in the country or on eBay or craigs list, because you can't. Not this one anyways. Nope, this is a one of a kind Flea Market Treasure, and it didn't always look this good.
See when we got it, it lacked a lot style and color. Heck, even my mailman would drive right by and throw us our junk mail!
But that all changed one day with a little bit of spray paint and some aluminium foil.
Add a little bit of outdoor yellow vinyl for the stripes, a little red on the flag and the tractor mailbox is good to go.


Since I put this mailbox up even my mailman has even stopped delivering the junk mail. Now if I could only get him to stop delivering the bills!
Want Top This Top That delivered directly to your inbox?
It's easy! Just enter your e-mail address.