Happy Holidays Everyone ! I am so thrilled to be participating in Jennifer Rizzo's Holiday House Walk. This is my second year on the Holiday Home tour. It's always such a treat to open my home up to others and to visit other holiday homes. Last year I greeted you with my donkey  Oreo, this year it's Rosie Sunshine. She's  all decked out in her Santa dress.  We both are so happy that you are here.  By the way, you can find last years holiday home tour here.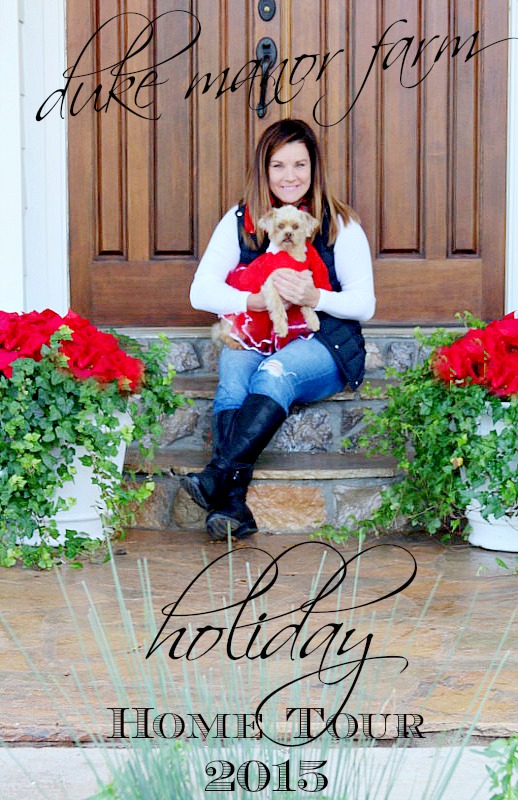 A hug and hello to you, if you are coming over from Jennifer's beautiful home at  Town and Country Living…..and if you're not….. a big hug and hello for you too!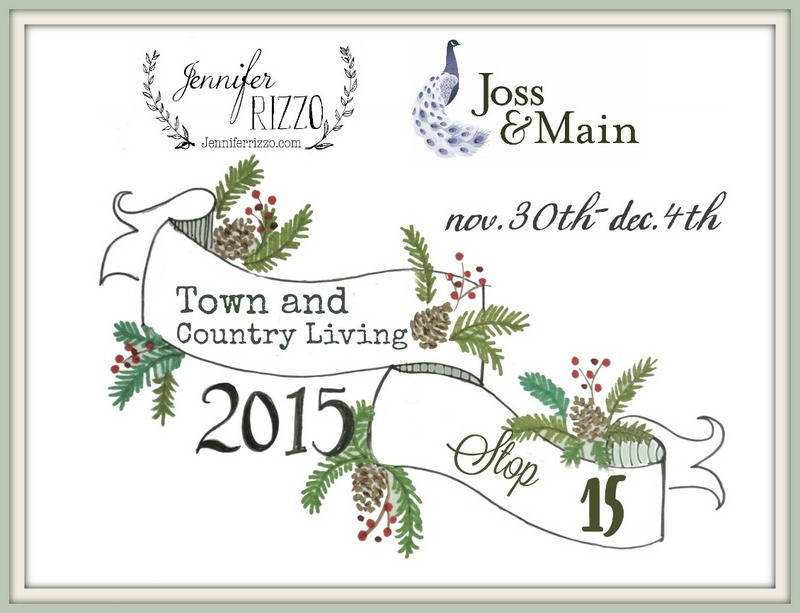 This year we are being joined by Joss & Main and by Good Housekeeping.  Good Housekeeping has created a Holiday House Walk  pinterest board that's loaded with tons of holiday inspiration from the tours. If you want to read more about my real life funny farm ( it's true) you can click here to read later, because it's time for me to show you around Duke Manor Farm.
All throughout the house this year I went simple, traditional with pops of red. What I loved about decorating this season, was that I used what I had, to create a holiday home for my family and friends that is real, full of life, and a place where memories will be created. The stuff that really matters.
Kitchen/Breakfast Area
A little secret about this space…. We literally just finished installing the wood plank ceiling and beams over the weekend. A project that we had planned for some time. Nothing like eating Thanksgiving Dinner with orange scaffolding as your backdrop but….man was it ever worth it. I will be sharing more detail on the ceiling later in the month, but you can see my post on how to plank your ceiling the week of Thanksgiving and right before a Holiday home tour here.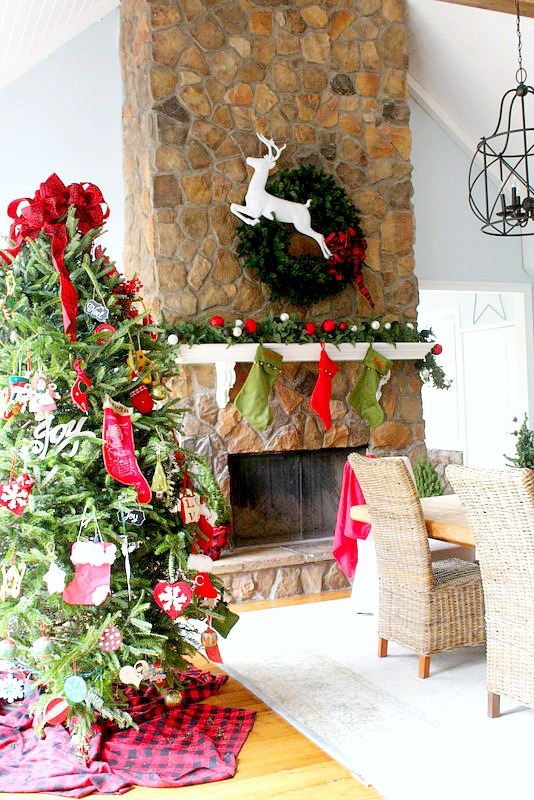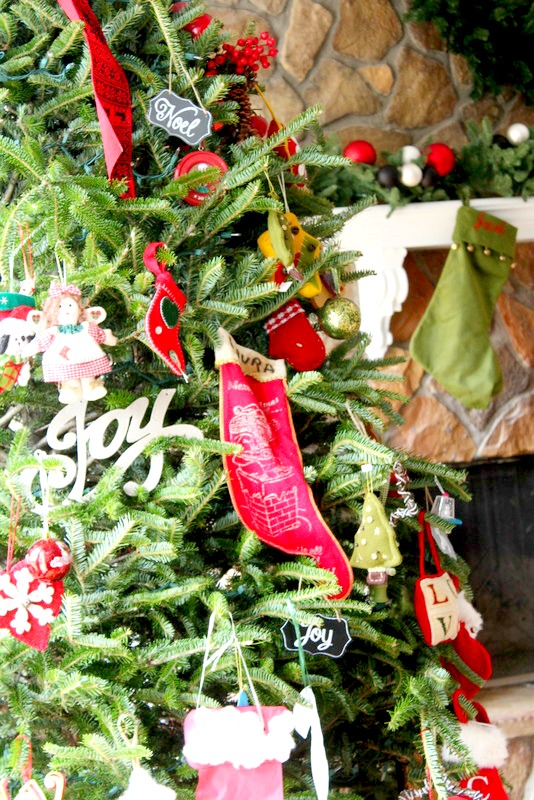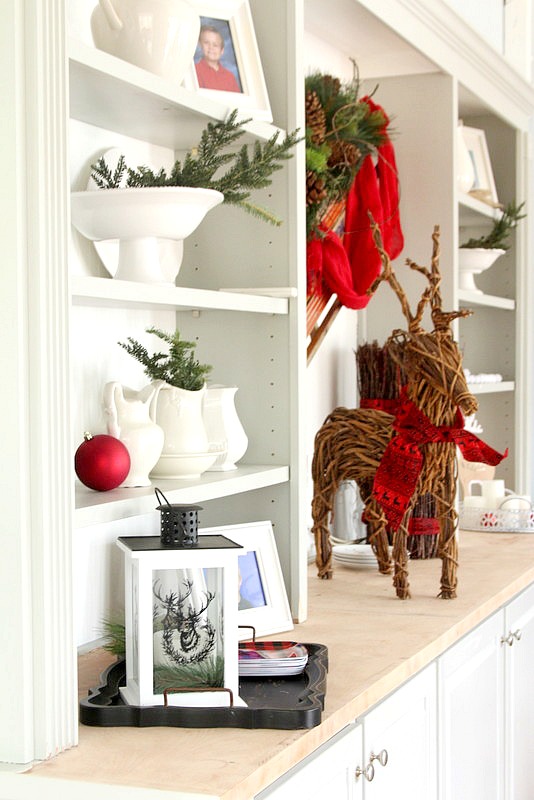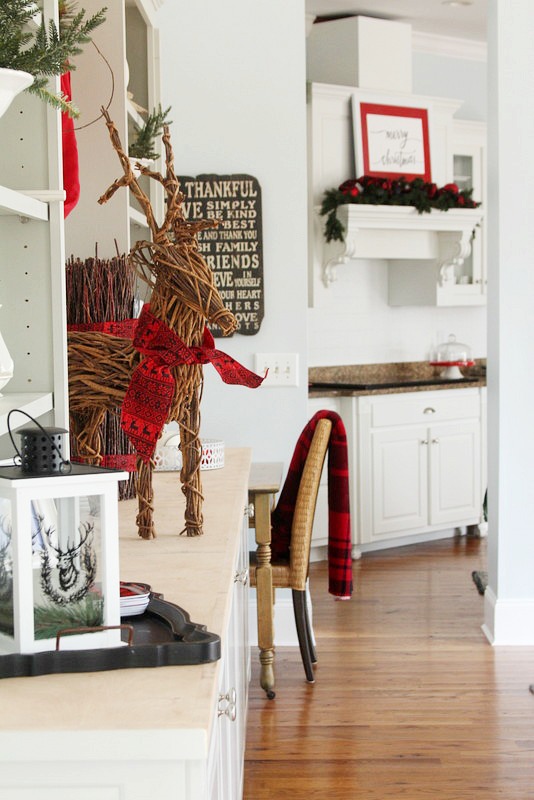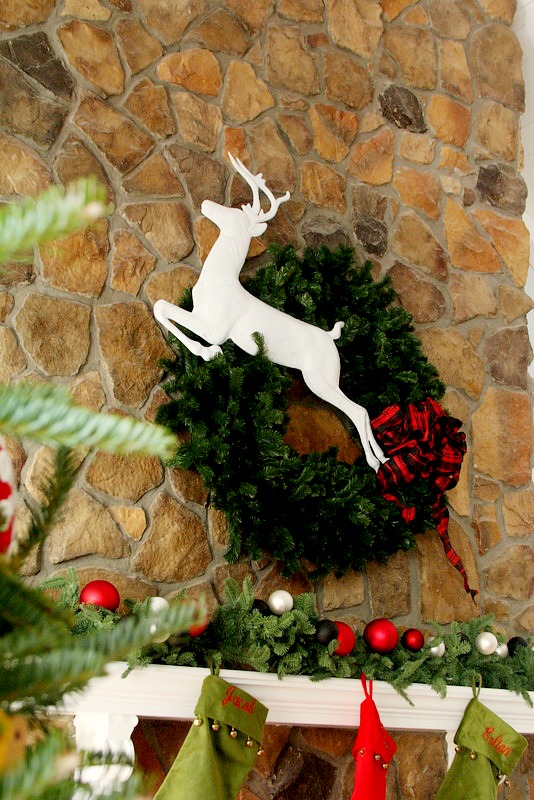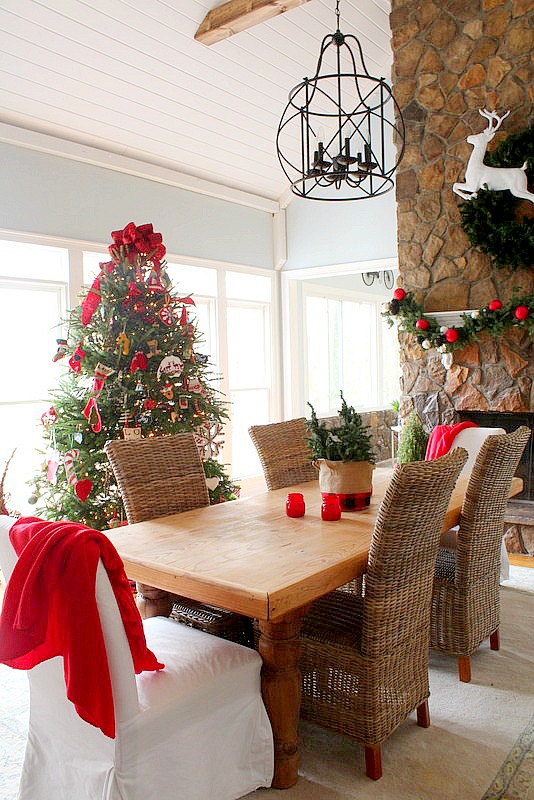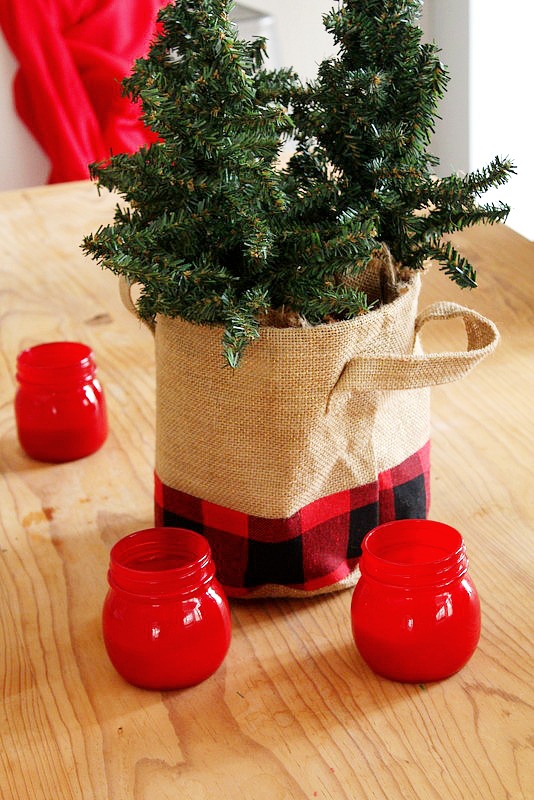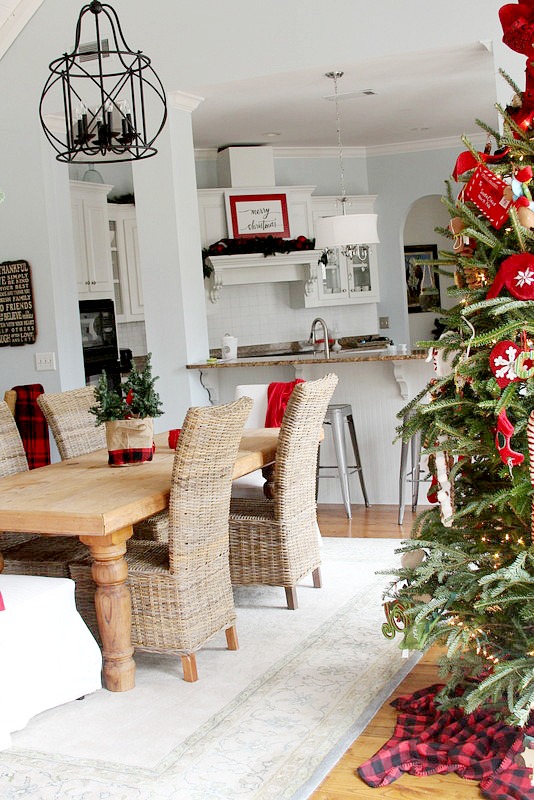 The fabulous white deer jumping across the room via the wreath is from
Joss & Main
. The red throws on the chairs, the red candles and the plaid burlap basket, all courtesy of the $3.00 bins at Target. Everything else I have had in my seasonal stash. This is our 'family tree' with ornaments that I have been collecting for many years along with the homemade ornaments from the kids. Pure Sweetness. Pure Joy. If you look closely at the tree
 you will also see the first stocking that I ever had. It was replaced for a 'Mom' one 9 years ago, so this one hangs on the tree now.
Click
here
to see more of my holiday Kitchen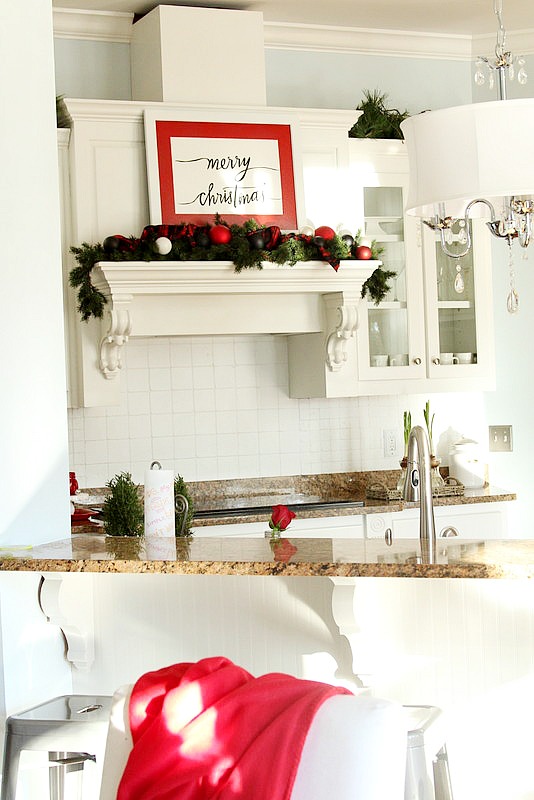 Guest Room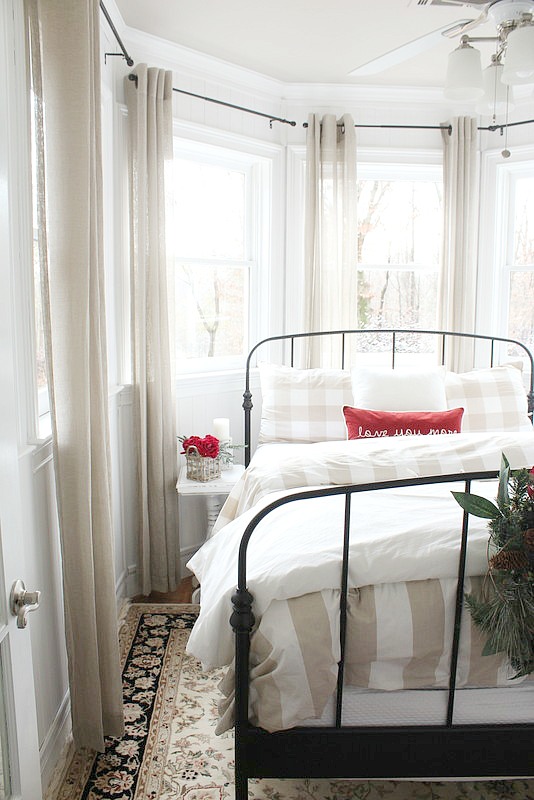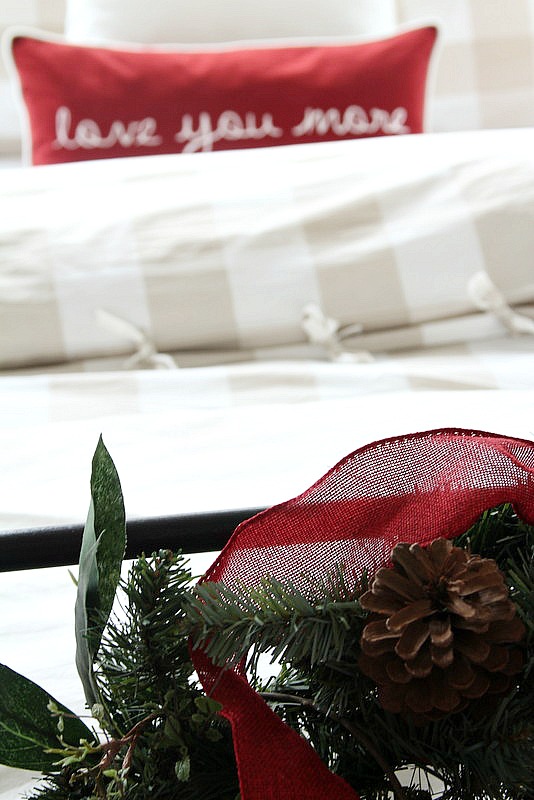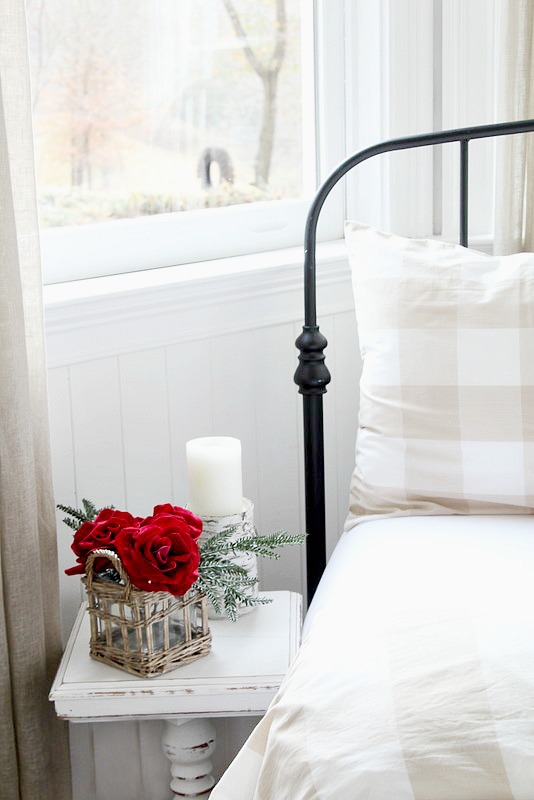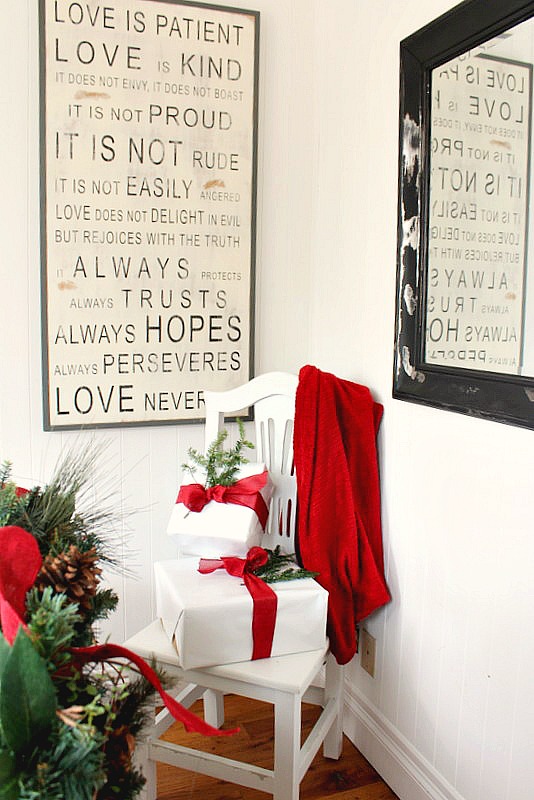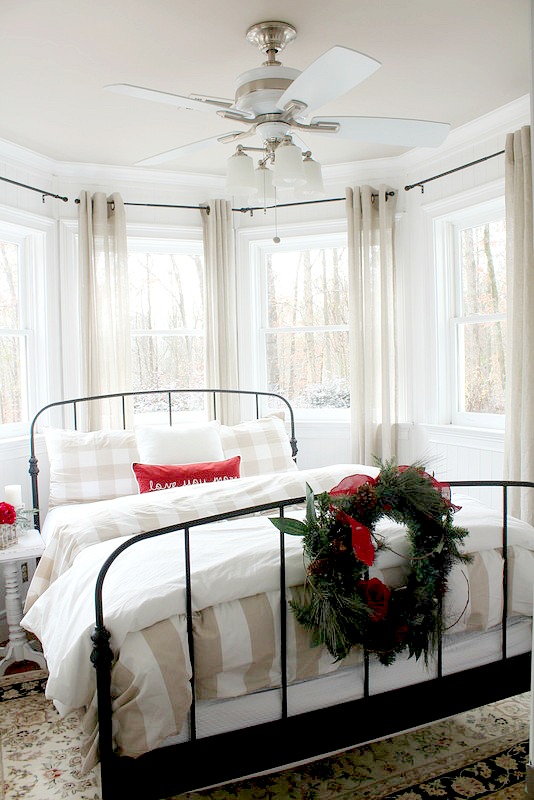 Since this room is pretty small ( it use to be my husband's office), I didn't want to overwhelm the space with a lot of stuff, so the only thing I did in here was add the ' love you more' pillow, a coordinating throw and a wreath on the foot of the bed. This is such a cozy room , so just those few added touches will be perfect for my guests. Which by the way will begin occupancy starting next week when my niece comes to town for the week.
Keeping Room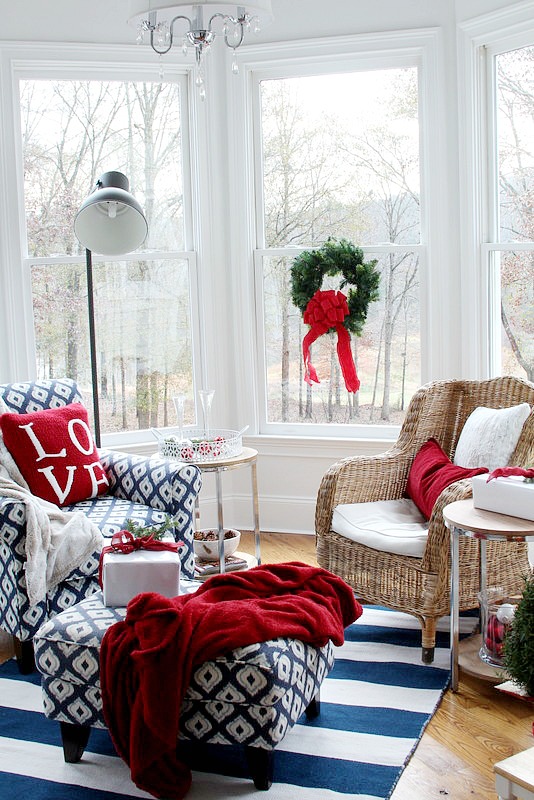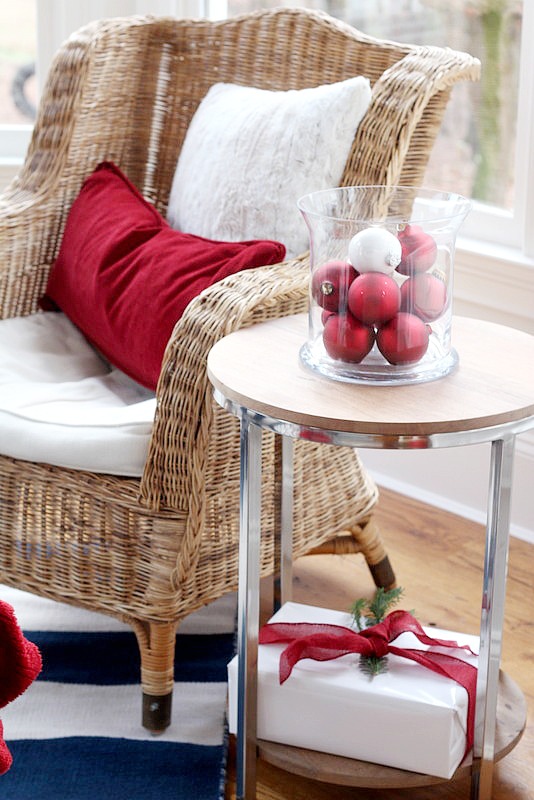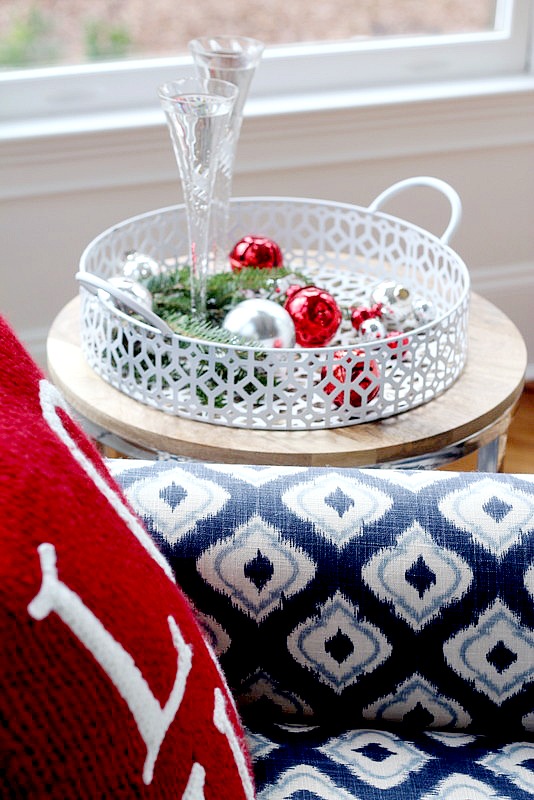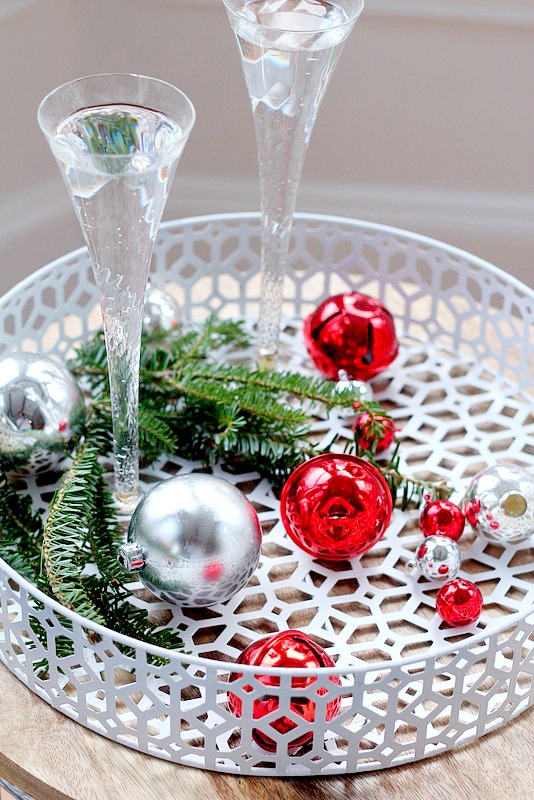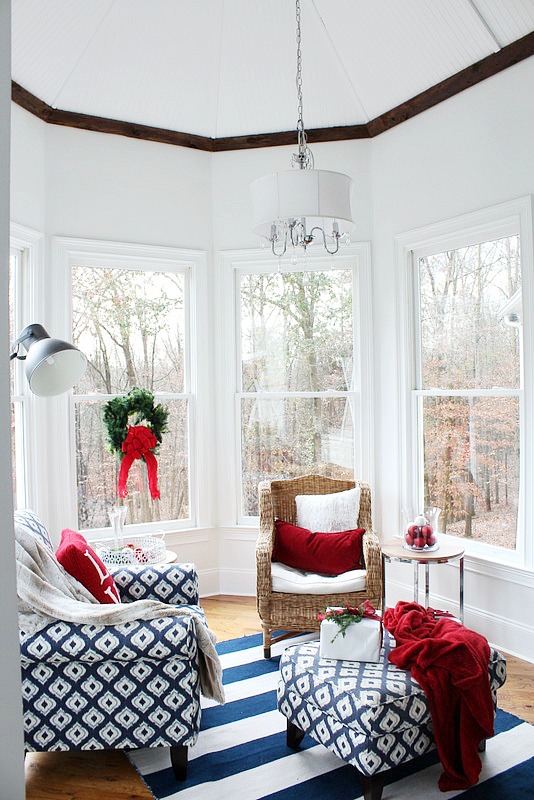 My cozy fur throw and my 'Love' pillow, along with a hanging wreath, some coordinating glass ball ornaments in a vase and a couple of glasses of champagne is all that is needed  to make this sitting area off my kitchen a festive space.
Den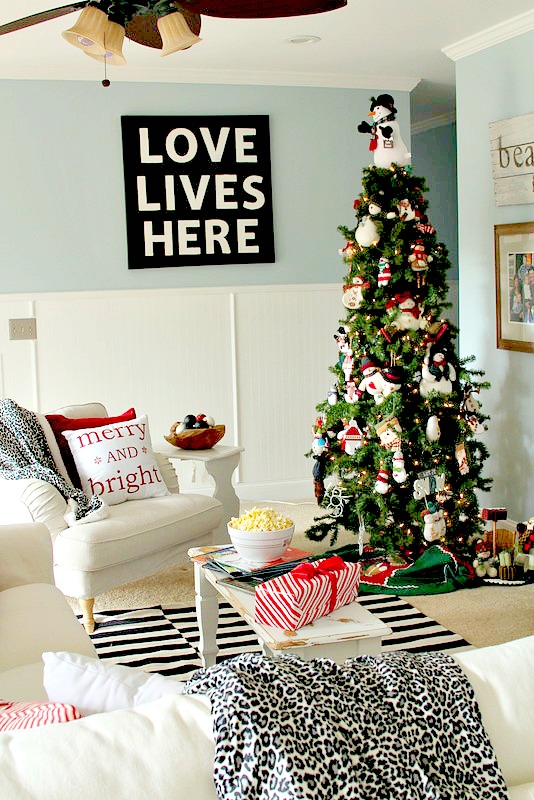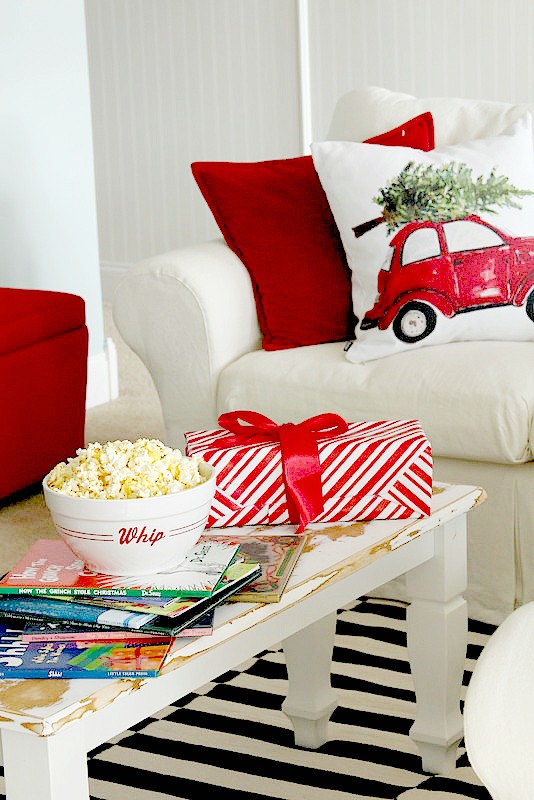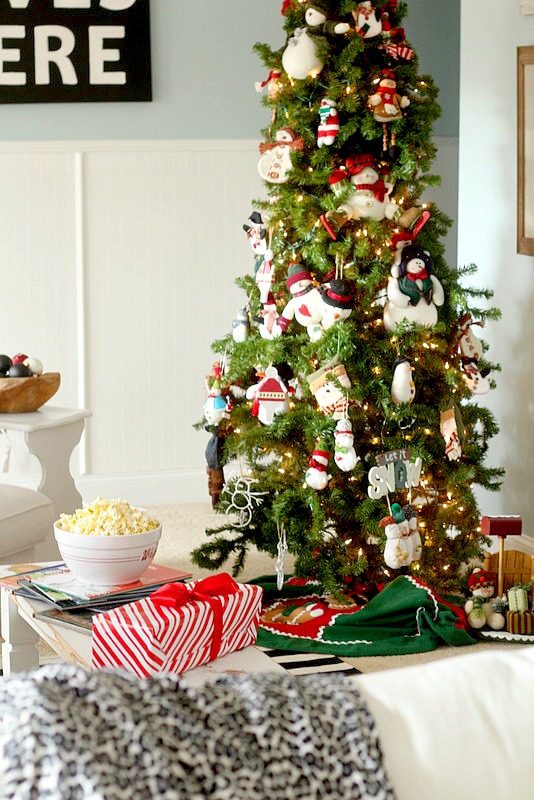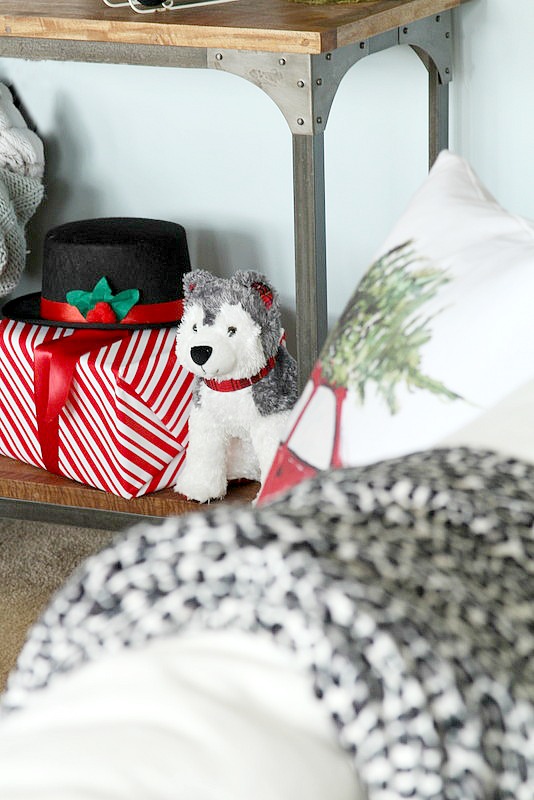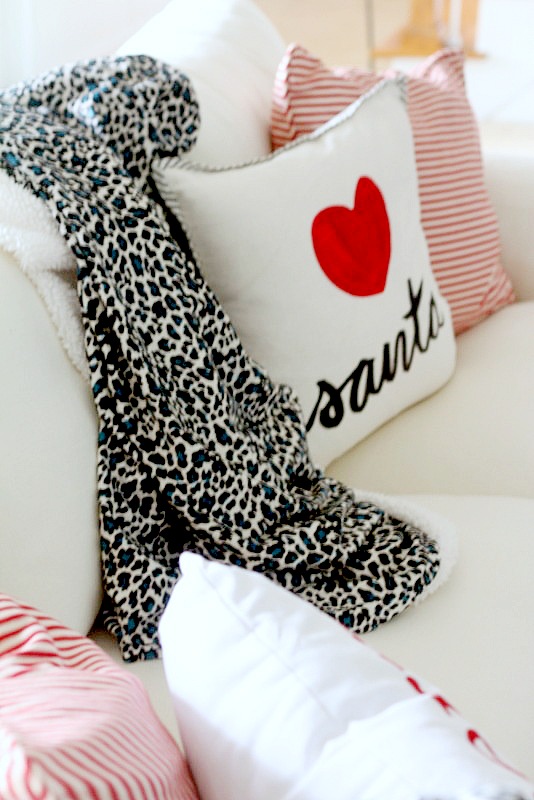 In this space I added some fun holiday pillows and throws to the sectional. I am not much of a collector but I do collect all kinds of snowman ornaments for this tree.  It's been fun to see it fill up year after year and carrying on a fun little holiday tradition in my decorating. Do you have any holiday traditions in your seasonal decor?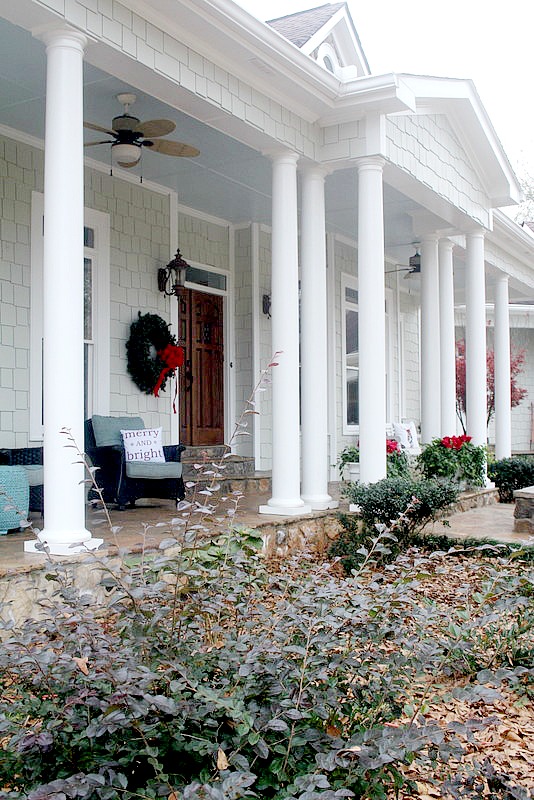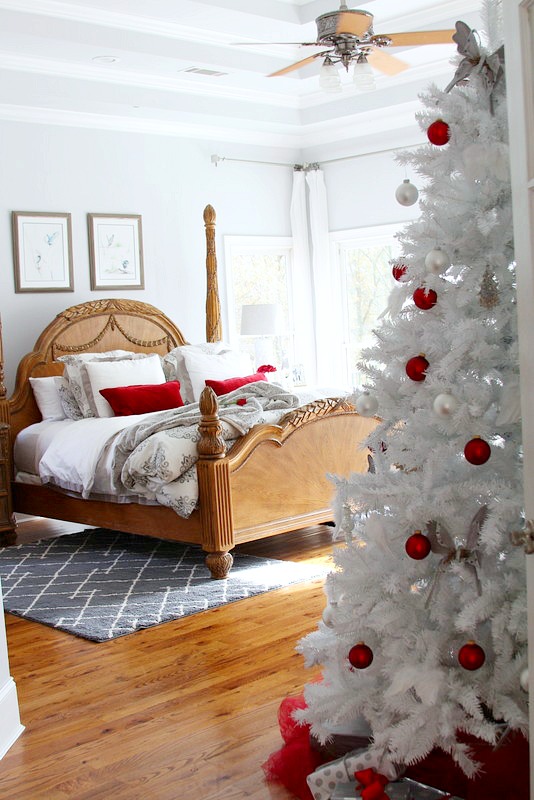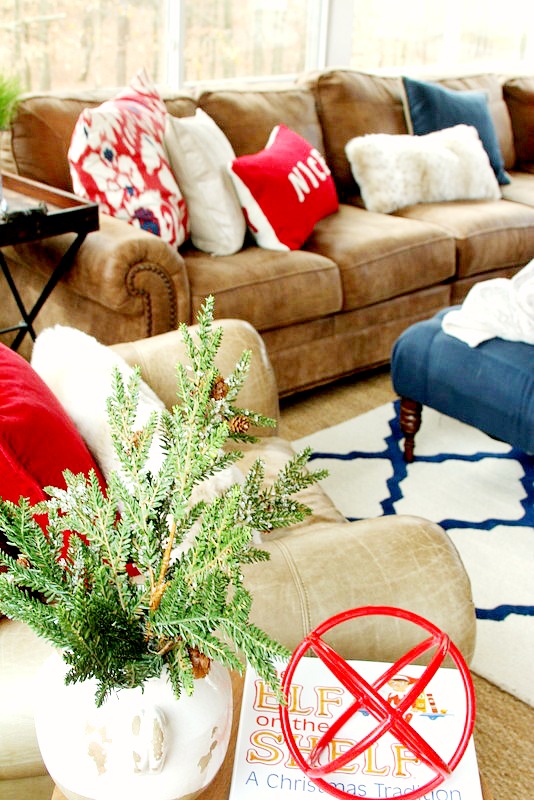 Over the next few weeks, I will be sharing some other rooms from my home as well as our outdoor spaces at Duke Manor Farm, so I hope you will stop back by… Rosie Sunshine will be waiting for you at the door.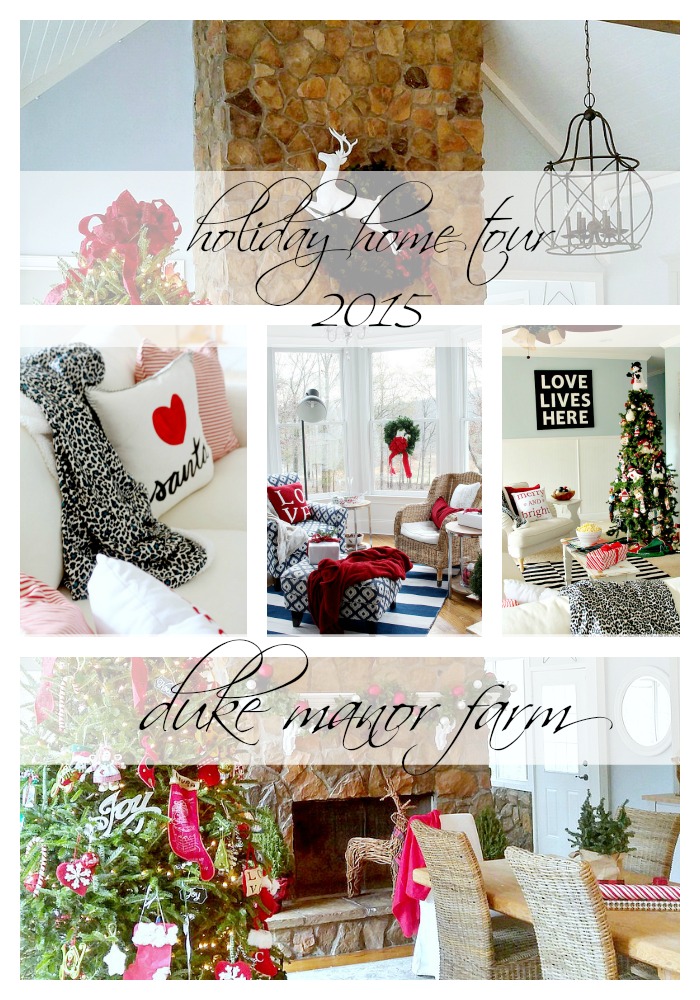 I hope you enjoyed my Holiday Home Tour 2015 Duke Manor Farm. Now on to
The Shabby Nest.
Enjoy and Merry Christmas!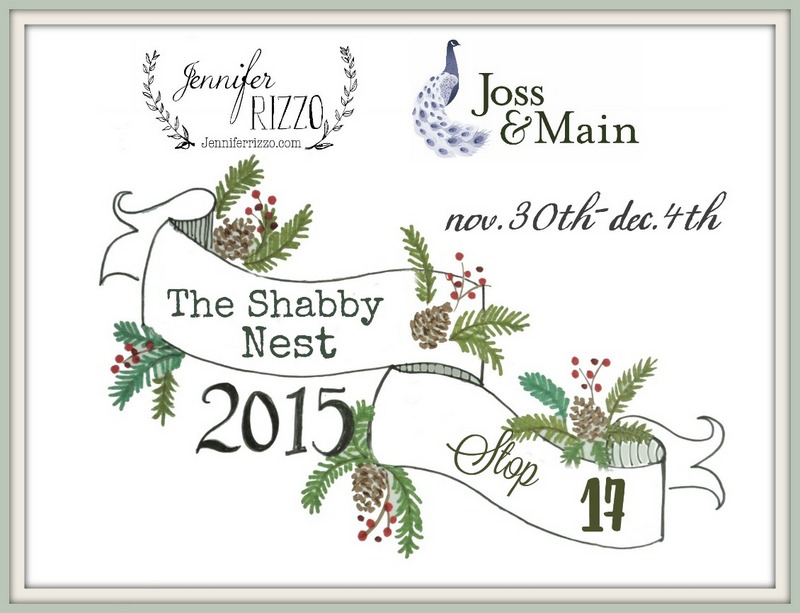 grateful
for the season