Knock Out Rose Container Garden Tips
I wanted to share some Knock Out Rose Container Garden Tips. This year I decided to give some Knock Out Roses a chance to hang out on my back patio in containers and I have been so happy with how they have done. Knock Out's are probably the most popular bush growing around Duke Manor Farm because of their amazing color, long bloom cycle and easy maintenance.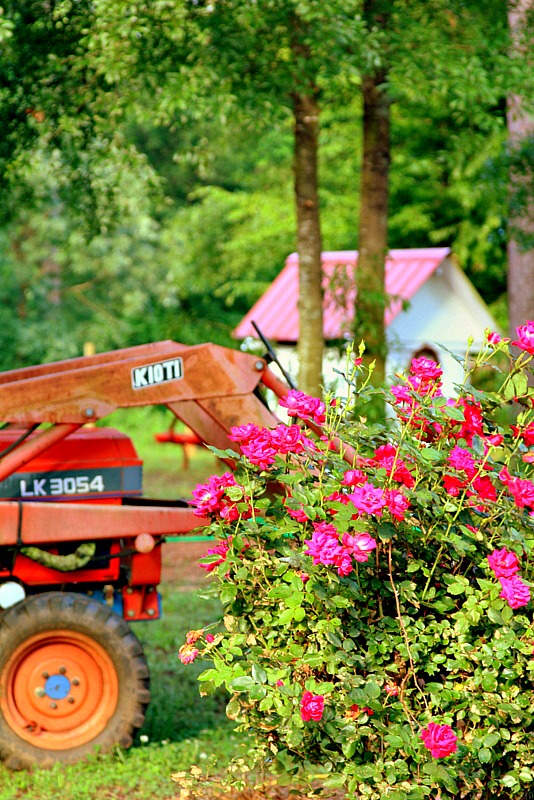 My back patio which you can see here, is so ideal because it is hot and sunny, two things that the Knock Out Rose doesn't shy away from. I wanted something pretty with color that would provide visual height, and this is perfect. Because of the intense heat and all day sun in this area, I find that I do better with small shrubs and Knock Out's then I do with annual flowers.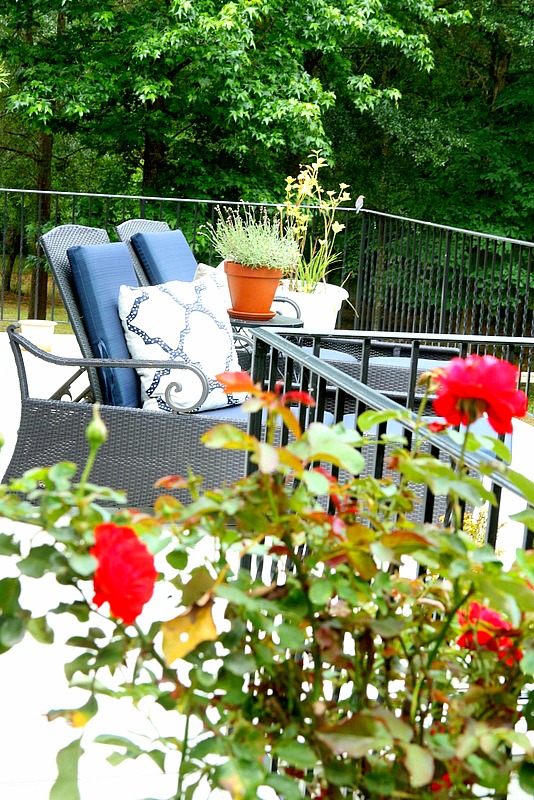 Other then the container Knock Out being pruned at the cane ( the stem of the plant) , there really is no difference in the look of the rose you put in the ground or the rose you plant in the container. There are though just a few important maintenance tips if you do put a knock out rose in a container.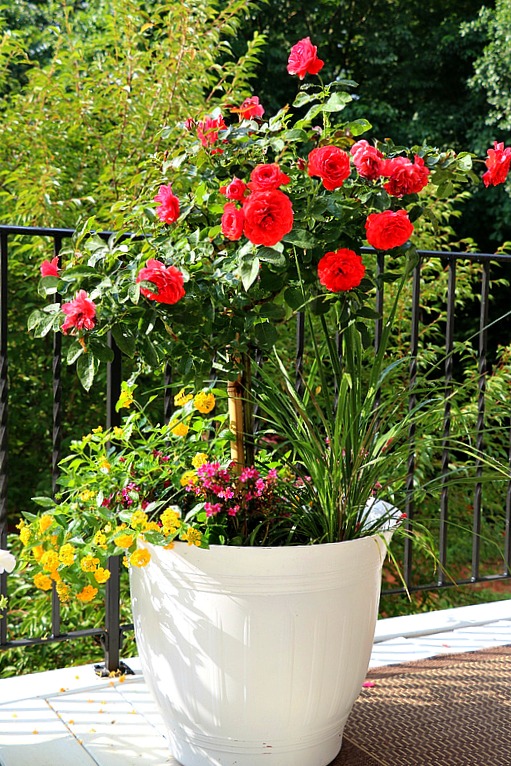 I have two varieties of roses on my patio, the Original Knock Out and the Double Knock Out. The one below is a Double Knock Out. The only difference between the two is that the Double Knock Out produces double bloom pods. As the pods bloom, each stem supports two blooms so that is looks fuller and more colorful. I prefer the Double Knock Out over the original.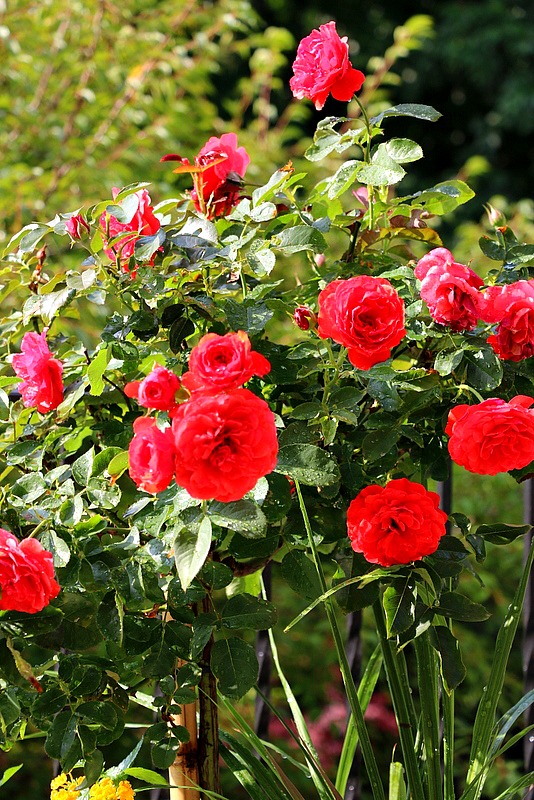 Knock Out Rose Container Garden Tips
As with any container garden, make sure there is sufficient drainage. Knock Out's ( like most plants and shrubs) do not like to sit in water. And speaking of which, water every 2 to 3 days under normal conditions. When it is extremely hot, water daily.
Make sure your Knock Out's get at least 6 hours of sun per day. They would like it if they got more. I have most of my containers on casters so I can roll them around as needed and it makes it much easier to move.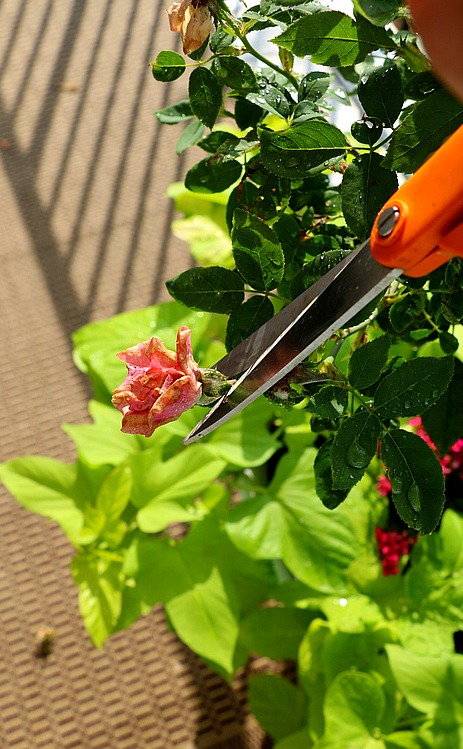 Although not necessary to prune these varieties of Knock Out's, they can take care of themselves, I do like to have a tidy and clean look on my Knock Outs, meaning getting rid of the spent blooms. Once the roses have bloomed I will cut right below the spent bloom and before any new growth. Just lightly snip and you will be okay. The picture below is a freshly snipped bush. For the bushes in the ground, I will cut them down 1-2 feet two times a year in late winter and late summer. This will encourage new growth up until any frost shows up.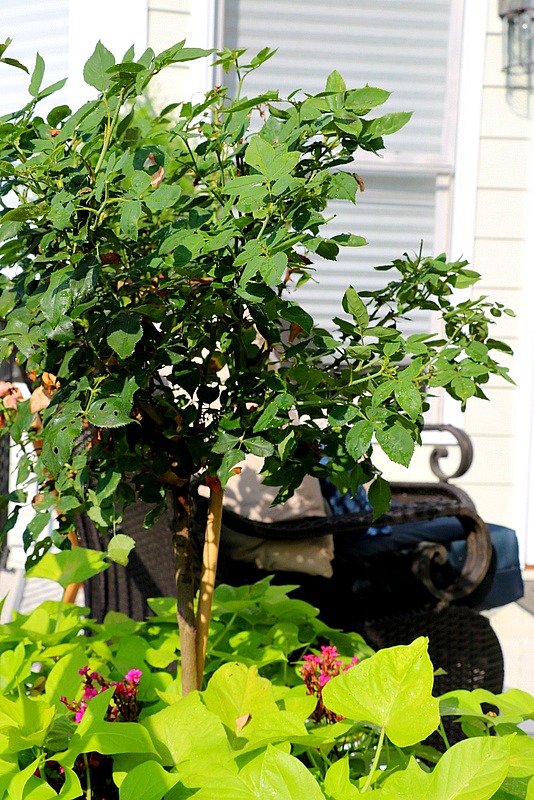 Right now it's been so hot outside so it's hard to think of winter and freezing, but I will need to move the Knockouts to an enclosed area when that happens. Perhaps a greenhouse could be in my future…….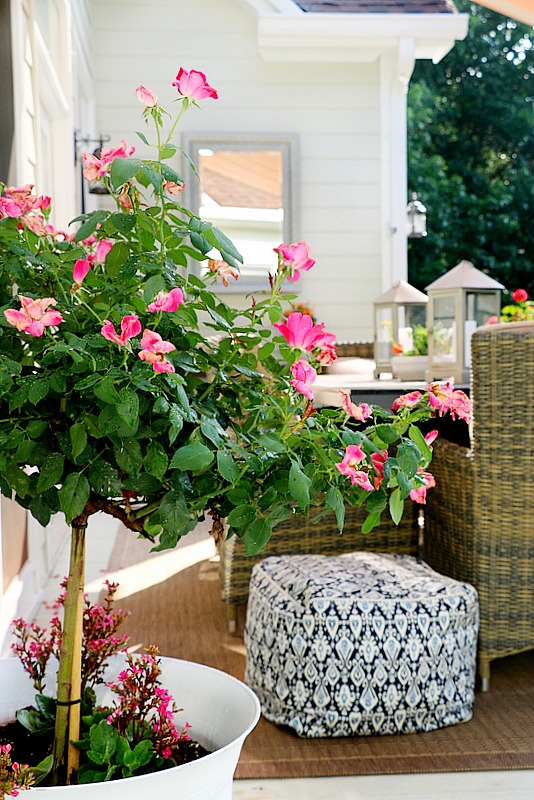 and another project to the list. But first, gonna sit back and enjoy these beautiful roses.
To see more of my gardening tips and ideas click here.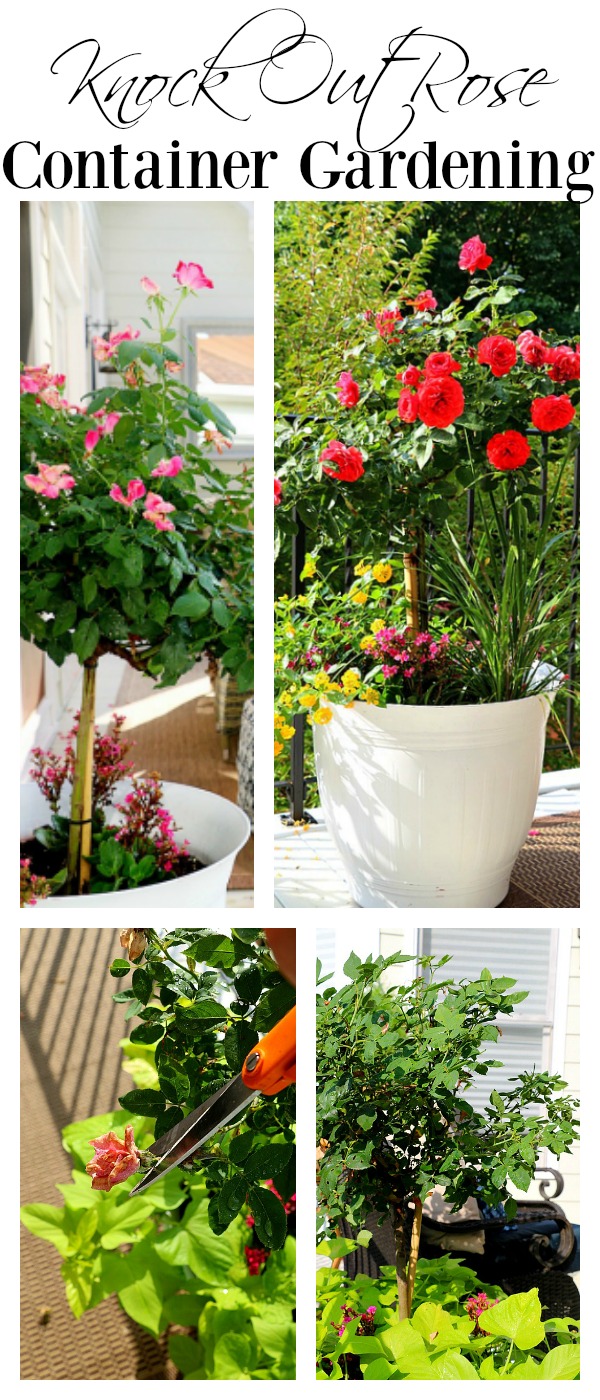 grateful
for color