Welcome to the Summer Southern front porch at Duke Manor Farm …..and the Summer Simplified blog tour. The links to 4 days worth of simplified outdoor summer inspiration will be at the end of this post.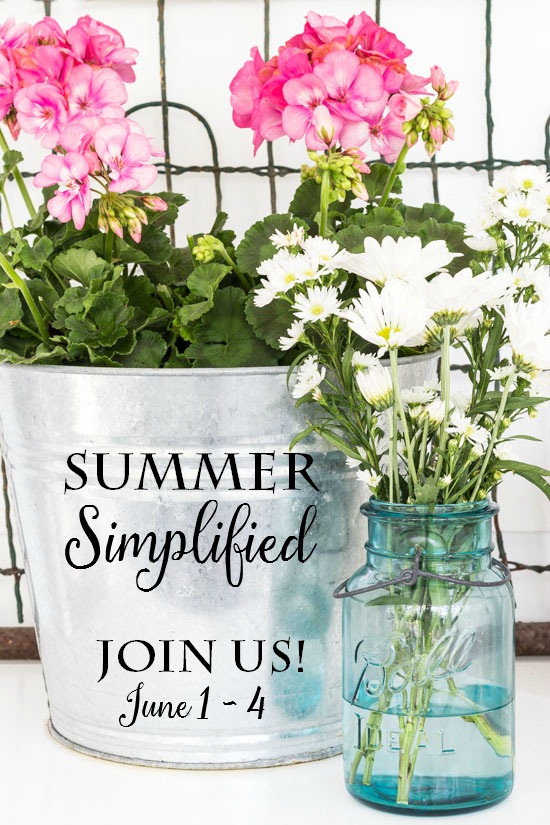 If you are visiting me from my friend Yvonne over at Stone Gable, I am glad you are here. If this is your first time visiting Duke Manor Farm, welcome. Around here we are big outdoor people and have created special spots around the property to enjoy every part of the year. Probably the most favorite of all of the spots is the front porch at Duke Manor. To see more of Duke Manor Farm, click here.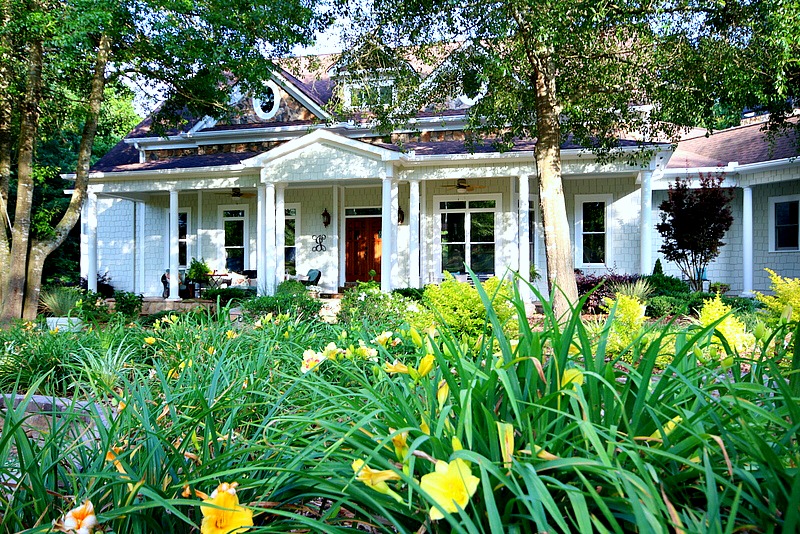 When we designed and built our home we had three requirements for the porch. First, it would be a place that would feel comfortable to us and represent our casual, simplified lifestyle. Second, our friends ,family and pets would feel right at home when sitting on the porch. And third,it would be a place on the property where memories would be created for years to come. I am happy to say that after almost 15 years of living in our home, all three requirements have been met and continue to do so each day.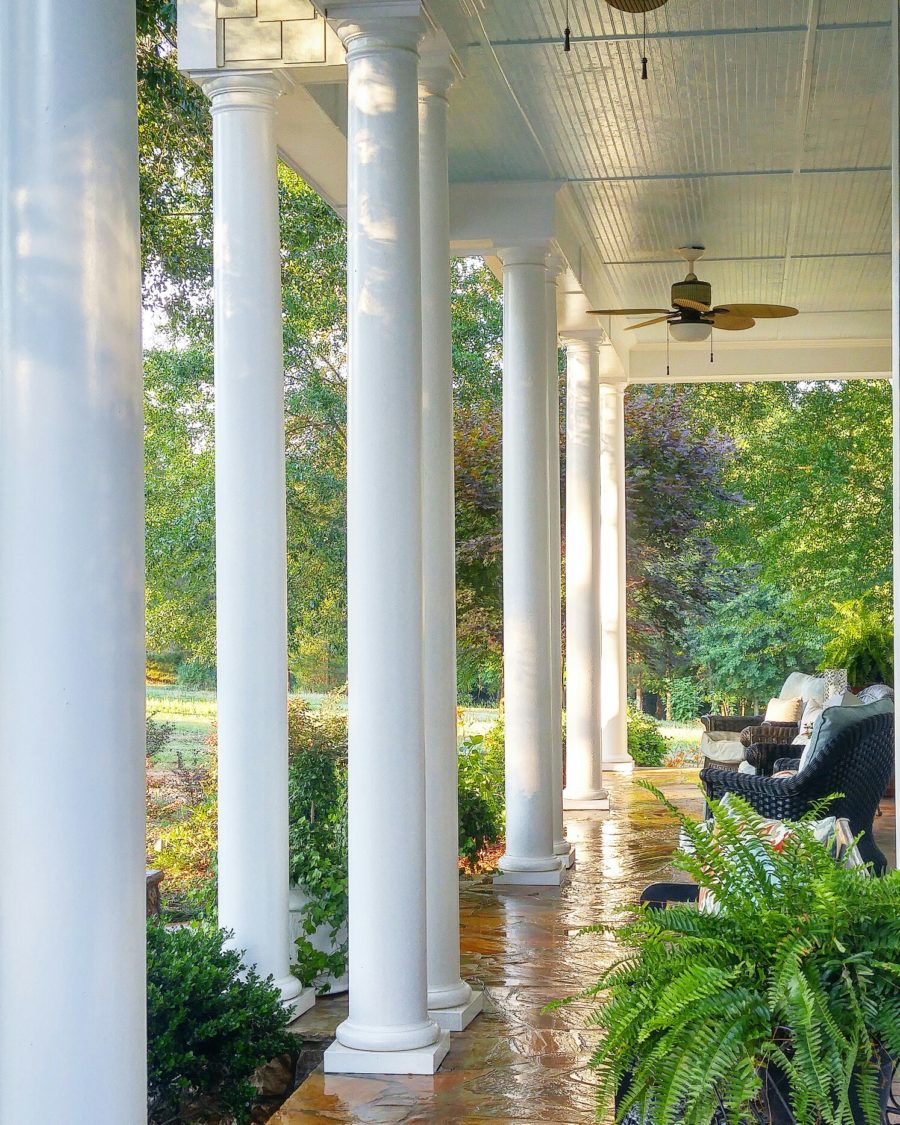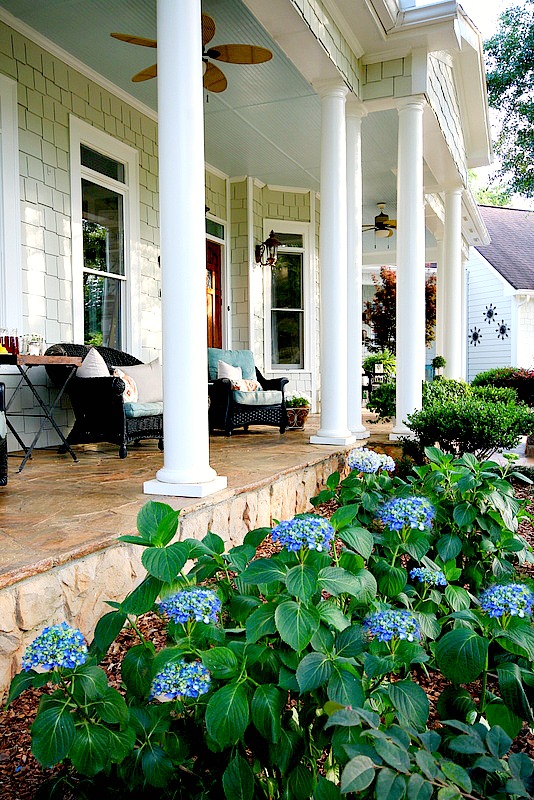 Since this space is an extension of the inside of our home and basically another room, we try to keep it user friendly especially for the kids and dogs. Although I have a 'no pets on the furniture rule', they somehow manage to jump up and get cozy when I am not looking. I use to stress out about that, but now have found cushions that seem to go the extra mile with kids and dogs. I can usually go 2-3 years with the seat cushions and just freshin up the pillows each year. I find that scotch guard helps to repel against dogs and kids wearing red Georgia clay.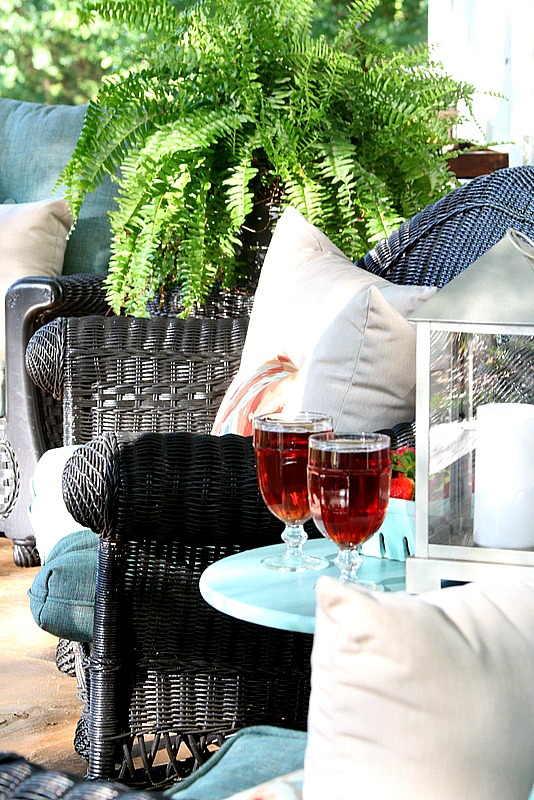 Since we have a big outdoor table for eating on the back patio, the front porch is basically for drinks, snacks, reading, chatting, laughing , everything else and tea drinking. As you would expect, Southerners love our iced tea. The sweeter the better. And for some reason drinking tea on the porch, really does taste better. Ask any southerner, and they will tell you.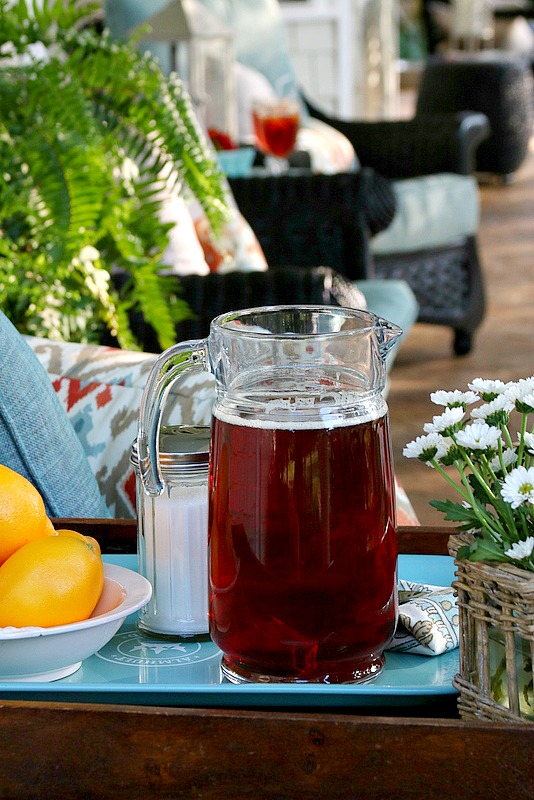 Another staple a southern summer porch can't be with out is the ferns, and lots of them. The indirect light is perfect to keep them happy and healthy all summer long.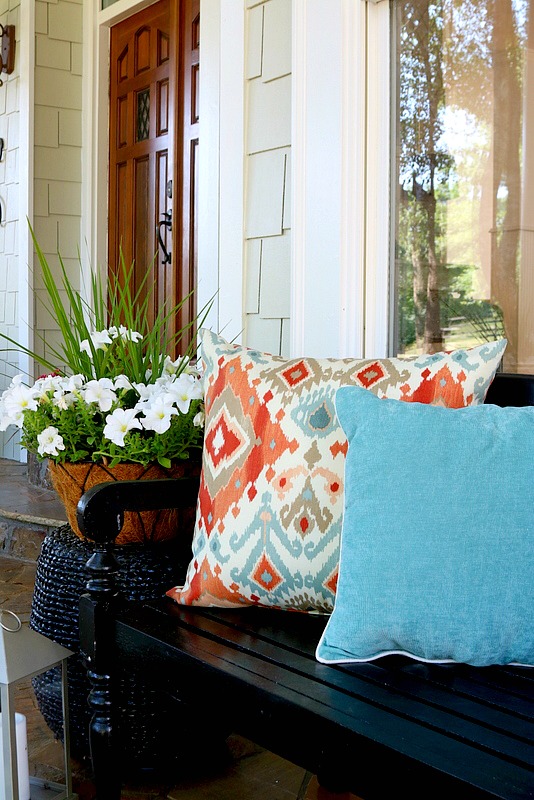 And don't forget precious little girls,in jammies eating strawberries first thing in the morning. They make everything on the porch that much sweeter.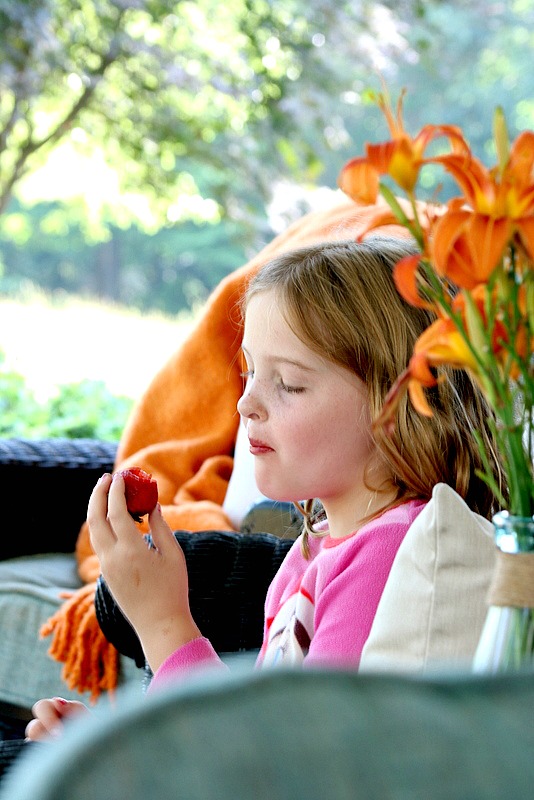 Oh…the day lilies are courtesy of my day lily garden on the side of the house. I planted it years ago with the porch in mind.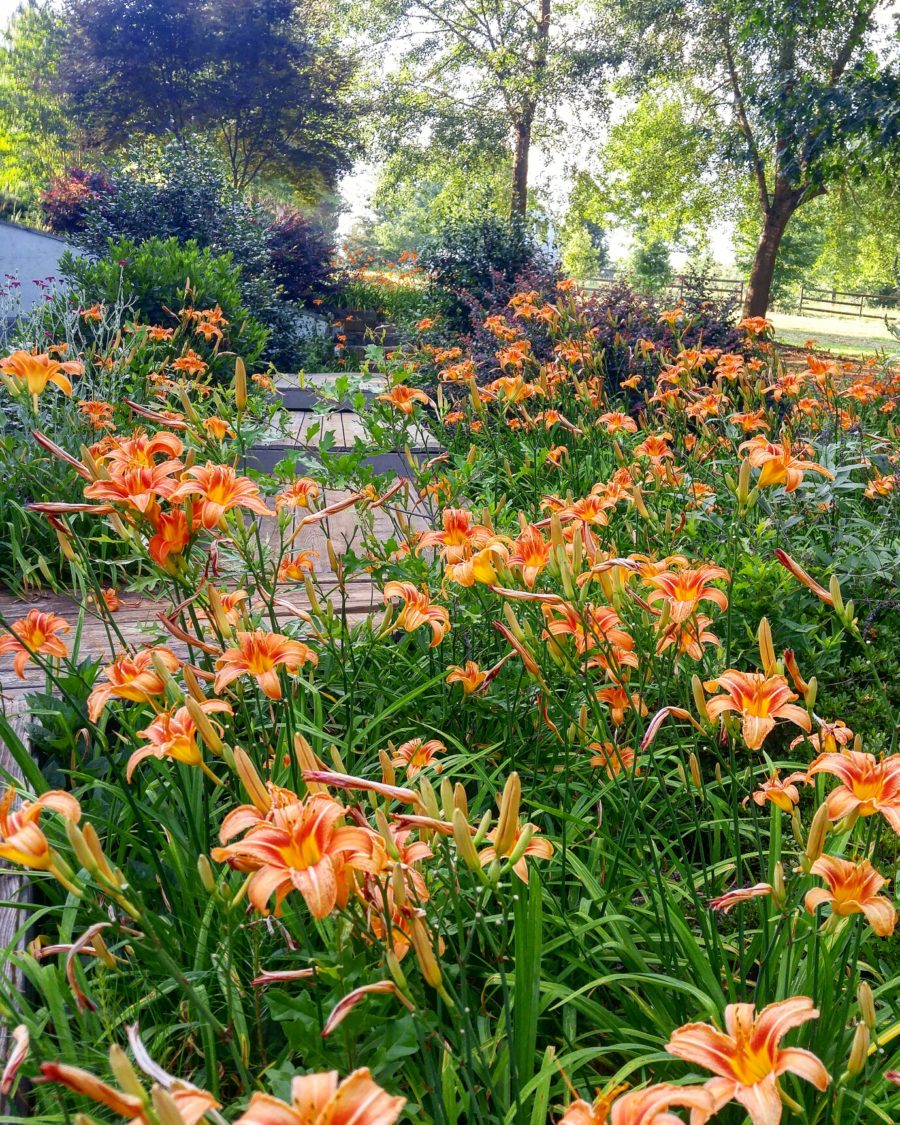 Happy simplified summer to you! Next stop is my pal Kim over at Savvy Southern Style.

PS- remember I mentioned the 2 year thing…well yesterday was 2 years 5 months ( or something like that) and it was time to move the current cushions out and get some new ones. I have come to the realization that darker is better on the cushions for this space. I am waiting on a few new summer pillows, but here's a peek.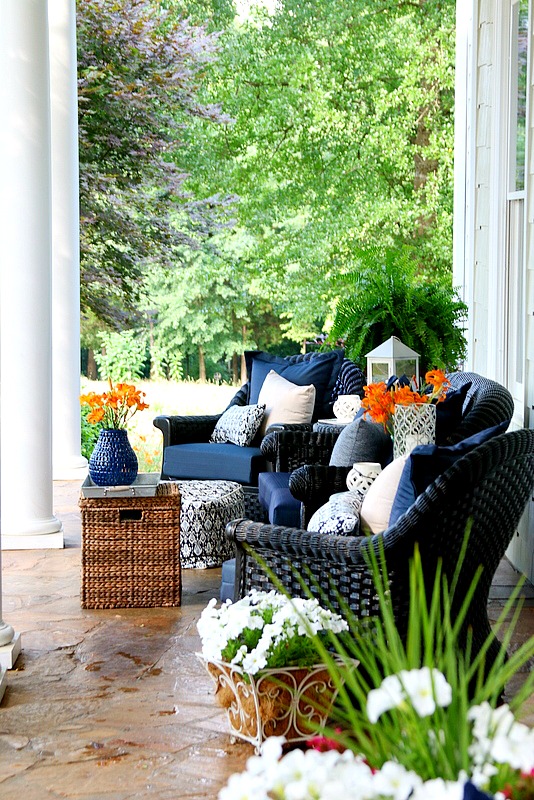 *affiliate links used
Click here to see last years summer porch right before we got the house painted and before I painted the furniture.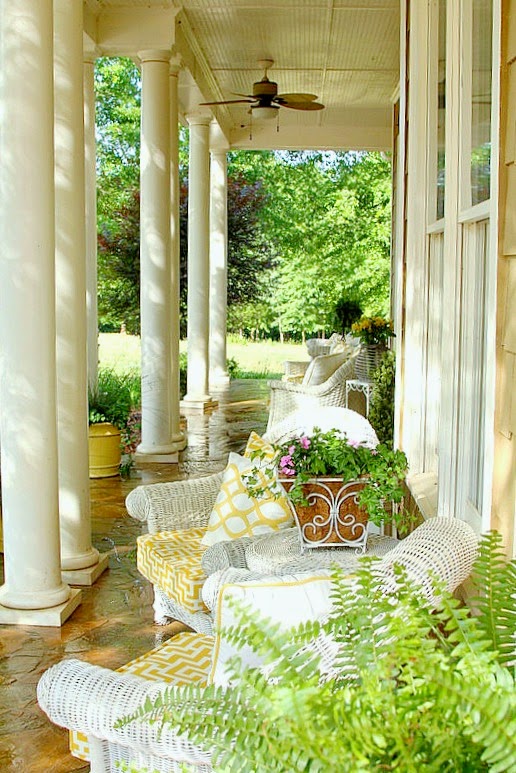 Day 1 ( Wednesday)
Driven By Decor
Garden Therapy
Empress of Dirt
Cedar Hill Farmhouse
Day 2
StoneGable ( Thursday)
Duke Manor Farm
Savvy Southern Style
Southern Hospitality
Shabbyfufu
Day 3 ( Friday)
In My Own Style
The Wood Grain Cottage
Maison de Pax
Love of Home
Setting For Four
My Soulful Home
Day 4 ( Saturday)
Don't forget to follow Duke Manor Farm on instagram and on facebook for daily updates and pictures from around my real life funny farm!