Welcome to the Fall Tour 2016 at Duke Manor Farm. Special thanks to Marty for inviting me to this fall event that I look forward to each year.  If you are coming over from Pam's and this is your first time here, welcome to Duke Manor Farm. She's got it going on with those pink walls, don't you think?
There is never a dull moment around here and as I like to call it, my real life funny farm. You can read more about me and Duke Manor Farm here. The links to the entire tour will be at the bottom of this post.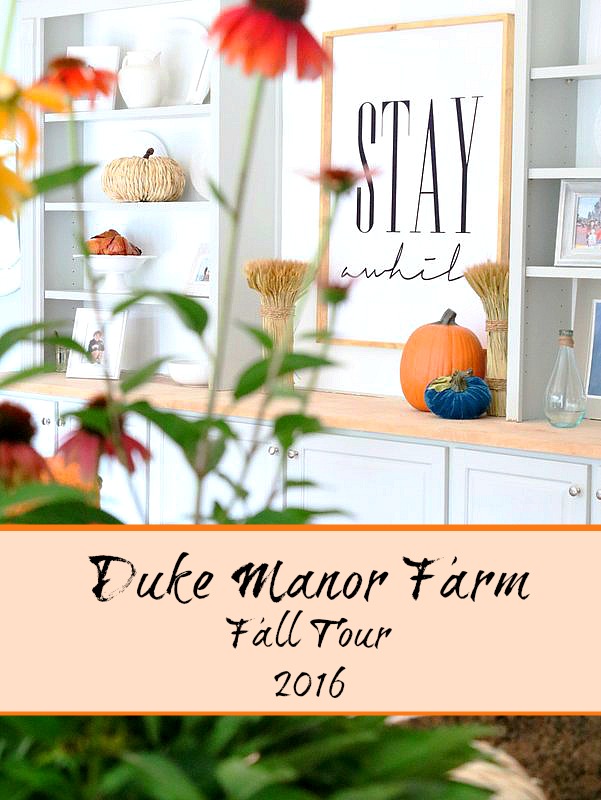 Speaking of funny farm, we added one more friend to Duke Manor Farm. Peanut. He showed up unannounced about 3 weeks ago and hasn't left since. We took him to get vetted and to see if he had a chip, which he did not. He is about 6 months old, healthy, full of energy and has chewed every pair of flip flops in his sight. If you follow Duke Manor Farm, you know that we are no strangers to strays. If this is your first time here, Peanut is not the first and won't be the last that finds his way here and calls Duke Manor Farm home.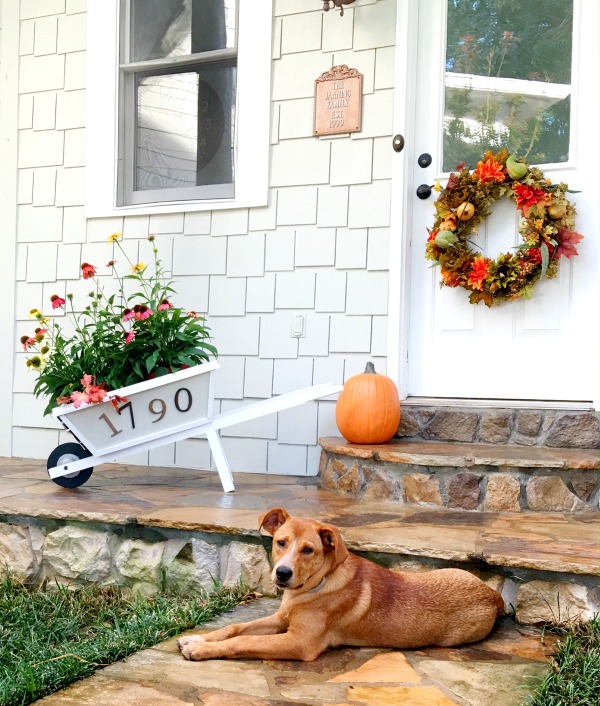 DIY wheelbarrow details here
Today I am sharing my kitchen, breakfast room and sitting room (which are all technically one big space) since they are really the only spaces that I have sprinkled a bit of fall in at this point. Honestly when temps are still in the 90's, it's been tough getting the fall mojo in gear. Perhaps when the temps get in the 80's next week, I will get some other spaces around here, including the outdoors ready to embrace fall. So I hope you will come back throughout the month or when things cool down….whichever comes first.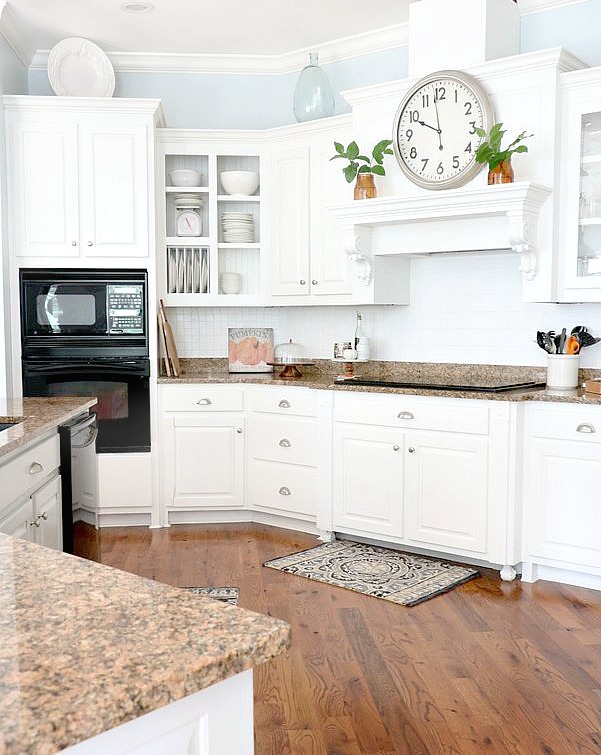 My kitchen mantel got some clippings from the garden and placed in some amber colored glass vases that I had.  My style tends to be a bit low key and no fuss, and seems to get simpler as I get older.   You can see more of my Fall kitchen mantels here along with some style tips for your mantel.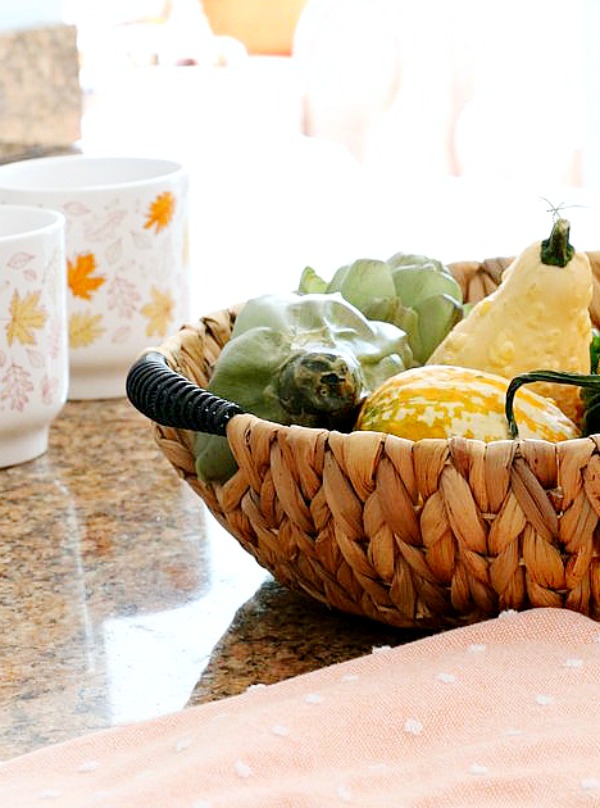 I tend to keep things clutter free in my kitchen so you won't always find a lot of stuff other then what we need out on the counters. I did pick up this cute little pumpkin sign at Home Goods the other day to tuck in the corner, along with a tray of goodies that I always have out for the family to enjoy.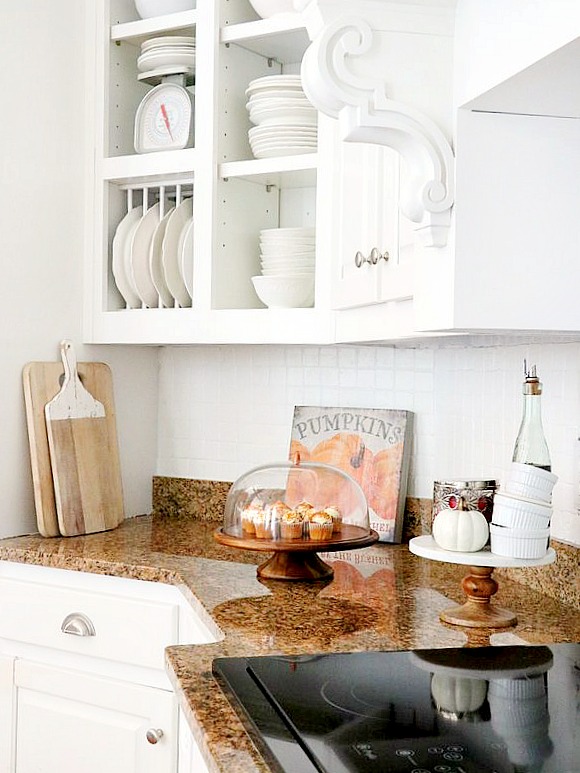 dome cake plate/ wood and marble pedestal stand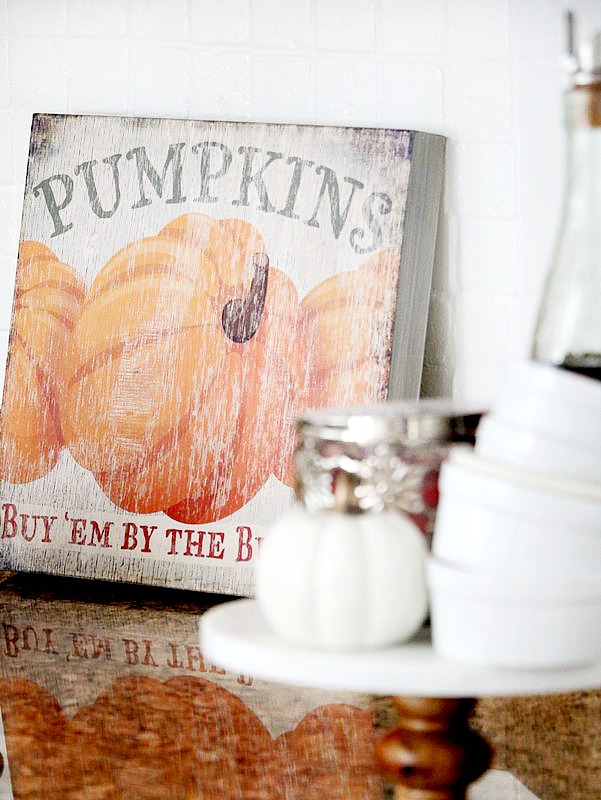 I just got this fabulous sign from here last week. I love how it fits and looks in the breakfast area. This area was originally designed and used as my family room. When we first moved in this was the spot where the TV was located. You can read more about the room switcheroo as well as the way this space has drastically changed here. Since then, I have been looking for something that would fill up the space without taking over. Eventually these shelves will come down and be replaced with windows to help create lighting in my kitchen. I have a ton of windows in my house and one of the darkest spaces is the most used room in the house, the kitchen. If I could move my kitchen easily and let it be surrounded by windows, all without bugging my husband to help me…..I would do that.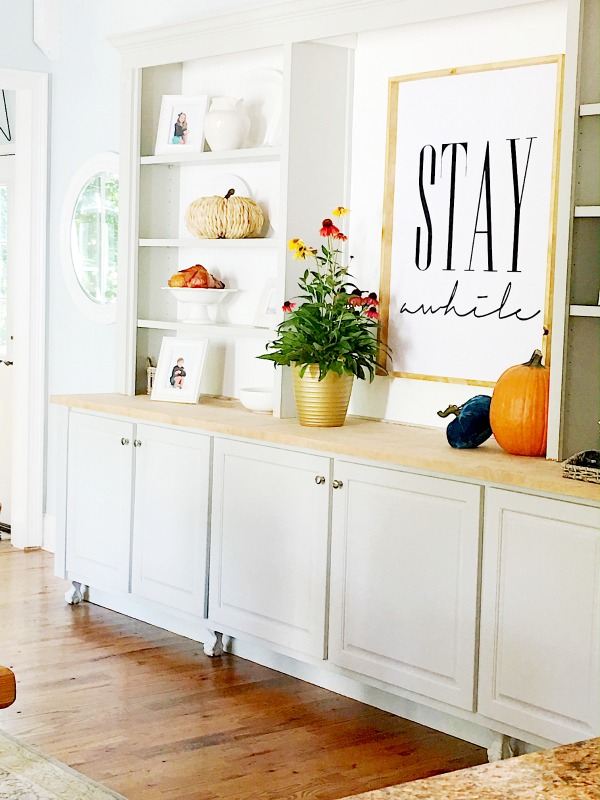 In addition to being the place where we eat our meals, the first time my husband told me he loved me, he carved it in the leg of the table. I knew right then he was a keeper…or one crazy dude. By the way, that table was the only thing out of his bachelor days that made the cut into our marriage. You can see our love story that started with his our table here.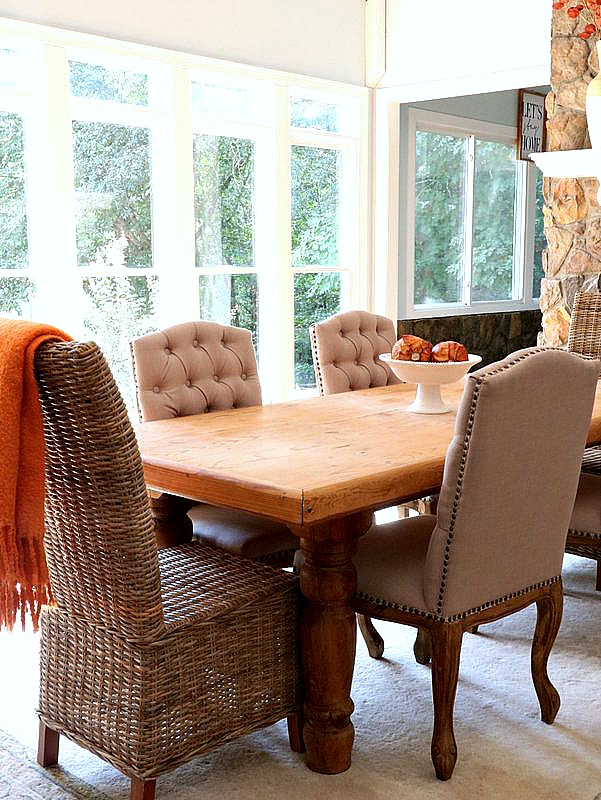 linen dining chairs/rattan high back chairs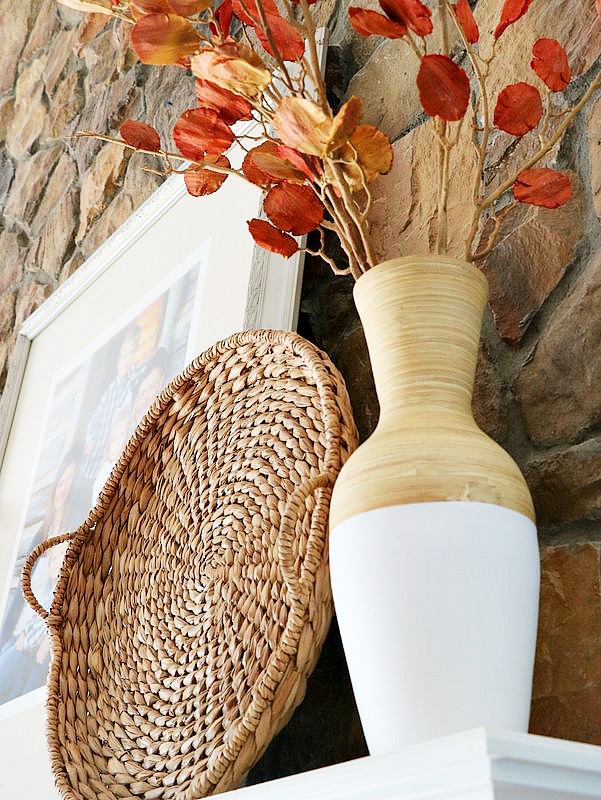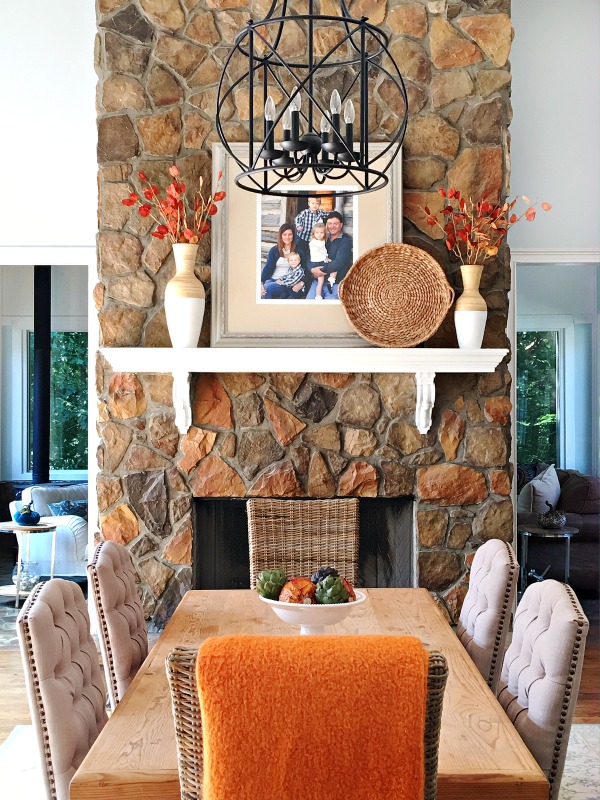 Speaking of switcheroo's, this space ( that was designed to be a screened in porch) is now our family room. I will share more of my family room later this month.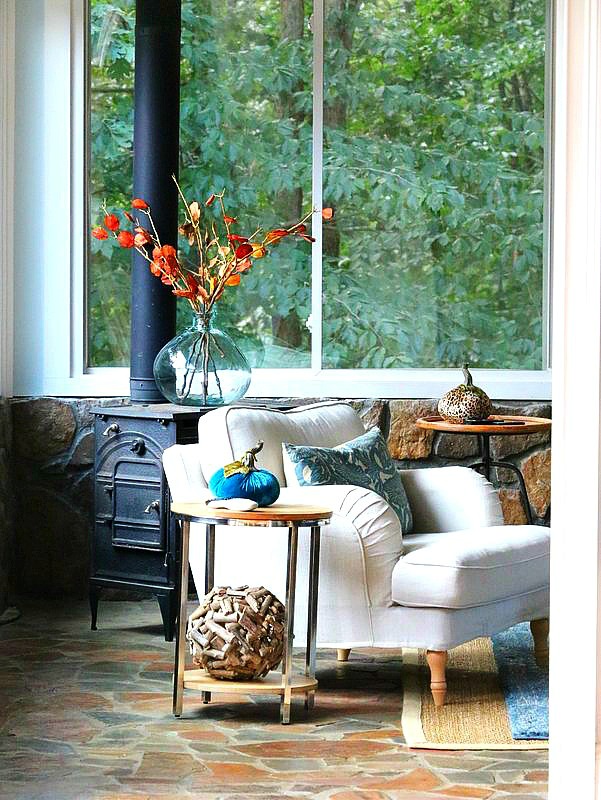 The most coziest of spots in our home is our sitting room located right off the kitchen. Us Southerners refer to it as our Keeping Room. It's a popular weekend morning spot for my hubby and I to watch tv, talk and drink our hot tea. Not to totally throw you off, but this space was actually designed for our breakfast area. As I mentioned, never a dull moment around here.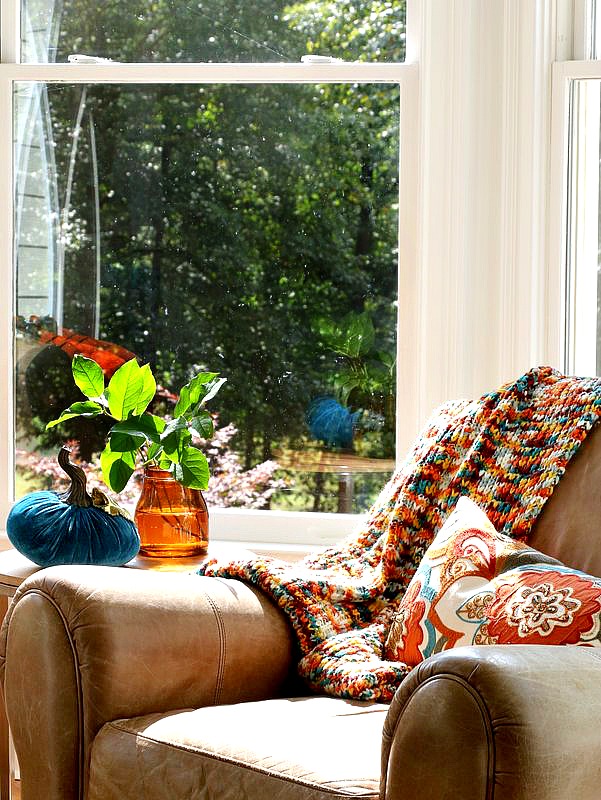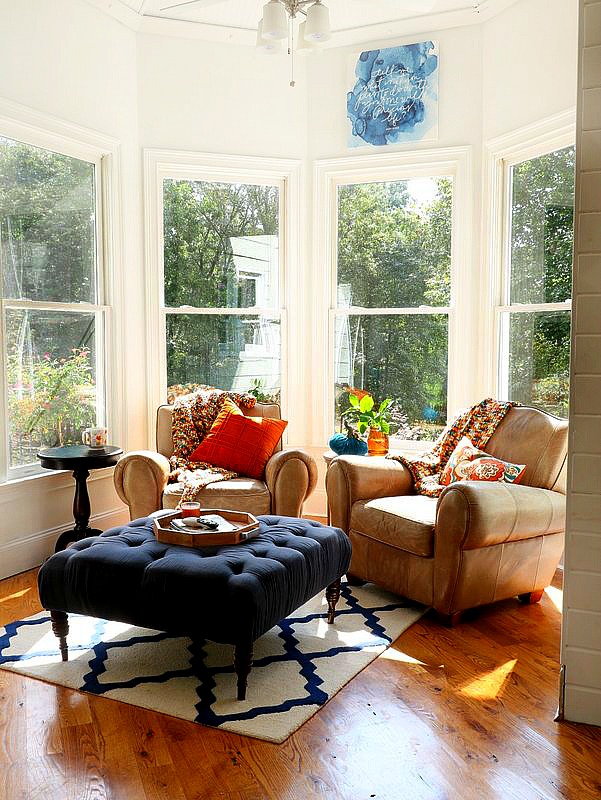 ottoman/rug/similiar leather club chairs
My inspiration for the my fall decor started with these fun knit blankets as well as these pillows. Traditional autumn colors mixed with jewel colors and a pop of blue….. for good measure. The blue plush pumpkin that I have had for a few years along with a candle on my  wooden tray creates an instant fall look for any room.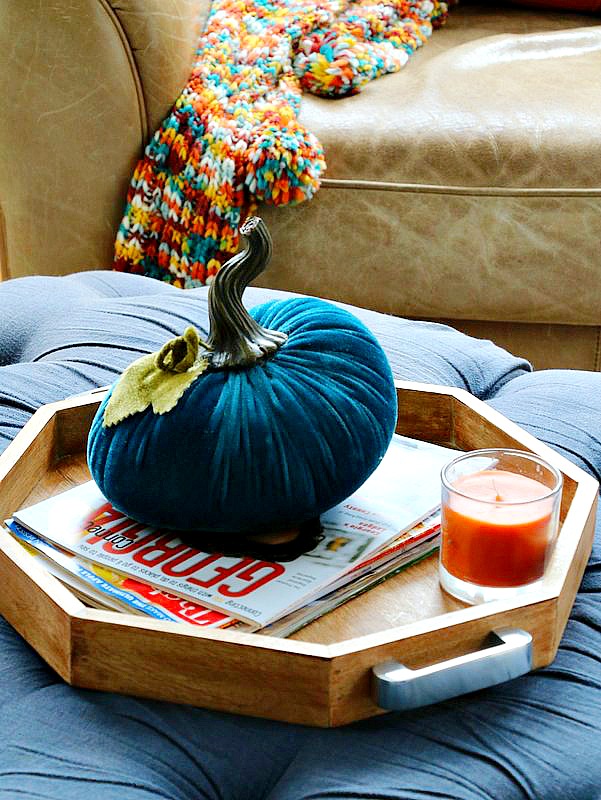 I am so glad that you came by today and I hope you enjoyed the Fall Tour 2016 at Duke Manor Farm. Feel free to check out my fall projects, fall decorating ideas as well as past fall home tours here . You can also see daily updates of my funny farm on my instagram and facebook page.
Next up on the tour is a favorite of mine, Courtney from A Thoughtful Place who has tons of style in home decor and fashion. In fact her Saturday Shopping posts are part of my Saturday reading ritual, drinking my hot tea in my sitting room and often times entering a credit card for something she has recommended. Thank you Courtney. Seriously, you'll want to check it out!
2016 Fall Home Tour
Here's today's amazing Fall Home lineup
 don't forget to start at the beginning of the tour and come back for Thursday and Friday's homes. 
Monday – Sept 12
Tuesday – Sept 13
Wednesday – Sept 14
Thursday – Sept 15
Fri – Sept 16
Happy Fall!

grateful
for the fall season
* affiliate links used in this post