Fall Home Tour at Duke Manor Farm
Hey Friends! Welcome to Duke Manor Farm. I'm happy you stopped by. I want to thank sweet Marty from A Stroll Thru Life for organizing the Fall Home Tour 2017 and including Duke Manor Farm. This is always such a fun tour and a perfect way to welcome the Fall season. The full lineup of links are at the end of this post. You will not want to miss over 30 amazing fall home tours….I promise.
If you're coming from my pal Debbie's at Refresh Restyle, wasn't her home tour such a treat? I tell her, I'm the guest that she can never get rid of every time I visit her beautiful home. If you haven't seen it, be sure to stop by for a visit.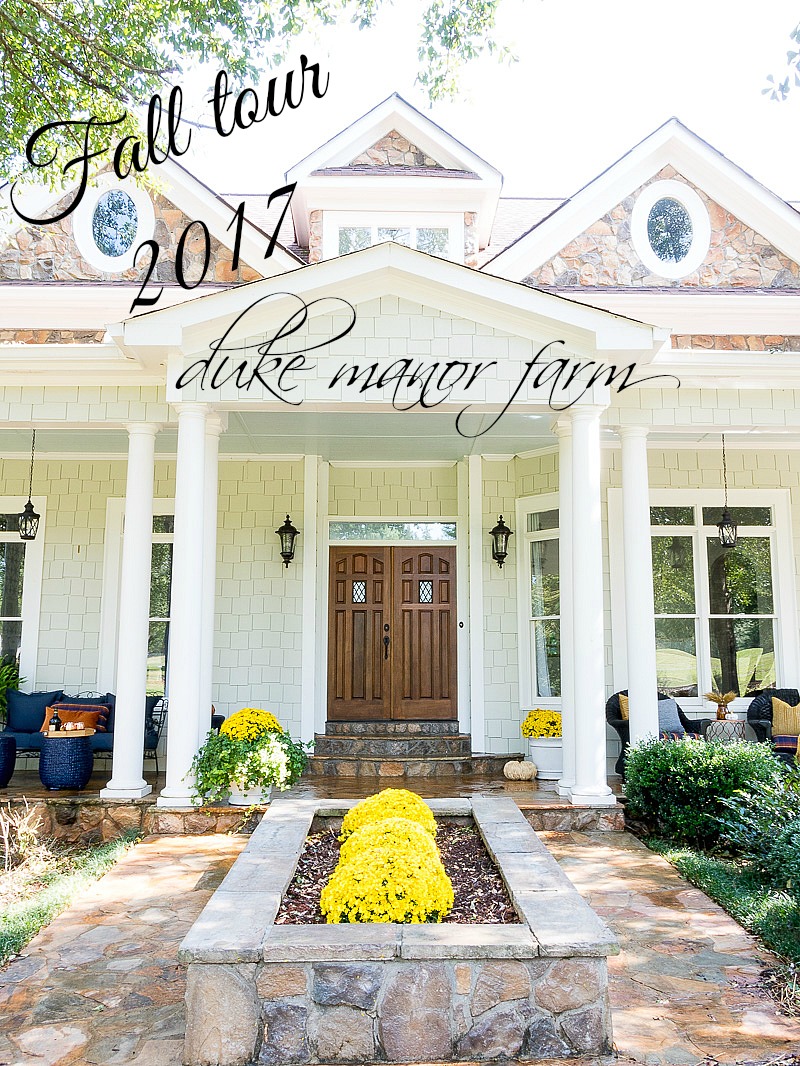 Things got a bit challenging this week when we felt the wrath of tropical storm Irma. Losing power for 4 days and internet and cell phone for 6, definitely makes it challenging to prepare your home for a Fall tour. Especially when you are not expecting it, your not prepared and your generator craps out on day 2. Today I am sharing two spaces that I did get a chance to decorate before the storm came rolling in last week.
Fall Front Porch
The front porch is typically the first place that will see any signs of a changing season or holiday. It's intentional. It's one of our favorite places to hang out around Duke Manor Farm particularly when the weather starts to cool down and signs of fall are around us. Other then some new blue plaid fabric, a few new pillows and some mums, everything that I use to decorate are things that I have had around the house. I have learned that it doesn't take a major shopping trip or putting out tons of stuff to decorate your home beautifully for the season. Small, simple changes can usher in a new season just as well.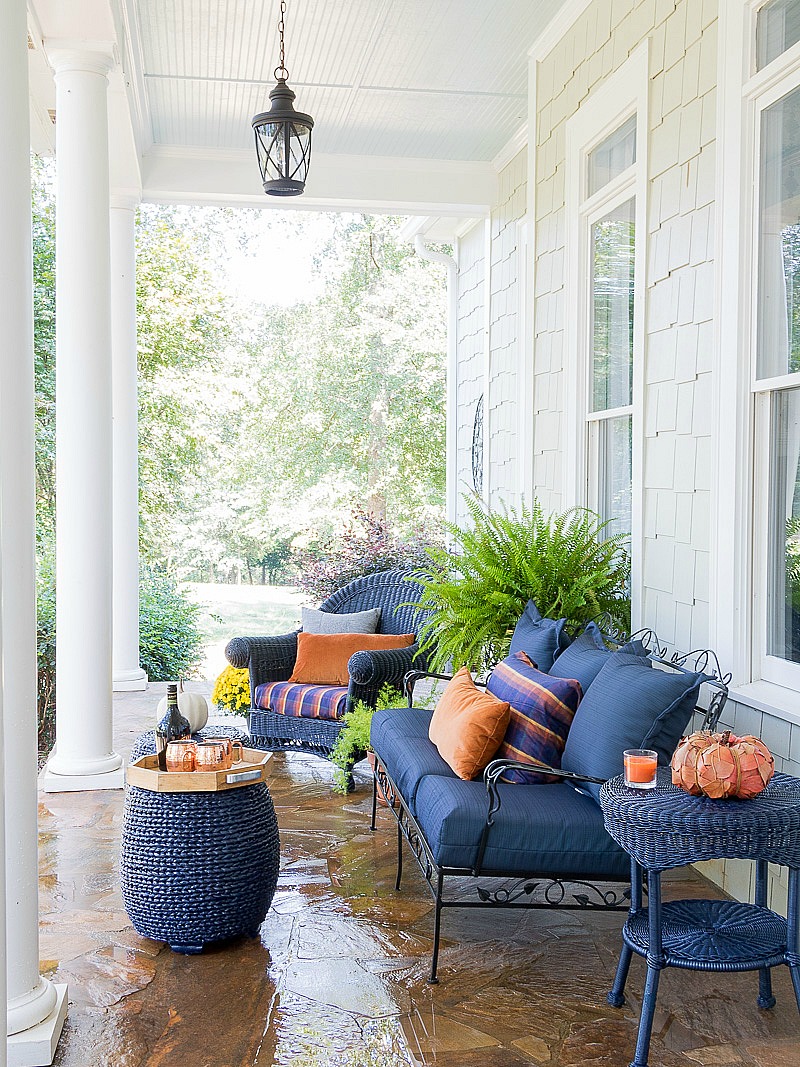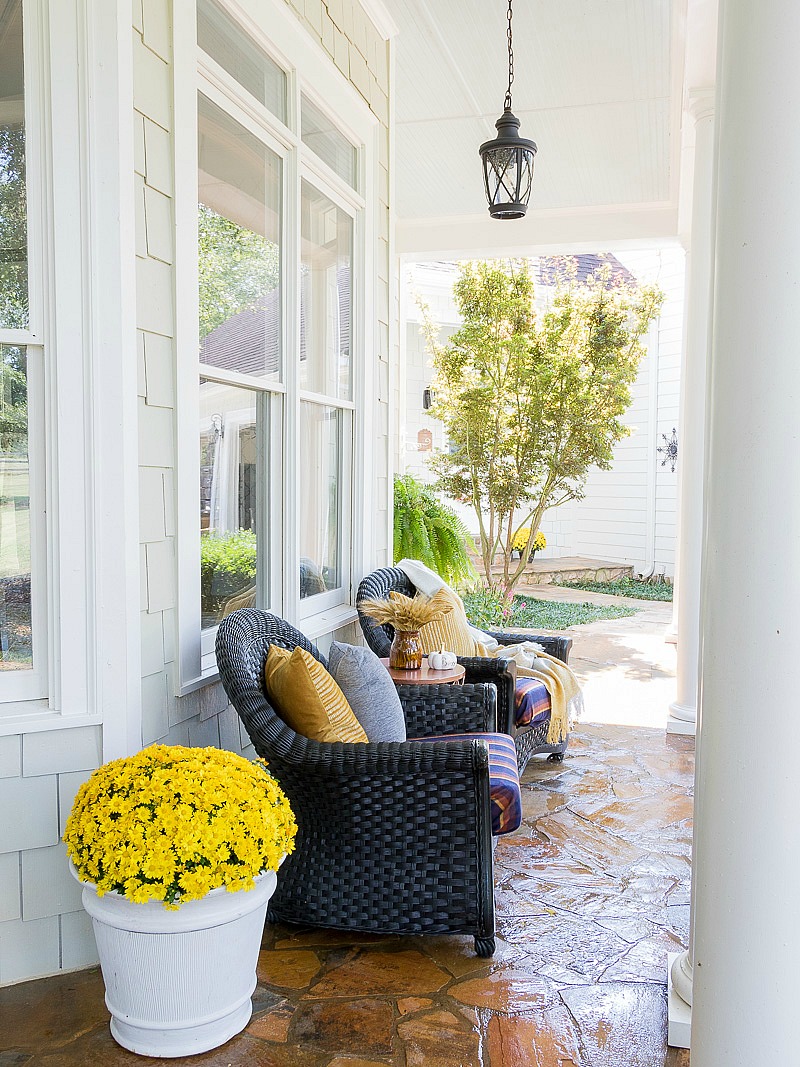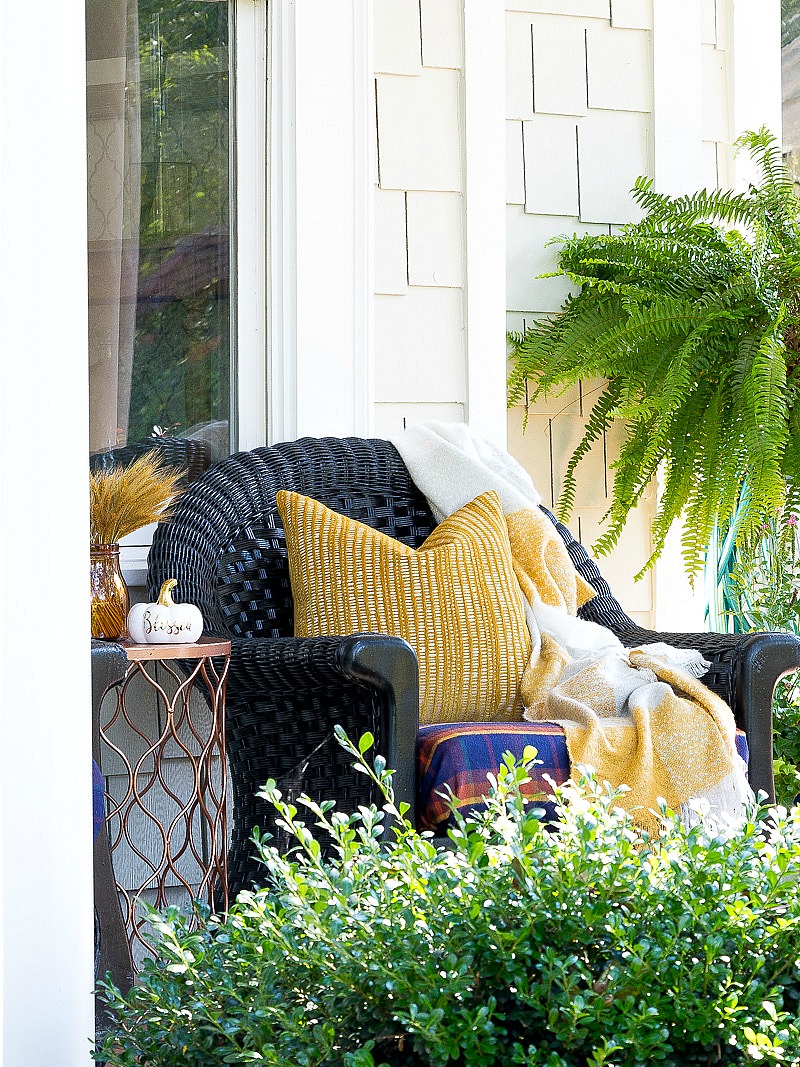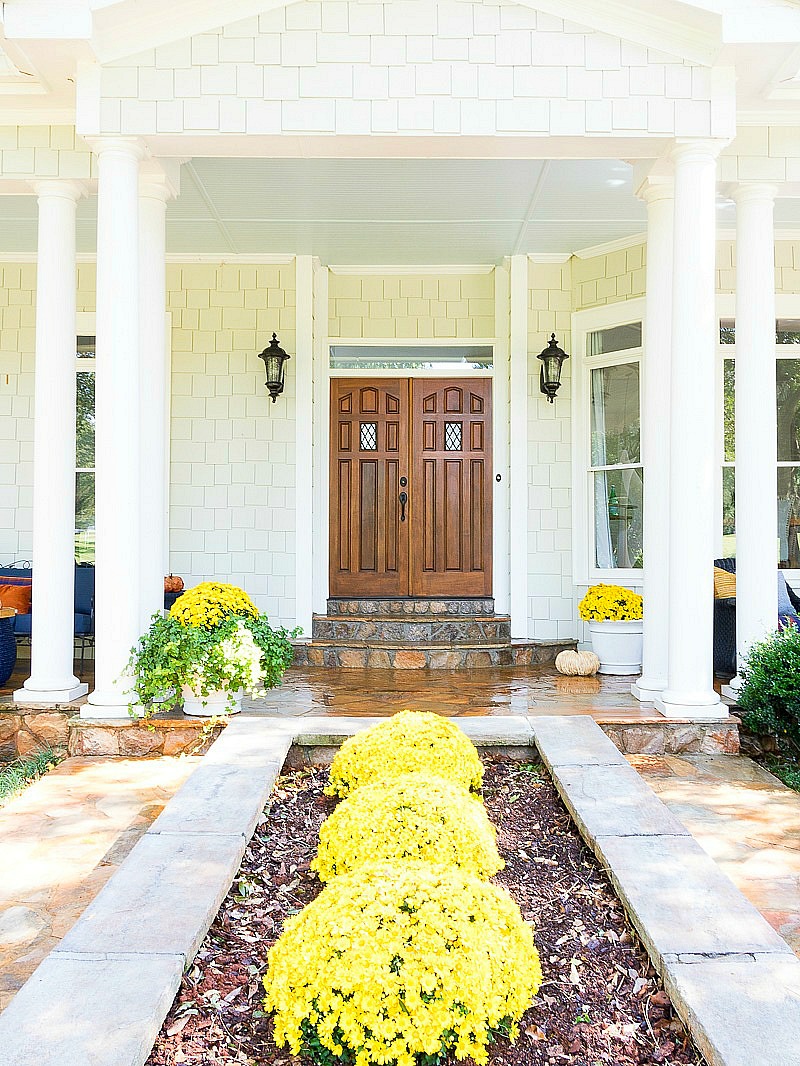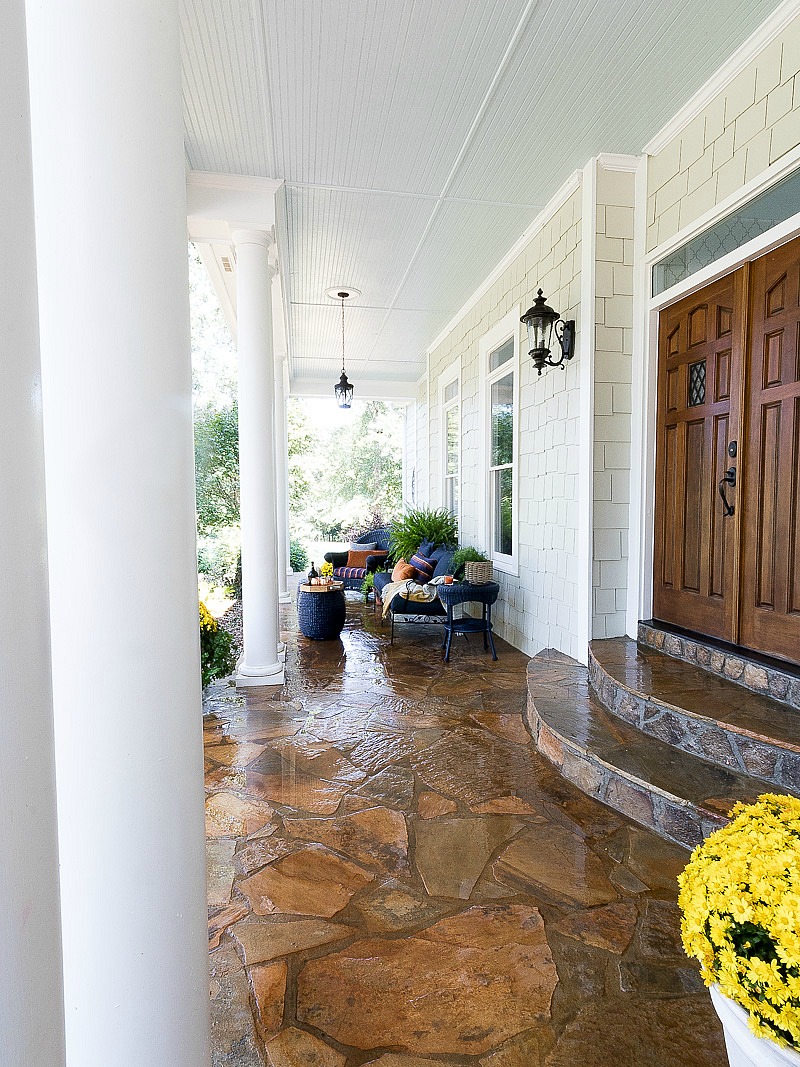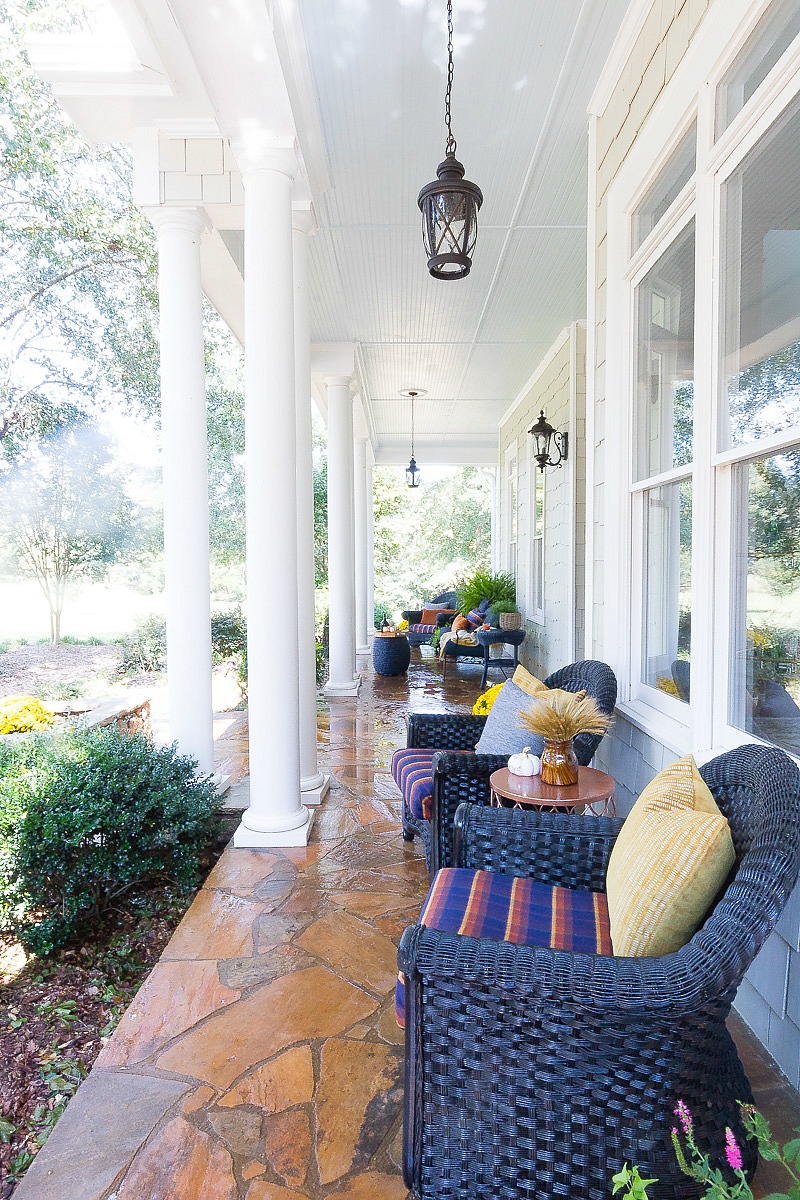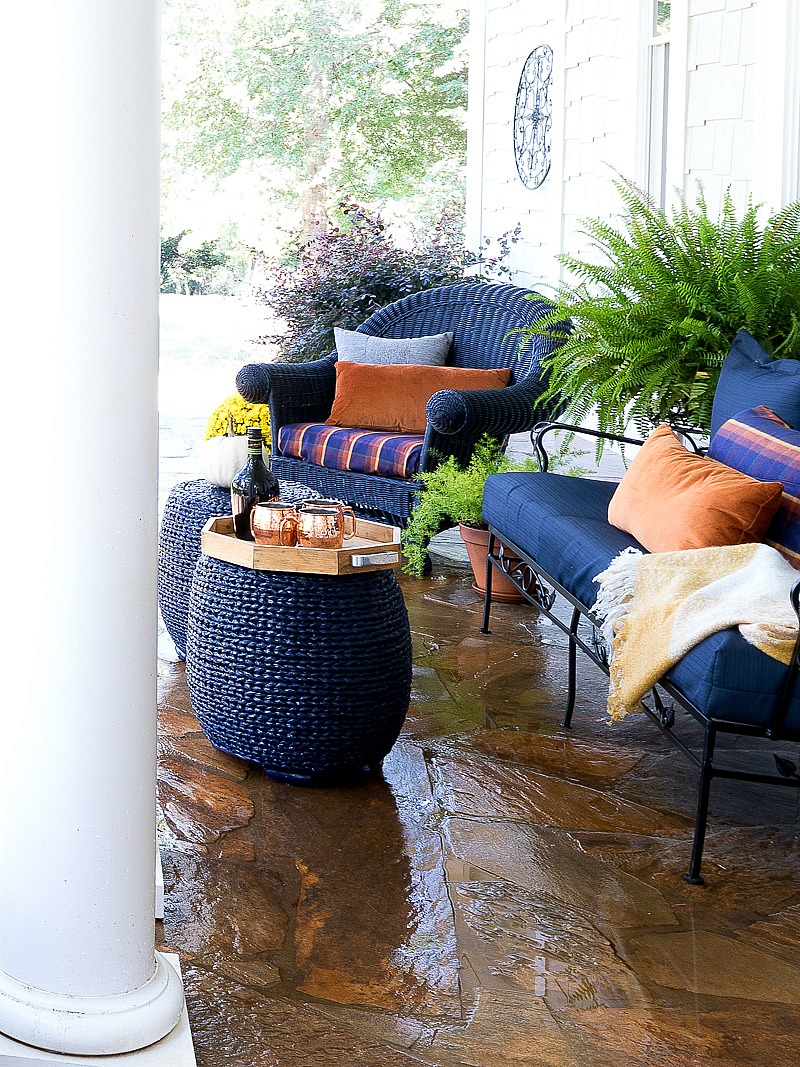 You can see last years Fall tour here.
Fall Screen Porch
Our second favorite place to hang out around here is our screen porch that we built over the summer. You can see the full reveal here and also see how it was decorated for summer….think pink. I always knew that not only would this be an amazing place to chill out, but it's also a fun place to decorate. And when I say decorate what I really mean is change out the pillows, add a throw, and pour a glass of wine. I took these pictures hours before the storm, so the glass of wine was timely.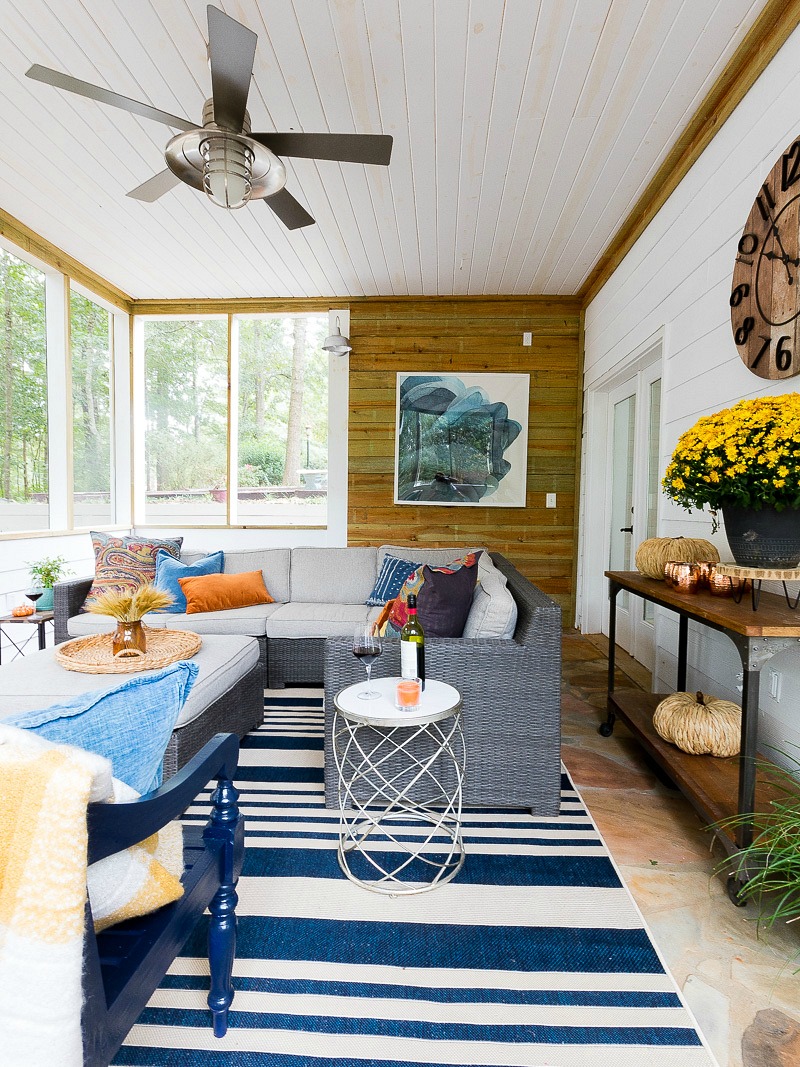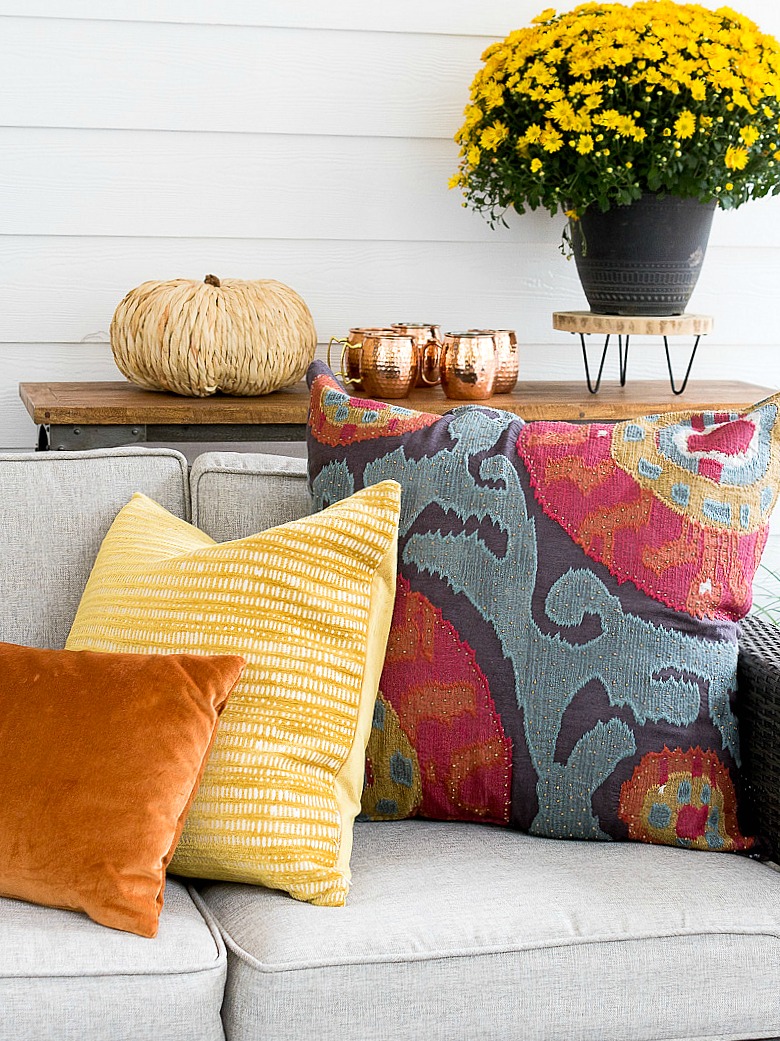 I used pillows that I already had along with these new velvet lumbar pillows to introduce fall color meets jewel tones on the porch. I love how it all works together.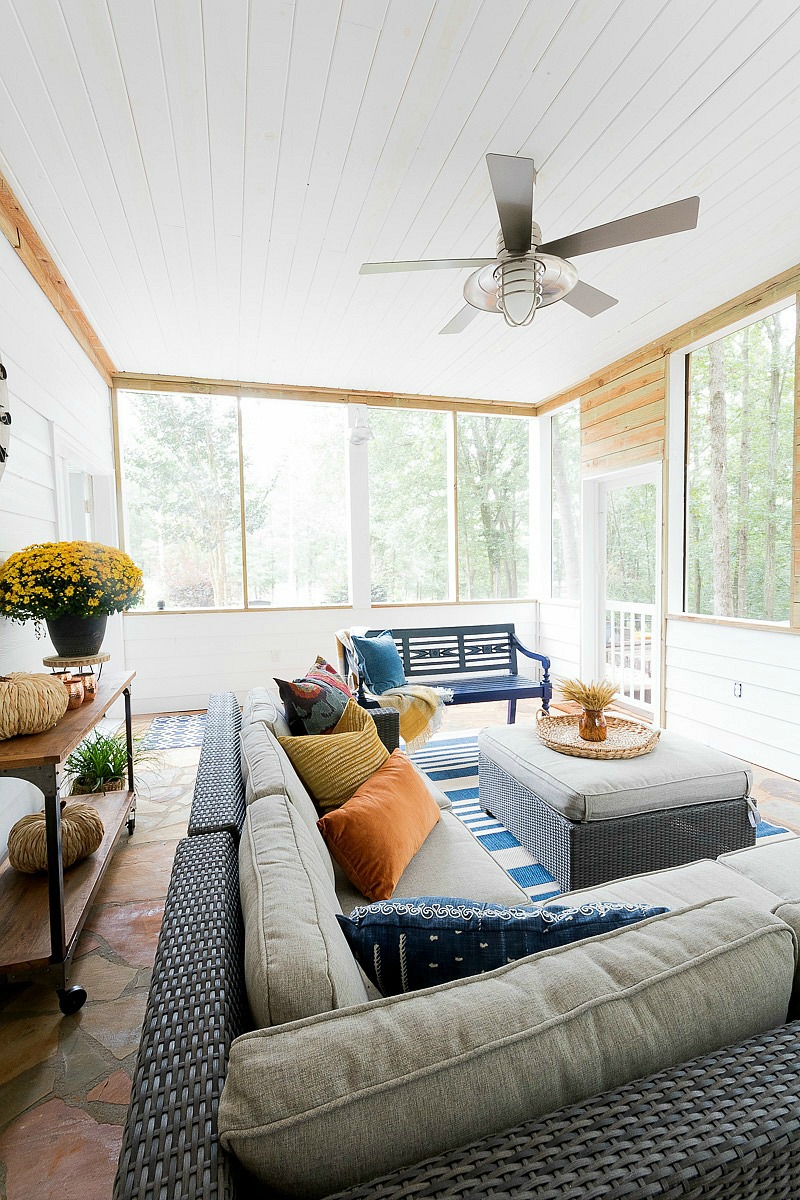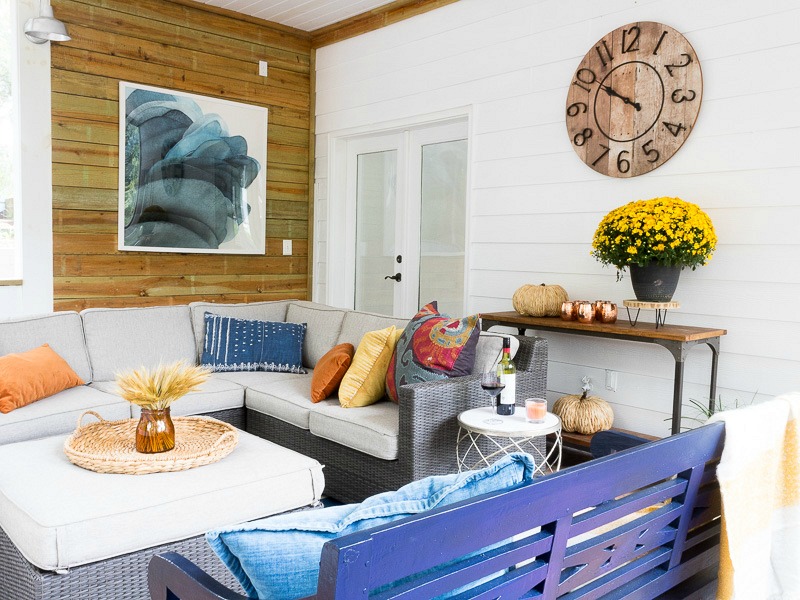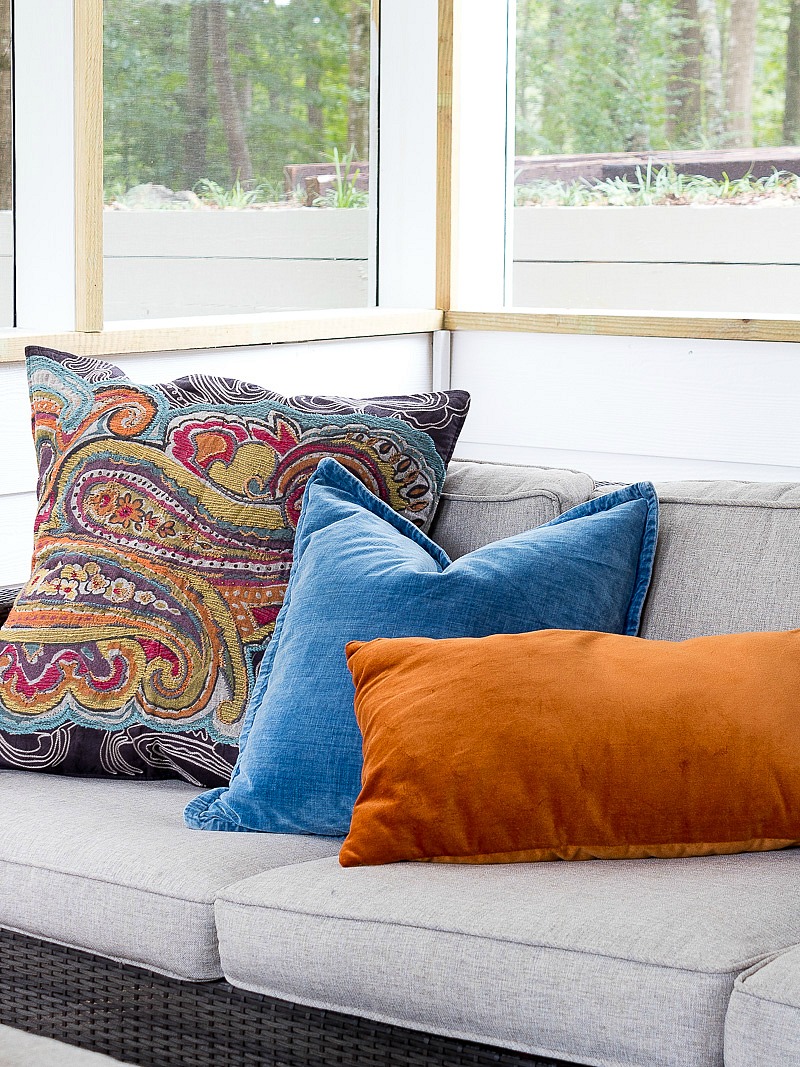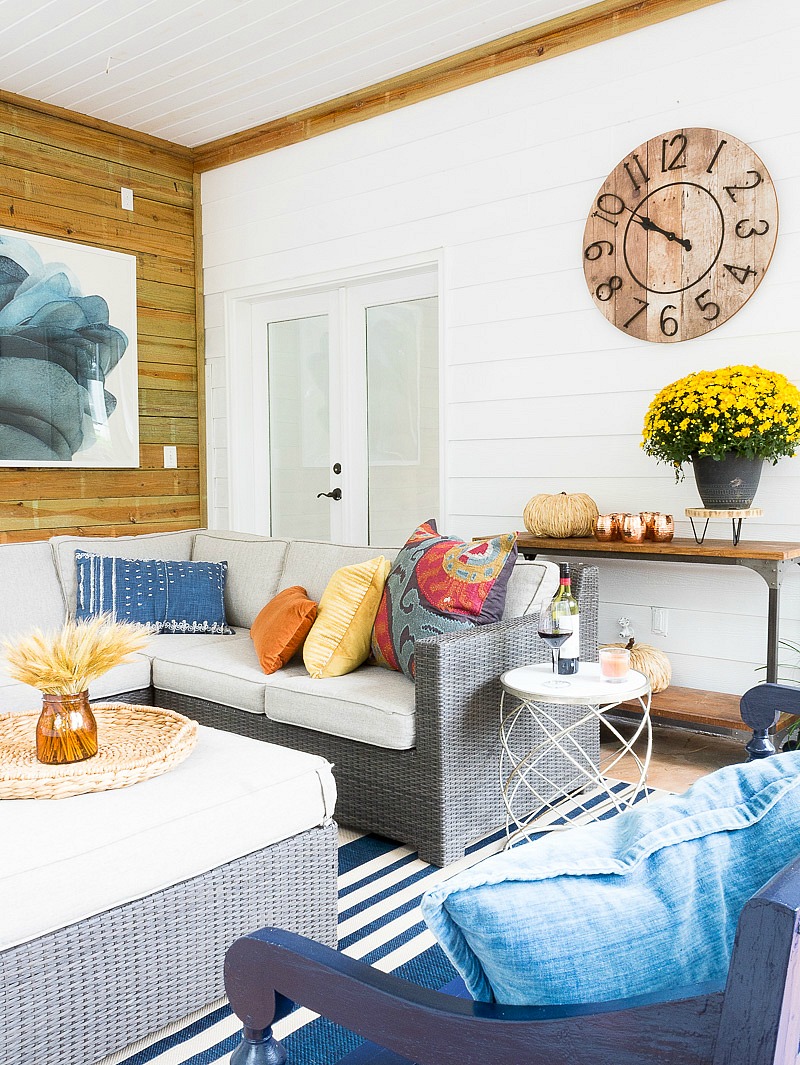 ps. I really wasn't drinking wine at 10:00am, the clock needs new batteries.
Shop my porch here:

More Fall inspiration
Before I digress even more, I sure do hope you enjoyed our favorite spaces around Duke Manor Farm. Be sure to visit all the amazing fall tours for more fall inspiration and ideas. I will be back later in the month with more fall ideas and inspiration so be sure to come back and visit. And don't forget to follow Duke Manor Farm on Instagram and Facebook where I share tips, projects and behind the scenes of my real life funny farm.
Enjoy the fall season!

Monday
Tuesday
Wednesday
Thursday
Friday