Ushering in Fall with small simple decor ideas using complementary colors and fresh greens.
Hello Fall time….even if it's 90 degrees out like it is in Northeast Georgia. If your temps are still in summer mode, this weeks Welcome Home Tour will definitely get you in the mood for Fall. If you are stopping by from Chatfield Court welcome to Duke Manor Farm. Special thanks to Kristi who also coordinated a wonderful line-up of bloggers to bring you loads of fall inspiration this week. All the links will be at the bottom of the post.
Ushering in Fall with small simple decor ideas
If you saw my other tour here and my kitchen , you know that the great pumpkin isn't getting a tremendous amount of pomp and circumstance this year around Duke Manor Farm. And for no other reason other then that I feel that small subtle changes can usher in a new season just as well, don't you think? Besides, the local pumpkin patch hasn't received the mother load of pumpkins yet.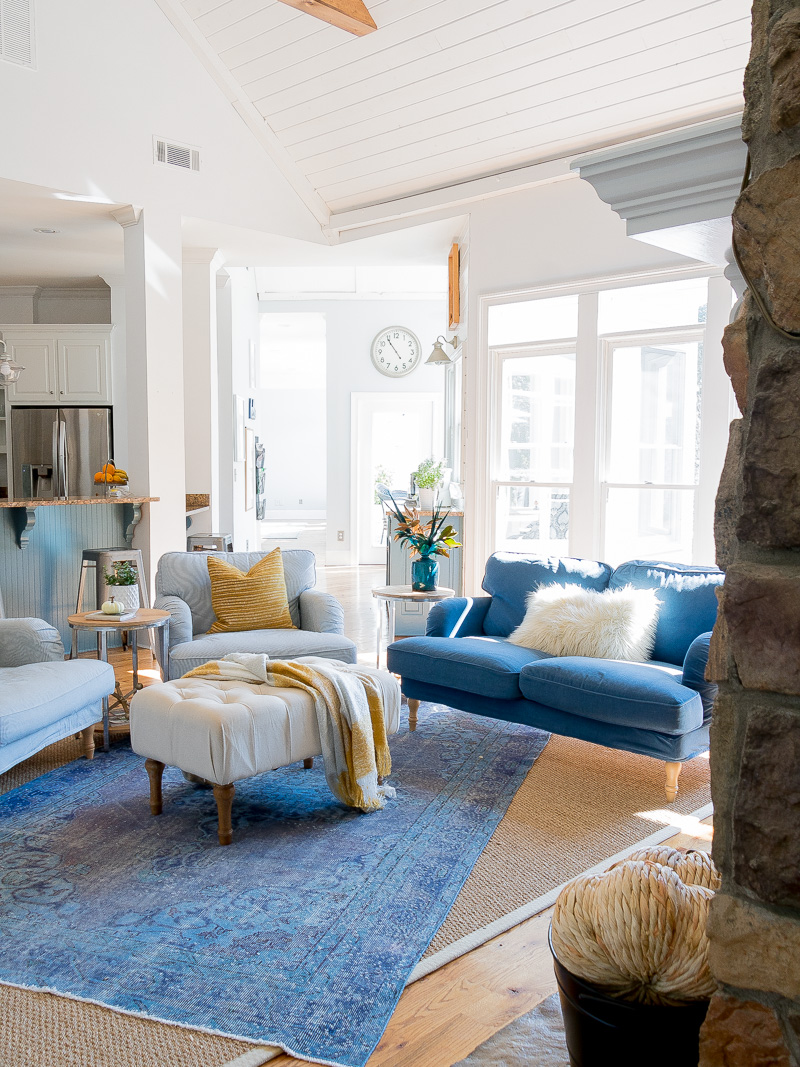 Add a complementary color to your current color palette
This year I decided to throw in a little mustard color with my navy color palette in our keeping room to usher in the fall season. The color is perfect for the season and also a great complement to the blues that are in the space. I picked the pillows up at Home Goods along with the fun plaid throw that is so so soft. We are a throw kinda family. I only wish there were 2 of them in the store. Guess we'll be fighting over this one. This faux fur pillow always makes an appearance this time of the year.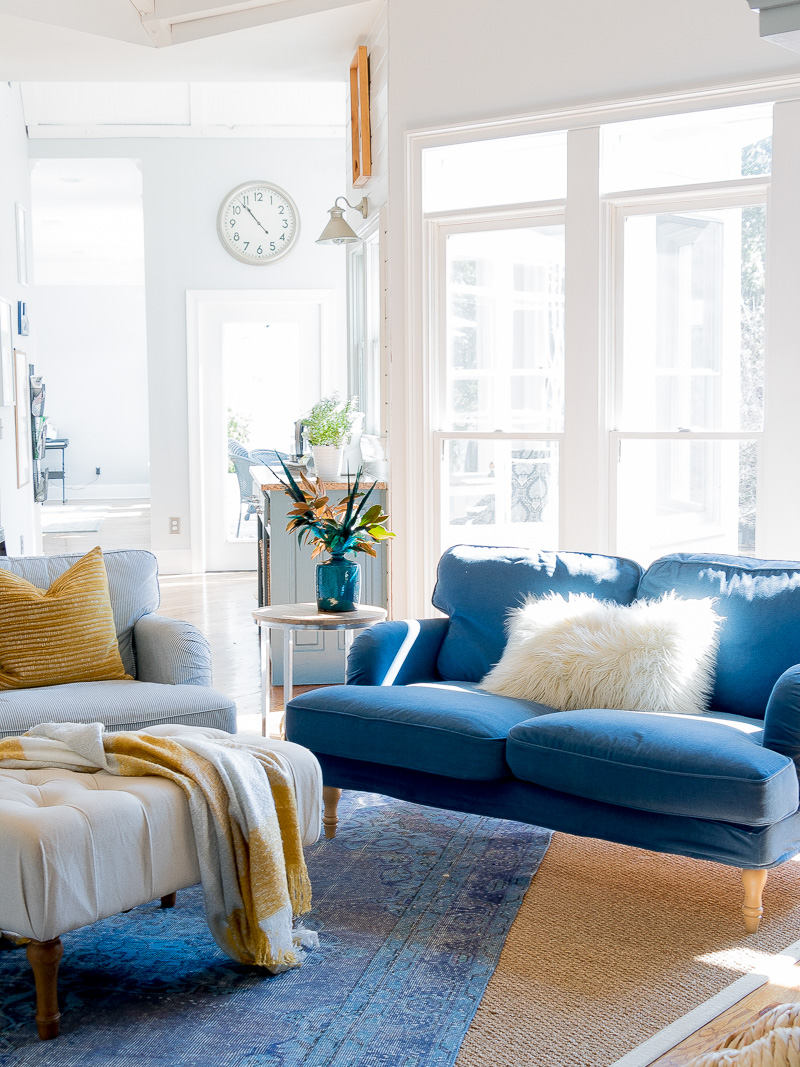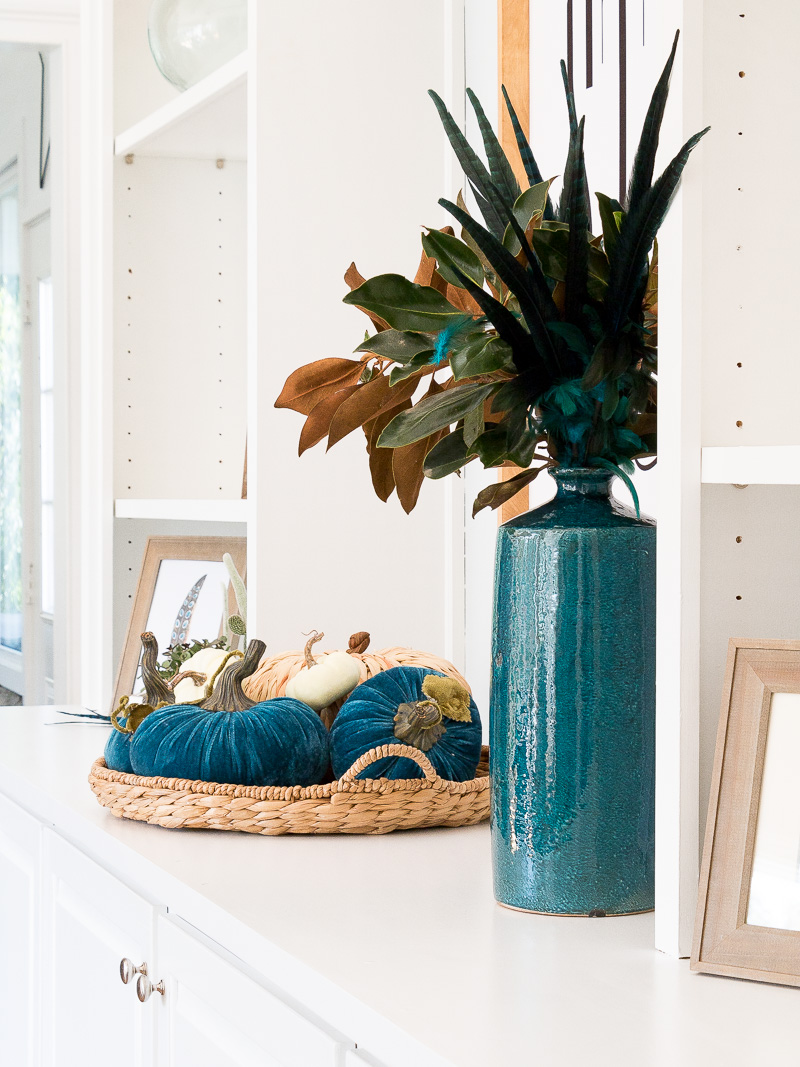 Cut stems from the yard …and add feathers
My blue plush pumpkins that I have had for a few seasons are stacked with some white and rattan ones in a wicker tray. I added a little whimsy to my magnolia stems and snuck in a few blue feathers….just for fun. By the way, magnolia stems are great for your floral arrangements alone or with other seasonal blooms. And they last a long time too.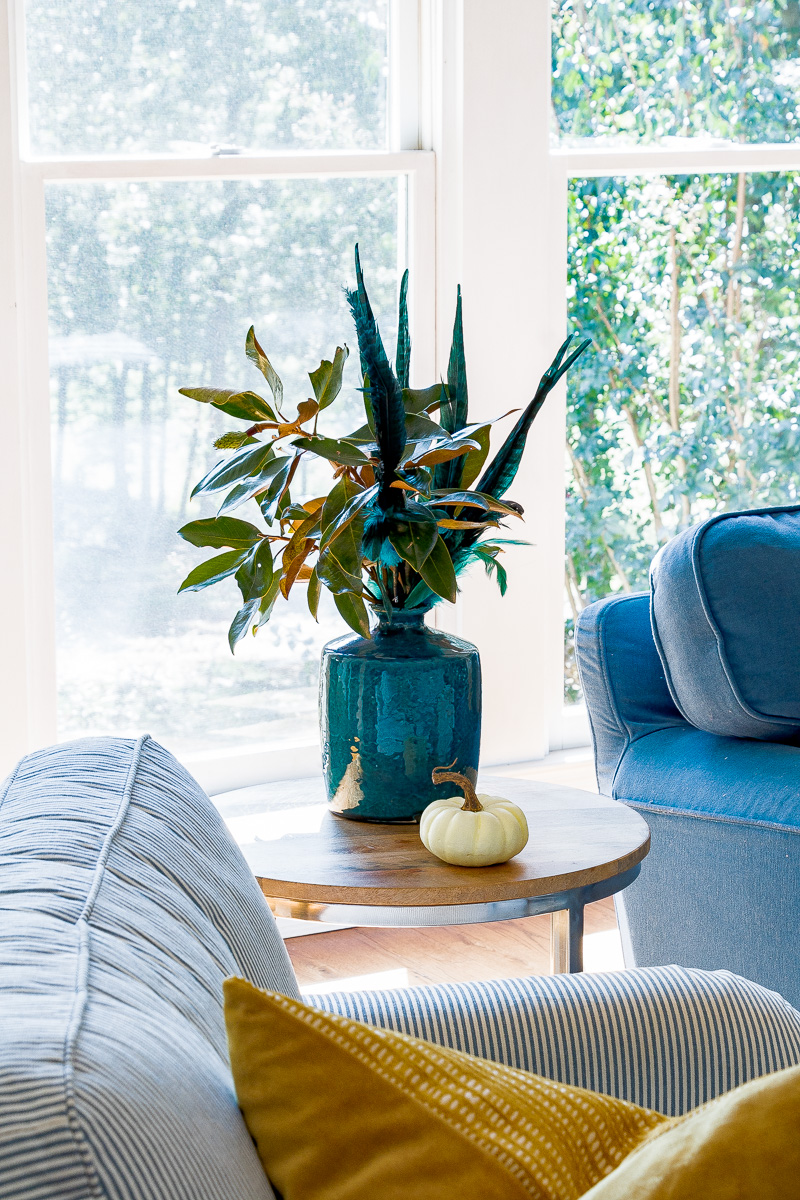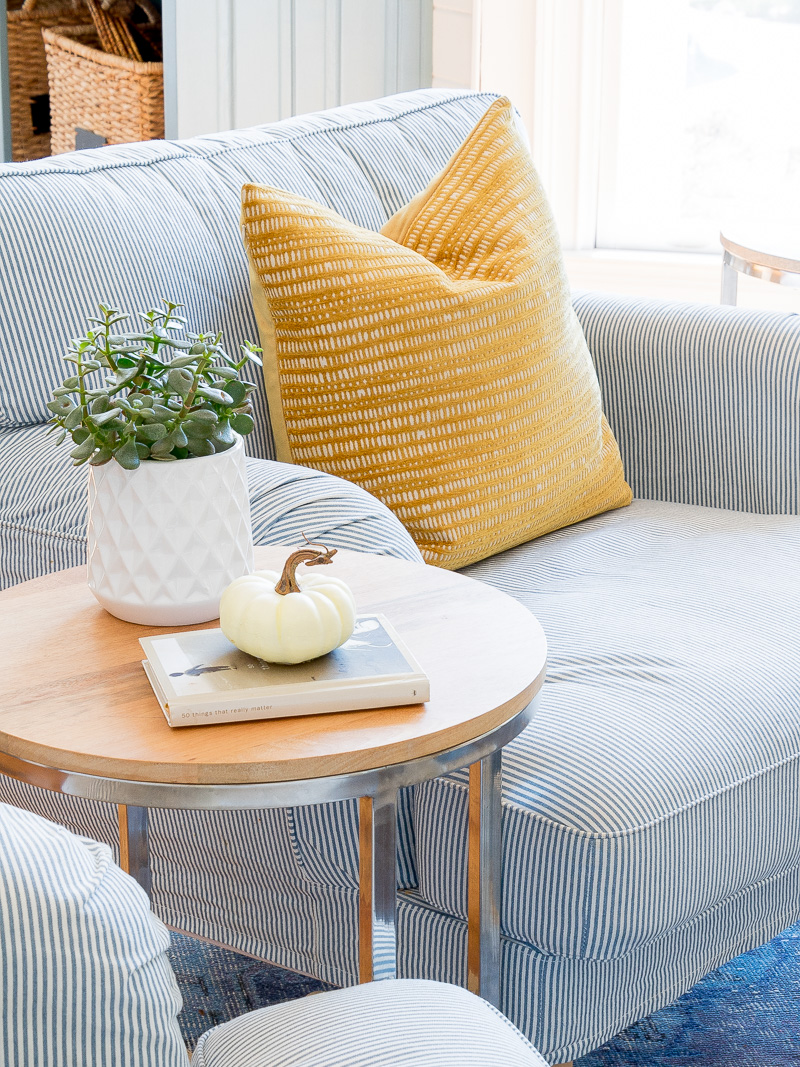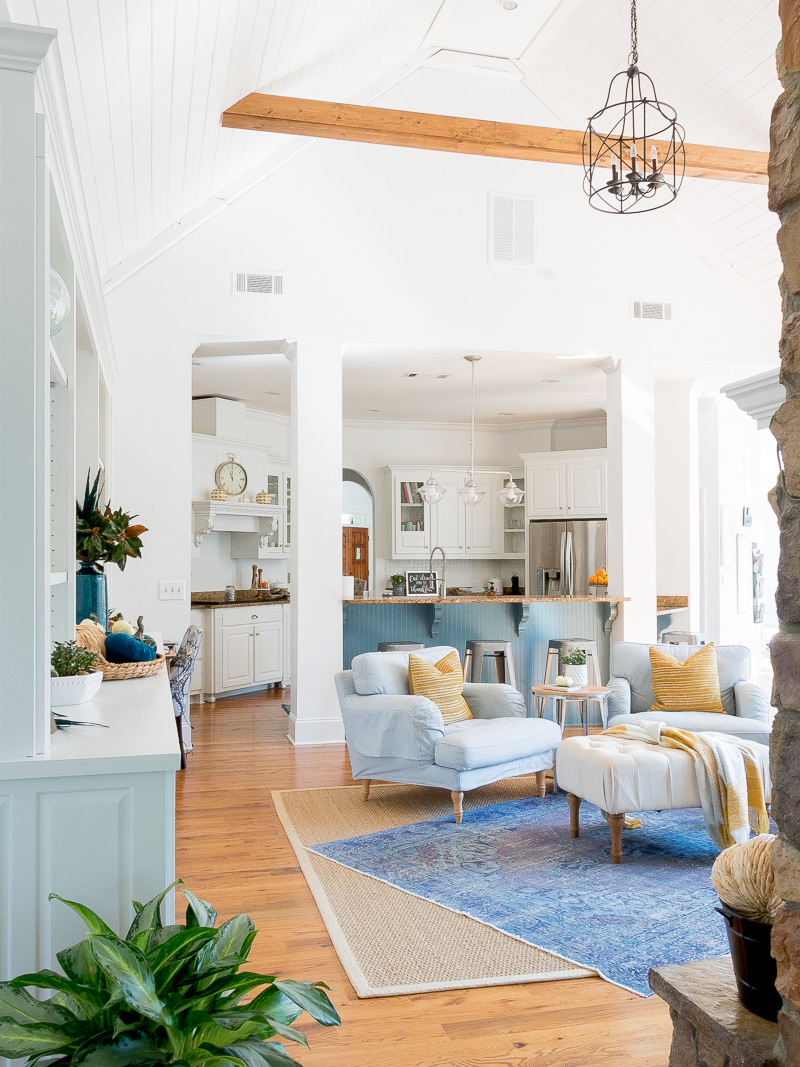 Shop items from my room here: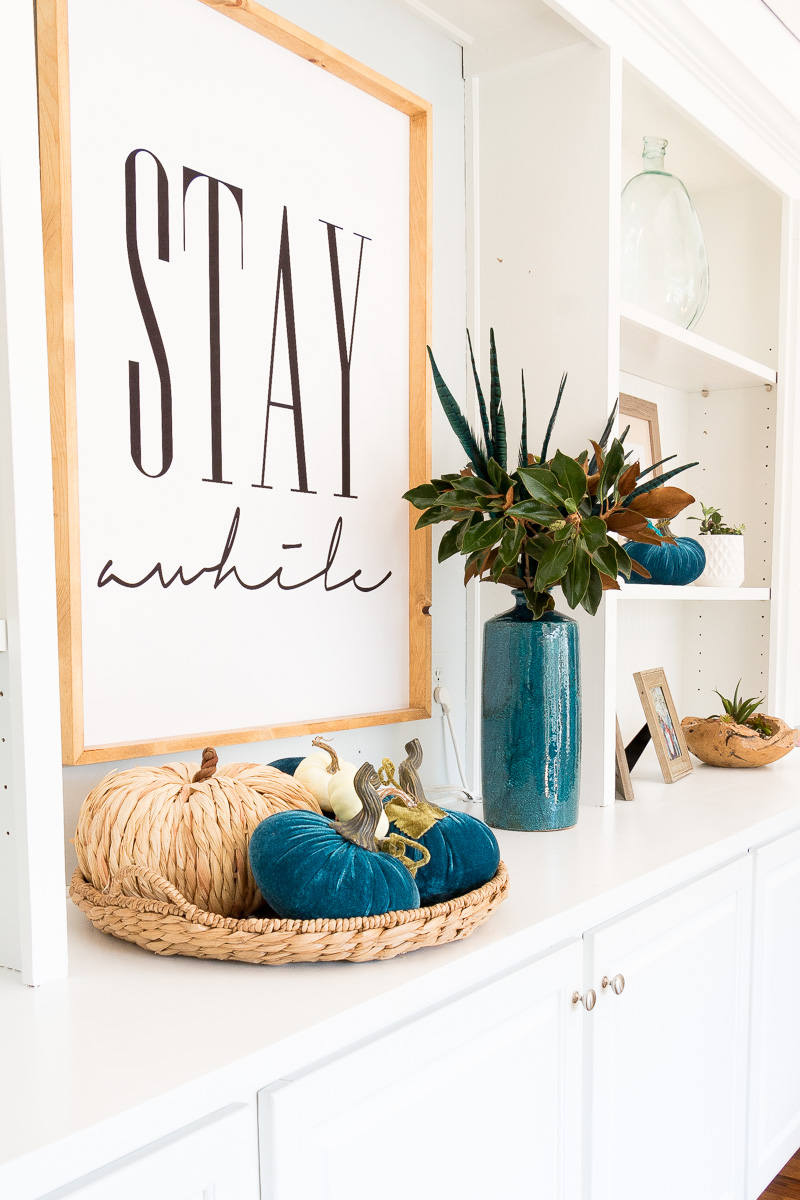 I hope my keeping room and it's simple decor ideas for fall, has inspired a few ideas of your own. For more of my fall ideas, fall tours and projects click here. Next up on the tour is the super talented Cristina at Remodelando la Casa

Affiliate links included for items mentioned in this post
Monday, October 2

Chatfield Court / Duke Manor Farm / Remodelando la Casa / Honey n Hydrangea
Tuesday, October 3

Exquisitely Unremarkable / Atta Girl Says / My Uncommon Slice of Suburbia / Artsy Chicks Rule
Wednesday, October 4

Worthing Court / Hymns and Verses / The Everyday Home / Lovely Etc.
THURSDAY OCT. 5
Thursday, October 5

Redhead Can Decorate / Town and Country Living / House of Hawthornes / Not Just a Housewife