Ideas on how to update a 15 year old bathroom vanity
In last months Thrifty Style idea here I shared how to easily transform and update bath accessories for a modern and fresh look…..for just the cost of a can of spray paint. Today I want to give you a few ideas on how to update a 15 year old bathroom vanity. Welcome to this months Thrifty Style post. All the links to more inspiring thrifty ideas will be at the bottom of this post. Don't miss out on 14 thrifty ideas!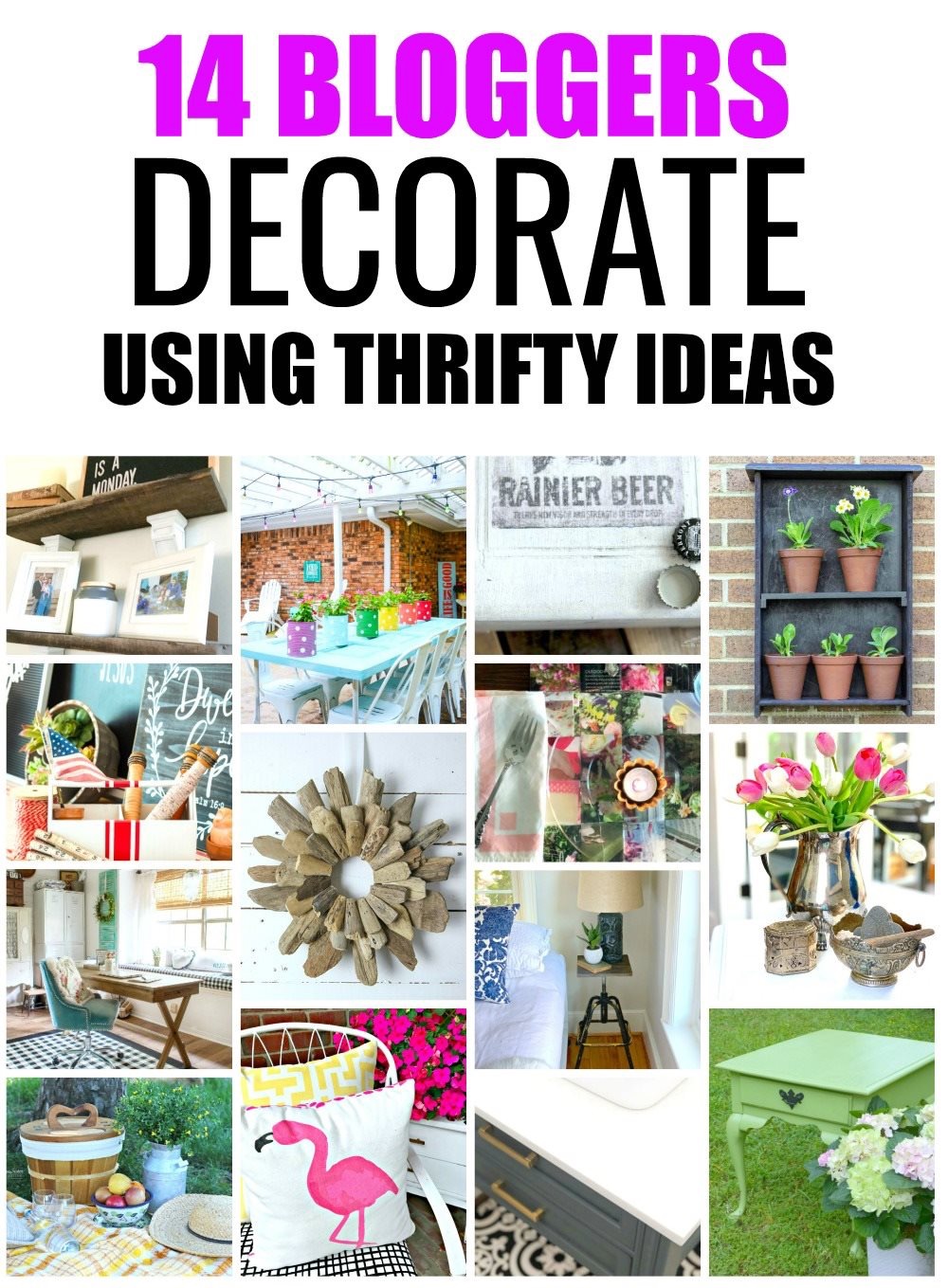 15 years ago when we moved in to the house I bought a ready made vanity and top from Lowes. That vanity served the bathroom well. When I was putting together the design for the guest bath changes and looking at other vanities, I realized what I liked was what I had, so there was no reason spending big bucks for something new. I did want to make a few changes to give the vanity a 'new' feel. You can see the design plan here.
Here's what the vanity looked like for all those years.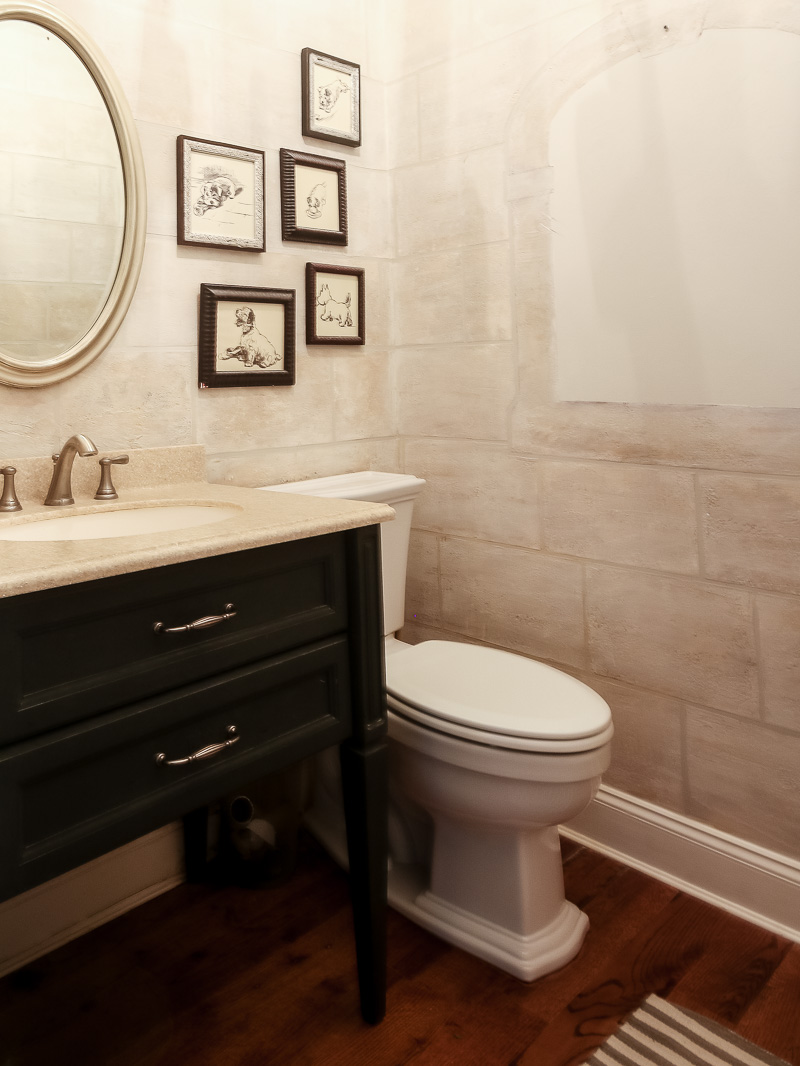 My plan was to clean and paint it, change the top with wood that my hubby would make and replace the hardware. All few thrifty and budget friendly changes.
Clean and paint
Without a doubt paint can totally transform a piece of furniture or a room. In this case,I used paint that I had leftover from my kitchen island project. After cleaning the cabinet, I applied a color called Web Gray in a semi-gloss finish. It was a small enough piece that I used a very soft roller instead of getting the paint sprayer out. You can see how my kitchen island looks with this color as well as some of my paint tips to help you with your paint job here.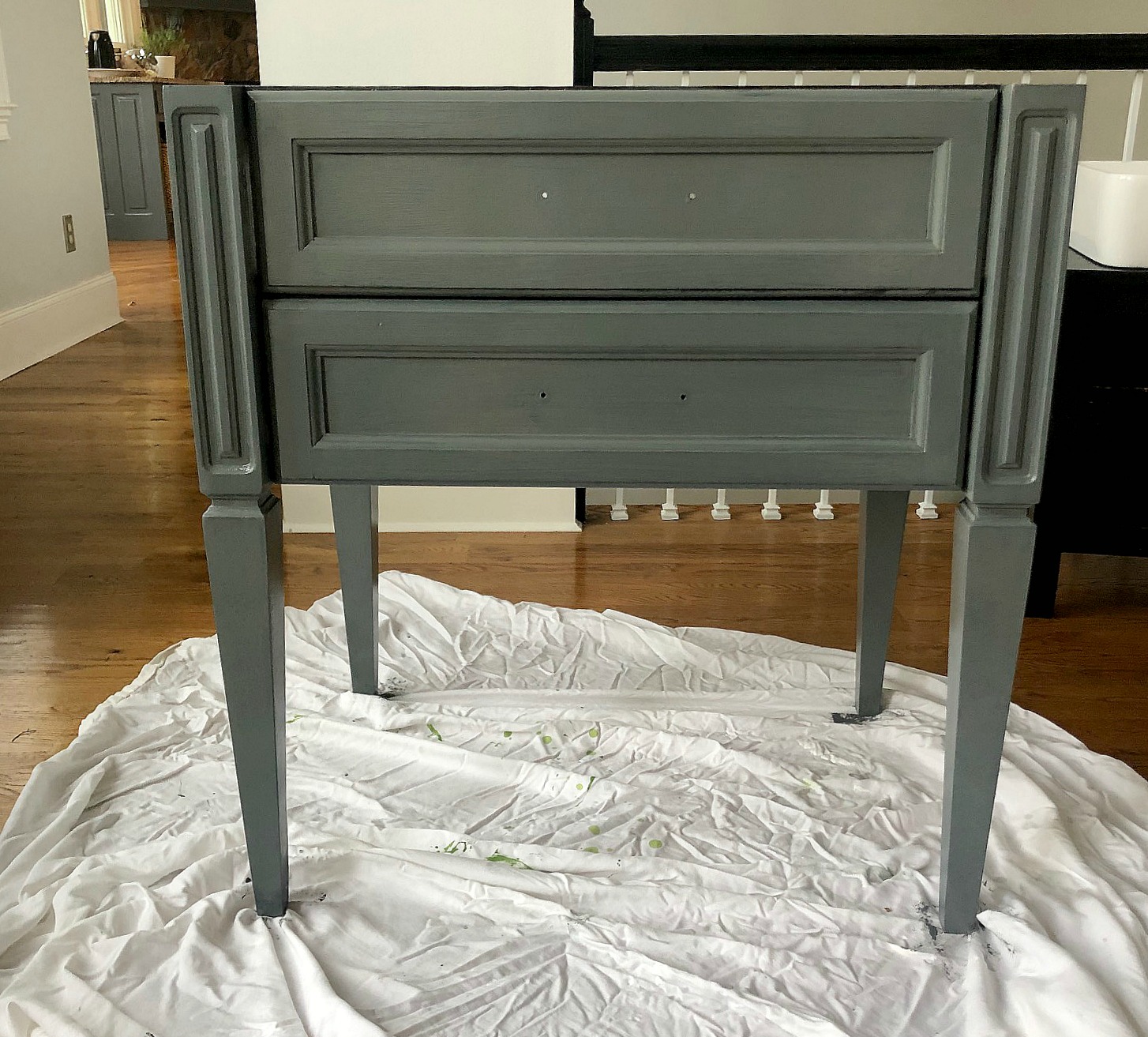 Change out hardware
For less than $20.00 I picked up some brass finish hardware to replace what was on there. ( I got these at Home Depot) This instantly changed the look of the cabinet and gave it the modern feel I was after. I got lucky and found handles that would fit the existing holes. If not, I would have had to cover up the old with wood putty and drill new holes.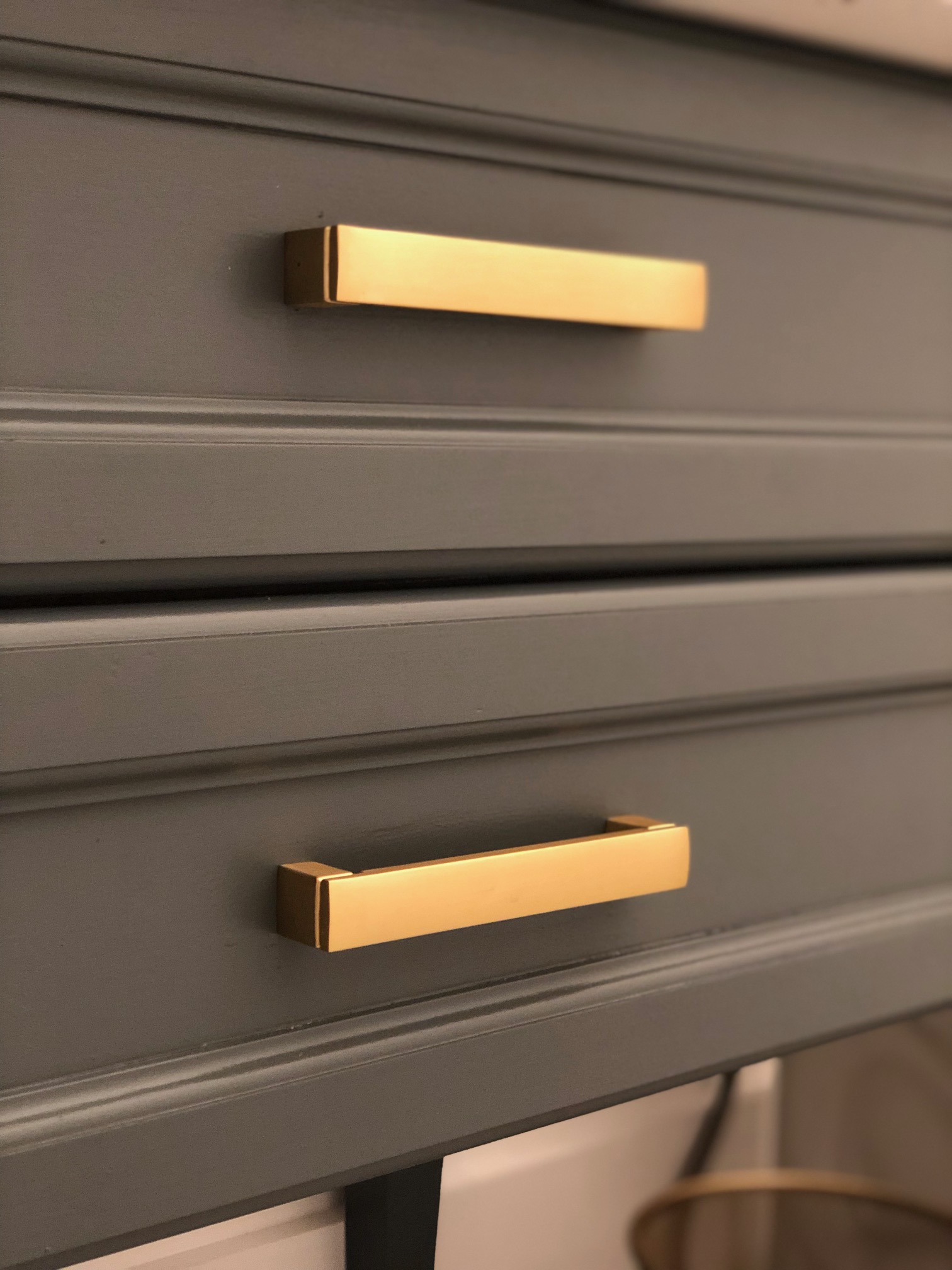 Change the counter top
The thrifty version ( which in the end did not work for me) was to make my own wood counter top. After much consideration, I decided to go with a solid surface so I wouldn't have to fuss with the maintenance I would have with wood. Perhaps if it wasn't in an area that would get water exposure, I would have gone with the wood surface. If you are interested in how to construct a wood top just DM me and I will provide you with the instructions.
Here's how it would have looked with the wood top….the thrifty version.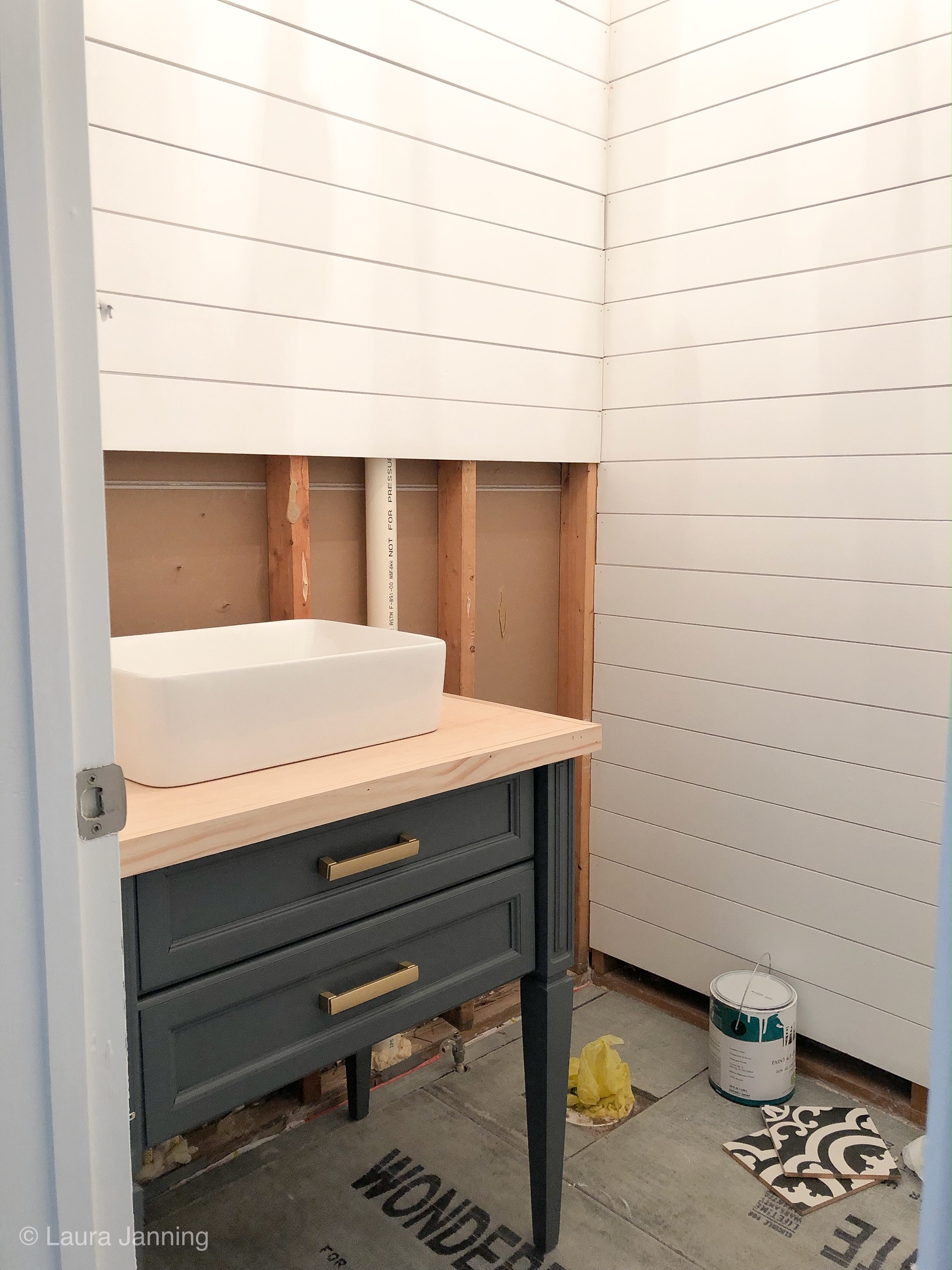 And here's how it looks with the quartz surface…..this is the non-thrifty version….but oh so beautiful!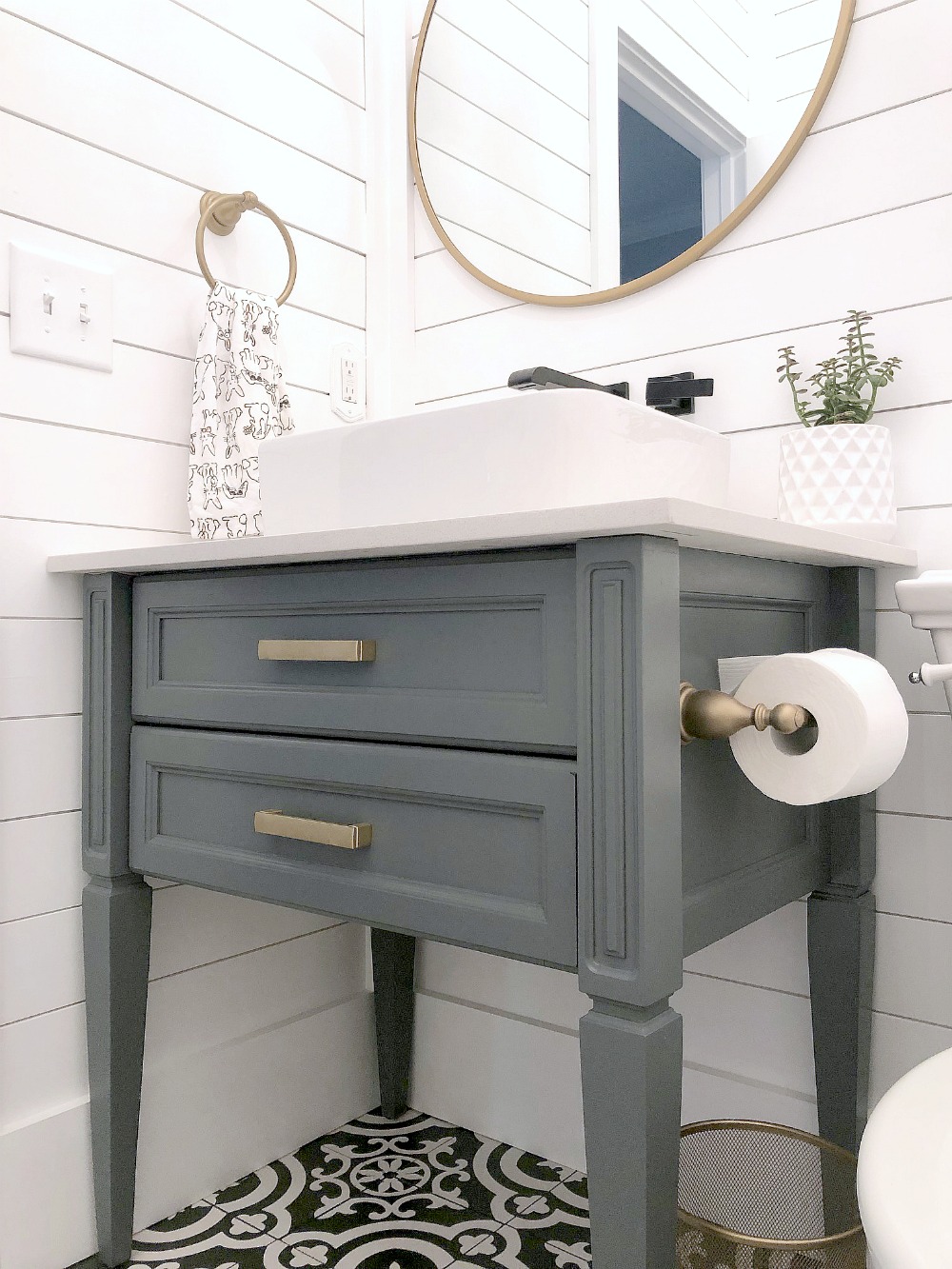 The biggest take away is to look at pieces you have currently and look for small ways to enhance without spending a ton of money…..unless of course you go for the non-thrifty option countertop 🙂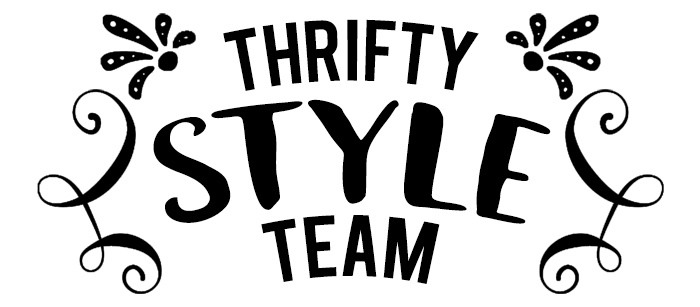 Ready for more thrifty style ideas? Click the links below for tons of great ideas.
Thrifty Yellow and Pink Spring Porch by Redhead Can Decorate
Rustic Shiplap-Inspired Wall Art by The Creek Line House
Ideas on How to Update a 15 Year Old Bathroom Vanity by Duke Manor Farm
Make an Auricula Theatre – Thrifty Style by Heart and Vine
Window Seat Refresh by DIY Beautify
Green Painted Outdoor Table by Cottage at the Crossroads
Patio Decorating Ideas on a Budget by I Should Be Mopping the Floor
Vintage Box Makeover by Bliss Ranch
Easy DIY Nightstand From a Thrift Store Stool by Chatfield Court
Decorating with Thrifted Silver by 2 Bees in a Pod
DIY Grain Sack Striped Farmhouse Tote by The How-To How
Thrifted Picnic Basket Makeover by Salvage Sister & Mister
DIY Magazine Page Place Mats by What Meegan Makes
100 Year Old Barnwood Shelves by The DIY Village