With the holiday season in full swing and with Christmas Day fast approaching it's time to think about your holiday table. Today I wanted to share a holiday centerpiece using miniature roses for your holiday table that will take no time at all to assemble and if you shop smart for your blooms, you can make at a cost of less than $20.00.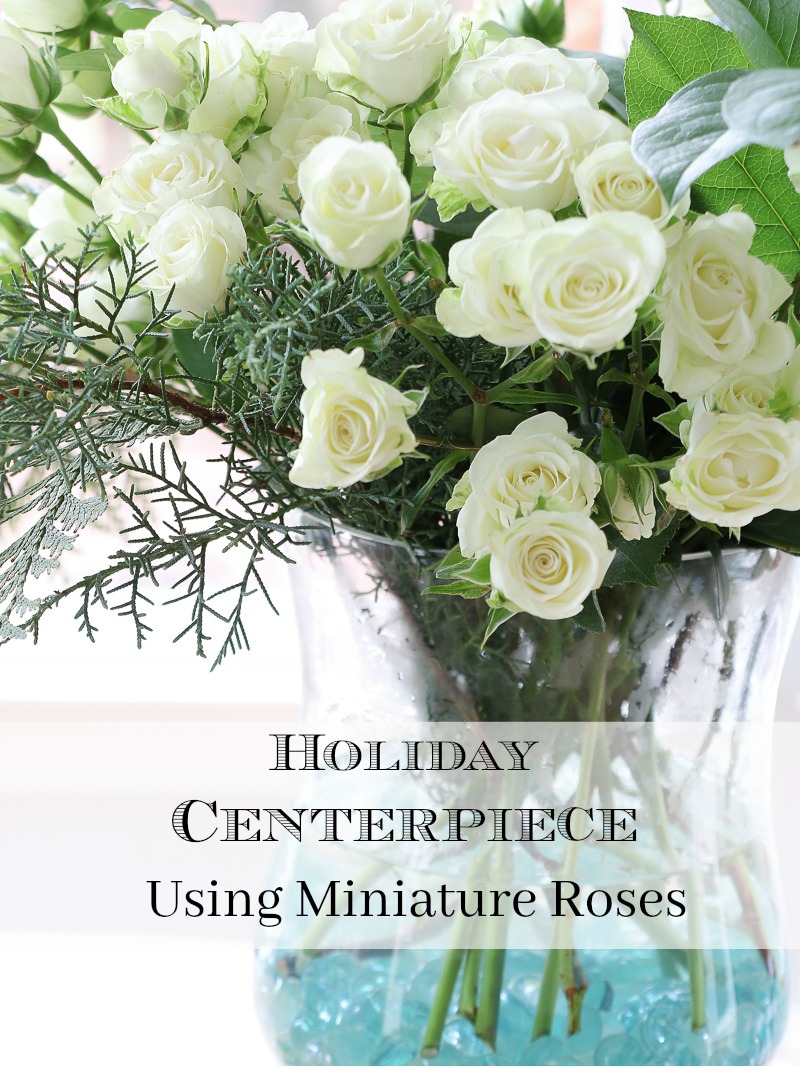 I'm joining my favorite blogging pals for our monthly challenge sharing some holiday ideas and inspiration. You will find their links at the end of this post.
I love miniature roses. I have a few that have been growing in containers around the house. You can see my tips on how to care for them here. A miniature rose is a smaller version of the larger rose. They have the same scent, color and characteristics of a larger bloom, they are just on the smaller scale. I love the delicate blooms of a miniature rose and could'nt help pick up 2 dozen ON CLEARANCE on a recent trip to the grocery store. TIP: Always check the clearance buckets to see what blooms they are trying to move out. You would be surprised at what you find. I picked these miniature roses up for $4.00 a dozen.
Holiday Centerpiece using miniature roses
Clip off your stems
Before placing your blooms in water, cut the bottom of the stem 1-2 inches from the cut. You will also want to remove any of the leaves that may be submerged or covered in water once the flowers are in the vase.
Fill your vase with water and…. glass or rocks
In addition to filling my vase with water ( at room temperature) , I also place colored glass or rocks in my glass vessel. The colored glass adds a bit of interest and color and often times conceals or distracts from spent bloom stems.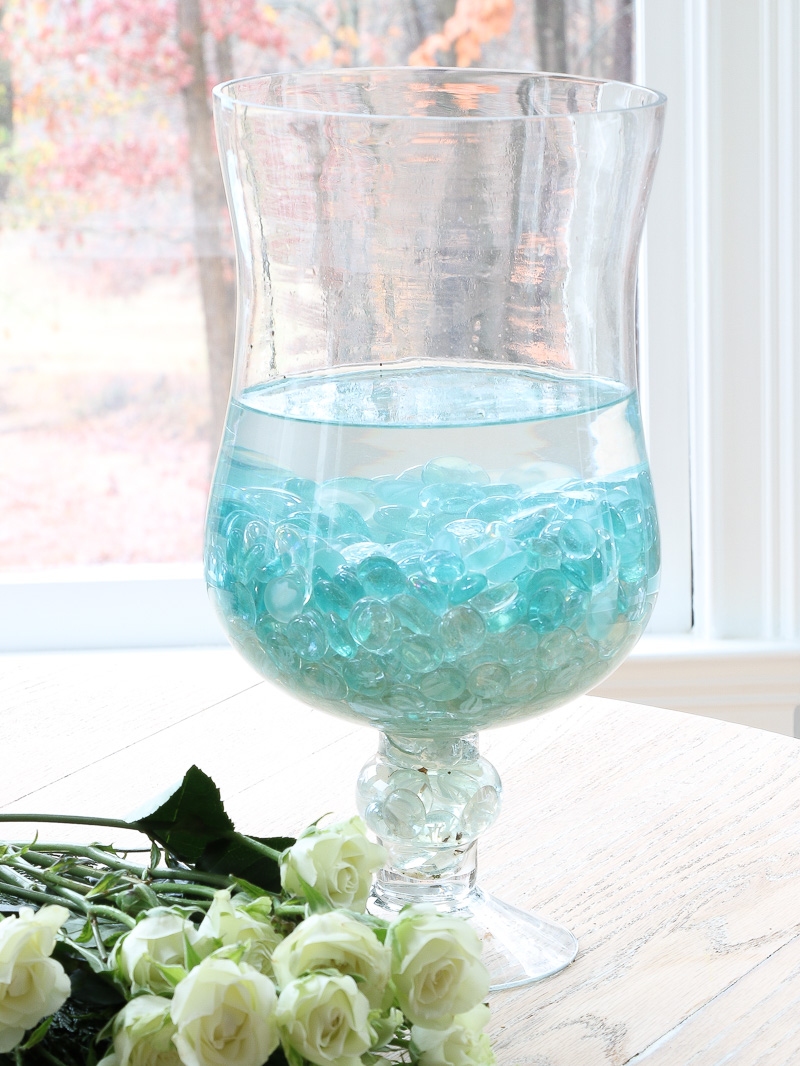 Place flowers in vase at a diagonal.
Take each stem and place in the vase at a diagonal. This helps to stagger the height of your stems. Make sure that everything is removed from the stem.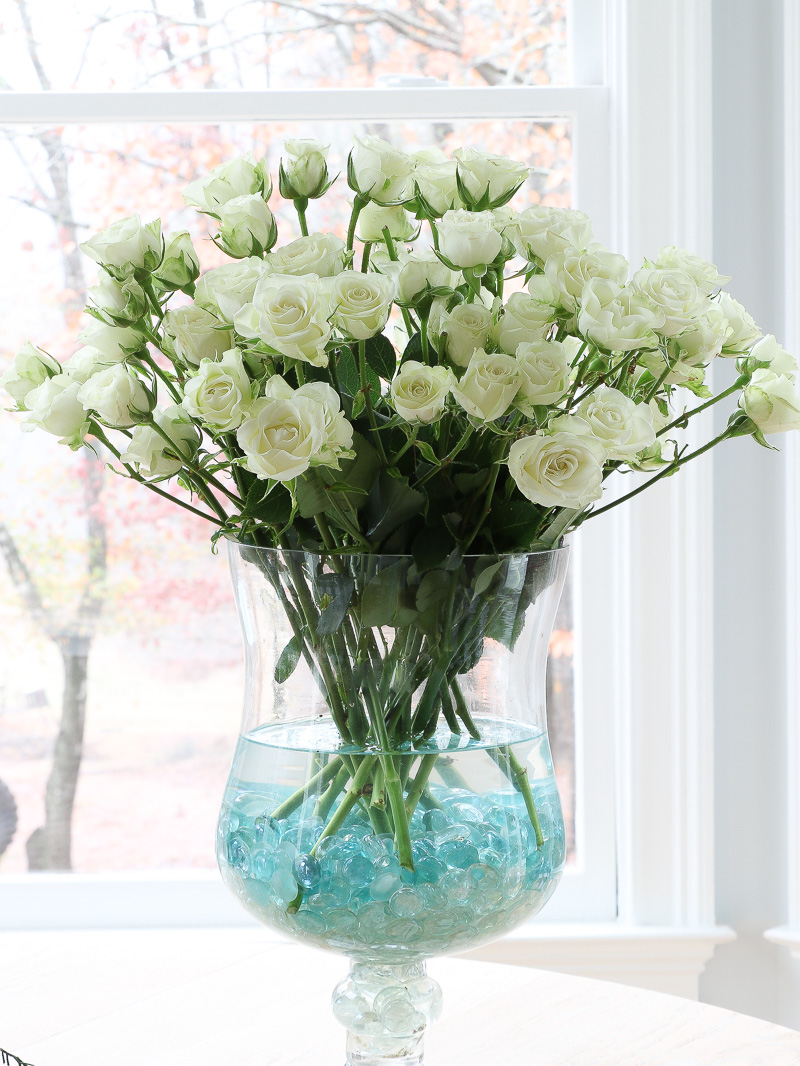 Add your fillers
Once your flowers are placed in the vase, now it' time to add fillers and other greens throughout the arrangement. I added some evergreen cuttings and other leafy clippings for festive holiday look. There are a number of things you could add as a filler for a holiday centerpiece. Sticks, ornaments, and even other blooms. I wanted something simple so I only chose the evergreen and a few other greens.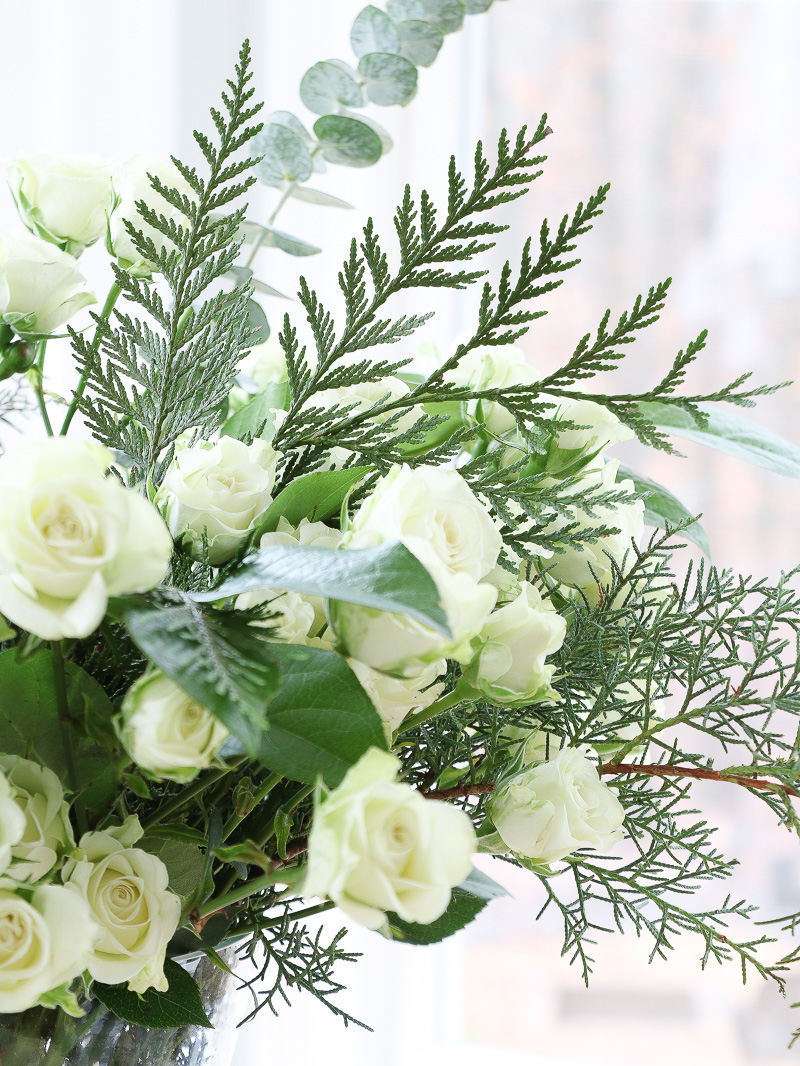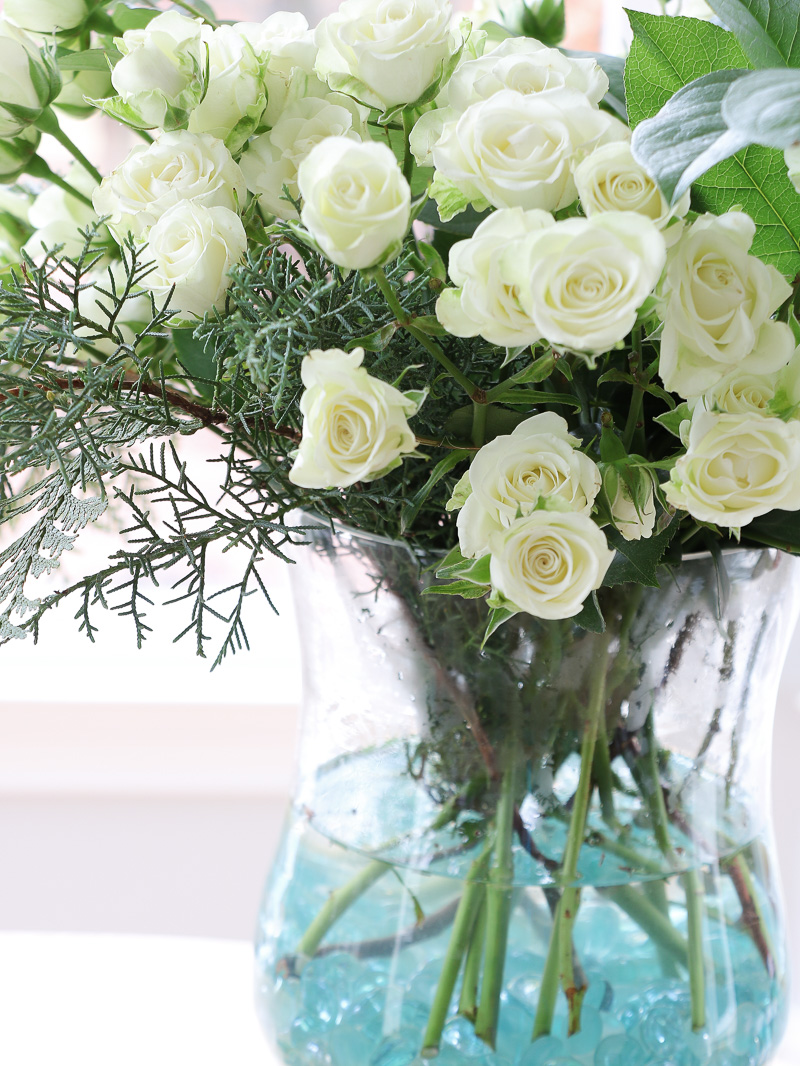 Four steps to a beautiful Holiday Centerpiece using miniature roses. Now your centerpiece is ready for your table and for everyone to enjoy it. If you like red, then you will like this fun centerpiece with candy canes and roses that I did last year.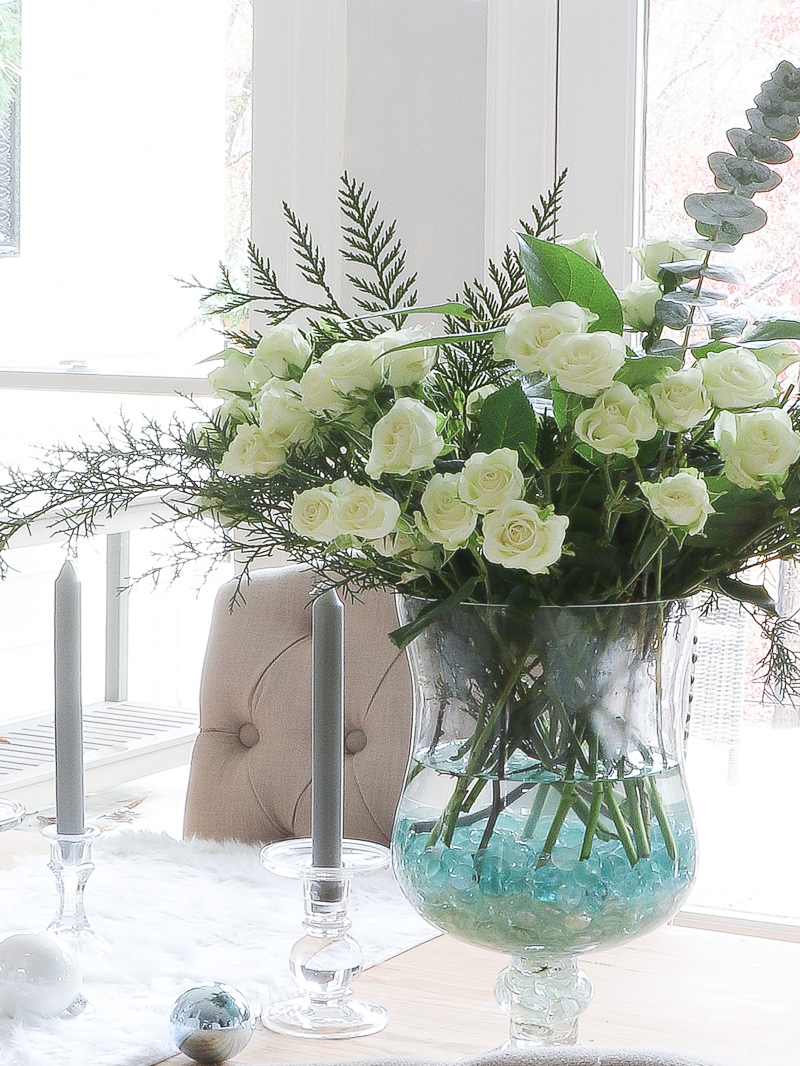 What are your favorite floral centerpiece ideas for the holidays. Tell me in the comments.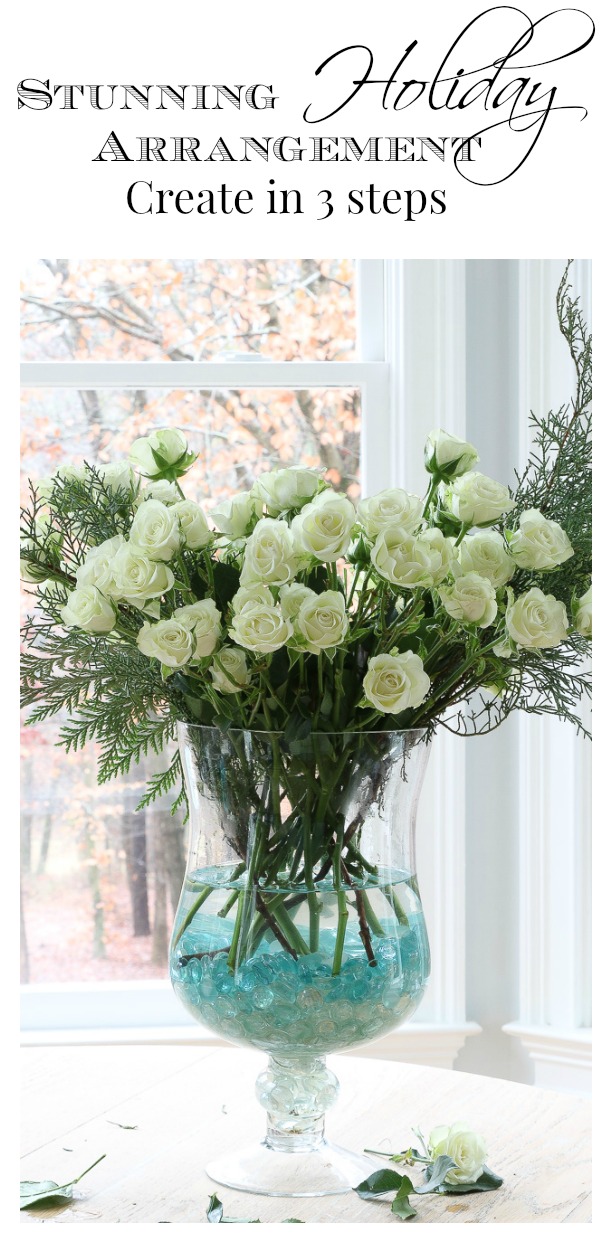 Happy Holidays from Duke Manor Farm!
For more of my holiday inspiration, projects and holiday home tours click here.
grateful
for the answer to our prayers