Happy Holidays and welcome to my holiday home tour at Duke Manor Farm. If you are new to my blog, you can read more about my real life funny at Duke Manor Farm here.
Holiday Home Tour at Duke Manor Farm
Last week I opened Duke Manor Farm up for a holiday tour that showcased my kitchen, sitting room and breakfast nook. You can catch up on all that here. Today I wanted to share my holiday Master Bedroom and Dining Room with you. A few affiliate sources from the rooms are included just in case you see something you are interested in.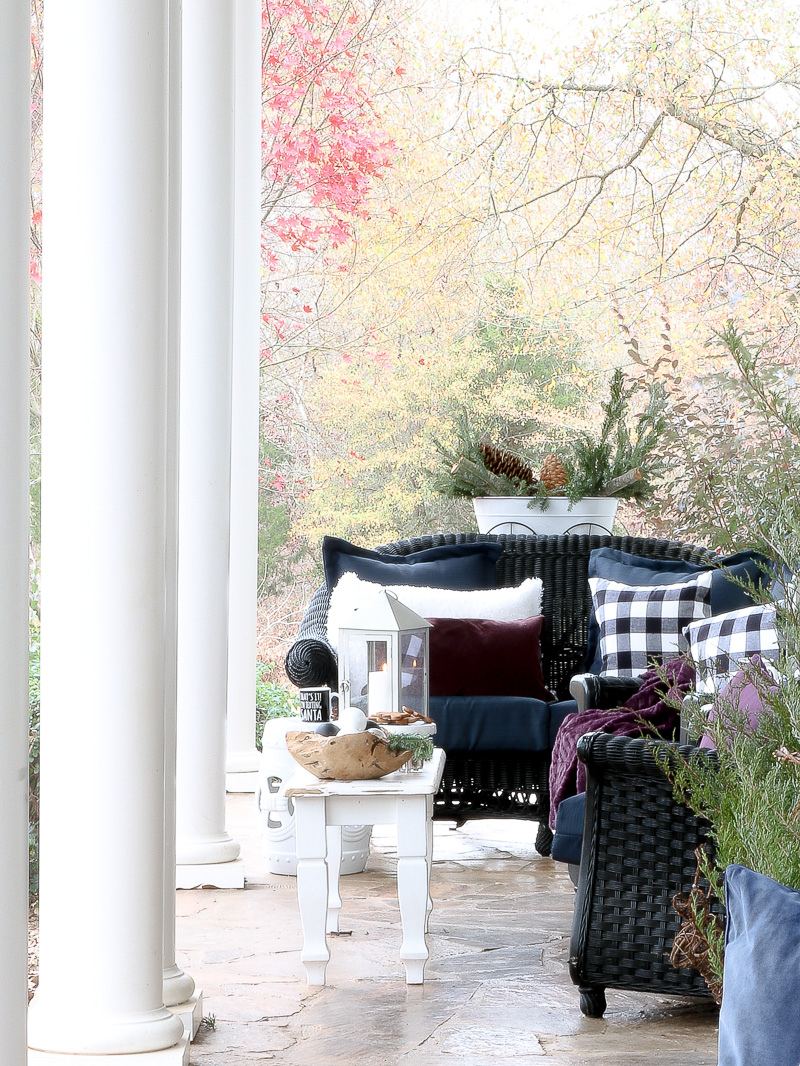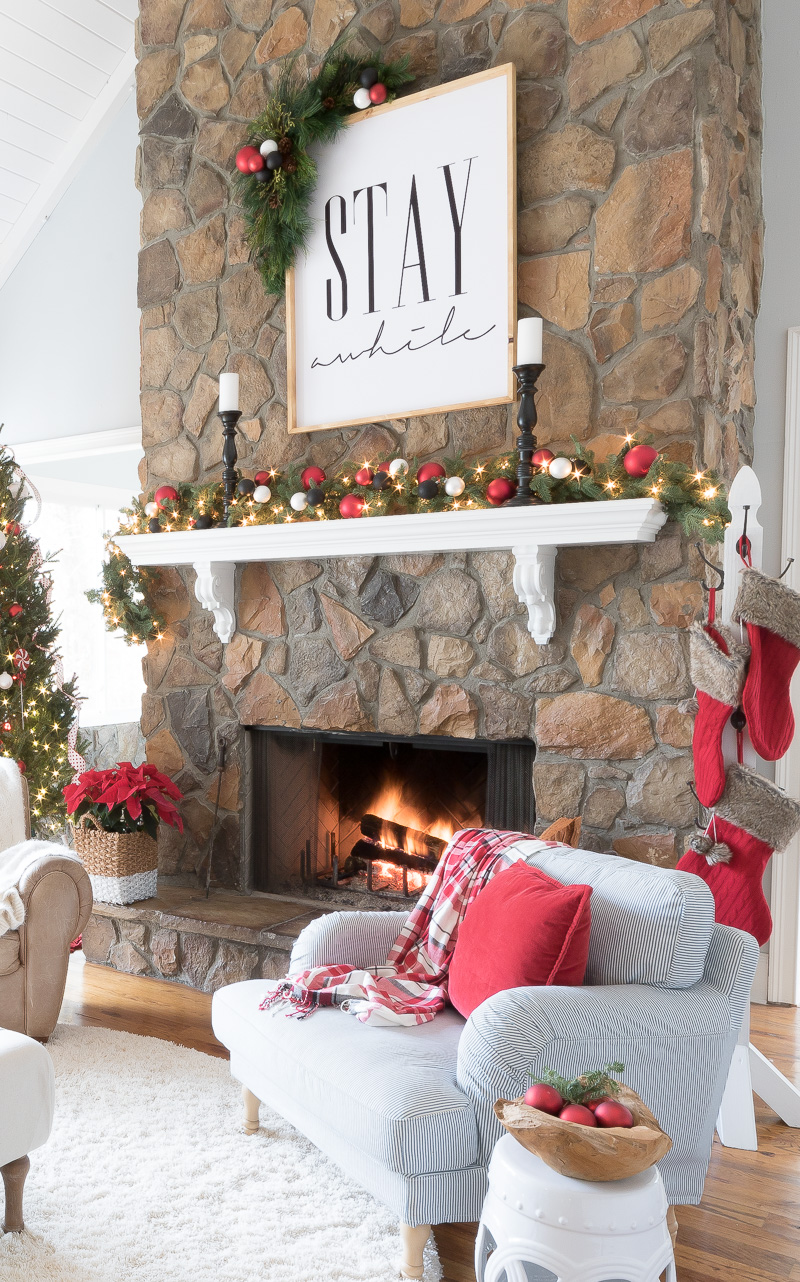 Holiday Master Bedroom
Last year I put this white tree up in my bedroom for the first time and really enjoyed having it in the space. Typically I'm a real 'green' tree kinda gal, so a white faux tree was totally new to me. I wanted to decorate the tree using ornaments that would give off a calm and tranquil vibe similar to how I want to feel when I am in my room. A random assortment of white and silver ornaments that I had from previous years were used on the tree. For the garland, I used some left over fur ribbon from this project . I love how it gives the tree a real wintery affect.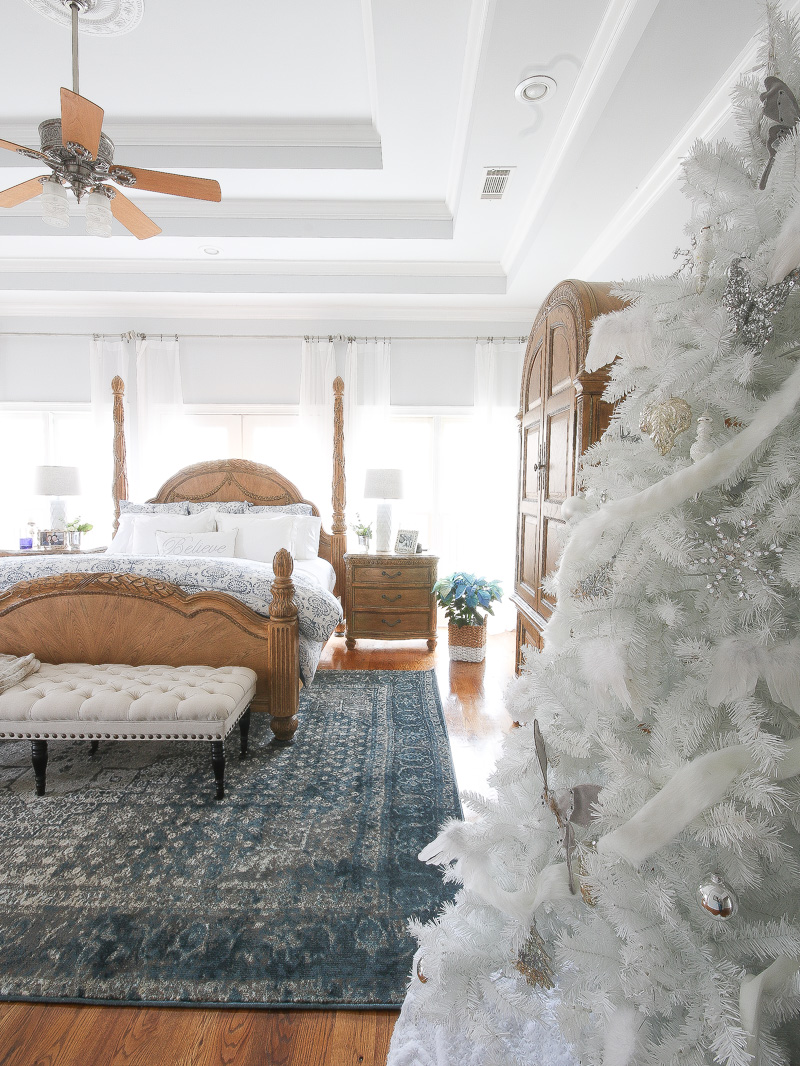 I saw blue poinsettias for the first time this season, so I picked up a few. They are so pretty….and different, and look nice with the navy accents in the room. Have you ever seen different color poinsettias?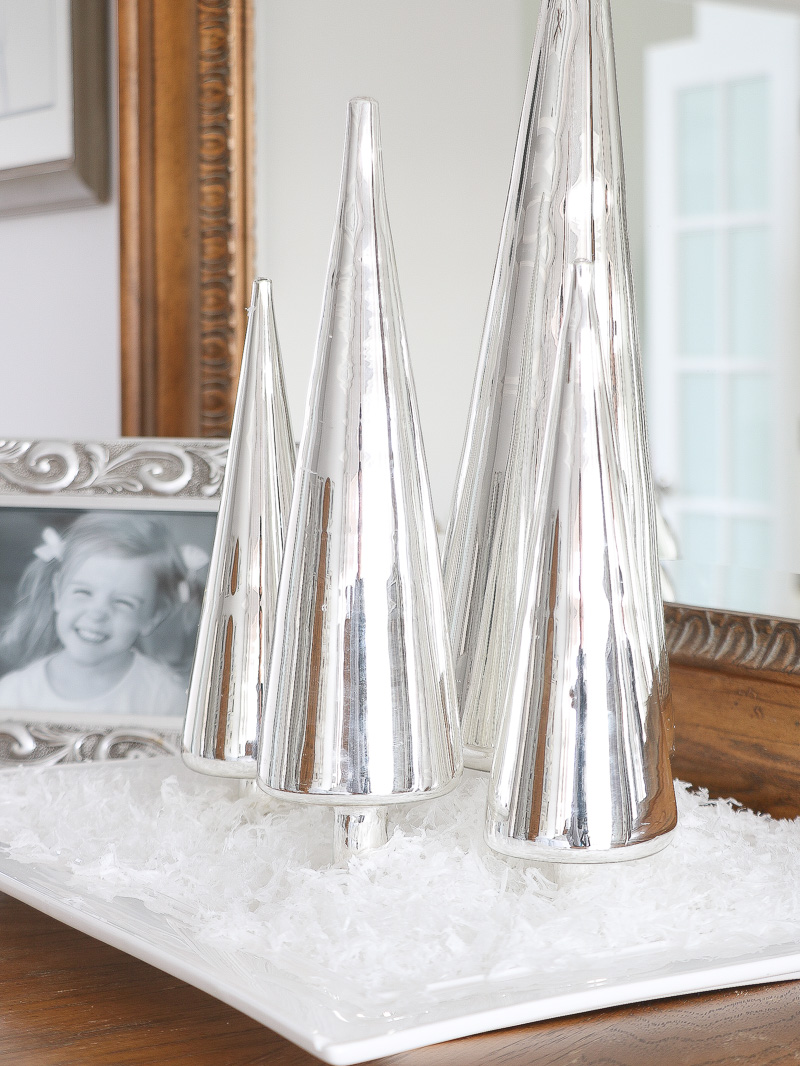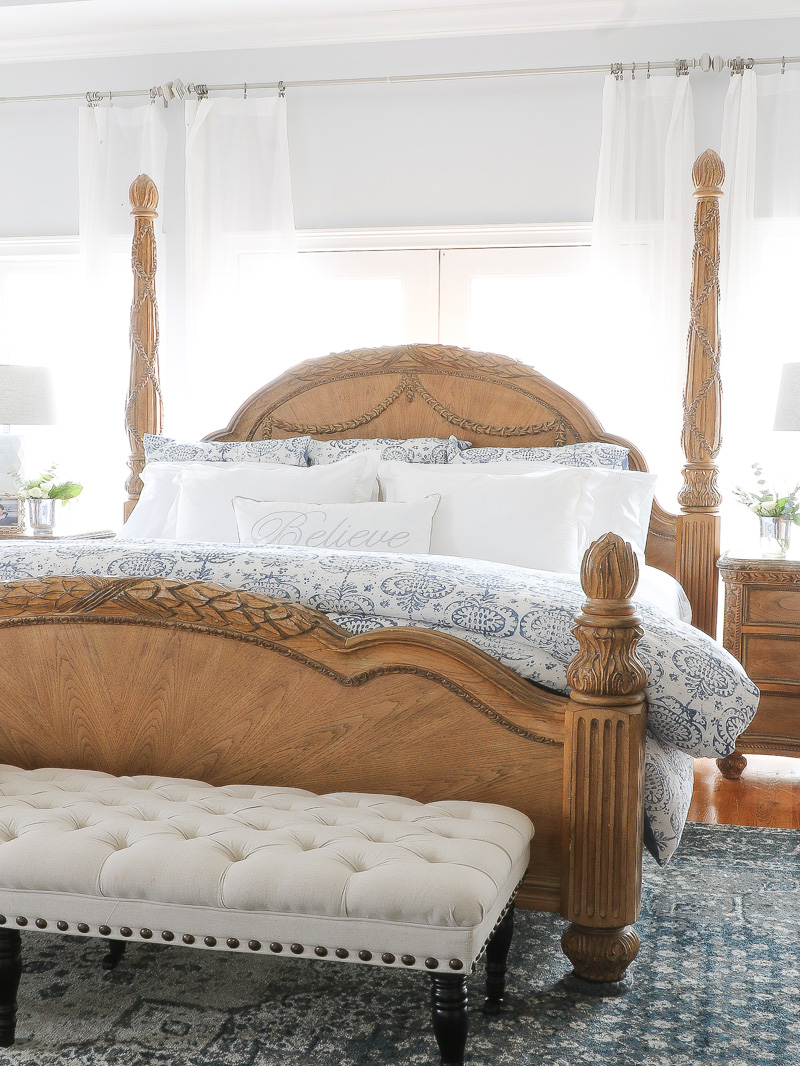 ottoman bench/lamps/rug/bedding from Pottery Barn- no longer available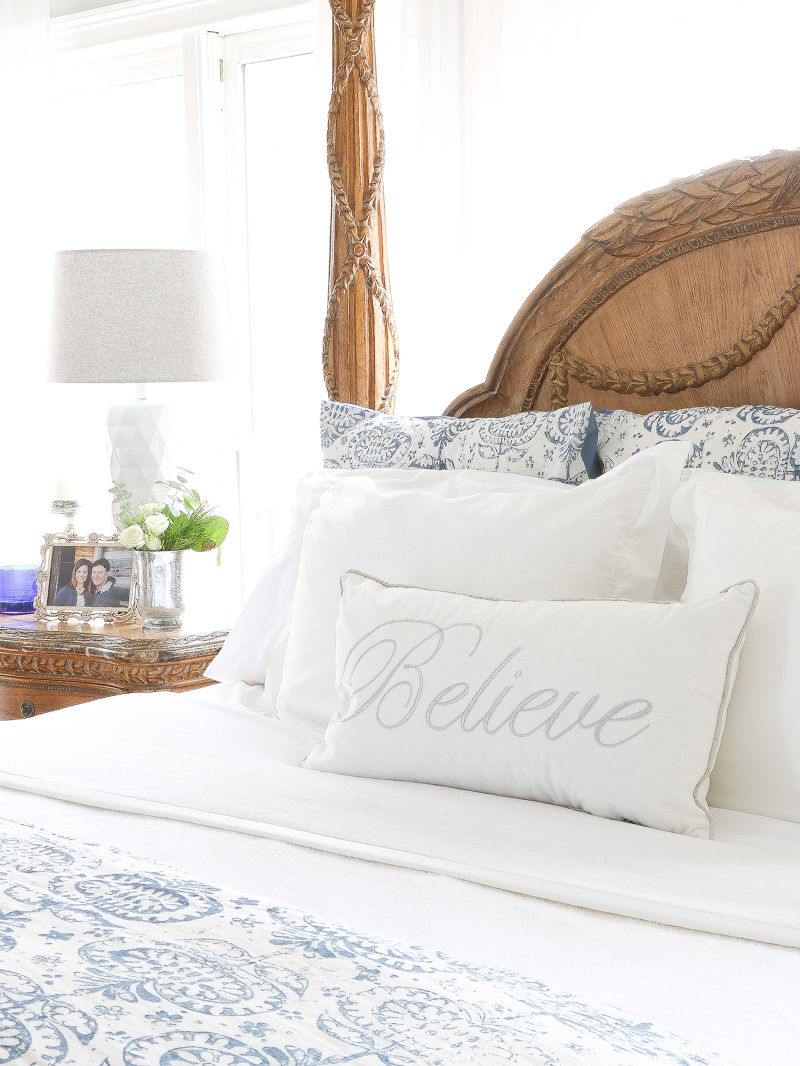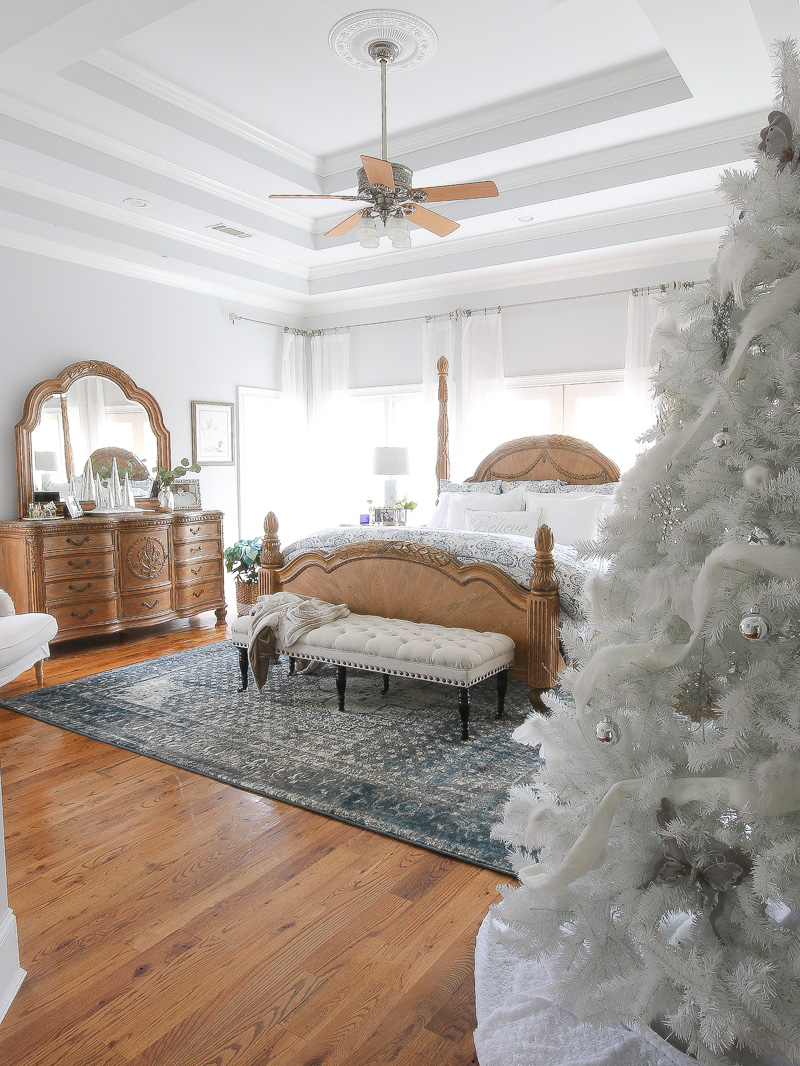 This room will be seeing a few changes in the new year. You can see my vision for the space and my plan here.
Holiday Dining Room
A month ago, this wasn't even my Dining Room. It was an unused Living Room…… that has since moved to the old Dining Room. So I am thrilled to be able to decorate my new 'Dining Room' for the holidays. I have just a few things yet to complete, but we are loving this space. I will have a more detailed room reveal after the holidays.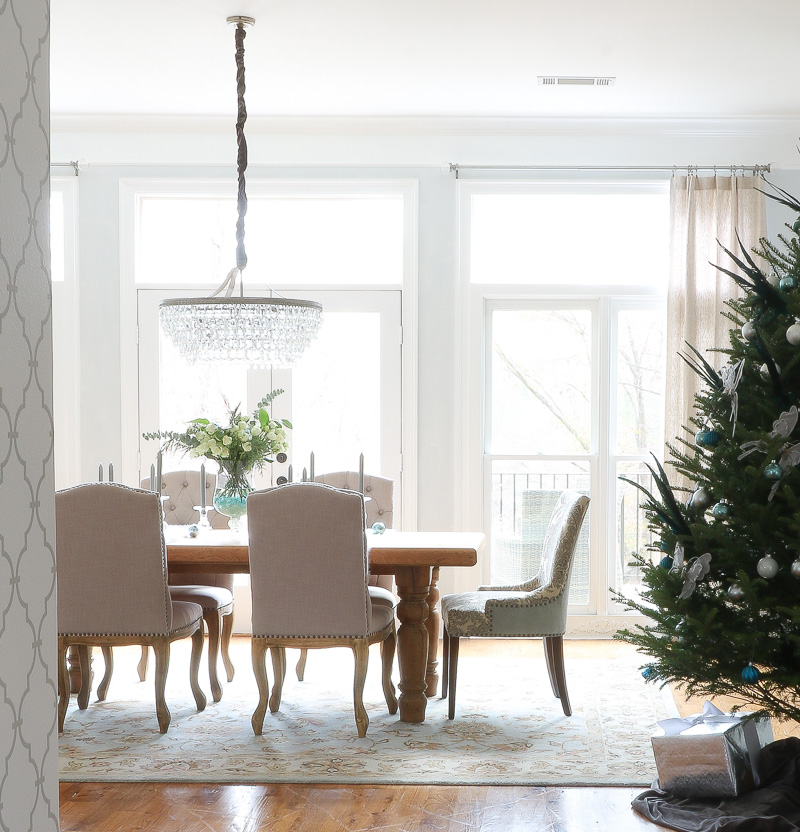 Because I have been good all year, the chandelier was an early Christmas present. I could'nt love a light more than I do this one. It is absolutely gorgeous to look at.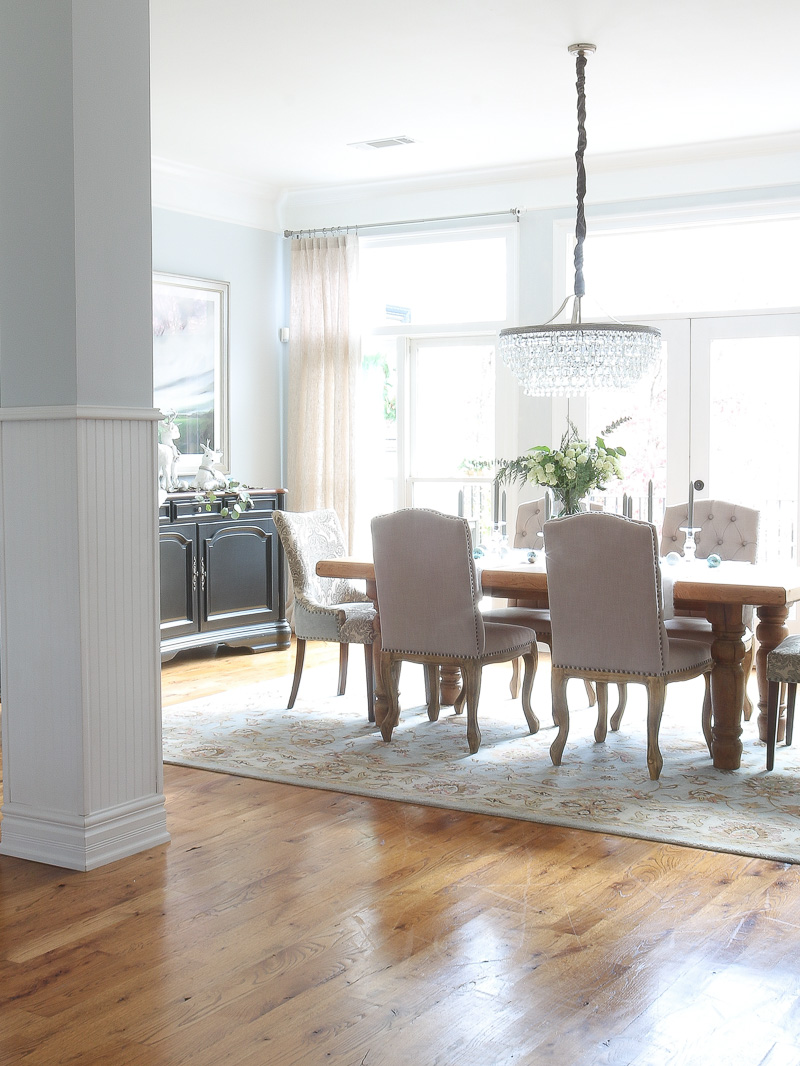 Dining Chairs/table-local/end chairs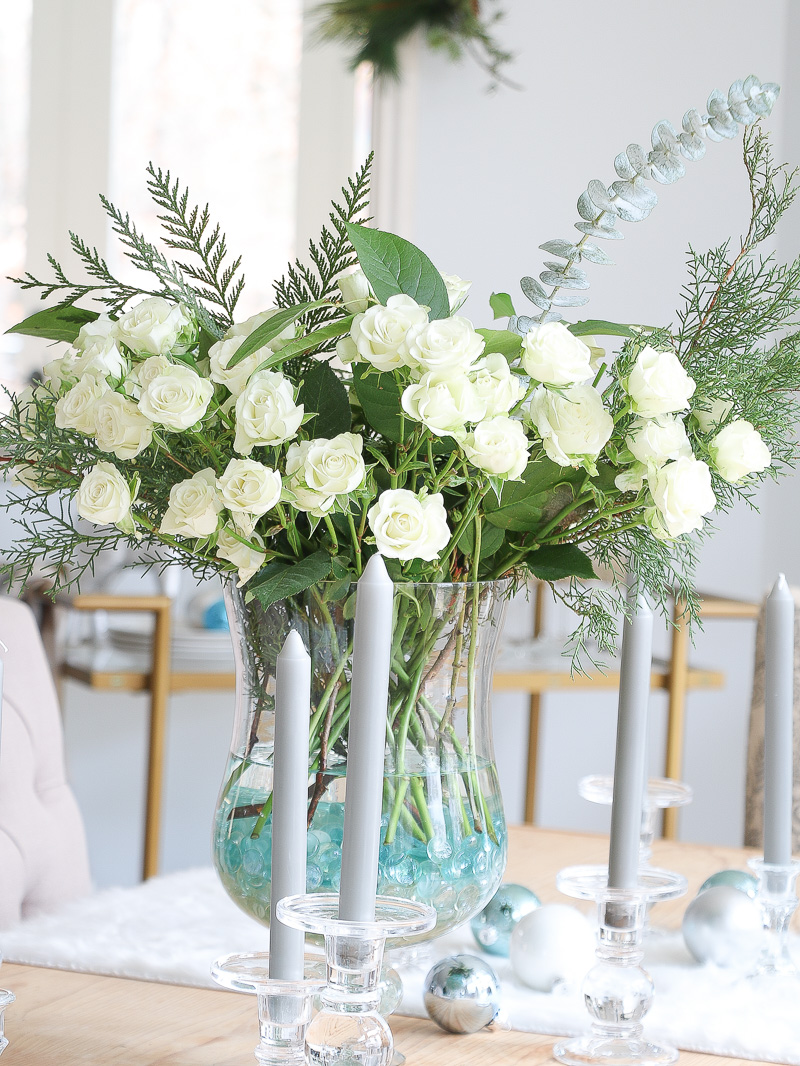 Not to shabby for mini roses that were on clearance, right? They were so cheap I picked up 3 dozen. You can see how I assembled this 3 step holiday arrangement here. So not to steal the attention from the arrangement, I placed a bunch of candle holders as well as these gray tapers. I found these faux fur table runners that add just the right amount of texture to our beloved wood table. Love story for the day. My husband had this table from his bachelor days (yes, he did good) And when he first told me he loved me, he carved it on the inside on one of the legs. I know it he was a keeper right then…and so was that table. #loveatfirstsite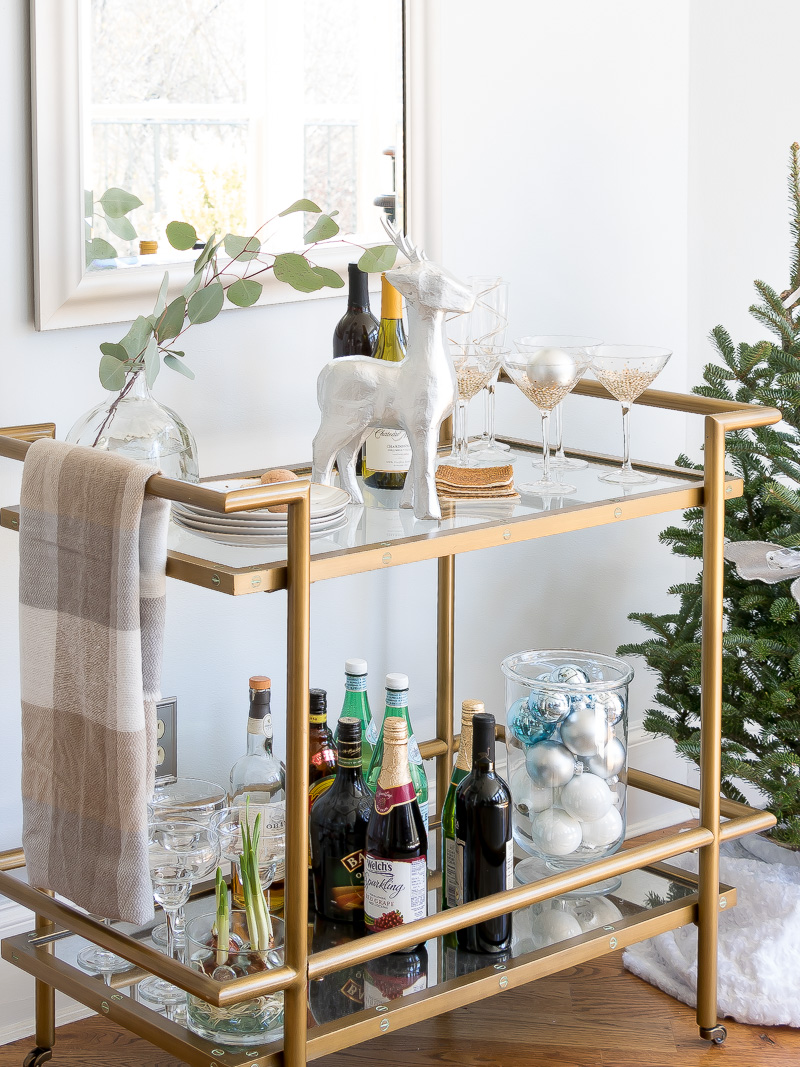 This Bassett Mirrored bar cart is another new addition to my old but new space. It is such a pretty piece and fits perfectly on this wall. It is larger then most carts and will be a fun piece to change up for the seasons. You can see more of my holiday styling tips for the bar cart here.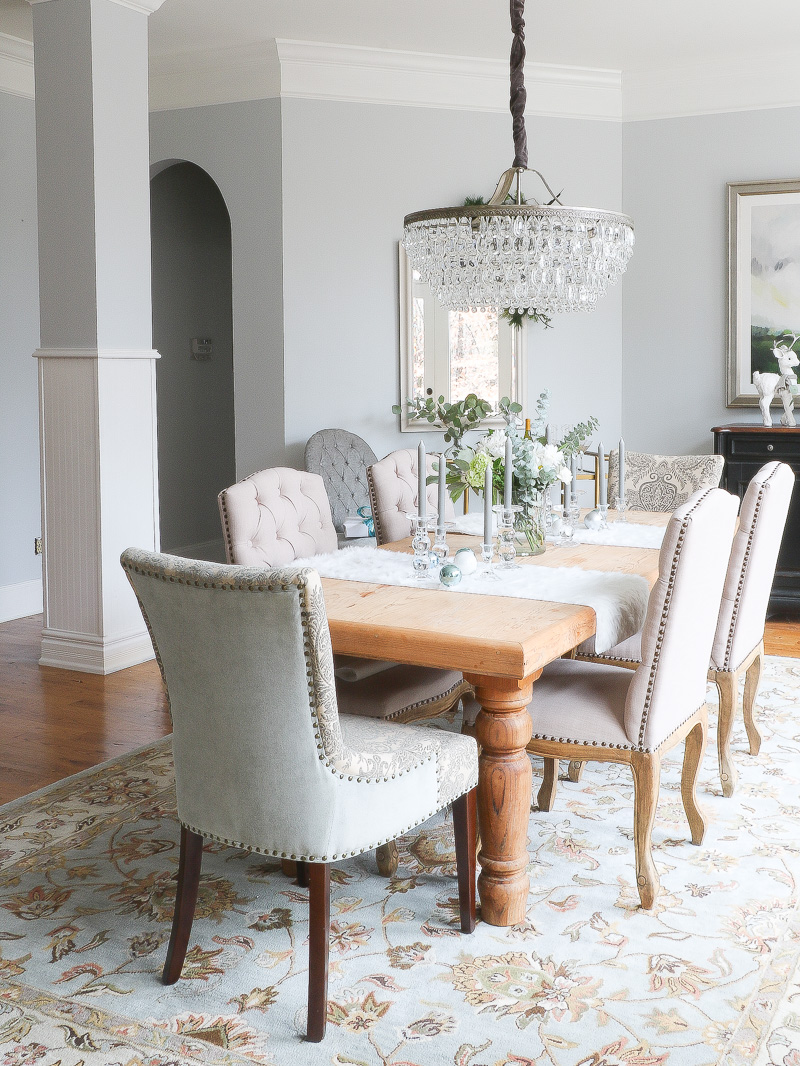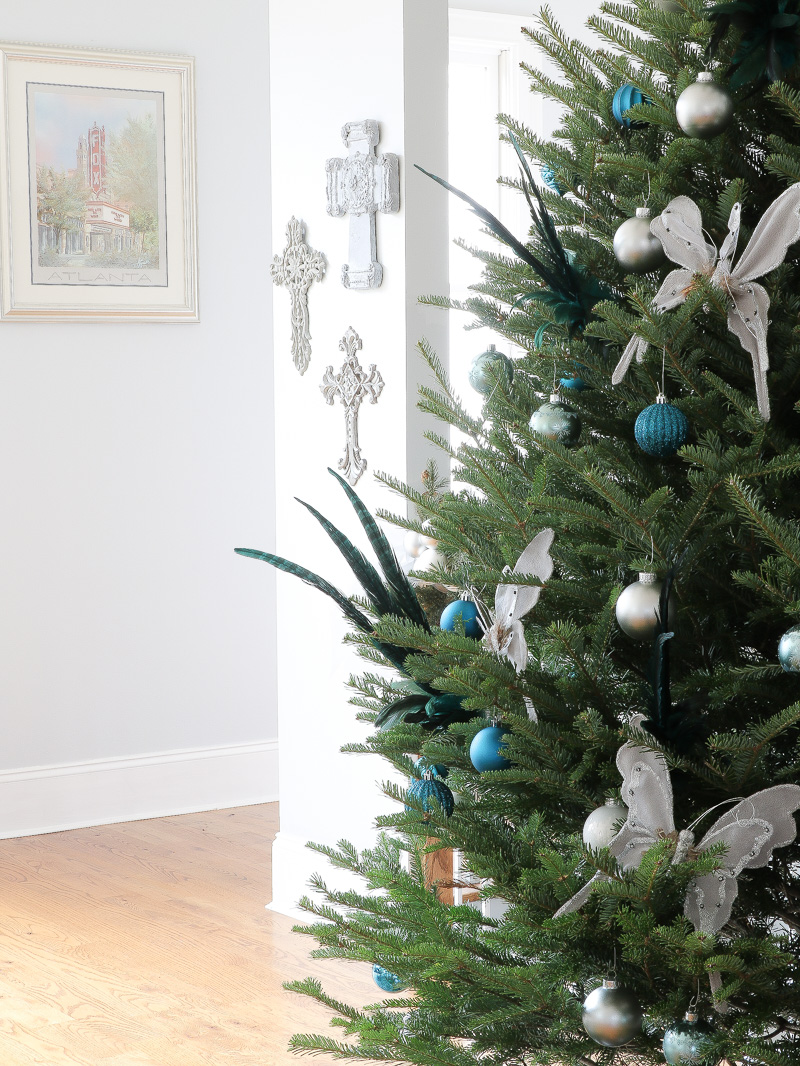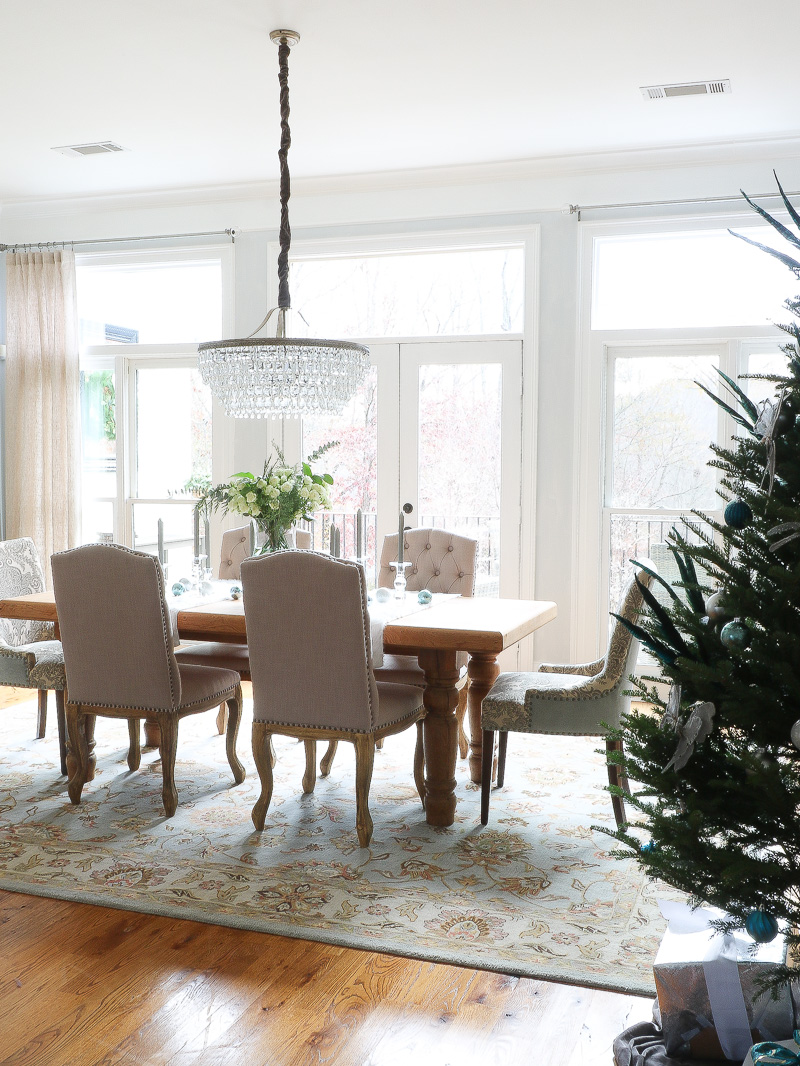 Merry Christmas
I hope you enjoyed my holiday home tour at Duke Manor Farm today, just as much as I enjoyed having you here. Enjoy the rest of the holiday season as well as the next tour over at Rain on a Tin Roof.
Merry Christmas from my family to yours.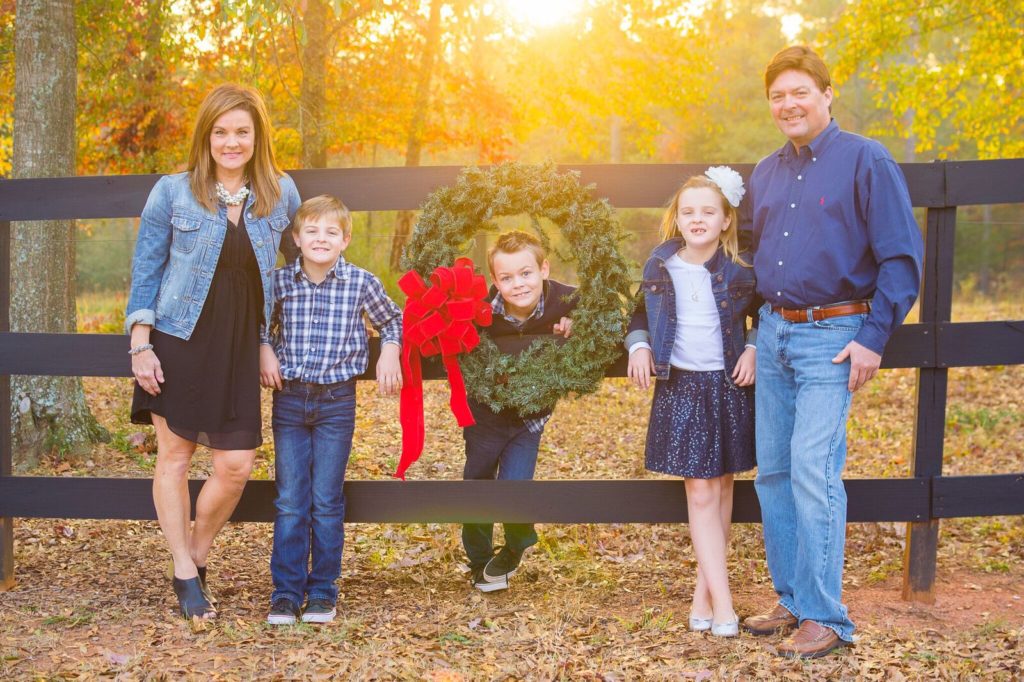 Come back to Duke Manor Farm anytime!