Beautiful Easter Centerpiece you can make in minutes with items from the garden.
Sometimes all we have is a few minutes before the guests show up and we want to add something pretty for the table. So today, I am sharing a beautiful Easter Centerpiece you can make in minutes. Like maybe 3…… 4 mins if you are slow, 2 mins if you're fast. I am also joining several amazing blogs to share other Easter ideas that I am certain will provide you with loads of inspiration. In addition, you will have a chance to win a beautiful linen and napkin set, that will be perfect for your Spring table. All the links and details for the giveaway will be at the end of this post.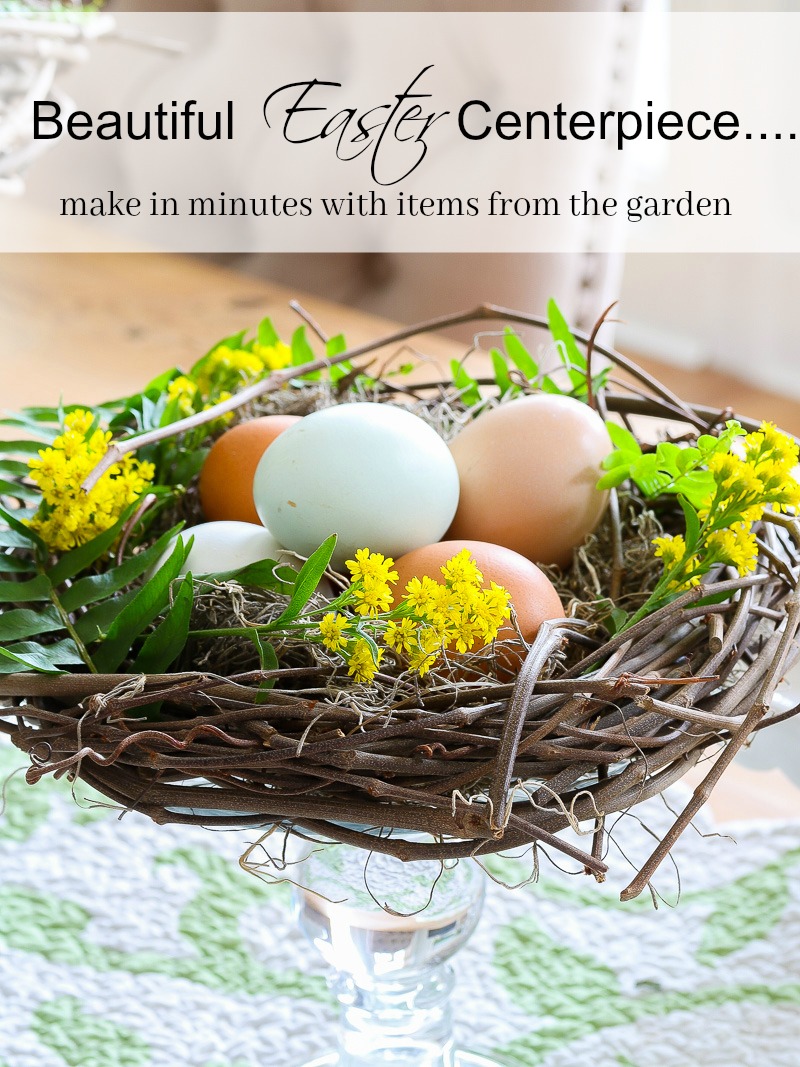 My Easter centerpiece, resembling a birds nest, has been a favorite of mine for several years. It actually got it's start one year when I didn't have anything for the table and scrambled to put this together using a grapevine wreath and clippings from my house plants. Since then, I also rely on my chickens to provide the colorful eggs that I place in the center.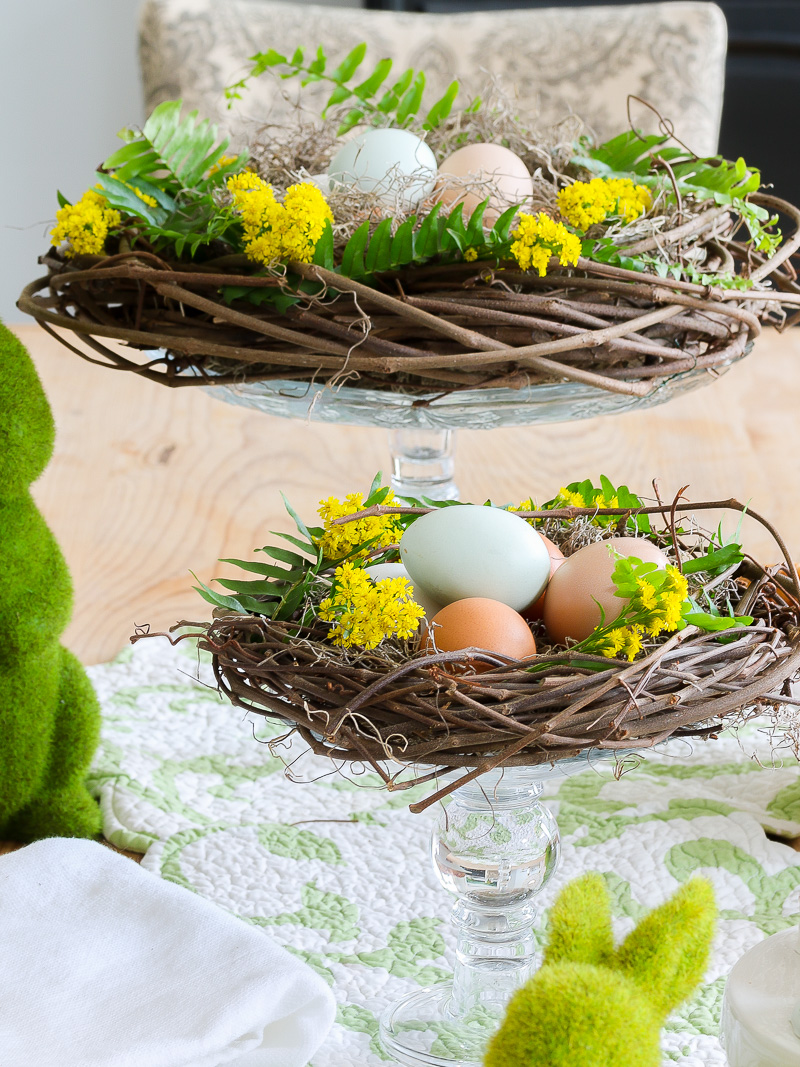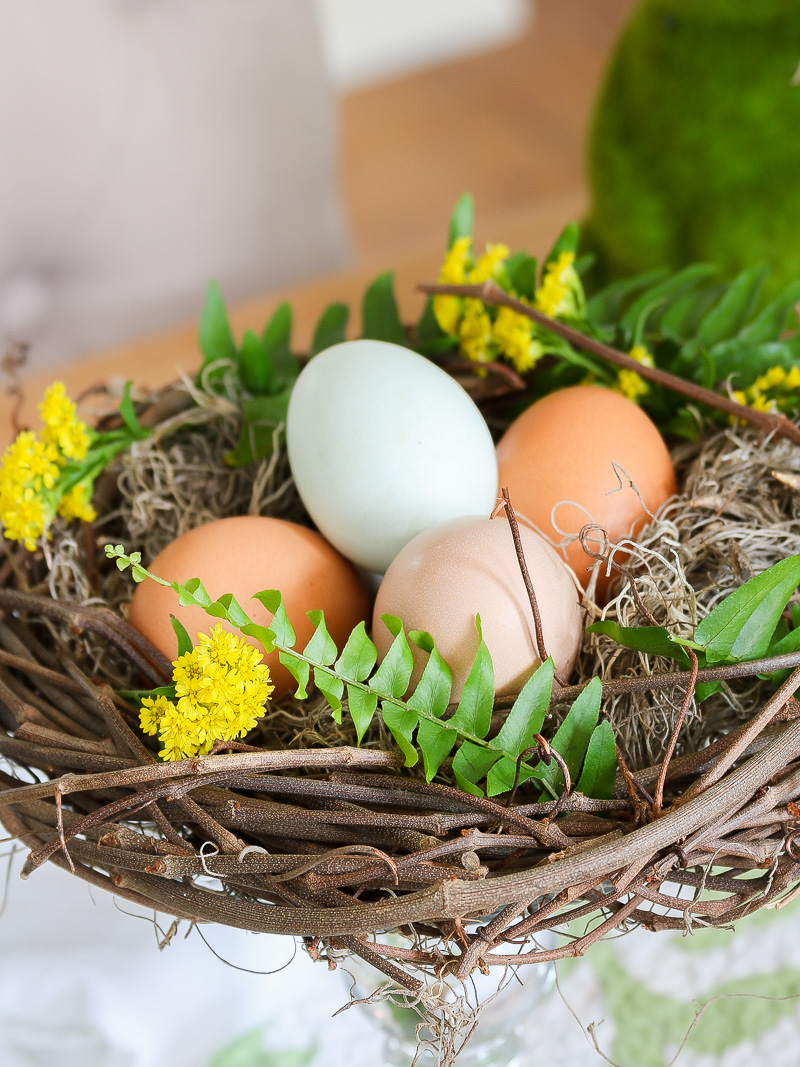 What I love about this Easter Centerpiece is that the items are fresh and natural, which is a perfect way to usher in my favorite season. For the base I used a grapevine wreath. I actually made the wreaths. Making a grapevine wreath is easier then you may think, although for the time it takes, it may be more cost effective to buy them. I filled the center with a generous amount of natural excelsior moss, aka spanish moss. You can pick up a bag in any craft section. I even found some at the Dollar Store. To 'authenticate' my nest, I inserted clippings from a fern plant along with some Yellow Yarrow that I have in the pastures. Any clippings from trees or plants that you have in the garden would work as well. Go outside, see what's blooming….and clip. It's all about natural simplicity.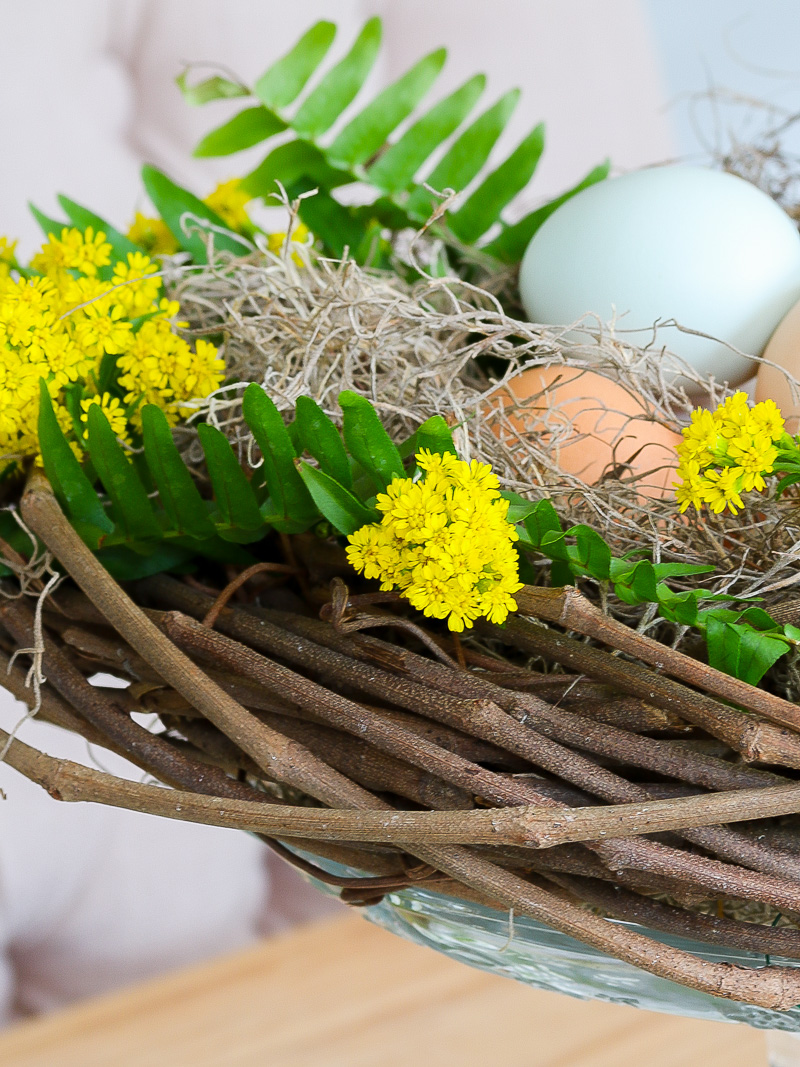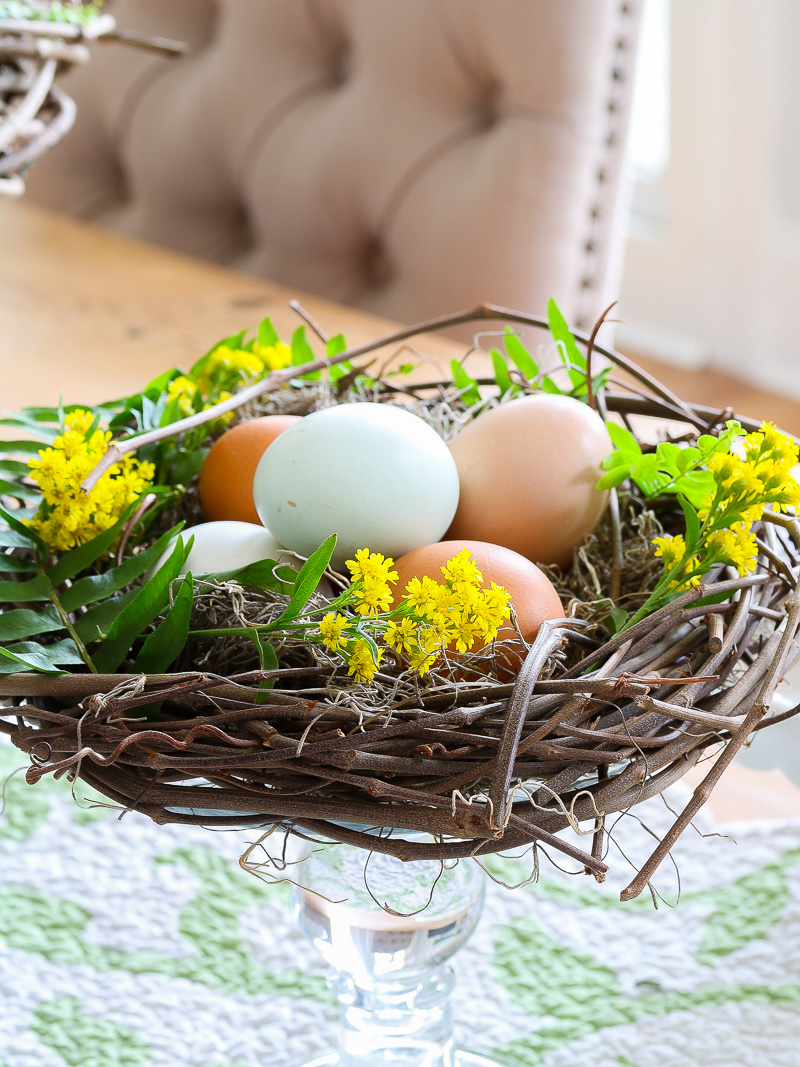 Last but not least is placing a few freshly laid eggs in the center of each of the centerpieces. Since I have several different kinds of layers, I get several different colored eggs. I think the blue shade is my favorite and always get excited to find them each morning in the coop. Do you have a preferred color when it comes to eggs?
To hold the 'nests', I placed them on some cake stands. You can read how easy those were to make here. The clear base of the stand, almost gives the effect that the nest is floating. Don't you think?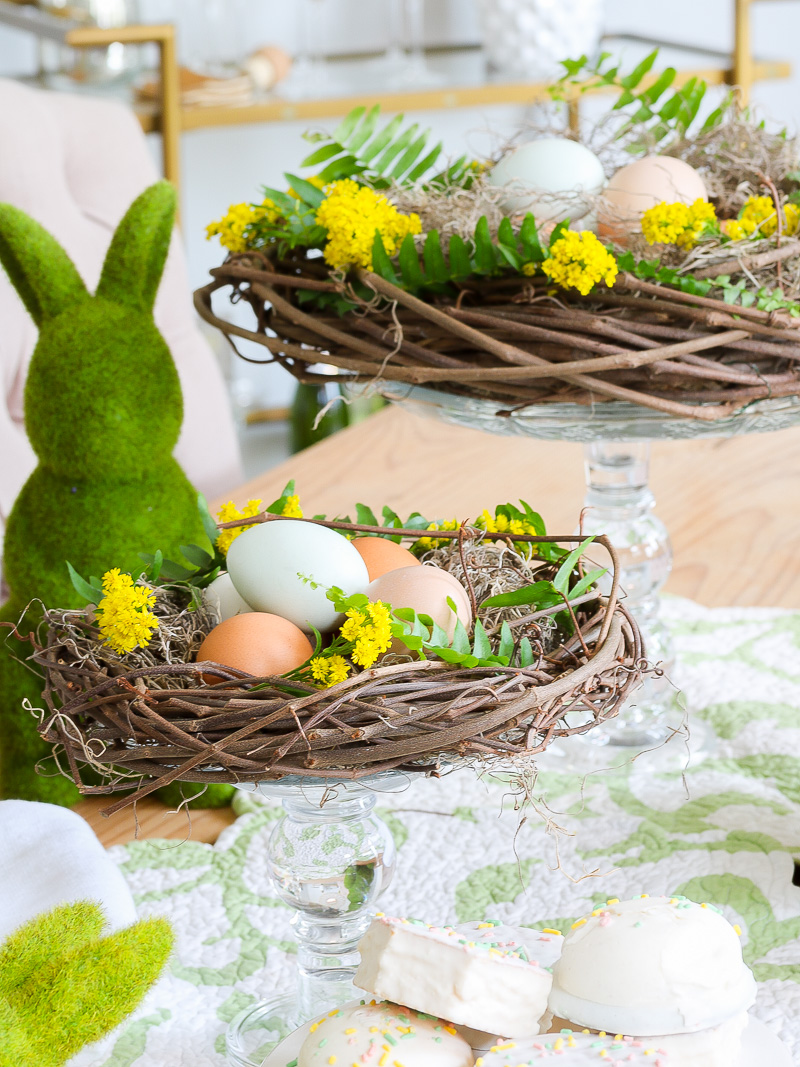 Now let's talk about the giveaway! Visit April Cornell's website and look around at all the beautiful items and come back and leave me a comment telling me your favorite item or pattern and you'll be entered for a chance to win this gorgeous Greta's Garden tablecloth plus 4 napkins! Don't forget to leave me your email in the comment so I know how to notify you. A winner will be picked this Friday, March 17th! This giveaway is open to US and Canada residents. Good luck and thanks to April for a lovely giveaway! I've got my eye on the Fiesta Stripe tablecloth.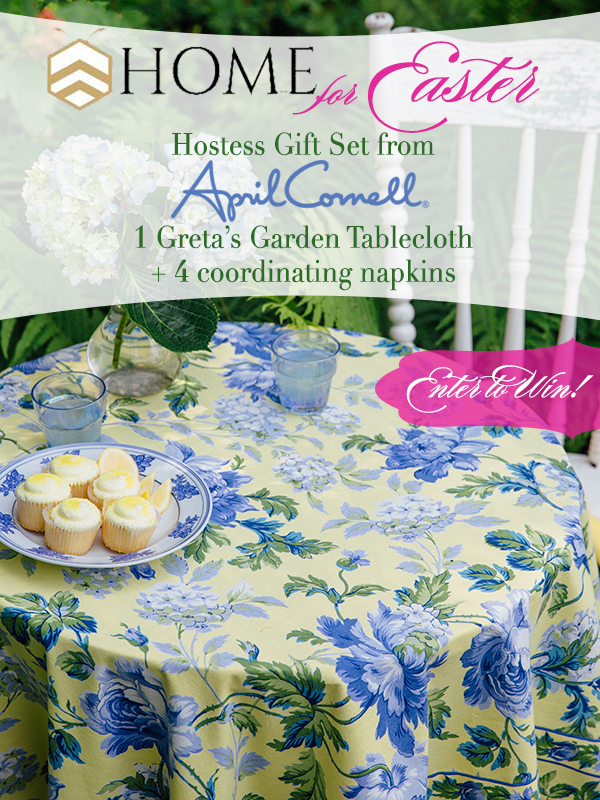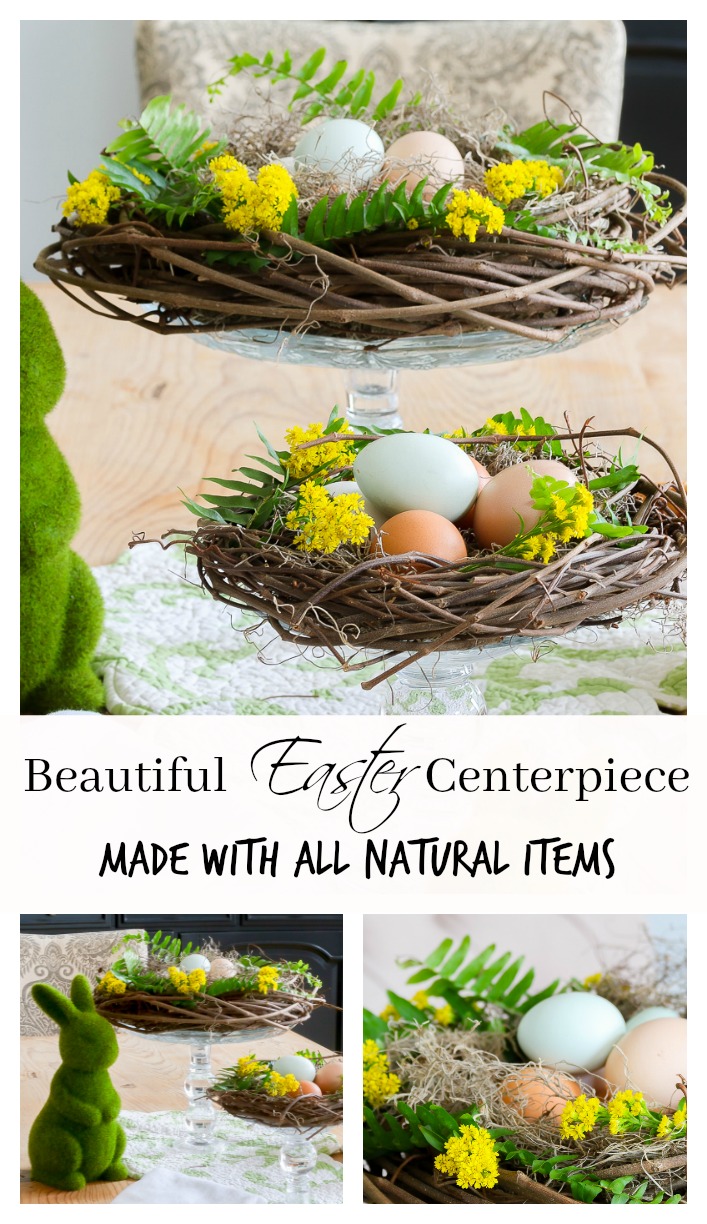 Ready for more Easter inspiring ideas? Here's the lovely lineup for today.
Full line-up
Here is the full 3 day lineup. I hope you will enjoy this beautiful tour as much as I did. Special thanks to Jennifer Carroll from Celebrating Everyday Life for putting this tour together.

Monday
Celebrating Everyday Life
Cupcakes and Crinoline
My Soulful Home
She Holds Dearly
Shabby Art Boutique
Tuesday
Redhead Can Decorate
Garden Therapy
On Sutton Place
Debbiedoos
Wednesday
StoneGable
Housepitality Designs
FrenchGardenHouse
Duke Manor Farm
Love of Home