Spring Home Tour at Duke Manor Farm.
Happy Spring and Welcome to Duke Manor Farm! If you are joining me from Bree at Z Design at Home I am so glad that you are here. How amazing is Bree's master suite, I can't get over that gorgeous bathroom! And to the regular readers of Duke Manor Farm….glad you are here too! This week I am joining a group of 30 amazing bloggers to share our Spring homes. The tour is hosted by Marty at A Stroll Thru Life. All the links for the fabulous tours will be at the end of this post.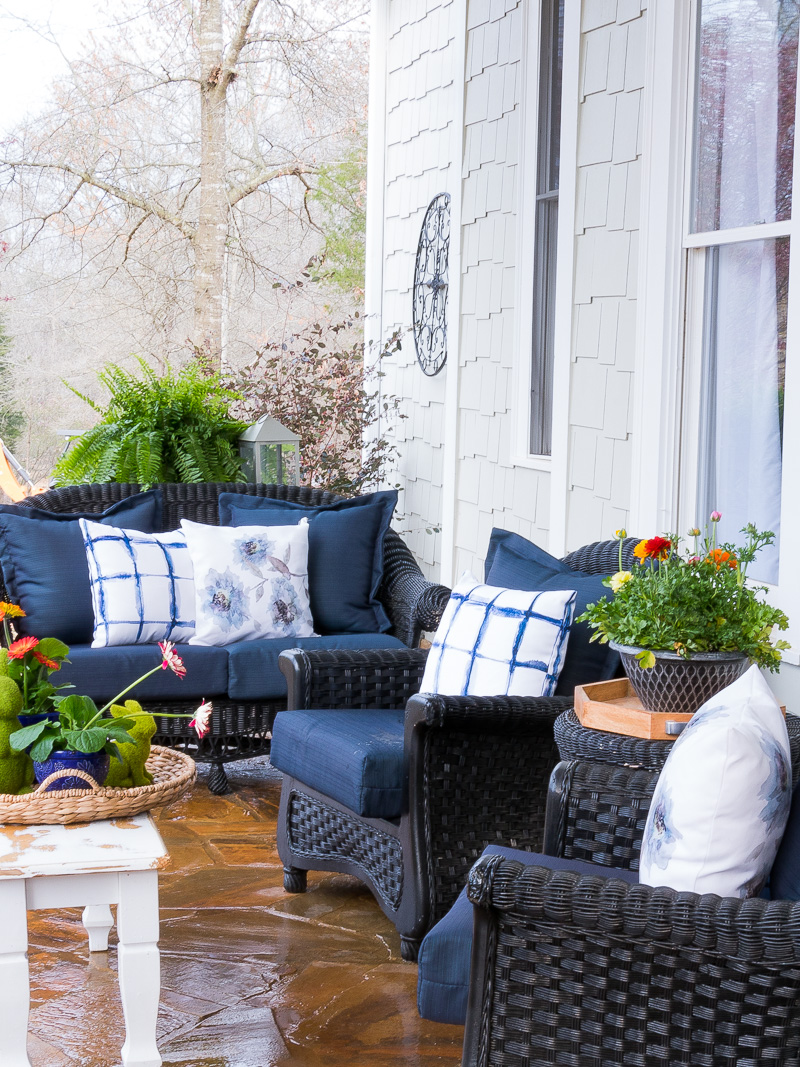 This year I decided to let 'Spring be Spring' in my home. That meant, no pomp and circumstance, no fuss, no trouble. Just fluffing up the pillows, putting out some pretty blooms and enjoying my favorite season of the year. We will start on the front porch since our outdoor porches and patios tend to become the most used spaces at Duke Manor Farm during the spring and summer season.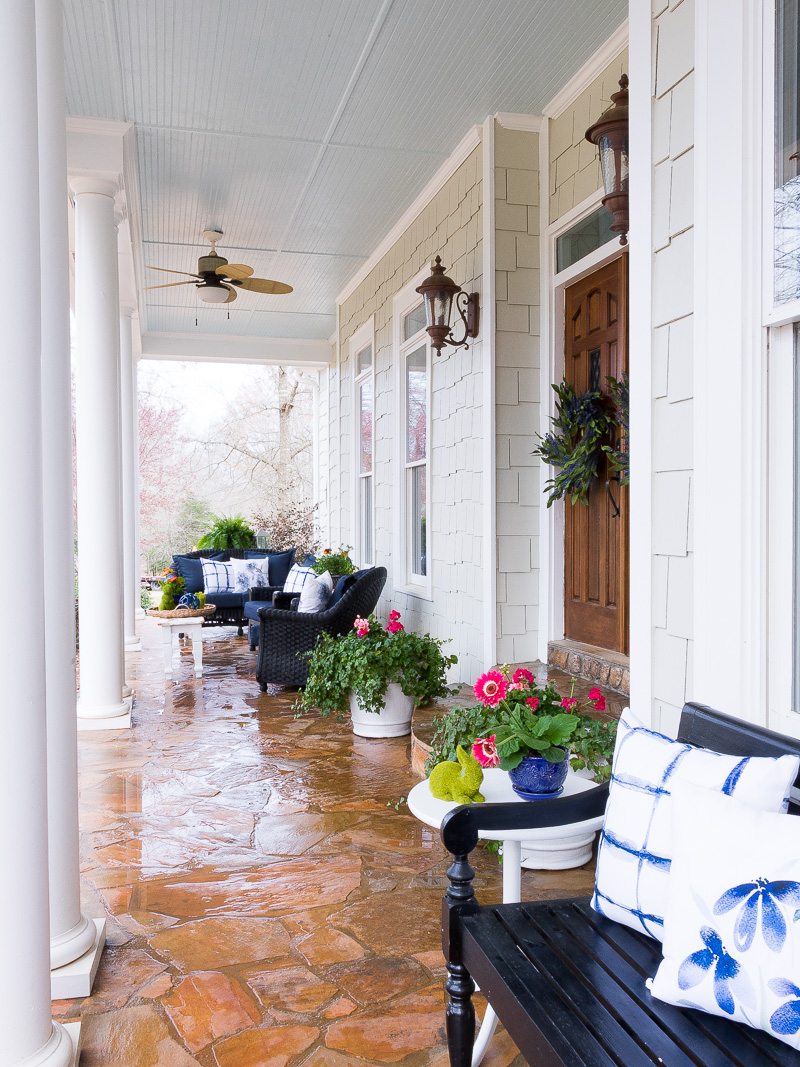 Front Porch
Once everything got a good cleaning ( you can read my Spring cleaning tips for the porch here) things stayed pretty much the same. Except for a few pretty pillows and my annual trip to pick up my ferns. Us Southerners have a thing for lots of ferns on the porch. We had a cold spell after some very mild temps last week, so I had to bring in all 11 fern plants. Fingers crossed that we don't get punkd by mother nature with any more winter weather….the Gerber daises and Geraniums won't be happy.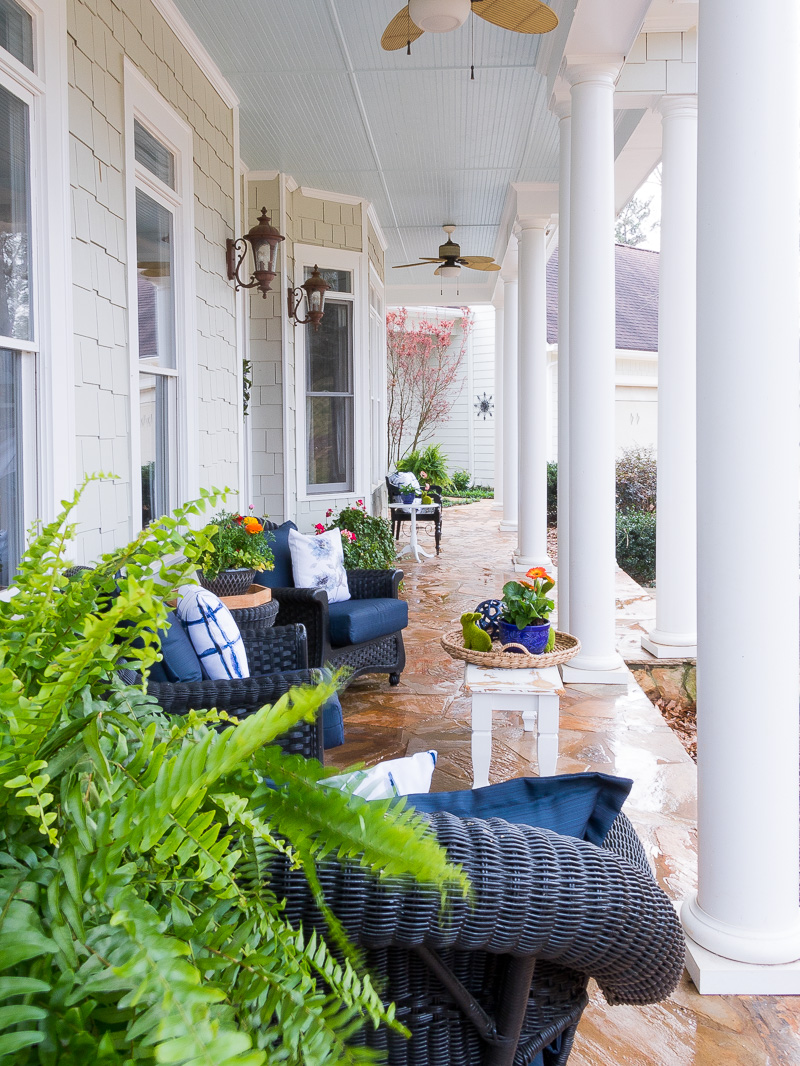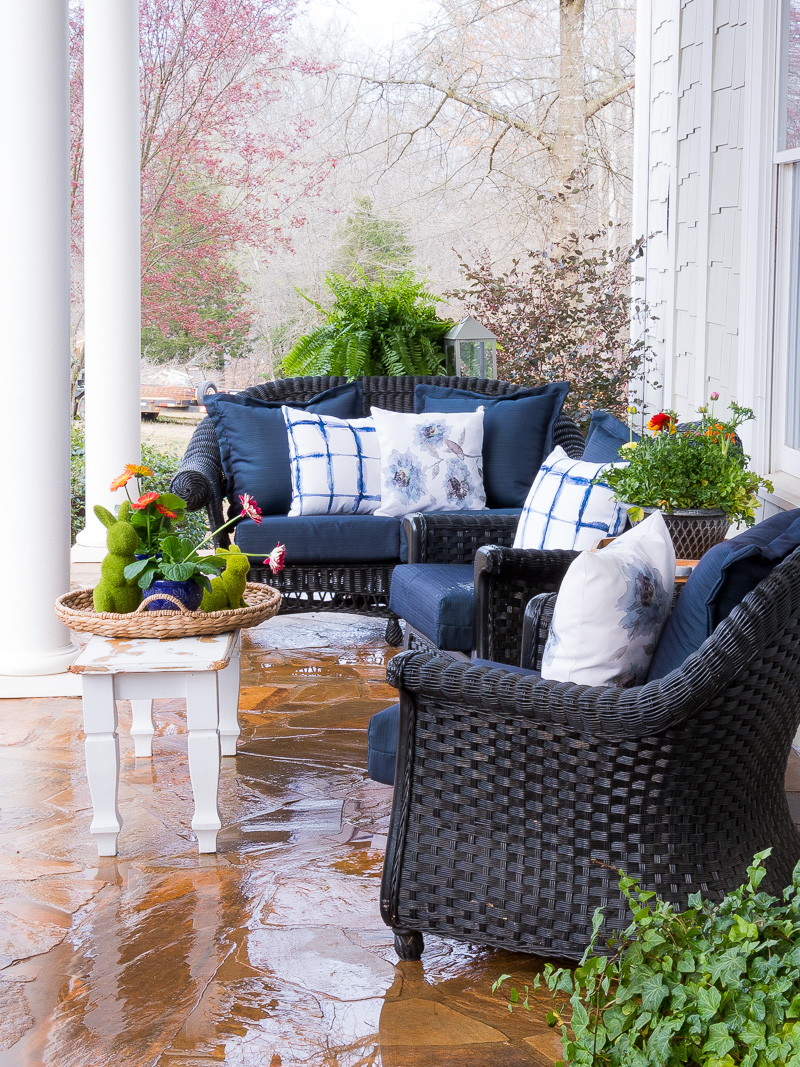 You can't really see it in the pictures but the latest dog (Peanut) that found Duke Manor Farm last Fall, has really done a number chewing the arms and legs of the furniture and table. We have tried EVERYTHING, chew toys, bones etc, but at least once a day something is shredded. Yesterday the UPS driver left a small package attached to our gate. Guess what, envelope shredded and the box inside was torn up too. Luckily the Echo Dot that I ordered, I found it in the middle of the property, was intact. Ughhhhh. I am totally open to hear any suggestions you may have if you have experienced this as well.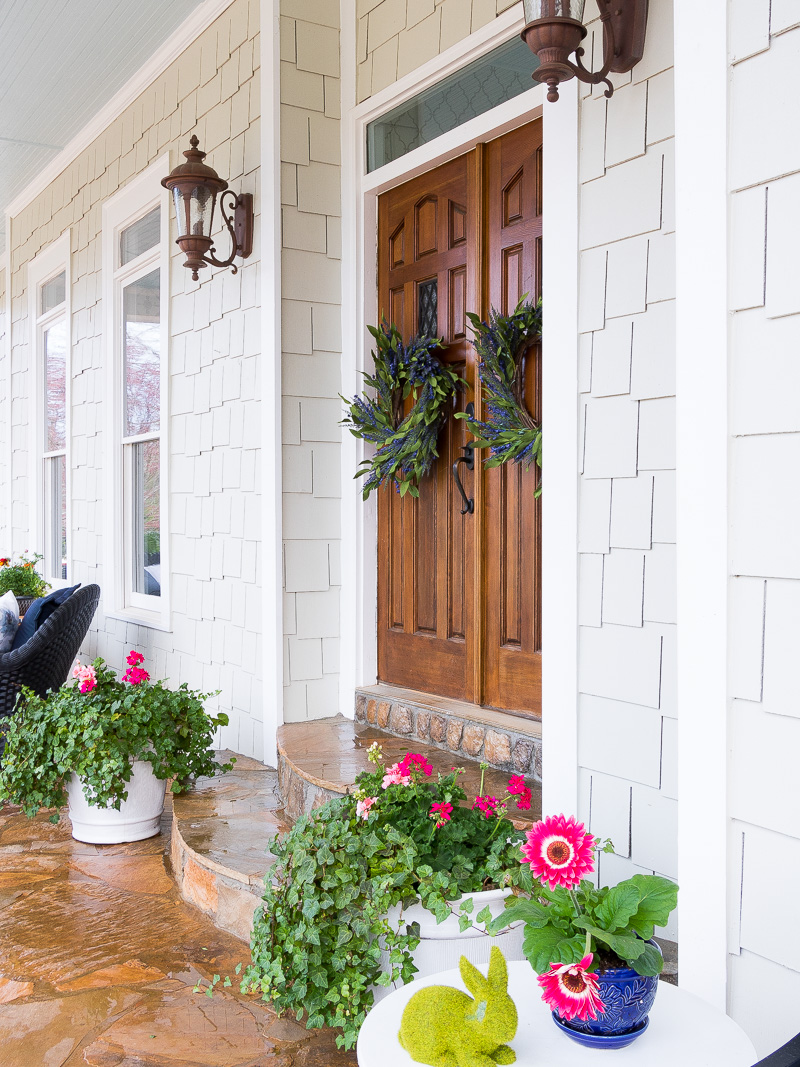 After the porches, the kitchen and family room see the most foot traffic. My only real contribution to Spring decor inside was a few things. A few mossy bunnies, a few new pillows that I bought last year and a bunch of tulips from the grocery store . In the spirit of letting 'Spring be Spring, it feels good to embrace the simplicity of my decor instead of going gang busters putting up stuff. Besides the idea of having less to dust when pollen is rampant is extra appealing.
Kitchen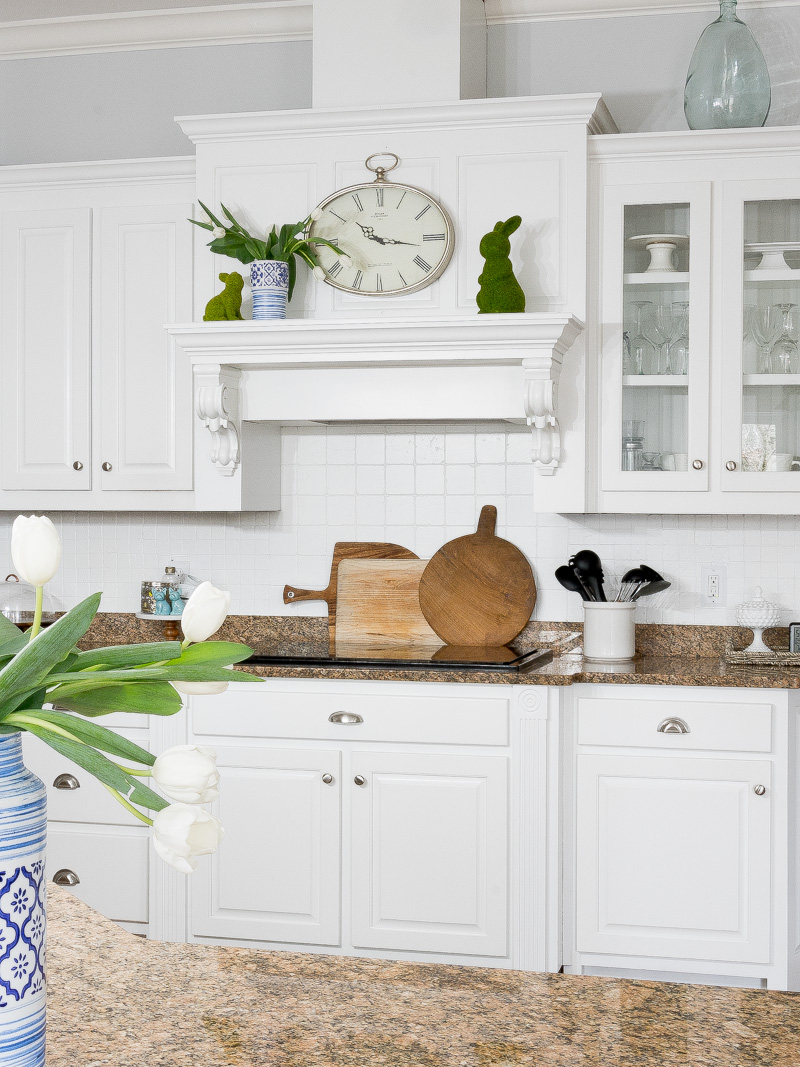 Read about the pros and cons of painting kitchen cabinets white here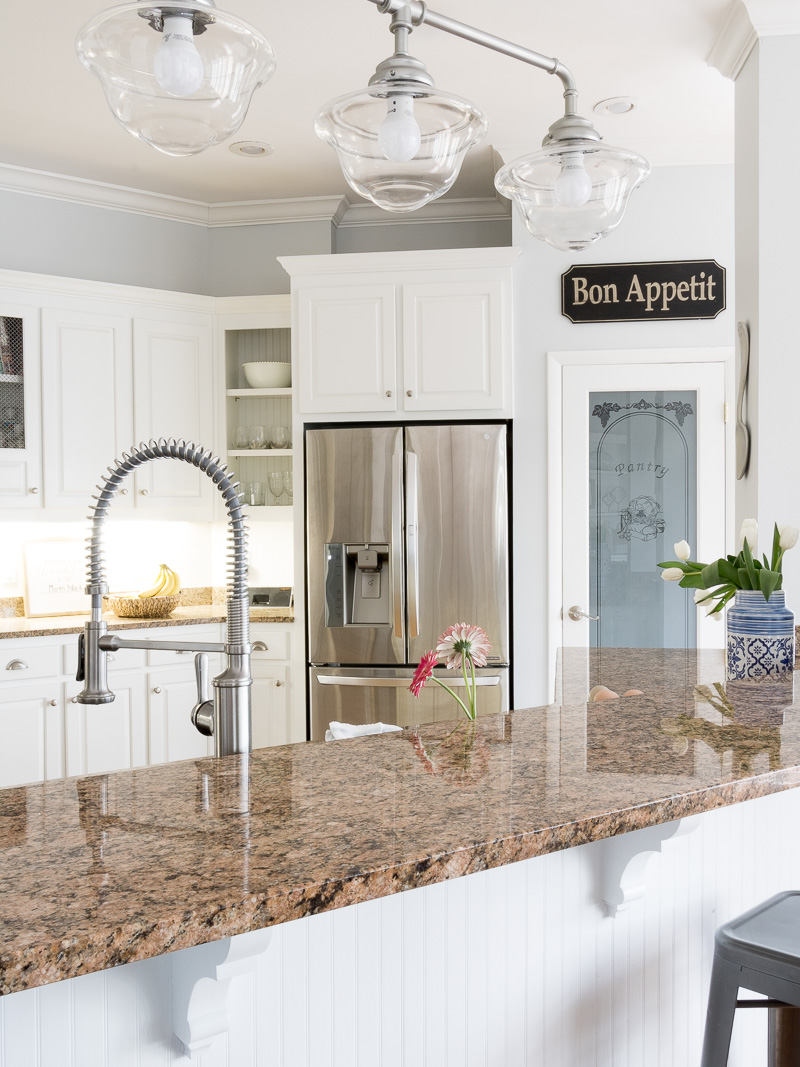 After using a temporary frig for about 8 months, I just got a new refrigerator last week. I will tell you all about it in another post. My faucet is still a favorite too.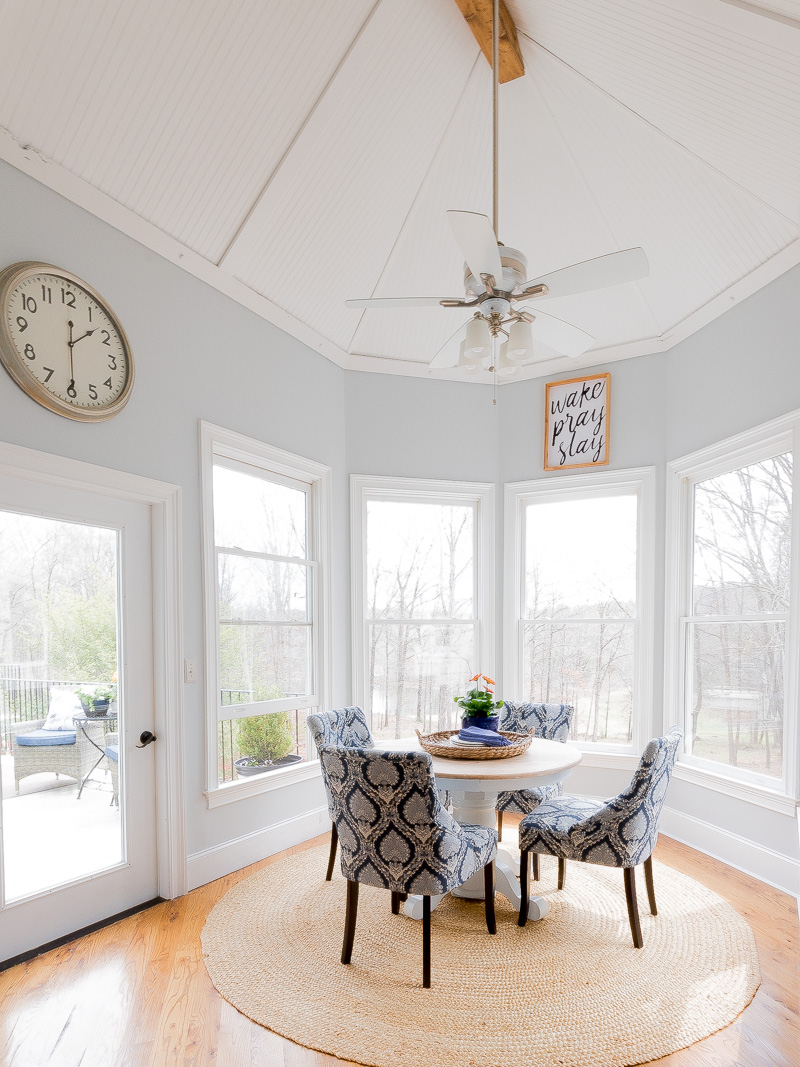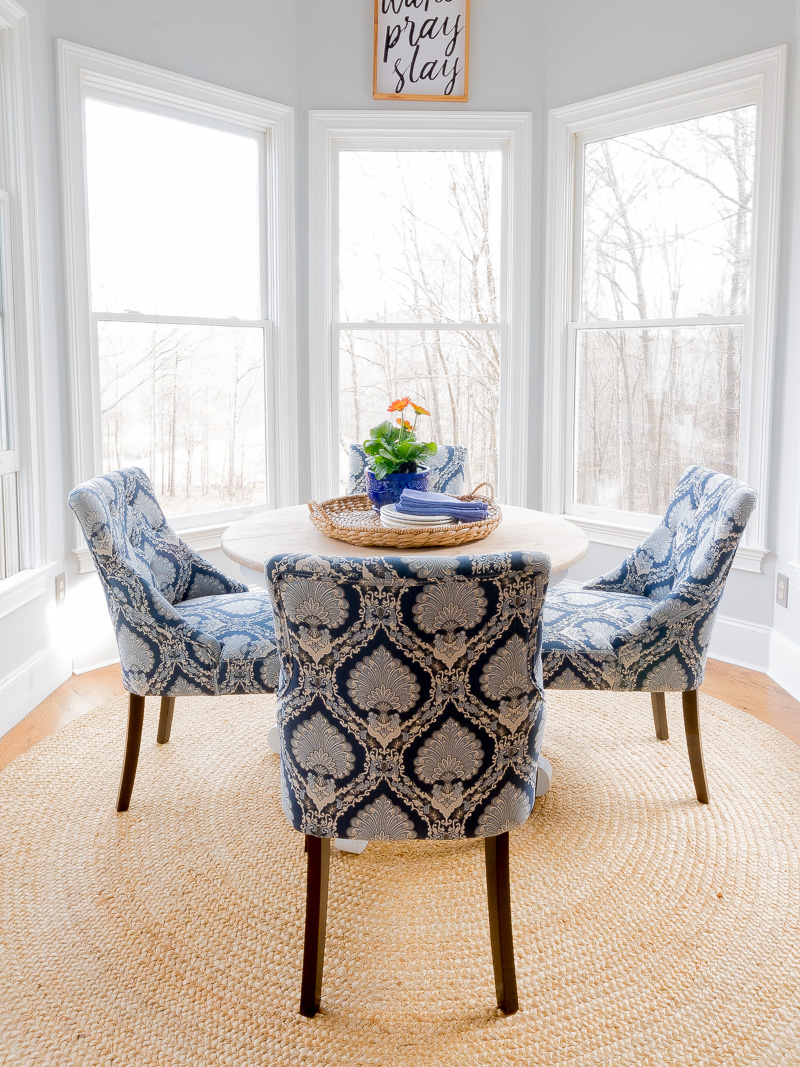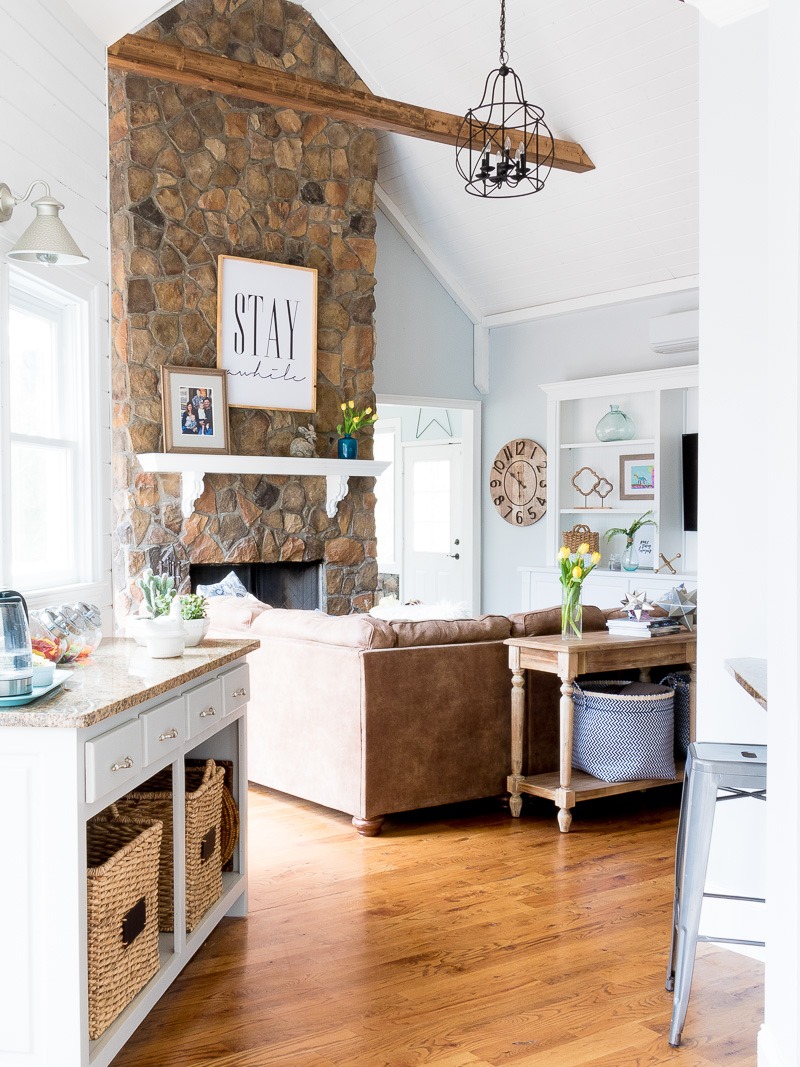 Everett Foyer Table, bar stools, blue and white baskets
Some of you may remember that late last year we did a room switcheroo. We are known to do that kinda thing around here….often. Today you are seeing how the furniture in the 'old' family looks in the 'new' family room. We just love hanging as a family in this room. About the only thing I will miss about winter is snuggling by a toasty fire.
Family Room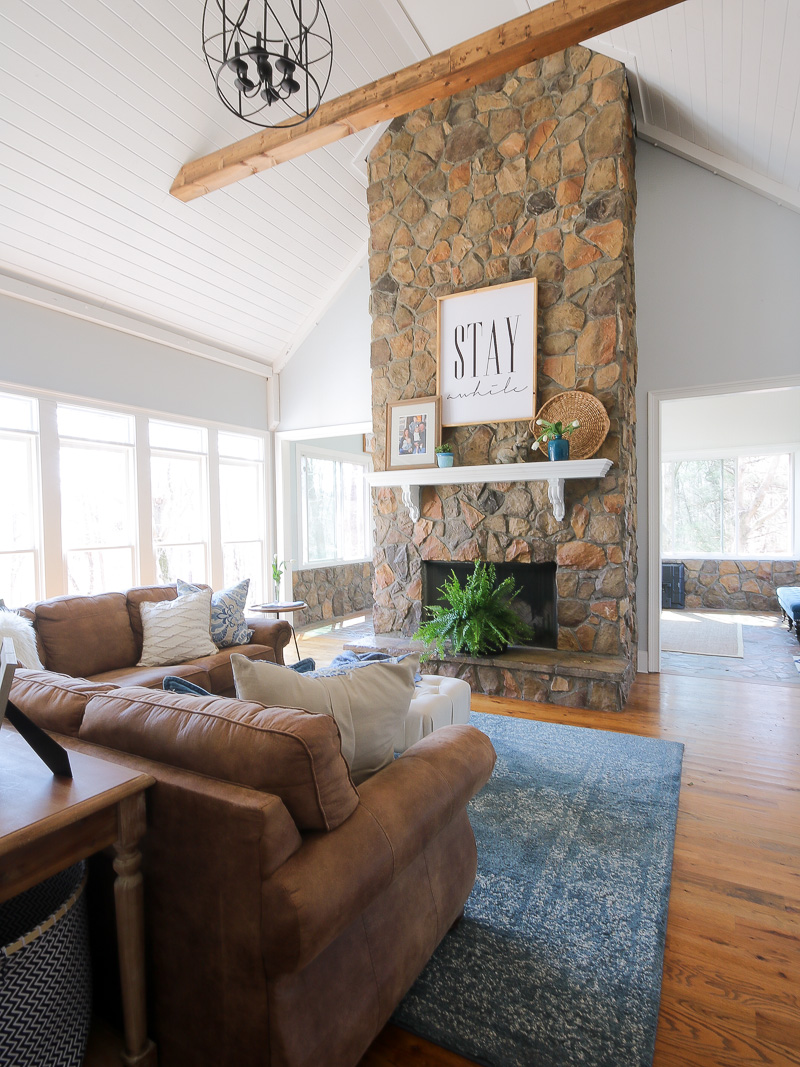 read how we planked our ceiling here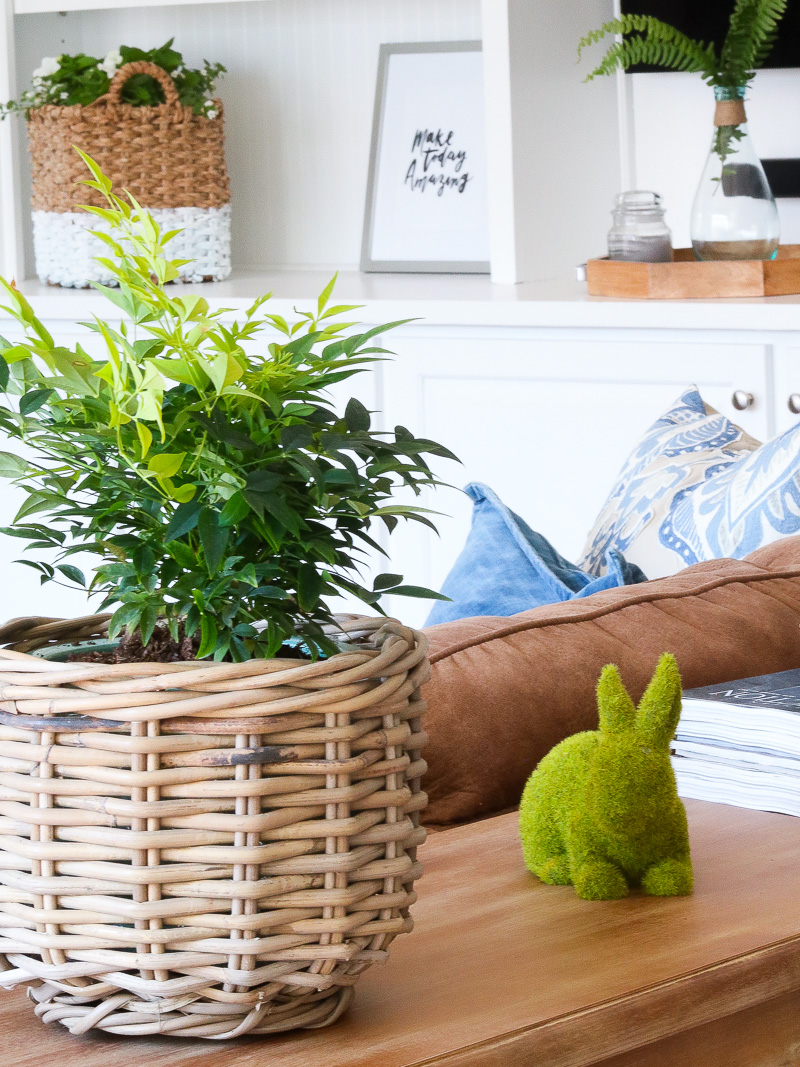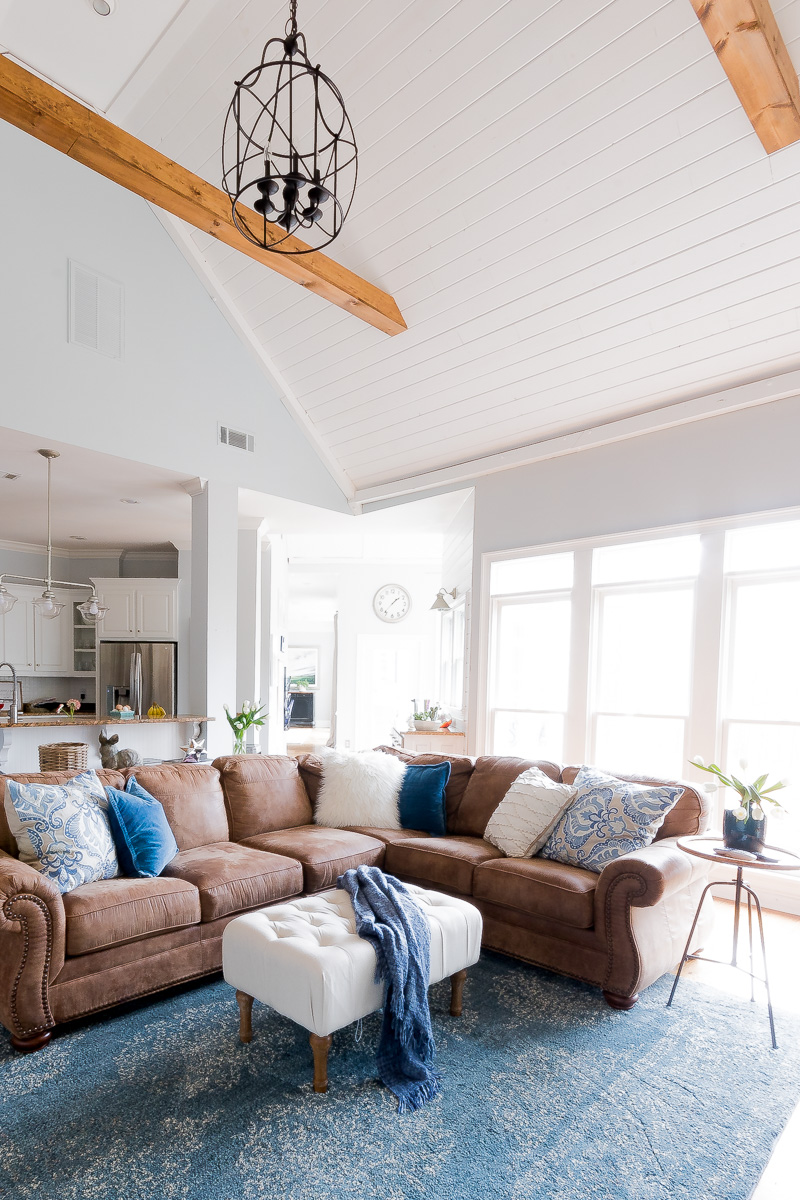 shop my pillows here and here, ottoman, throw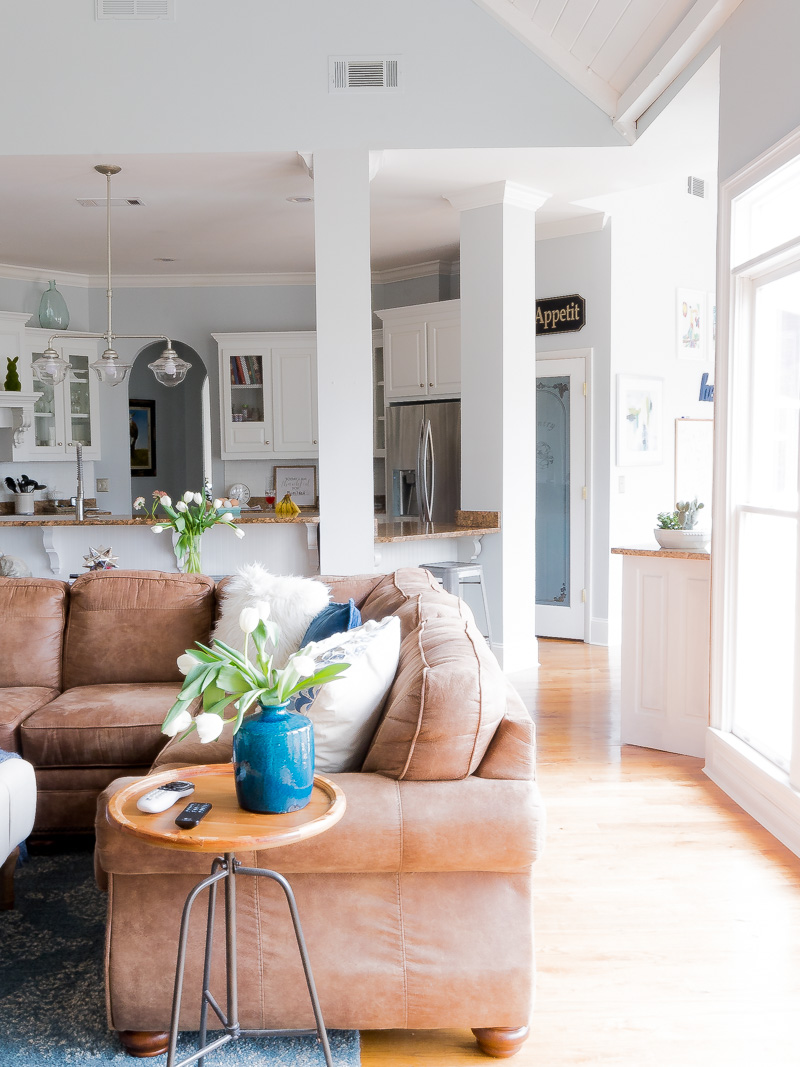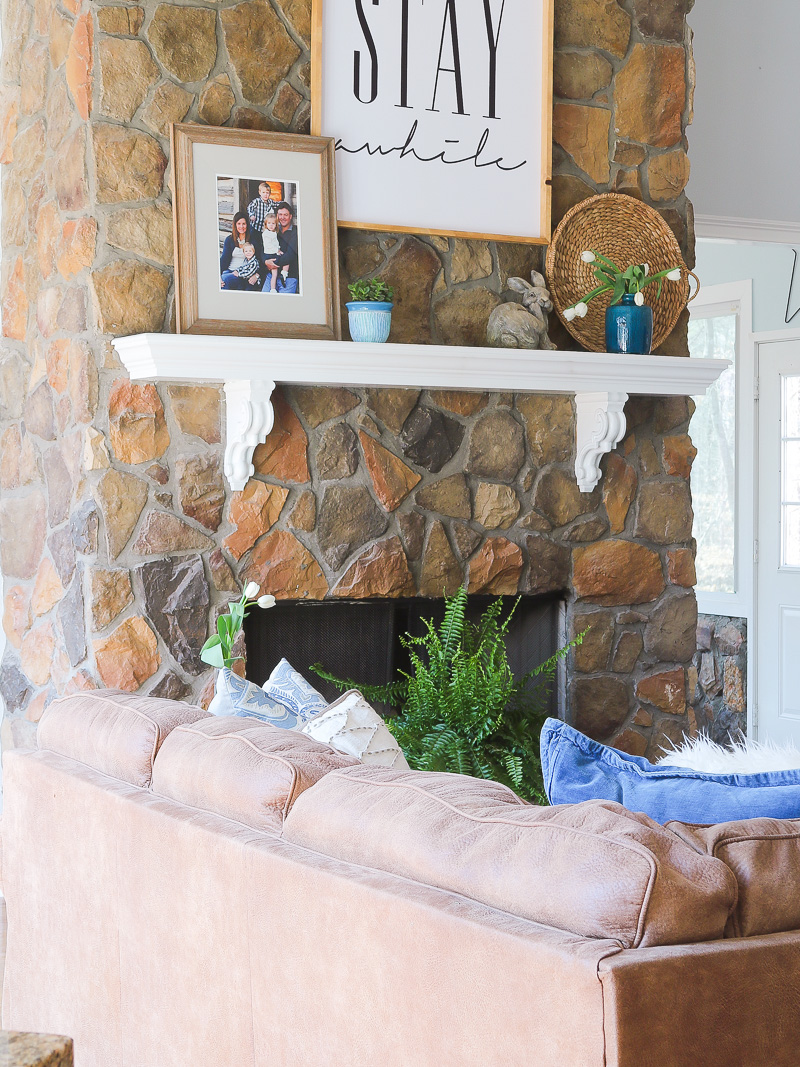 sign is from Sincerely Us Shop
So not to be all babble babble on you, here's a pic from my bedroom and den. I will talk about those spaces in another post. To see my full home tour, you can catch up here.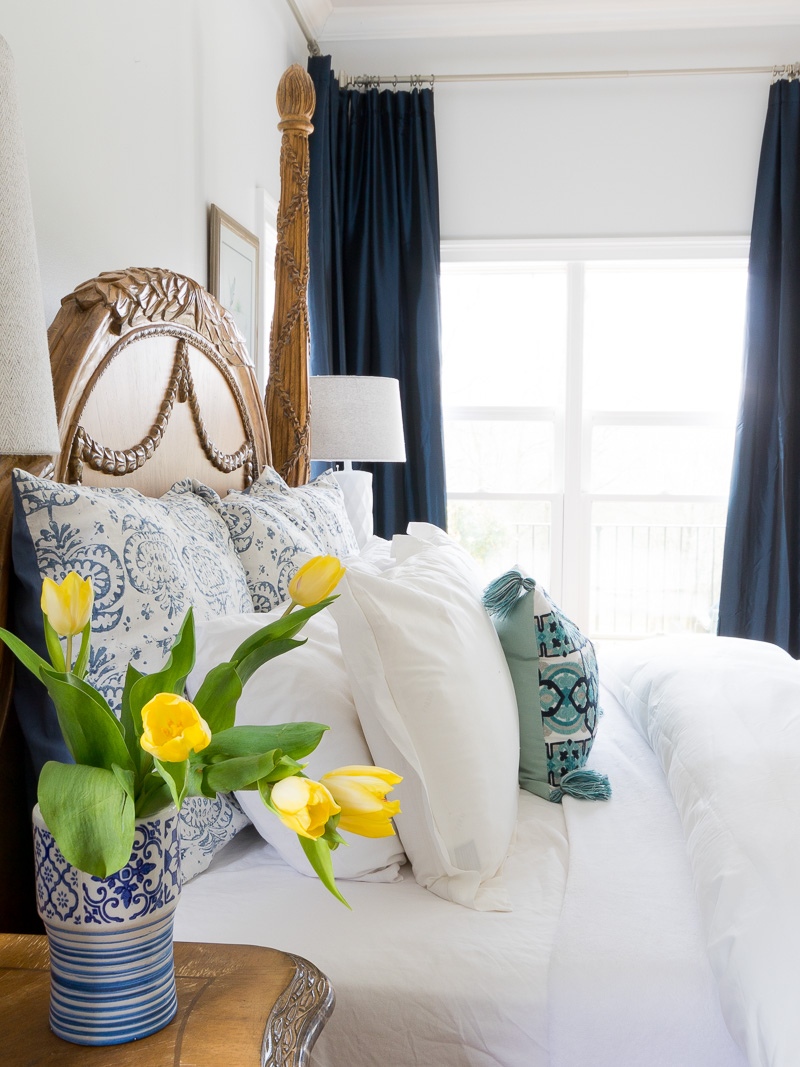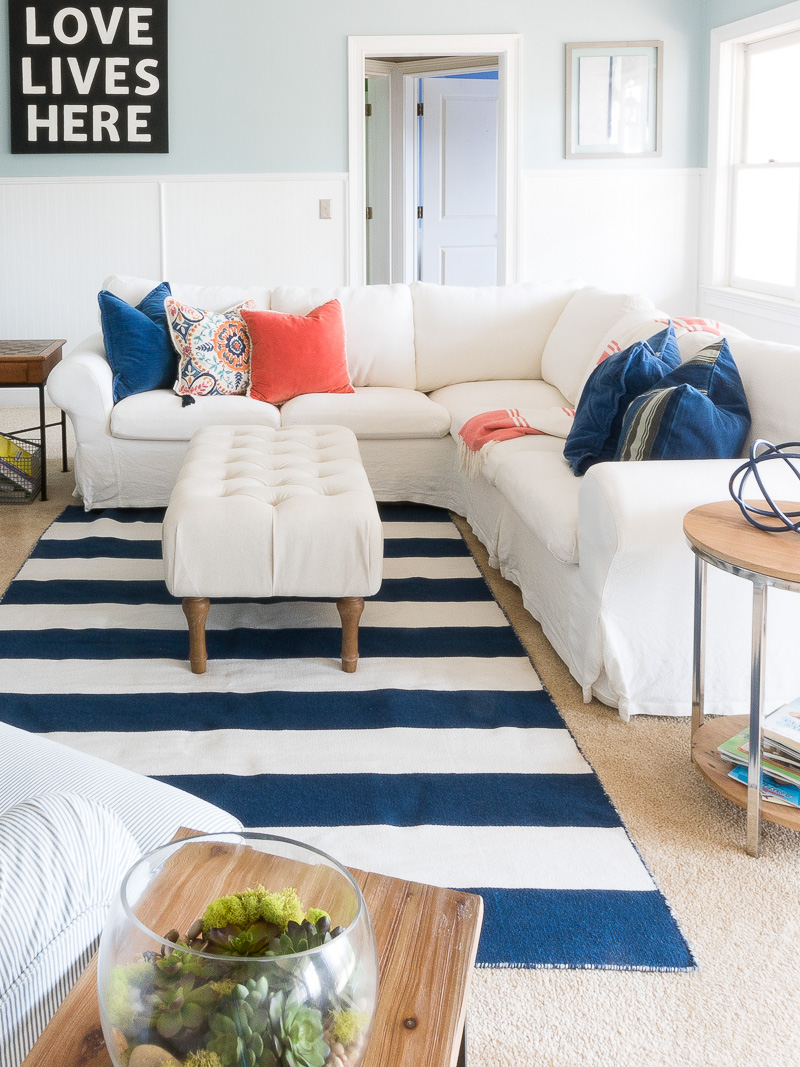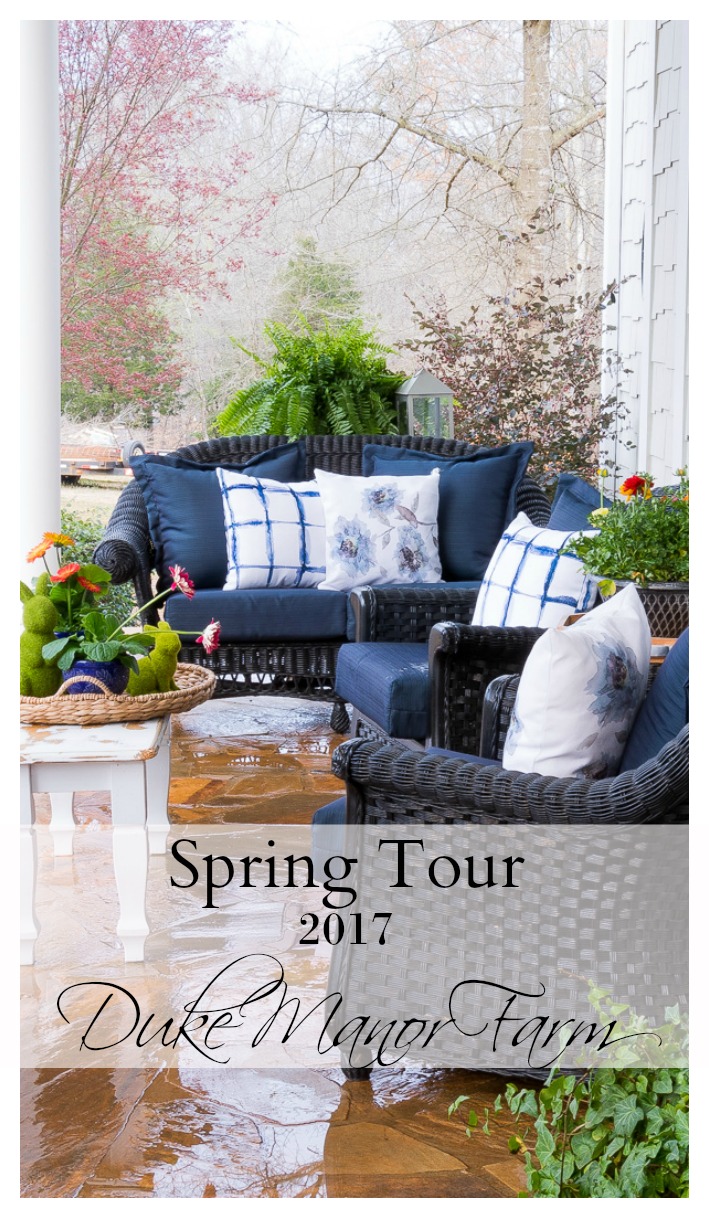 The rest of the amazing homes
I wish you could stay awhile but it's time to move on to the next house which belongs to my pal Linda at It All Started With Paint. You will enjoy her and her beautiful home and all her touches of pink as much as I do. Linda is actually a blogging friend that I met years ago, so it's a treat to be able to introduce her and her home.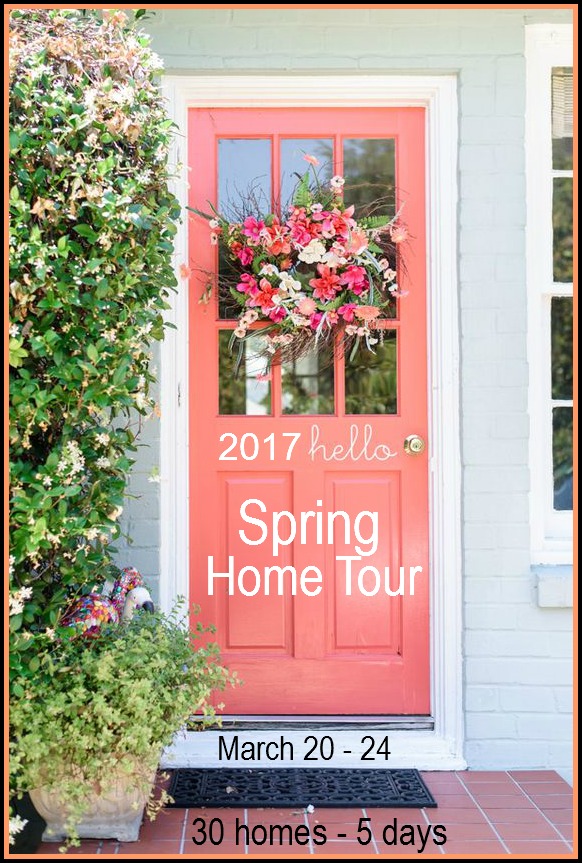 Don't forget to stop at all beautiful homes listed below for loads of Spring ideas and inspiration. I hope you enjoyed my Spring Tour at Duke Manor Farm today and will come back soon for another visit. You can follow me here and here for daily updates from around the farm.
Tour lineup
Monday – March 20
A Stroll Thru Life – Marty
Decor To Adore – Laura
Southern Hospitality – Rhoda
Pink Peppermint Design – Tammy
Cuckoo4Design – Julia
21 Rosemary Lane -Barbara
Tuesday – March 21
Setting For Four – Heather
The Chronicles of Home – Jennifer
Nesting With Grace – Brooke
Refresh Restyle – Debbie
Haneen's Haven -Haneen
Simple Stylings – Summer
Wednesday – March 22
Decorating Delirium – Jennifer
Dimples & Tangles – Jennifer
Hymns & Verses – Doreen
Remodelando La Casa – Christina
Sand & Sisal – Kim
Common Ground – Debra
Thursday – March 23
Duke Manor Farms – Laura
It All Started With Paint -Linda
Life on Virginia Street – Sarah
Bliss At Home – Kristin
Rain On A Tin Roof -Jenna
ZDesign At Home – Bree
Friday – March 24
Thrifty and Chic – Alicia
Our Fifth House – Carmel
Inspiration For Moms – Laura
Far Above Rubies – Anita
Life and Home @ 2102 – Vel
Making Home Base – Chelsea

grateful
for Spring
affiliate links used