I have to admit, before we painted our Kitchen cabinets white ( catch up on that journey here and here) I did a lot of research on the type of paint, sprayer and the process of painting. My research went on for months before we made a decision to paint them. All the information that I read, was very beneficial in planning and executing our goal to have beautiful white kitchen cabinets. However the one thing I never saw or read about, is what I want to share with you today…. pros and cons of painting kitchen cabinets white.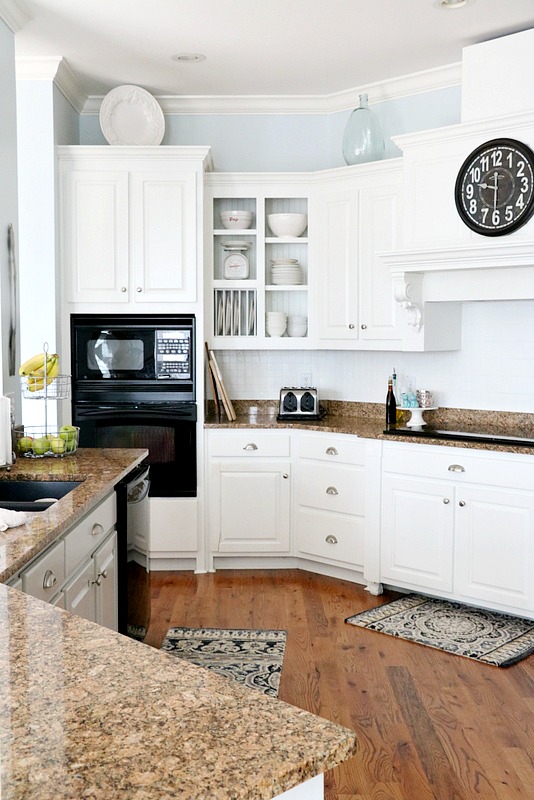 Don't get me wrong, I still love the way the kitchen looks two years later with the lighter cabinets and have absolutely zilch regret in making the decision to paint them. Since I have no windows in the immediate kitchen triangle , the white and lighter cabinets really help to brighten the space, something that I didn't have when they were a darker wood color. The other thing that I really like, is how the lighter cabinets really create a fresh look in the space. The kitchen is about 13 years old, so it helps to update and provide a more classic look for the kitchen.
Here's what the Kitchen cabinets looked like prior to painting them.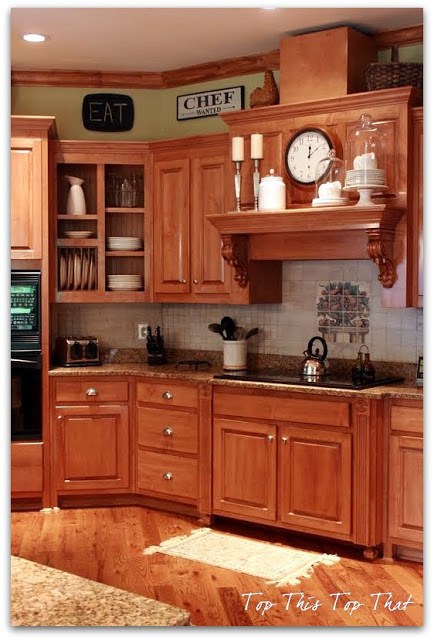 Big difference, right?
So those are the pro's. Now, on to the con's.
I'm not gonna lie, I never even thought or considered the amount of maintenance in having lighter cabinets. Ha….where the heck was that during my research!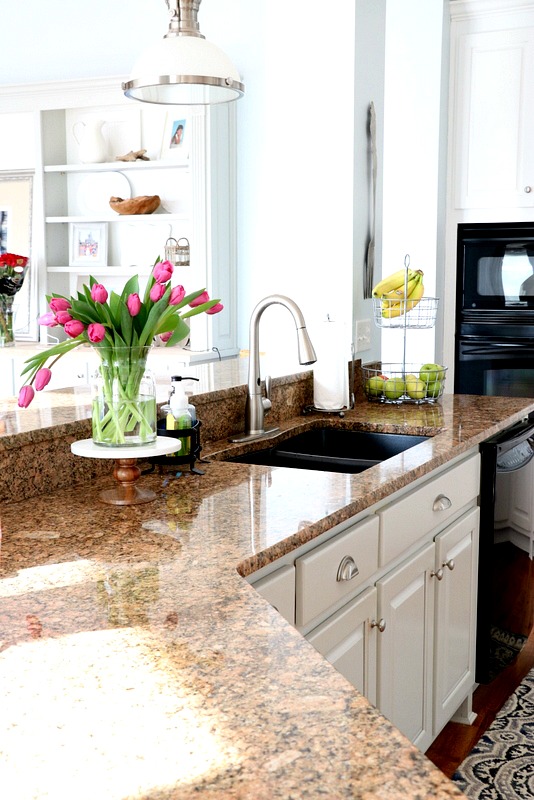 In all fairness, this is a heavily used kitchen and my kids touch every possible thing in site, so I am assuming that some of the issues I have encountered, are largely due to those reasons. But having white and light colored cabinets, is not easy to maintain in an active kitchen. I feel like I am constantly on guard protecting the cabinets from surface destruction. I don't remember doing that at all, when the cabinets were wood….or at least I don't remember. And if I am not on guard, I am wiping them down, which I did do prior to painting the cabinets, but not as much. I find myself always wiping down the cabinets from stuff that happens in a kitchen, which I would expect, but now I see everything. Maybe when my cabinets were darker and wood, I just didn't notice the spills and stuff as much. By the way, my go to product on my cabinets is Murphy's Oil Soap.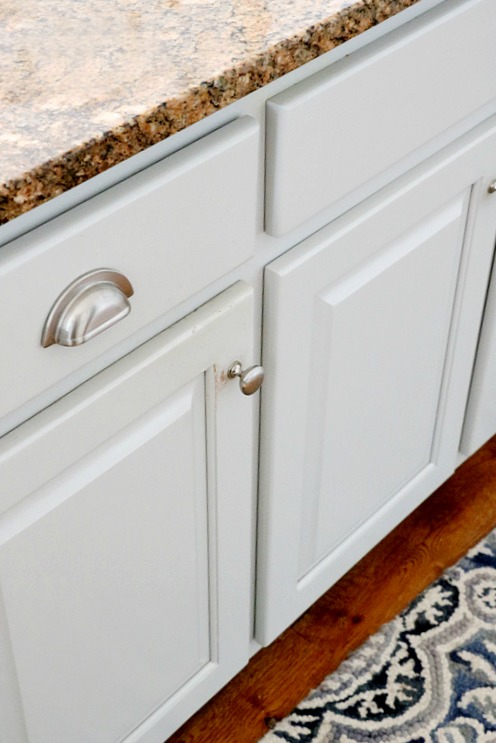 Overall, the cabinets have held up without any major issues EXCEPT for this door on the Kitchen Island. Behind the door, is our garbage can, so you can imagine the open shut open shut, that it goes through each day of it's life as a cabinet door in my kitchen. Here is a close up of the cabinet. Not my kitchen's proudest moment.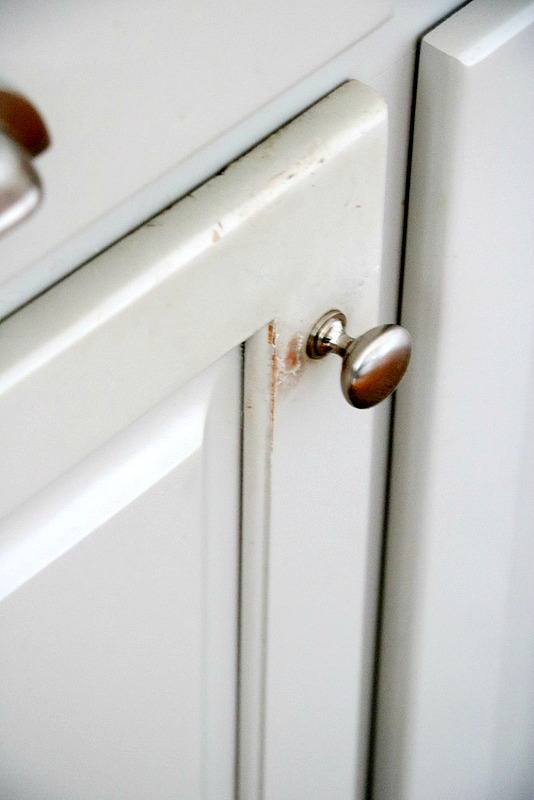 We spent a ton of time prepping ( sanding and priming) the cabinets prior to painting them just so this kind of thing could be avoided. Well….there you go. What we need to do is remove the door, sand the area , and spray the cabinet door again. My biggest fear and one that causes kitchen cabinet anxiety is, since the island is painted with a color, I hope I will not have any issues with any color variation with the original paint job next to the newly painted cabinet door. If this should be an issue, then I may consider just repainting the island white like the other kitchen cabinets or go back to a wood island. Did I really just say that!!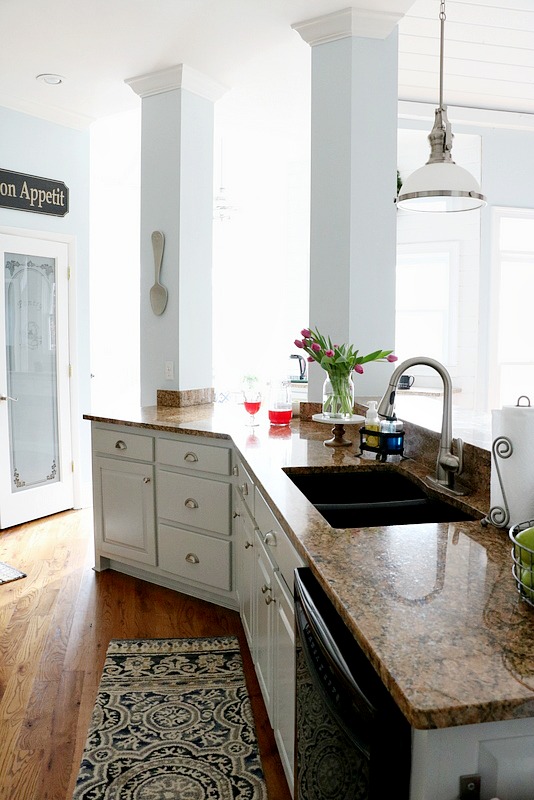 In the end, I do really love the white and lighter cabinets and I guess guarding them against the occasional ding from normal wear and tear and from the dirty little kid prints, is the price that you pay for having white or lighter colored kitchen cabinets…..and a price well worth it.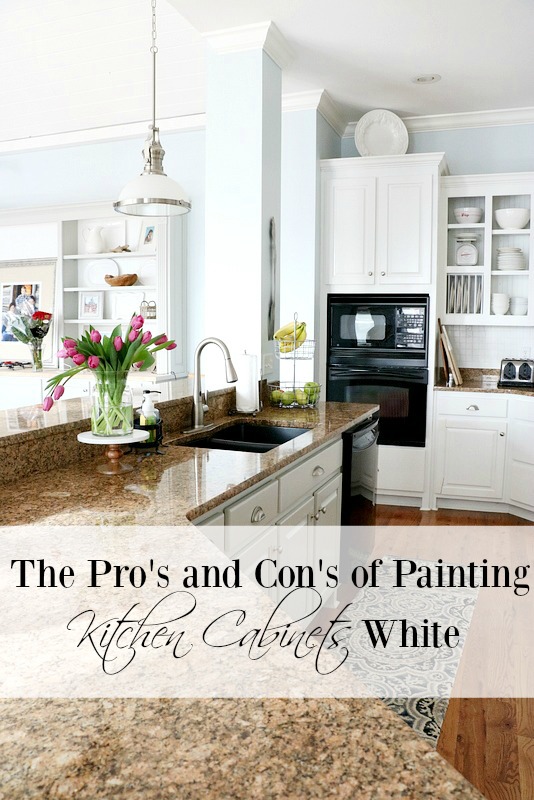 I hope my pros and cons of painting kitchen cabinets white, is helpful if you are considering taking the plunge to paint your cabinets. Leave me a comment and let me know.

grateful
for my gal pals