Welcome to the 2017 Summer Home Tour at Duke Manor Farm.Thanks for stopping by the Summer Home Tour. Special thanks to our host Marty for coordinating summer home tours from 30 amazing bloggers this week. If you are joining from Inspiration for Mom's , I am so glad that you are here! I love Laura's newly styled front porch , and how cute is that 'hi' sign on the wall.
My tour is pretty reflective of how we treat summer around here at Duke Manor Farm. Random. A little bit of this, a little bit of that. Master Bedroom, sitting room and outdoor spaces. Honestly these are the only spaces I could keep clean while I snap some photos. No real planning. Structure or commitments. Keeping it simple is important. I tend to be a minimalist without a lot of clutter around, so achieving a simple look isn't hard for me to do. During these summer months, we tend to live outside…a lot. We have tried to create spaces outside that let us enjoy the longer days. And spaces inside, that are calm and peaceful when we need to take a break from the heat and the sun.
Speaking of peaceful….my master bedroom
I made two changes to my bedding. The patterned duvet cover came off and I'm just using a simple white one during the summer months. I added 2 of these washed velvet pillows that coordinate with the Euro shams. The color is called Indigo and it's such a pretty shade of blue. I'm still loving the drama from the navy blue curtains that I hung a few months ago. These curtains are doing double duty during the summer months when they block out a lot of the heat from the sun. If you are looking for well made, 108 inch curtains you can't beat the price. The price was so reasonable, I have a pair in my office as well.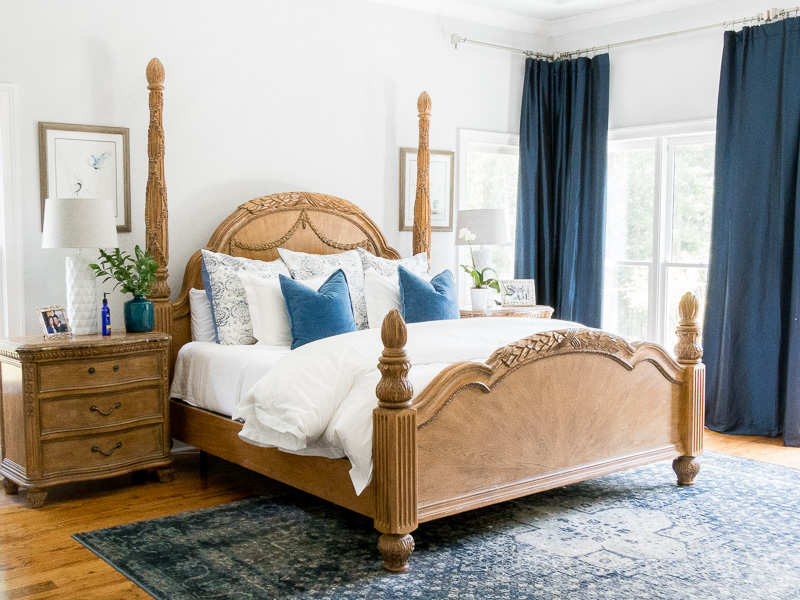 Shop pieces from my Master bedroom ( affiliate links used)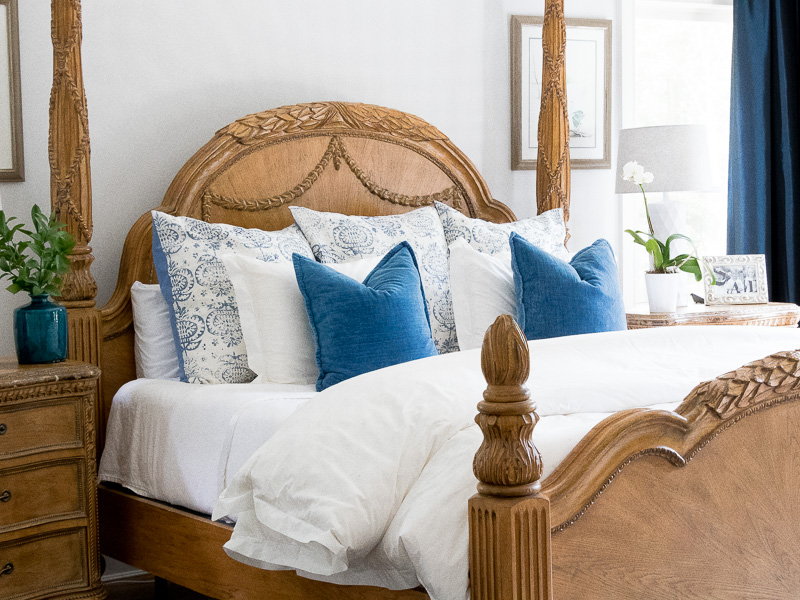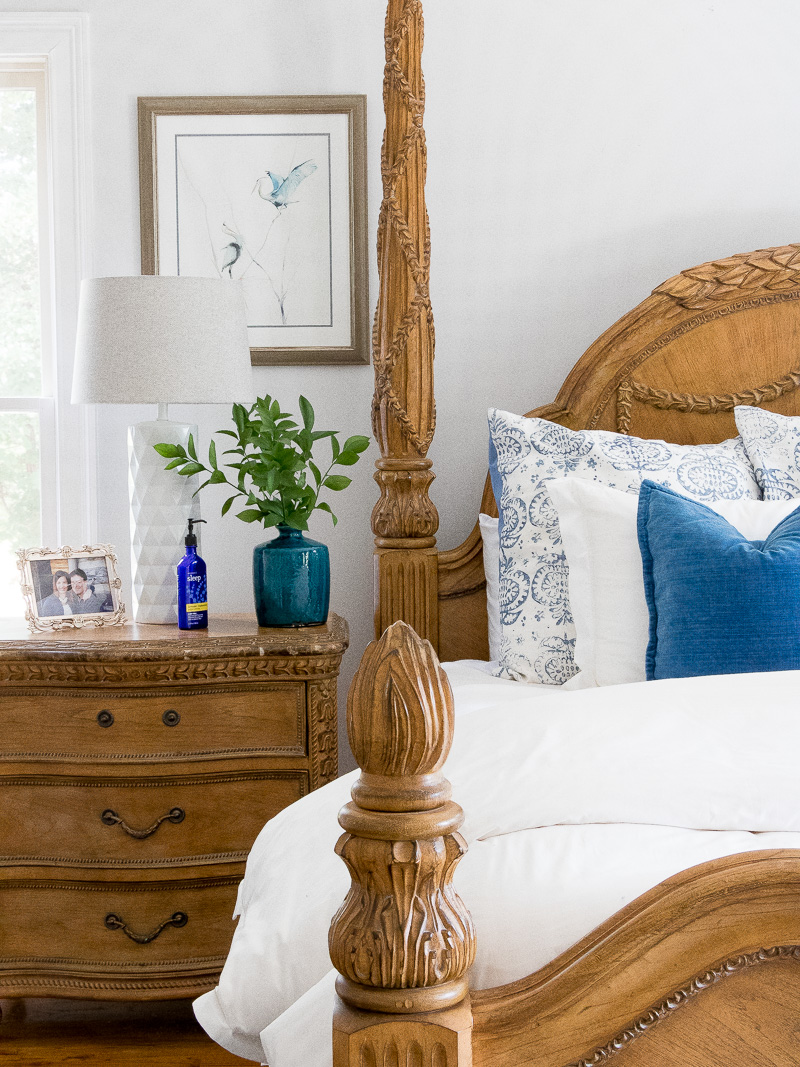 Summer Sitting area and breakfast nook
This is the area between our kitchen and our family room used primarily for reading, gaming or quiet time. This room is actually going to get some attention in the fall. I would rather have more windows then wall space in our home. We are adding windows to the other side over the cabinet. I will also be swapping out the furniture for something that is a bit bigger. This furniture was a last minute purchase last fall and was not intended for this space. I love it but it's not in scale for this room. For now it works …for quiet times…and time out's.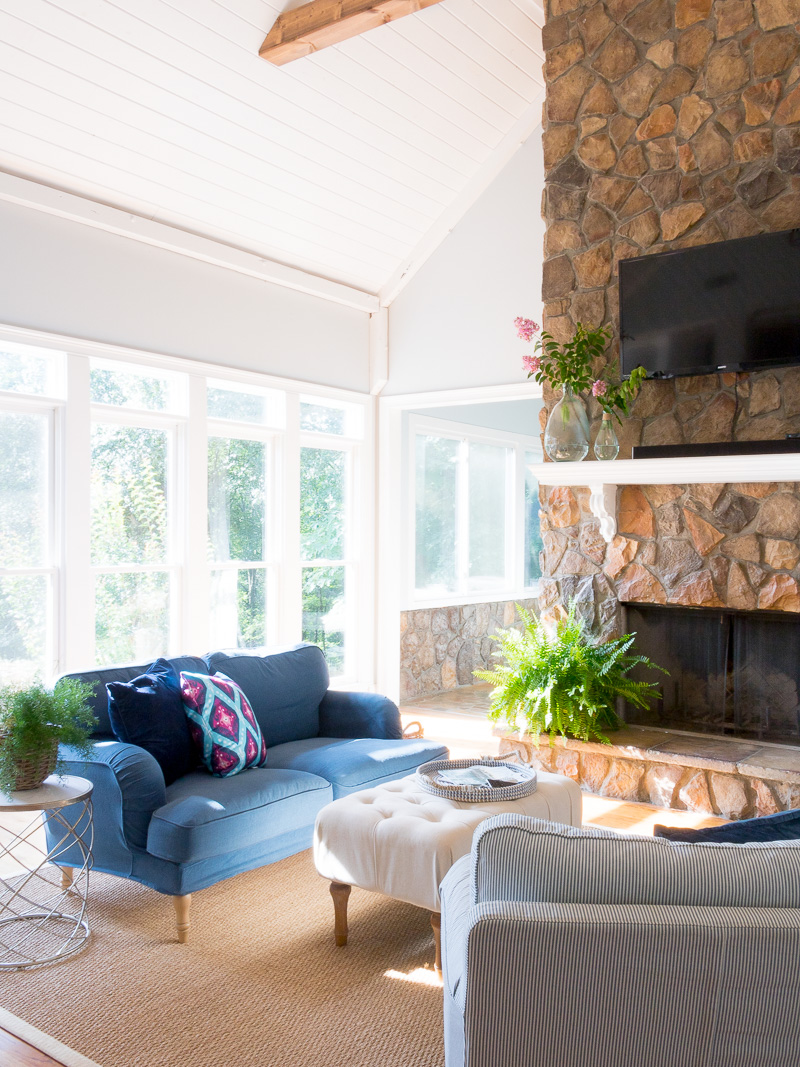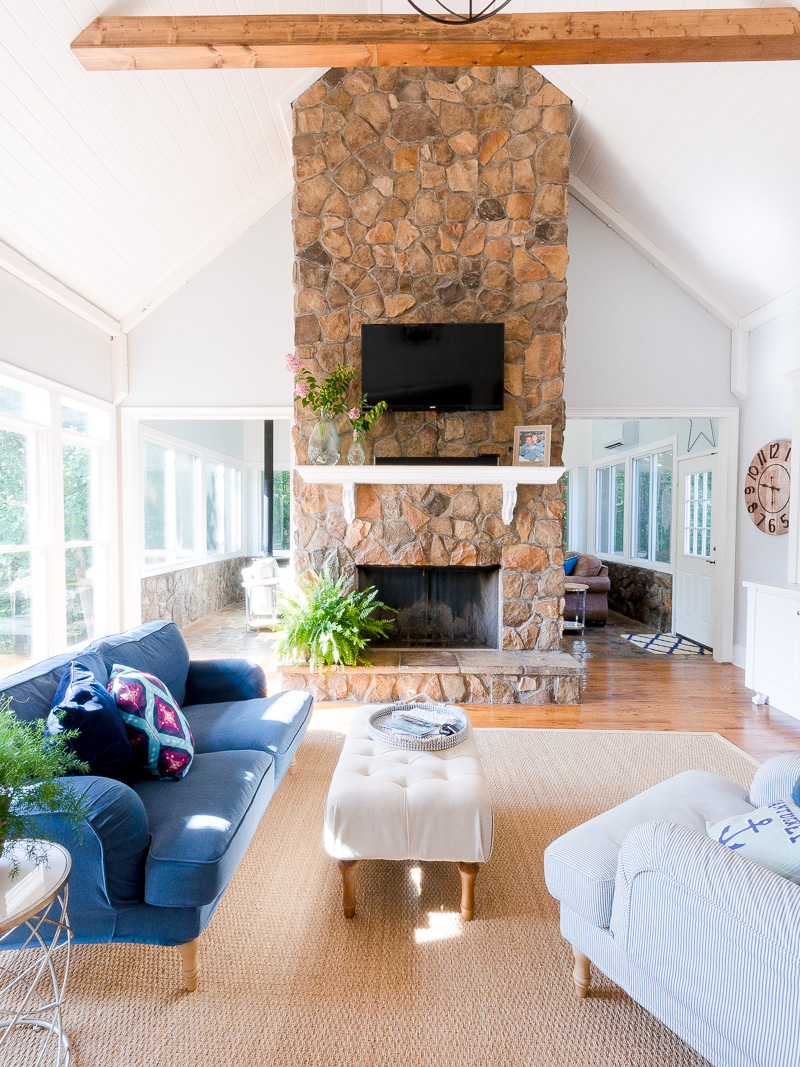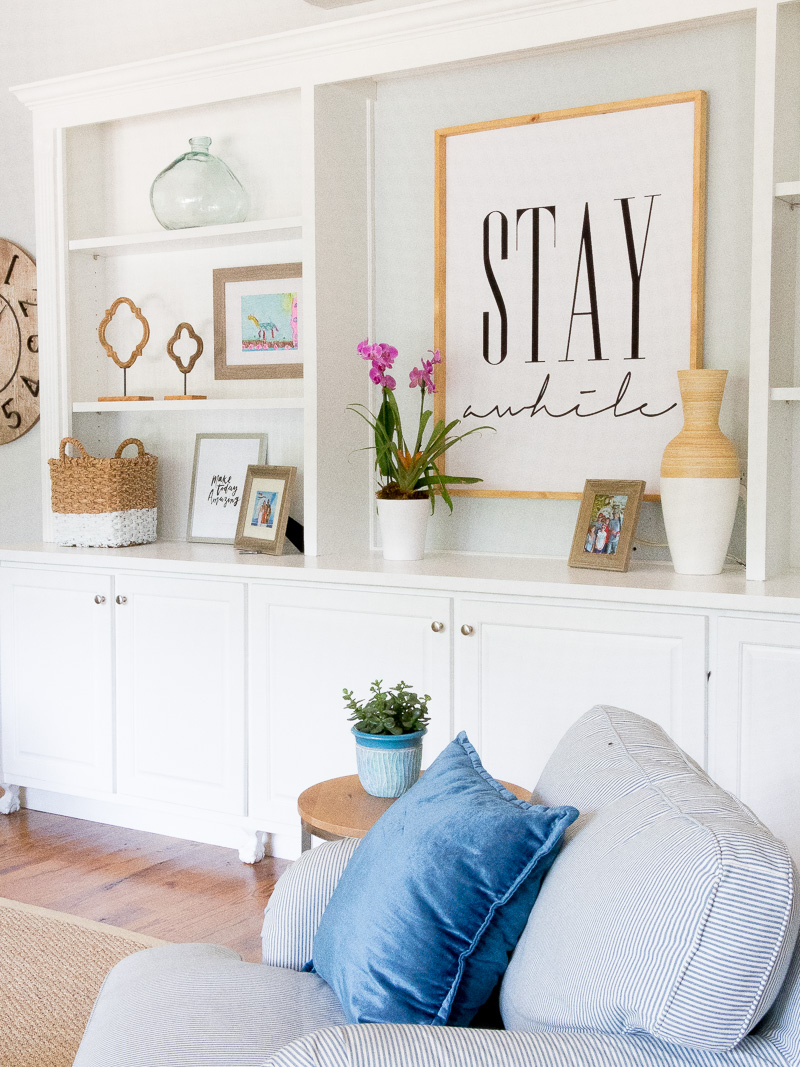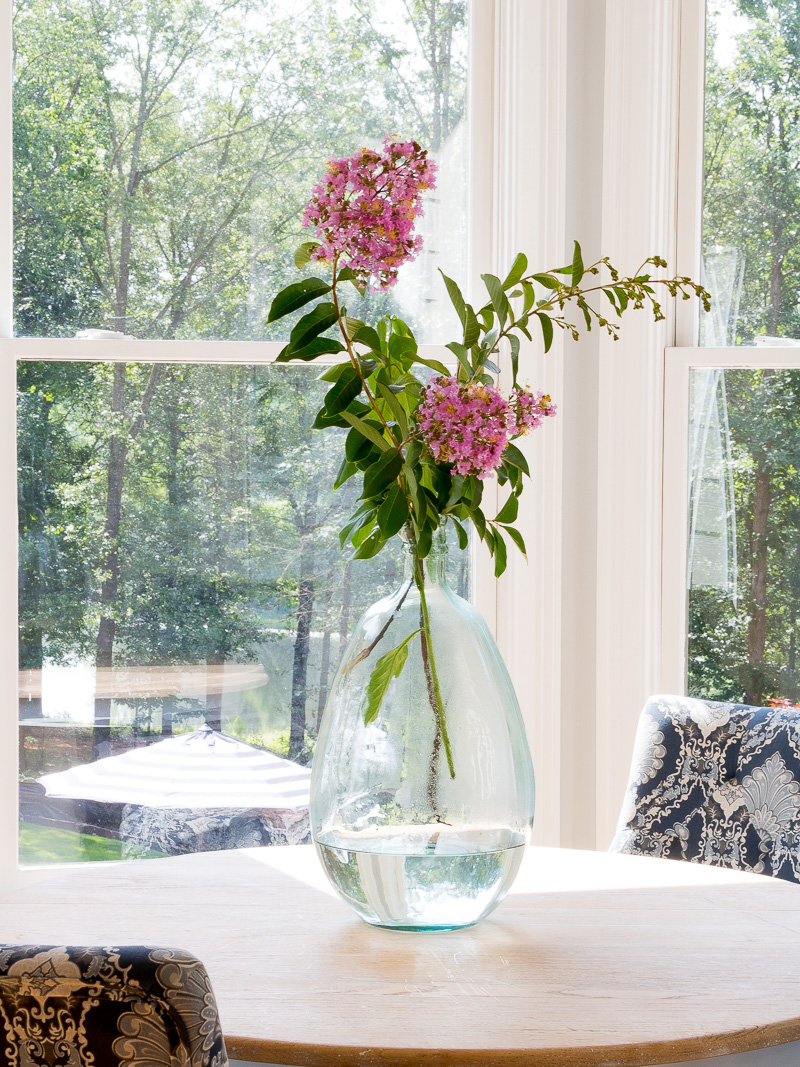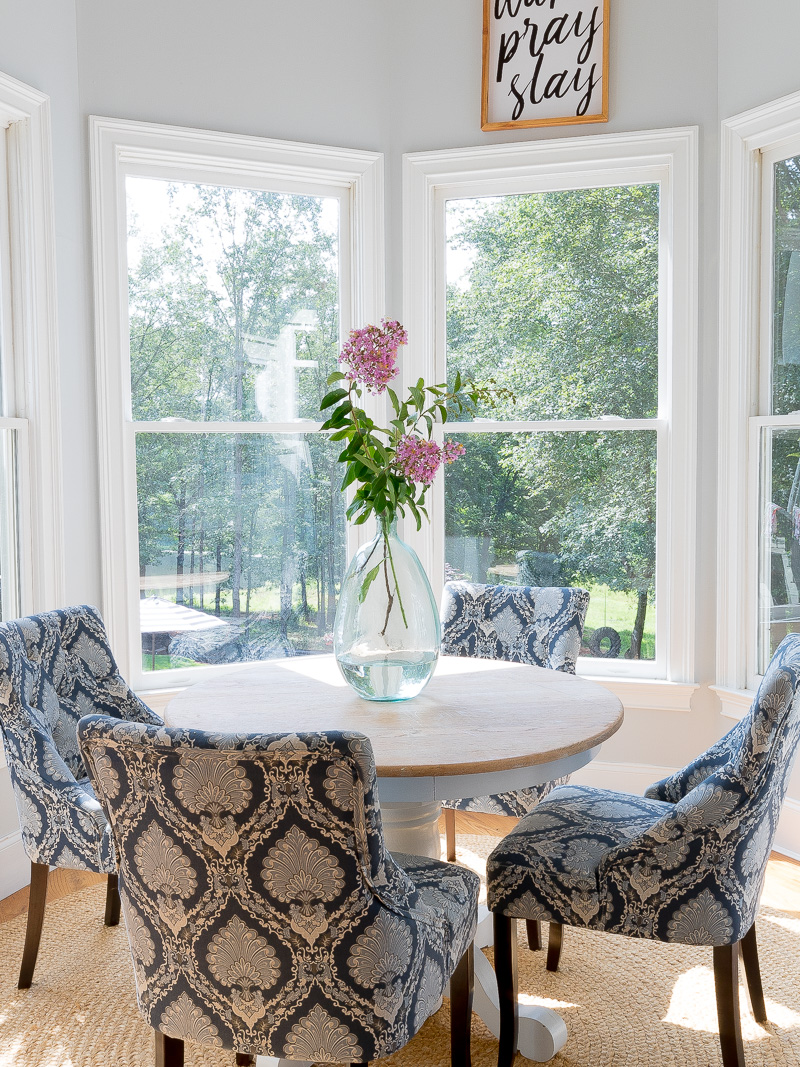 Outdoor Upper Patio
This is the patio area right outside the kitchen. During the summer months this patio is used primarily first thing in the morning and for dinner time. It gets incredibly hot during the day. I recently made a few changes to the patio furniture. Our latest stray dog to find his way to farm, couldn't stop chewing on the front porch furniture so I moved it back here. The wicker furniture is special since it was a 8th year anniversary gift. It's held up well ( despite the chew) for the last 11 years. The last time you saw the furniture on the porch it was here. I got a new table and umbrella for my 14 year old dining chairs that I recently refreshed here for the season.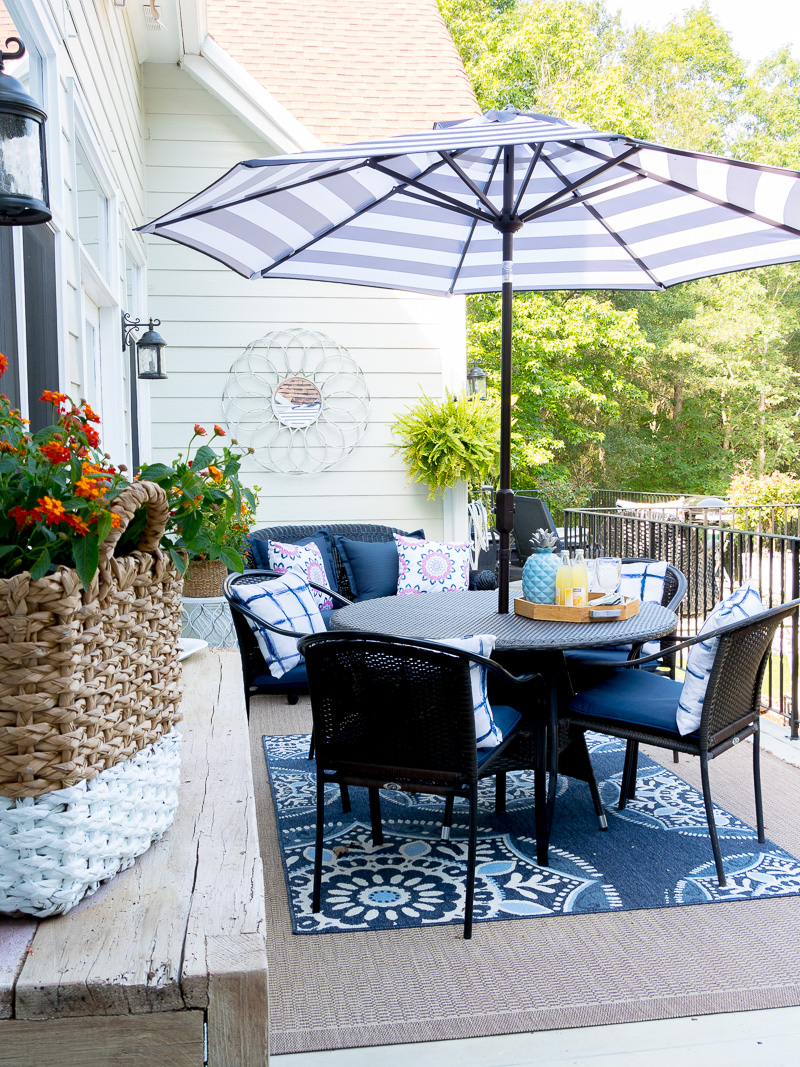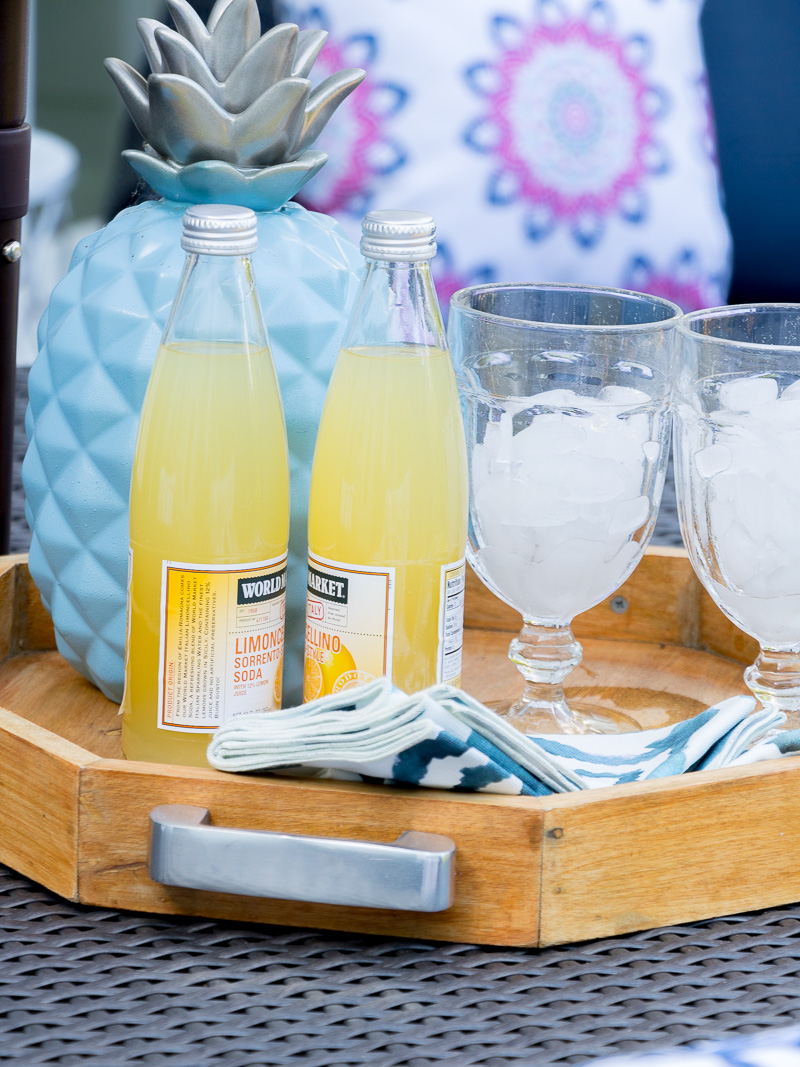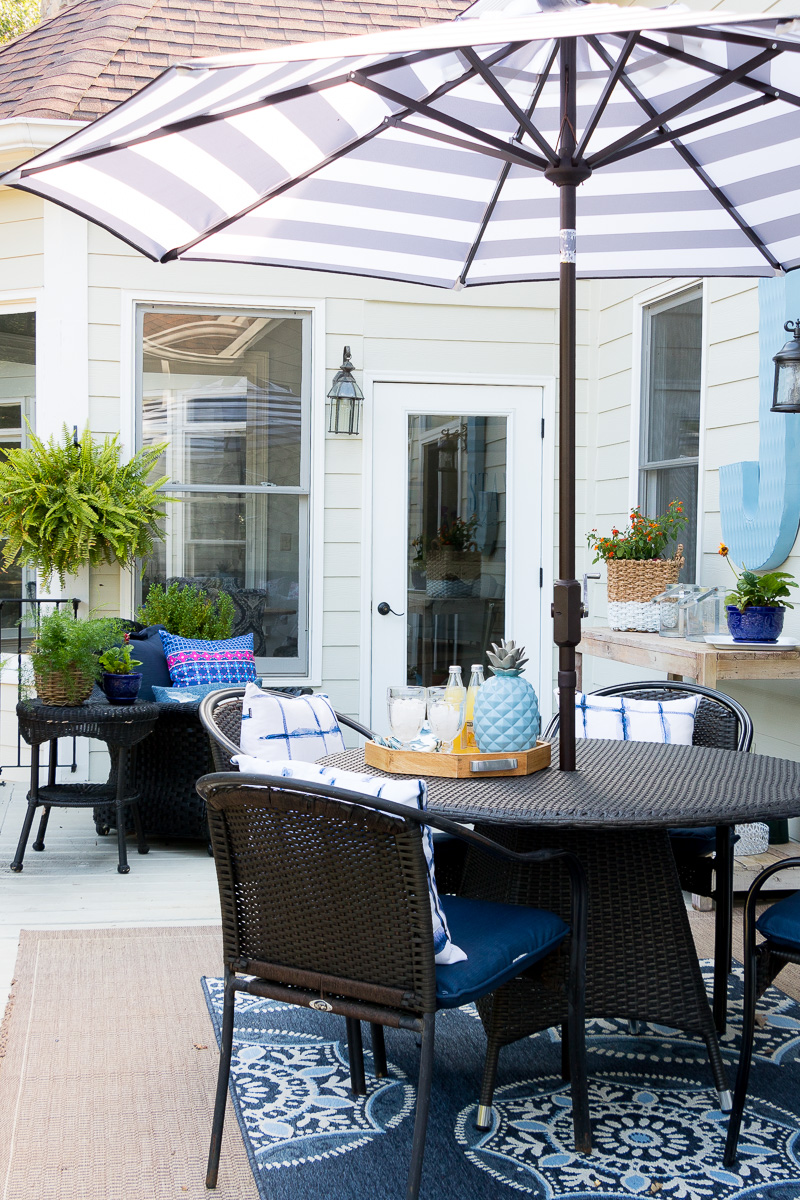 Shop pieces from my Outdoor Patio ( affiliate links used)
Outdoor Dining Area, Spa and Pond
We just finished this area (well almost) a few weeks ago and are so excited to be able to use this space this summer. The kids got to jump in the pool for the first time on the last day of school. Not a bad way to start the summer. We have a few things left to do, fencing and some additional landscaping but I wanted to give you a peek and the reason my house will be staying relatively clean for the next few months. I will be sharing the entire backyard reveal soon. Getting the kids to bed these last few weeks has not been an issue at all! Pool time= tired kids.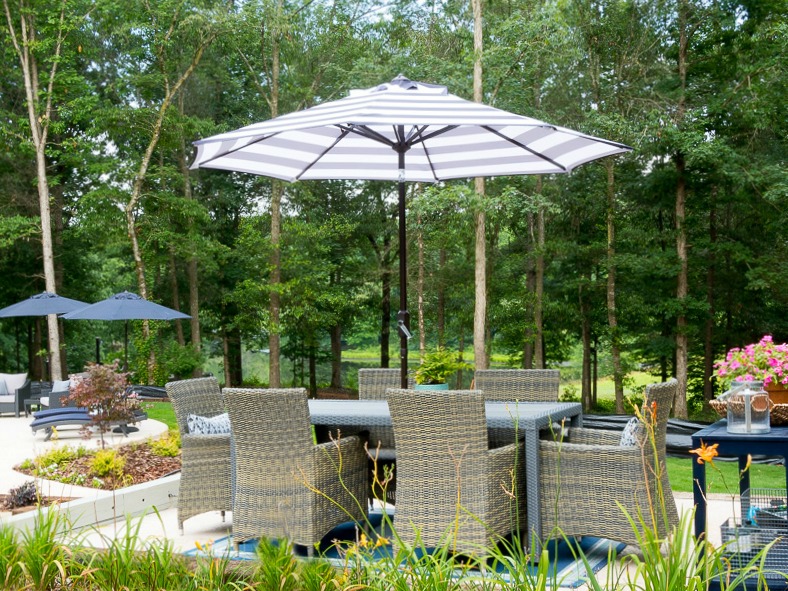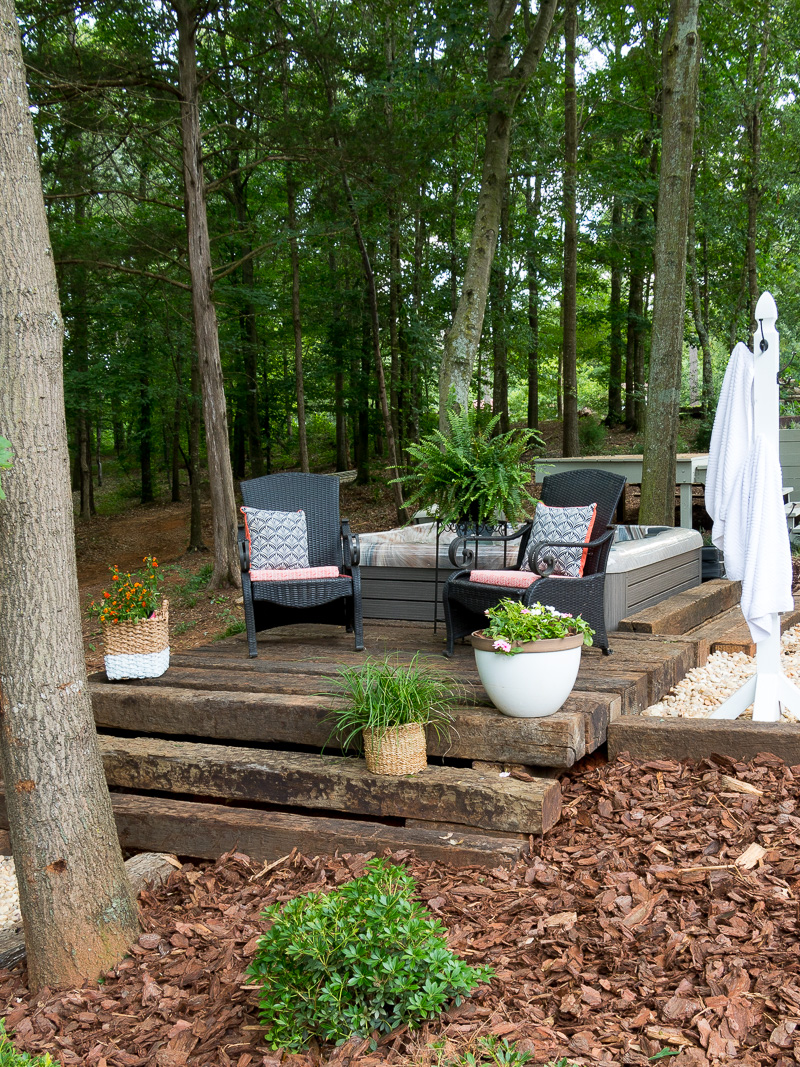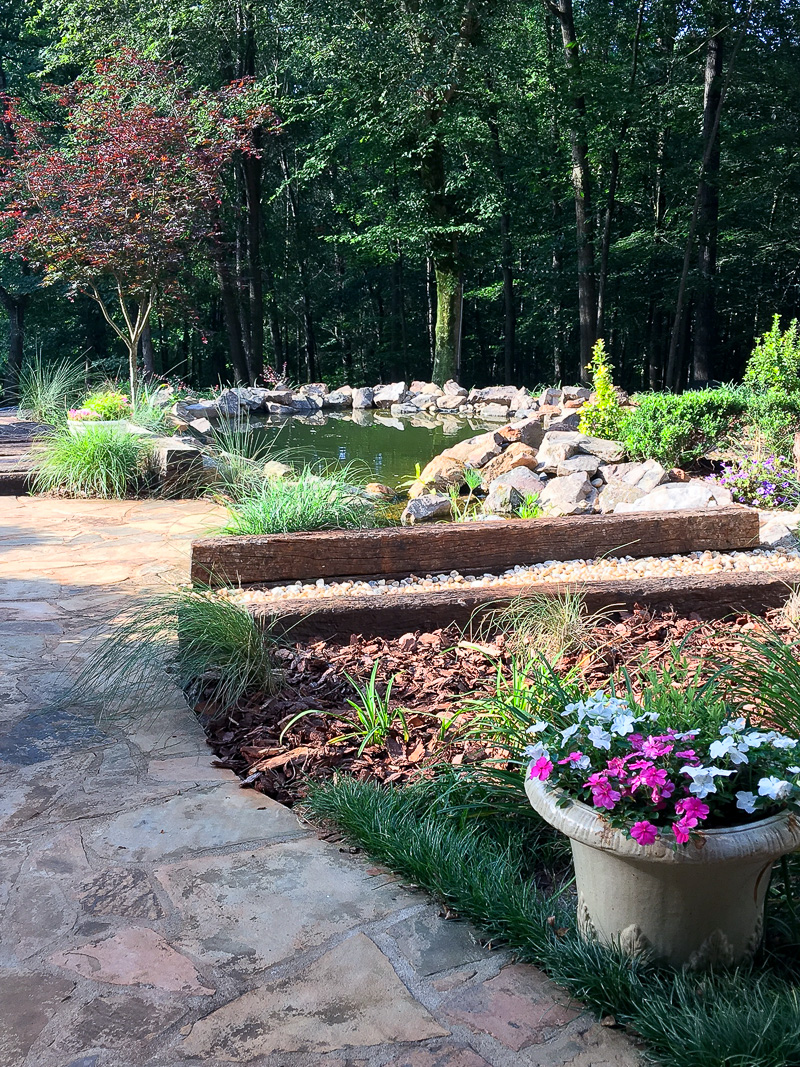 Have you meet Quackers and Waddles, the residents of the pond? If not, click here to meet them.
Pool area
This space has been completely transformed. It does not even look like the same backyard! You can see more of the pool construction and what this space use to look like here.
Shop pieces from my Pool and Patio ( affiliate links used)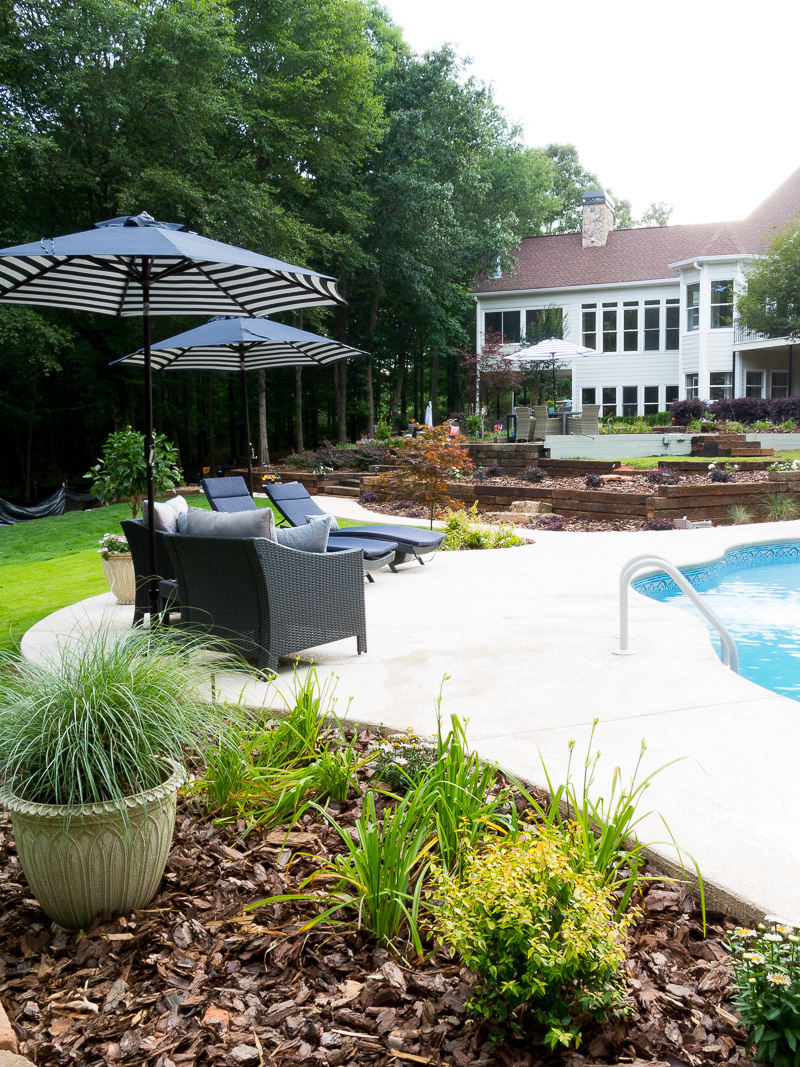 Happy Summer. I hope you enjoyed my 2017 Summer Home Tour at Duke Manor Farm. To see last years tour and how some areas in my home have really changed, click here. Next up on the tour is Bree's amazing temporary abode from Z Design at Home. Her style is impeccable even in her temporary housing.
And feel free to follow Duke Manor Farm on Instagram and Facebook where I share tips, projects and behind the scenes of my real life funny farm.
Enjoy!

affiliate links used in this post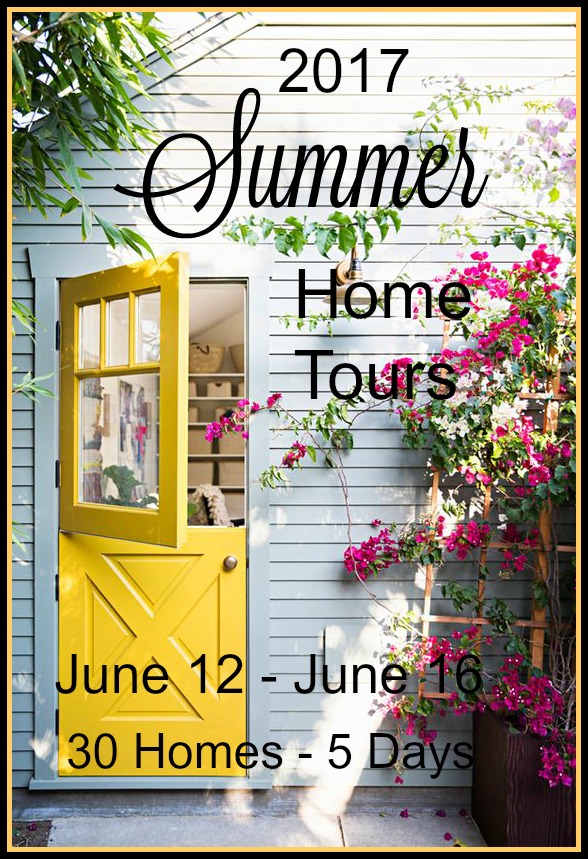 2017 Summer Home Tour
Monday – June 12
Tuesday – June 13
Wednesday – June 14
Thursday – June 15
Fri – June 16