Hey color lovers! I am so excited to share my newly built screen porch and the fun pops of color that I added for summer. Today, I am joining 9 other color loving bloggers who are revealing their spaces as well. Links will be at the bottom of the post. You don't want to miss any of it! Special thanks to Birch Lane, Minted and The Mine for providing me with some amazing items to furnish my new screen porch. This room wouldn't be the same without them. I also want to thank my pal Kelly for coordinating such a fun event. I mean, who doesn't love color!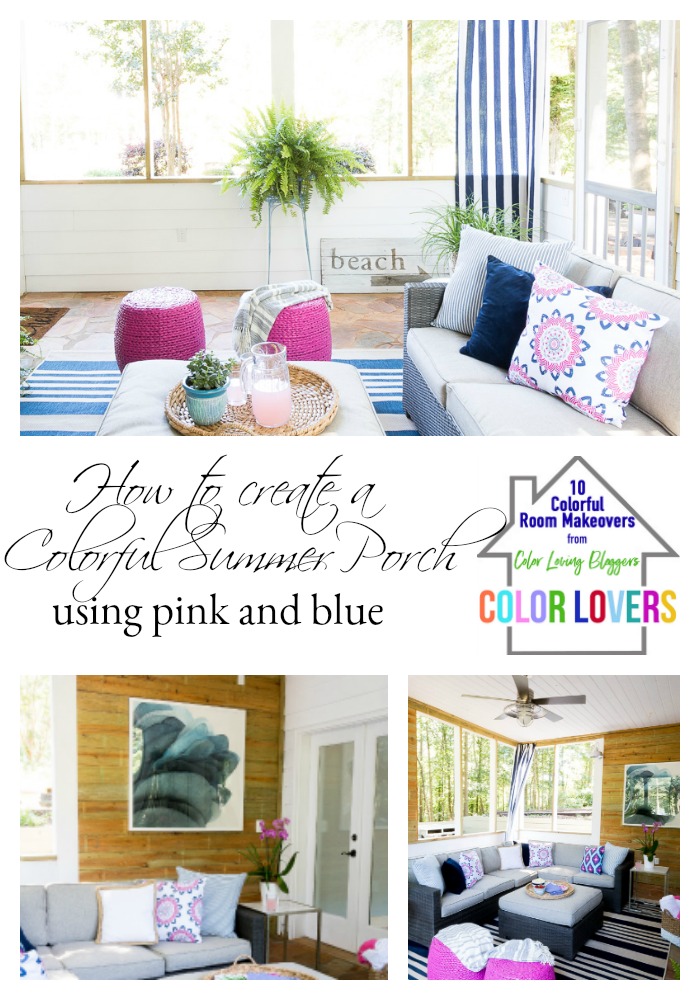 Screen Porch Reveal….with a pop of color
Ta-da. Here's my new screen porch with a white and wood backdrop, infused with blues, grays and pinks. My inspiration for this room started with this art work. I have been eyeing it for such a long time. It is such an interesting piece.The first thing people ask when looking at it is "what is it". I always respond…whatever you want it to be. My son actually thinks it's blue potato chips. I think it looks more like tissue paper flower petals. Placed on the wood plank wall, it takes center stage when you come into the room . Side note- this wall, which is actually fence boards from the property that we keep in reserves when one needs to get replaced, was literally an 11th hour change. So glad we did it.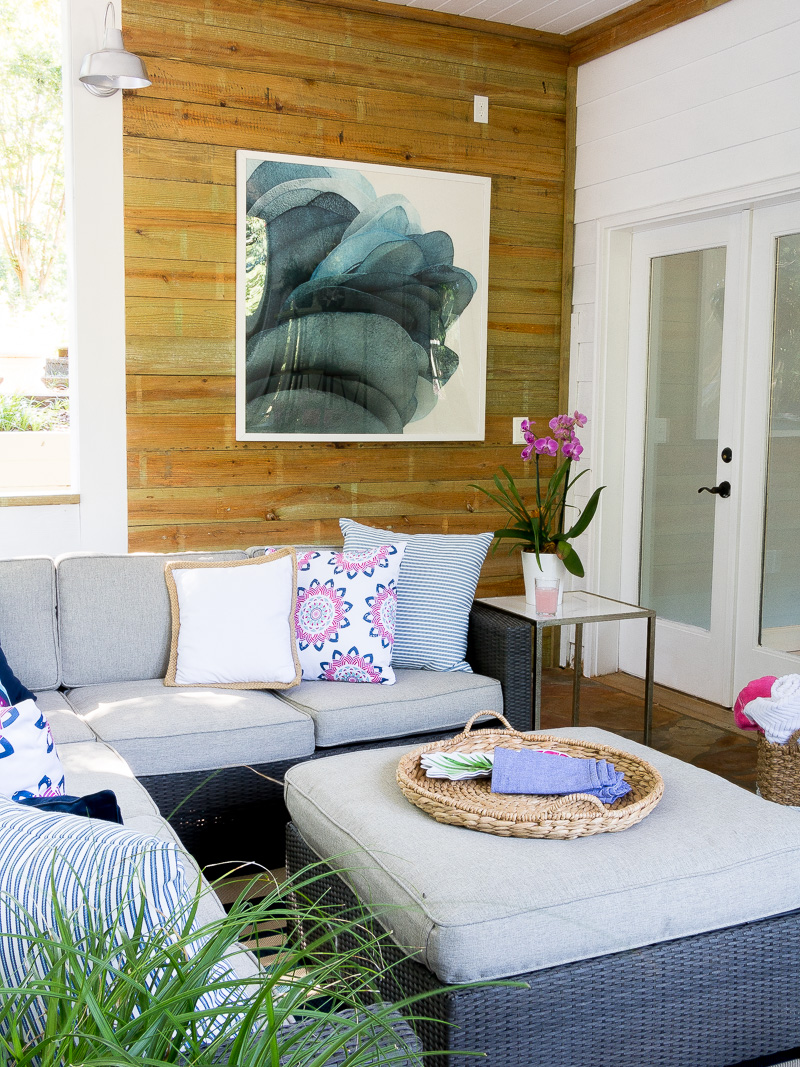 Before I could think about introducing color into the room, we had to build the space first. I won't bog you down with the details since you came here for a room makeover reveal but 48 hours ago the room looked very much like this. It seems I screwed up with my dates and thought I had an extra week. You can catch up on the build and my design plans here and here.
Room view during construction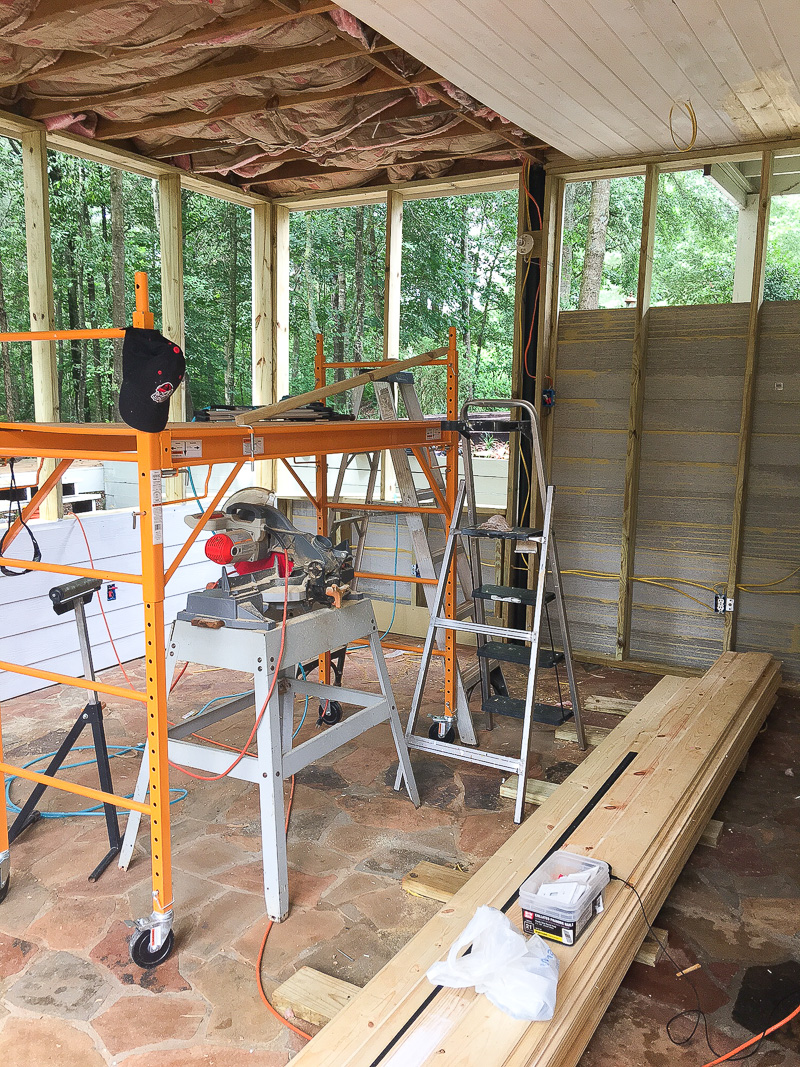 If you are new to Duke Manor Farm you should know that my home is no stranger to blue. You saw it throughout my home in my recent summer home tour here. I wanted to carry that same blue pallet into this space.When I thought about using pink in the room when planning my design, I wanted to make sure that the look said a family lived here, not just a bunch of gals. My boys, who think pink is mainly a girly color, partly cause their sister has a totally pink room, have not said anything about how it is used in the porch.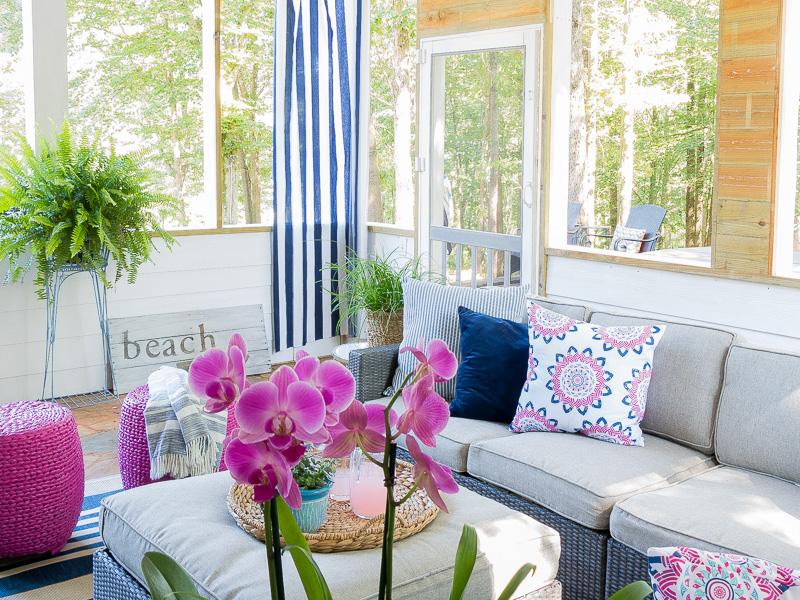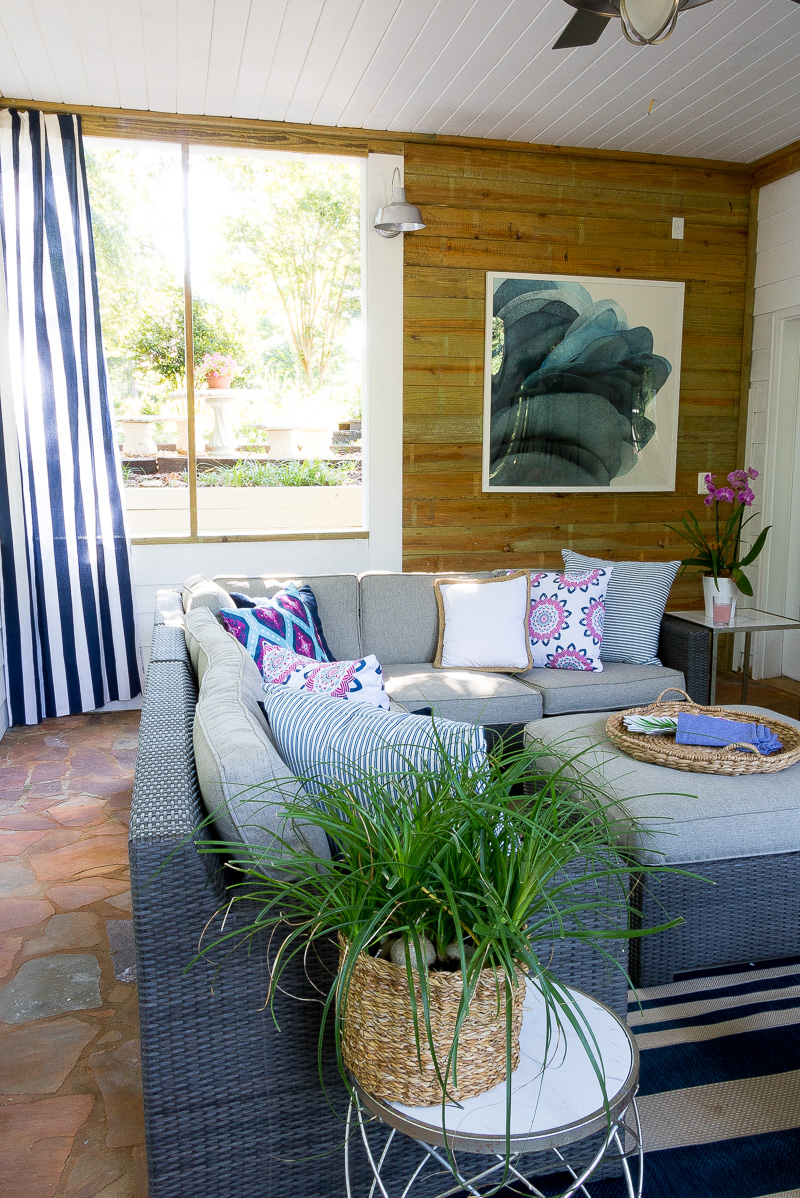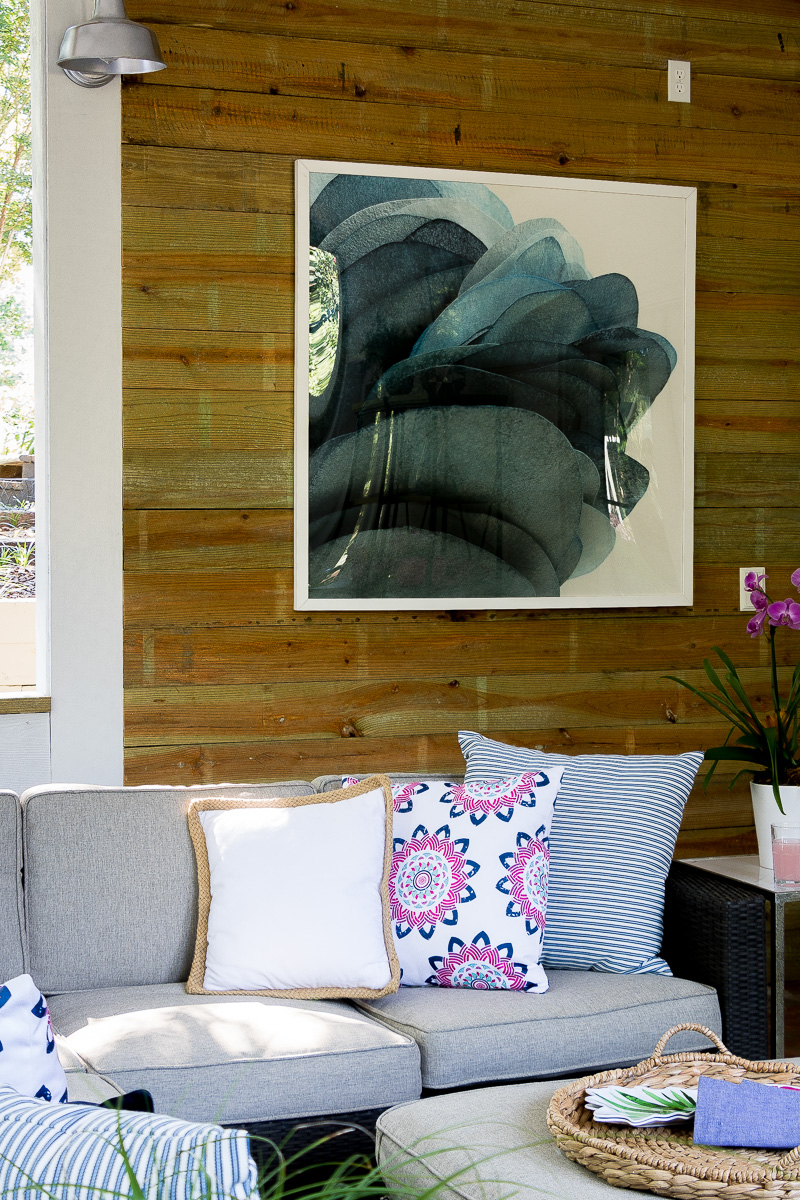 Pillows and furniture can really make the room
Because it's not the primary color used in the space, it doesn't overwhelm you. I also think it brings some energy and fun to my screen porch and it's perfect color for the summer season. I painted the wicker ottomans, that we will use for additional seating in the same pink hue that is in the pillows. The color is called Exuberant Pink from SW. Speaking of seating, I love this outdoor sectional from The Mine. It is the perfect size for my family of five. The body and the cushions are grey which will give me lots of color opportunities throughout the year. The ottoman can double as a chaise or as a coffee table. I prefer a chaise…..thank you.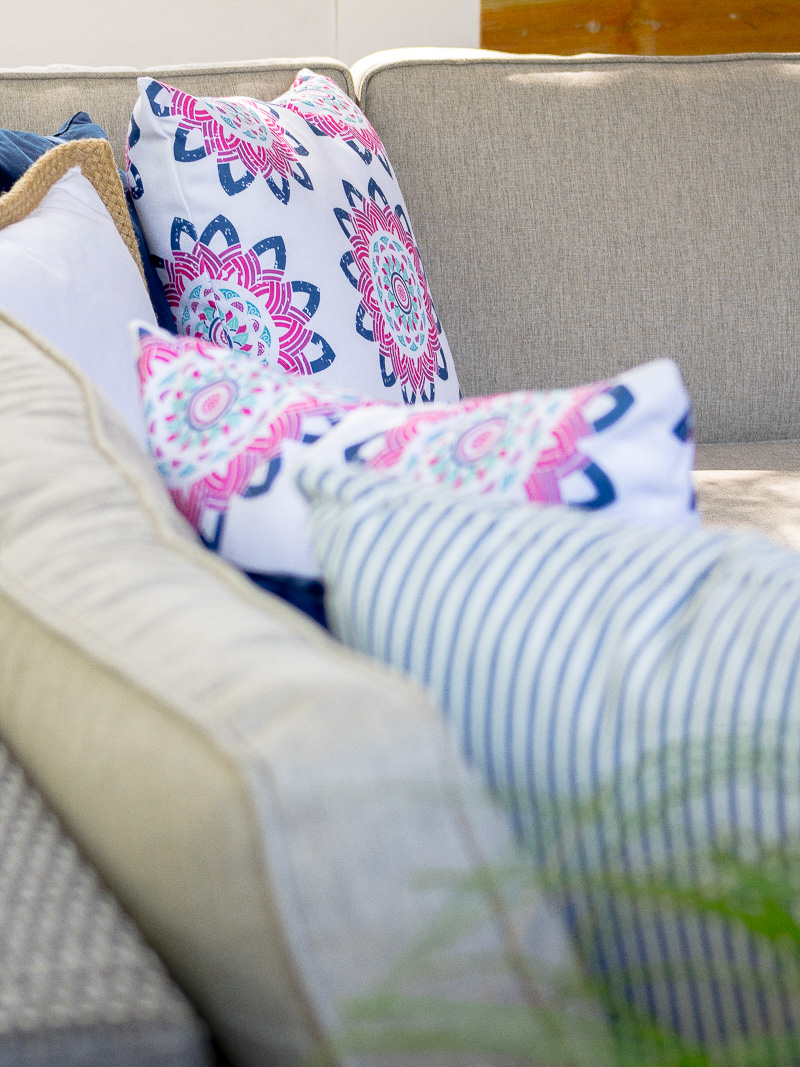 Display season items or things that are important to you and the family
I styled my Etagere bookcases from Birch lane with a mix of summery decor, towels for the pool and hot tub and a place for my plants to get some nice light without being outside in the heat. The shelves can also double as a place to hold snacks and drinks when we are out here entertaining or just hanging out with the family. What I really love about the shelves in addition to the mix of materials ( wood and metal) is how sturdy they are. I think they will hold up really well out here.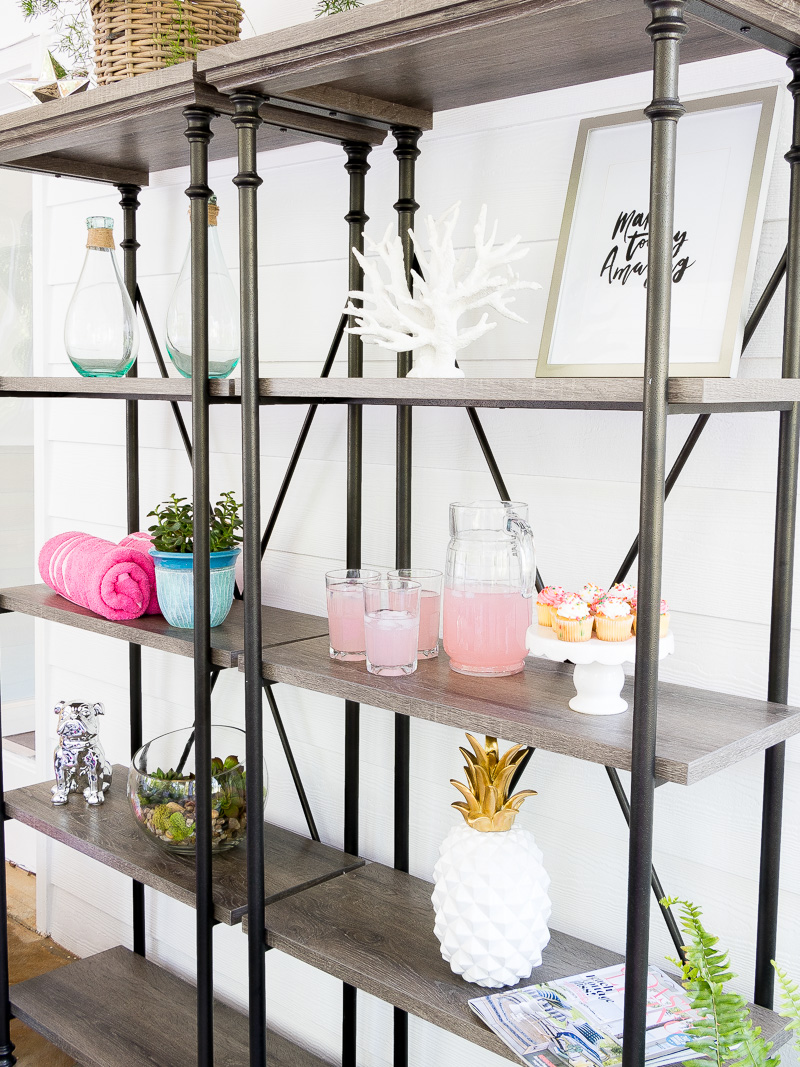 Since it's a covered space but still technically outdoors, I choose this blue and beige indoor/outdoor rug. A few minutes after laying it down some little person around here dropped a cupcake, and the spill was so easy to wipe up.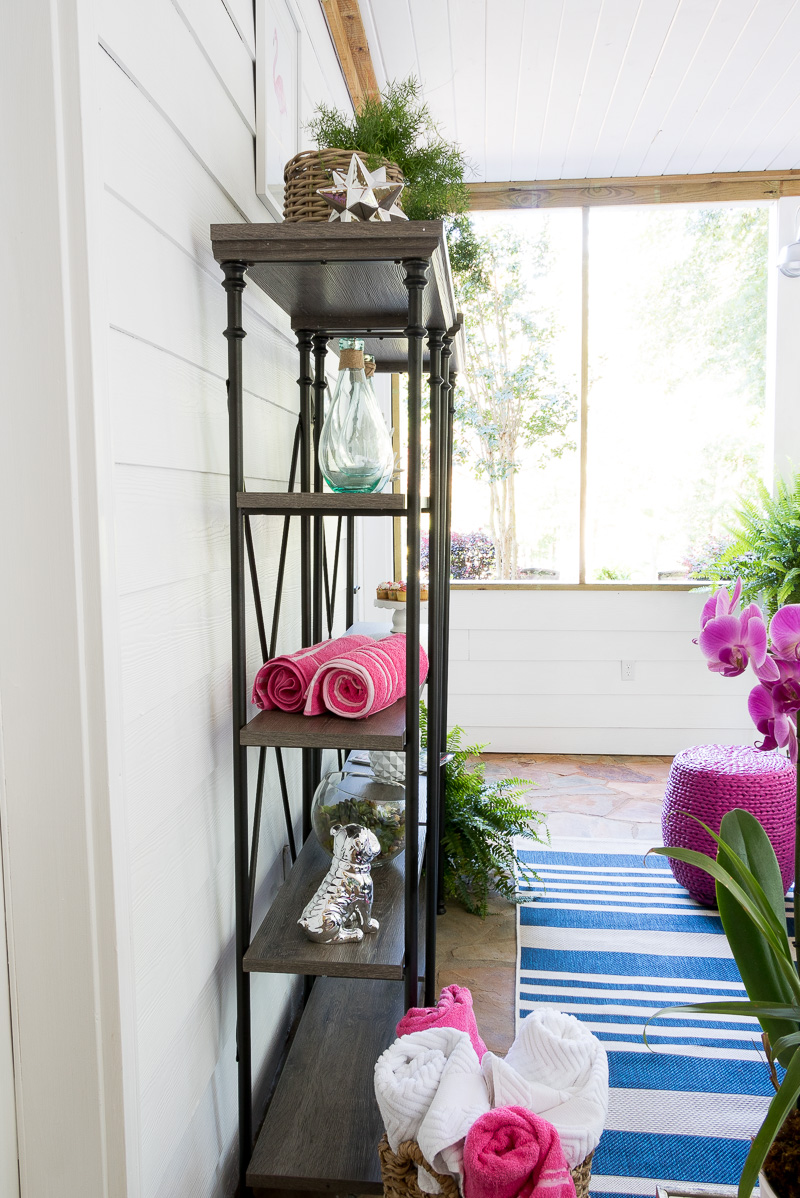 Try this tip for an extra pop of color
For additional color against the white and wood walls I picked up some outdoor fabric in a blue and white cabana stripe that I stapled hung up in the corners. I will eventually get some rods and hang them from the ceiling. That will be after we put the screens in the windows. Which is happening today. If this little gal had her way, we would be leaving them open. But there is no way I can survive ( well, i can if I had to ) another summer with the Georgia mosquitoes. They love me and won't leave me alone.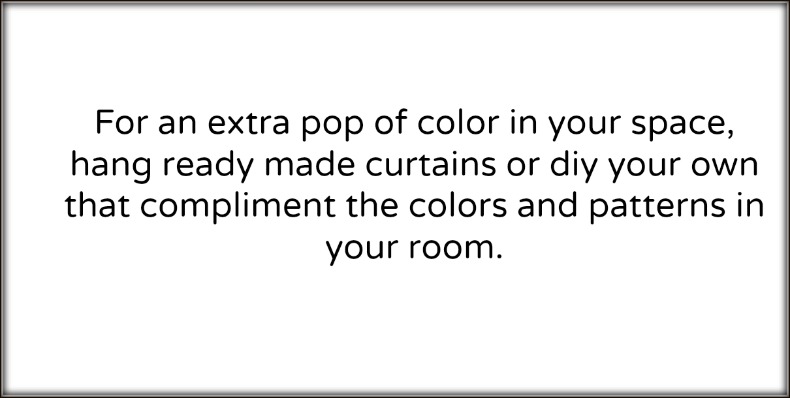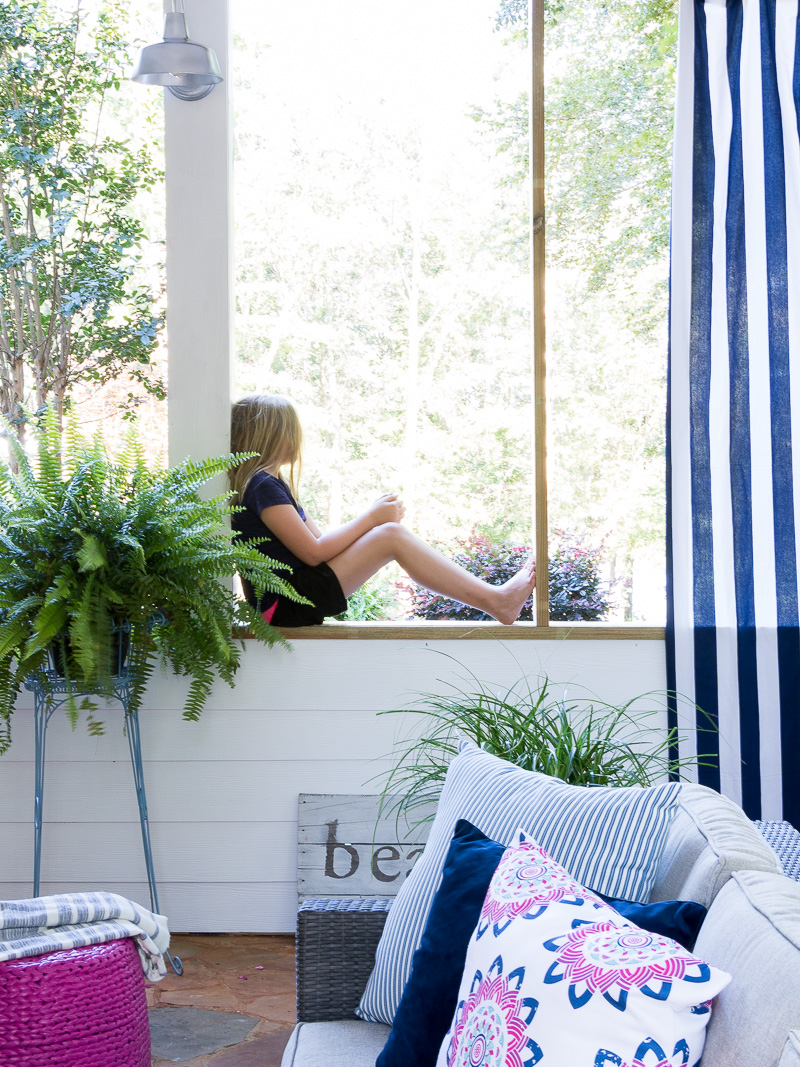 Thanks for letting me share my space with you. I feel so incredibly blessed to have another spot in our home to relax, converse, entertain or just to create those memories with my family….like this picture from sunset when we were all sitting around celebrating the completion of this room.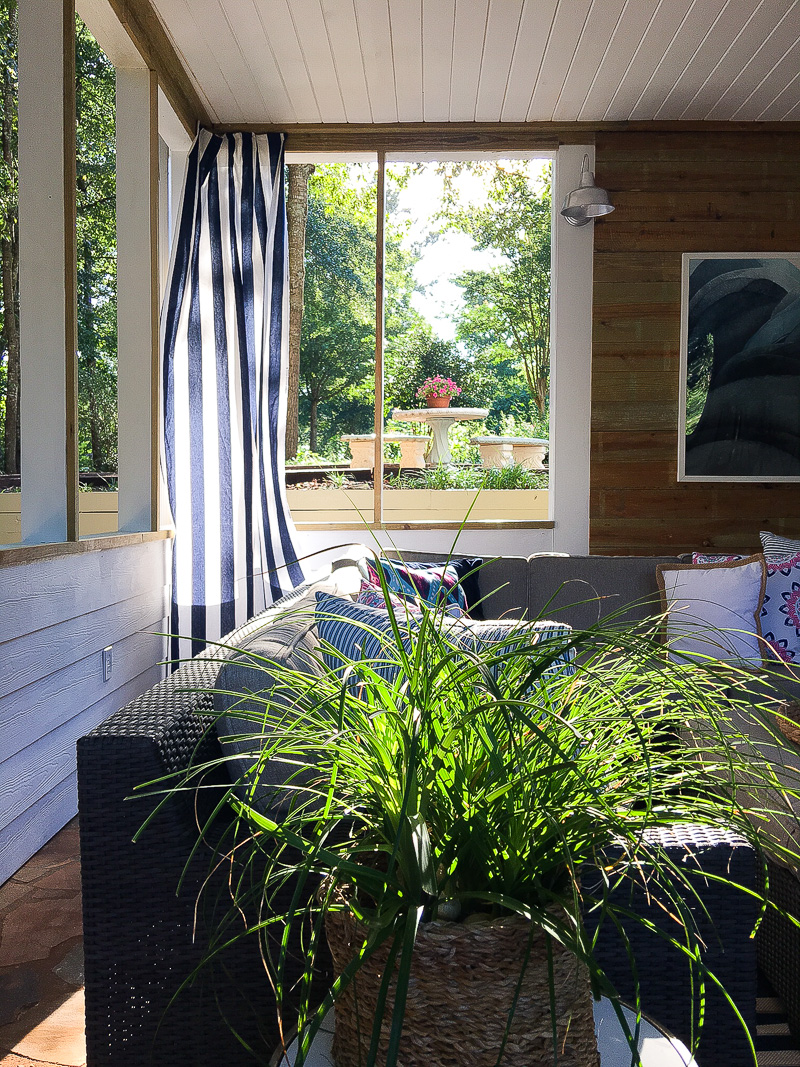 I hope you are creating your own special memories this summer.
Don't forget to follow Duke Manor Farm on Instagram and Facebook where I share tips, projects and behind the scenes of my real life funny farm.
Shop my screen porch
Ready for more color and room makeovers. Click on each of these amazing bloggers for more inspiration and ideas.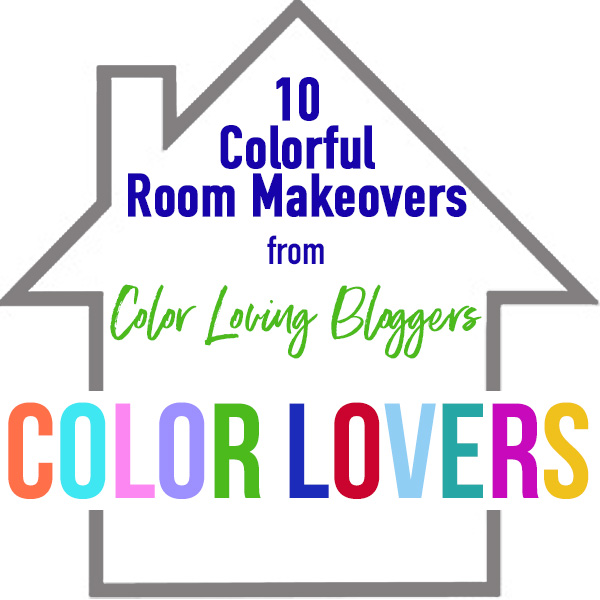 Kelly Elko
In My Own Style
Tatertots & Jello
Southern Hospitality
Duke Manor Farm
Fox Hollow Cottage
Four Generations One Roof
DIY Showoff
Jennifer Rizzo
Inspired by Charm
post contains affiliate links
sponsored post