Happy Holidays and welcome to the 2017 Holiday Housewalk at Duke Manor Farm. This is my 4th year participating in Jennifer Rizzo's Holiday Housewalk and I'm so excited to be a part of it! You can see my 2016 Holiday Housewalk here . All week long you can tour amazing holiday homes filled with love and cheer for the holidays…..cause that's what the season should be about anyways.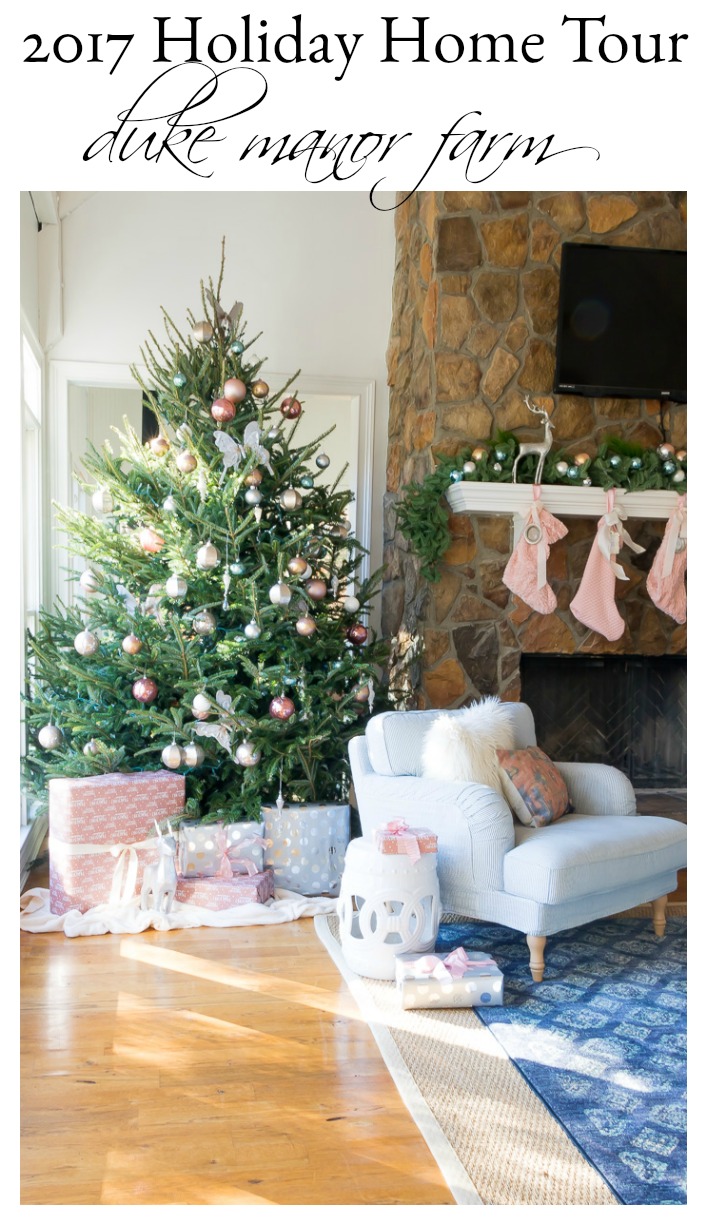 To start at the beginning of the tour click here . And if you are coming from Town and Country Living, welcome. If you missed her tour, you will want to click over to see Jennifer's beautiful holiday home and her gorgeous Christmas tree. She's stop 23.
If you are new to Duke Manor Farm then you should know that most tours will begin and end with either my animals or my kids. Today it's both. This is my horse Manny and my photo bombing dog Peanut. People chuckle when I say that I live on a real life funny farm. But I do. Between 2 horses, 5 cats, 5 dogs, 25 chickens, 2 rabbits, 3 kids, 2 gerbils and a partridge in a pear tree, comical animal events are an everyday occurrence. In fact just this morning, I had to chase my stubborn donkey back into the pastures….in the dark….in my pj's. To read more about my funny farm click here.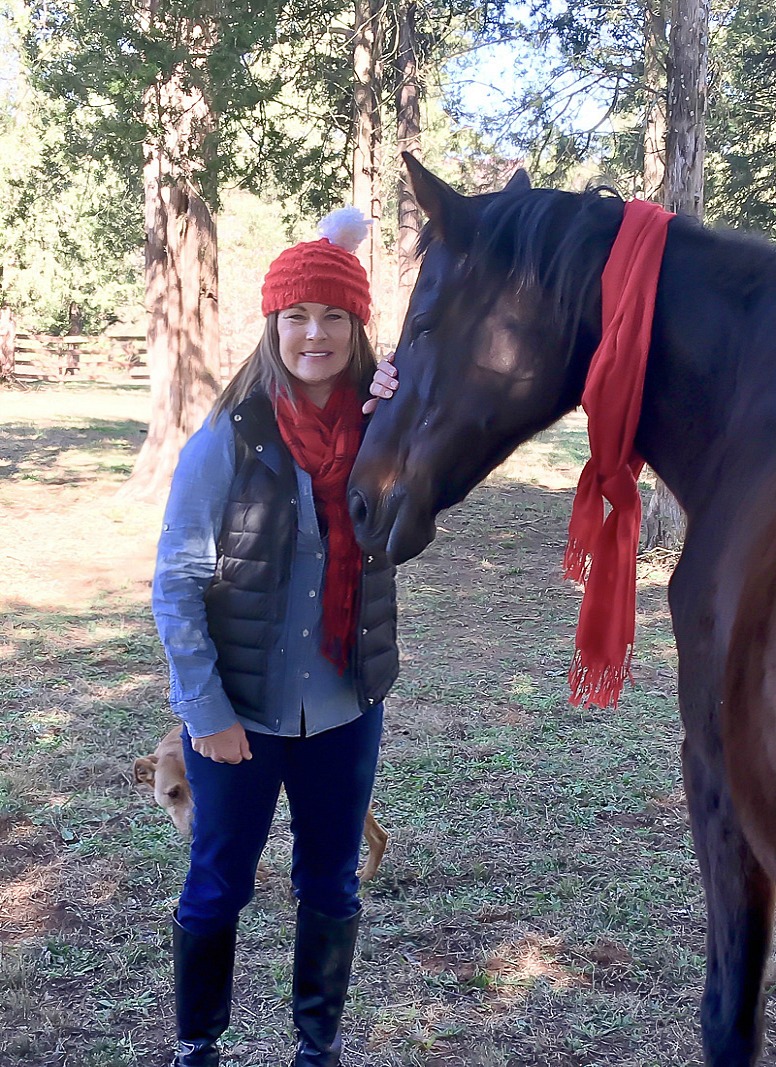 I decided to do something a bit different today. Rather then just show you a few rooms, I'll be showing you all the spaces that have been decorated around Duke Manor for the holidays. You can see more of my holiday home here.
2017 Holiday Housewalk at Duke Manor Farm
Front Porch
I loved the black and plum color combination that I did last year, I decided to do it again. This time though, I mixed in some gold and paired it all with some lovely greenery….and faux snow. How fun is that, especially since it is highly unlikely that we will see any real snow this holiday season in northeast Georgia.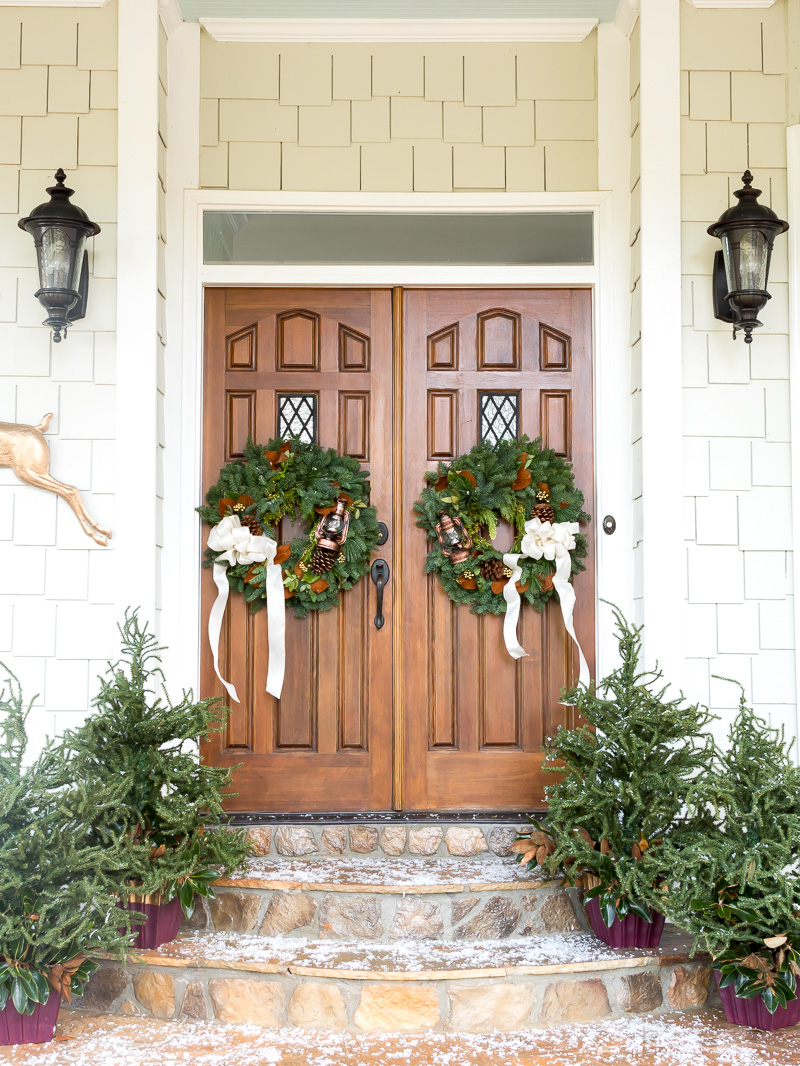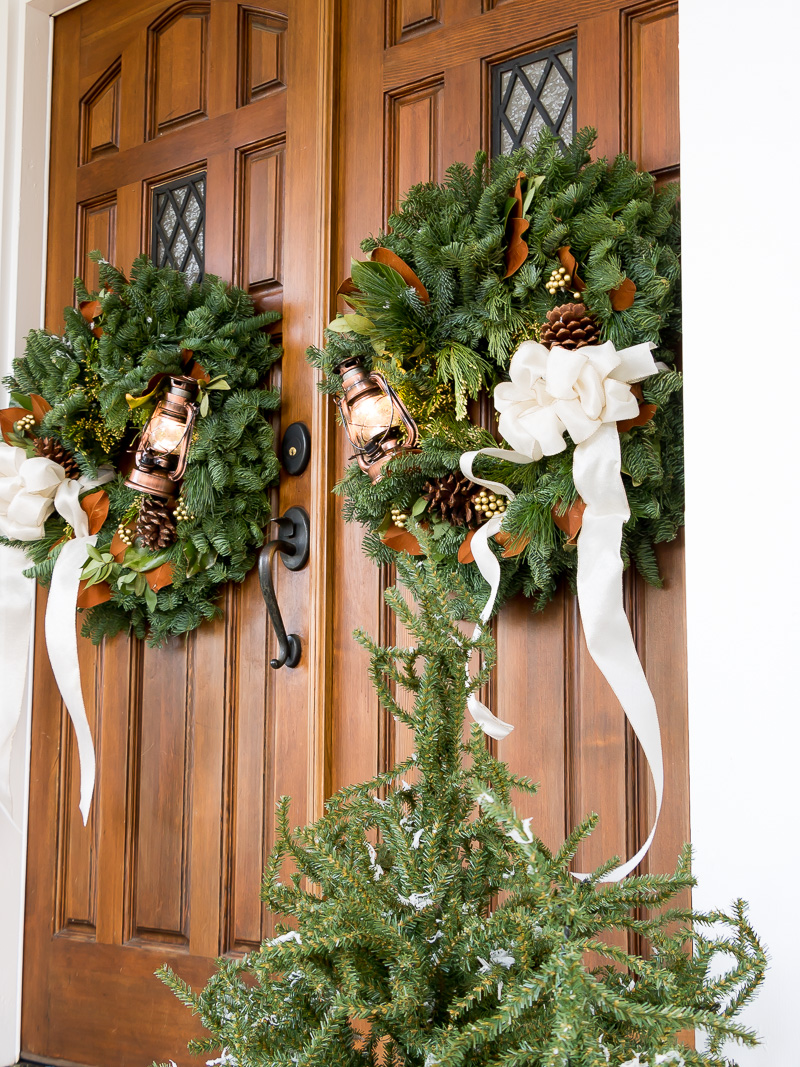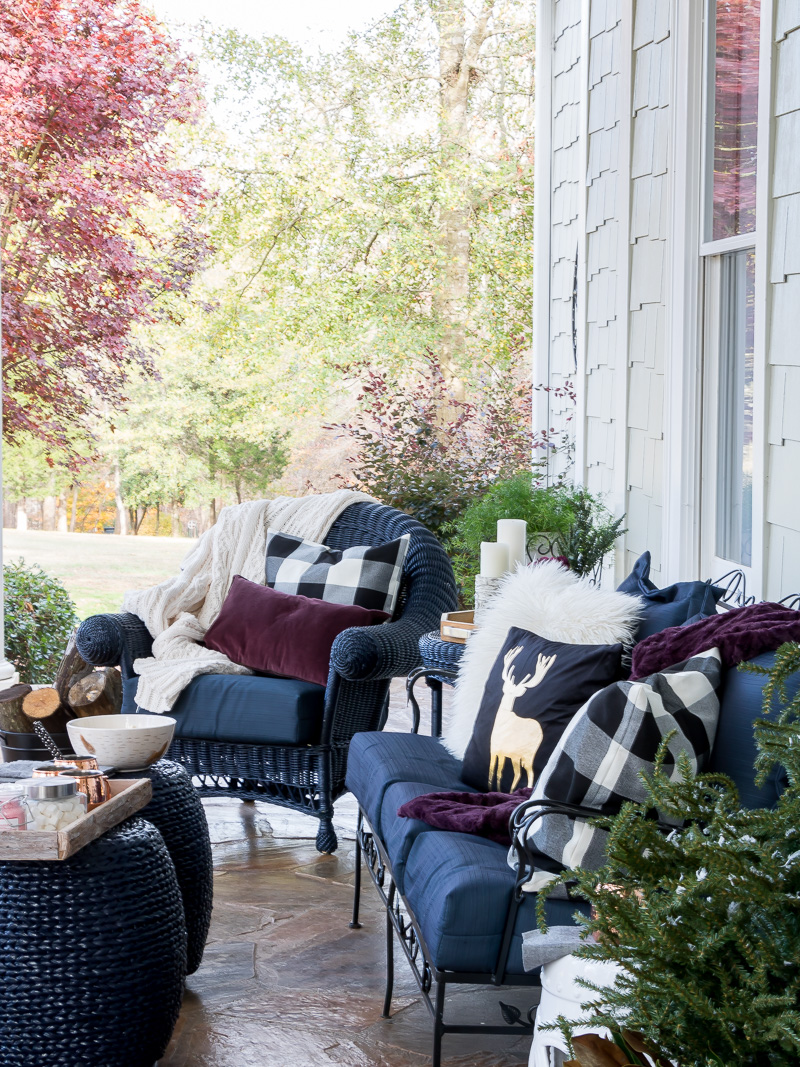 Keeping Room/Kitchen Area
I decided to stir up tradition this year and go with blush, silver and blue in our Keeping Room. Initially my kids were like "what the what" is going on with the Christmas tree this year! Pink? The only color they know on our family tree is red. No worries kids, red moved downstairs to the Den. Personally, as traditional as I am and my love for red during the holiday season, I love the softness and simplicity of it all. A kind of calmness amongst all the hustle and holiday chaos that tends to happen in the month of December.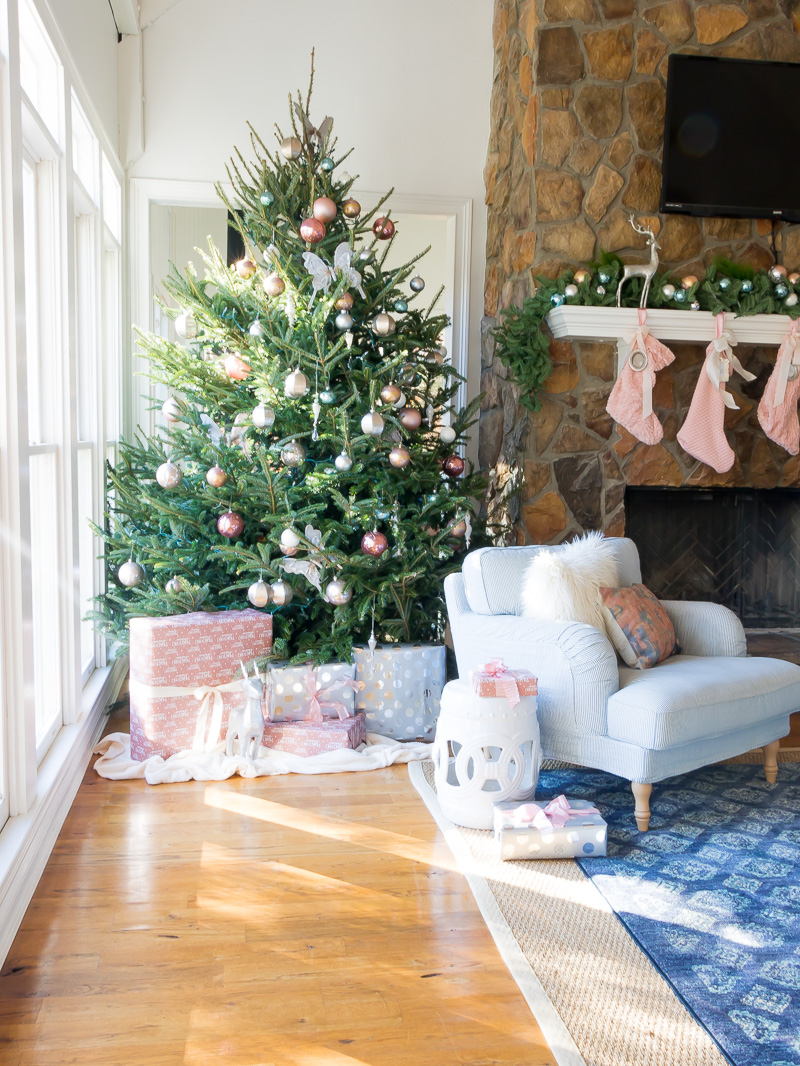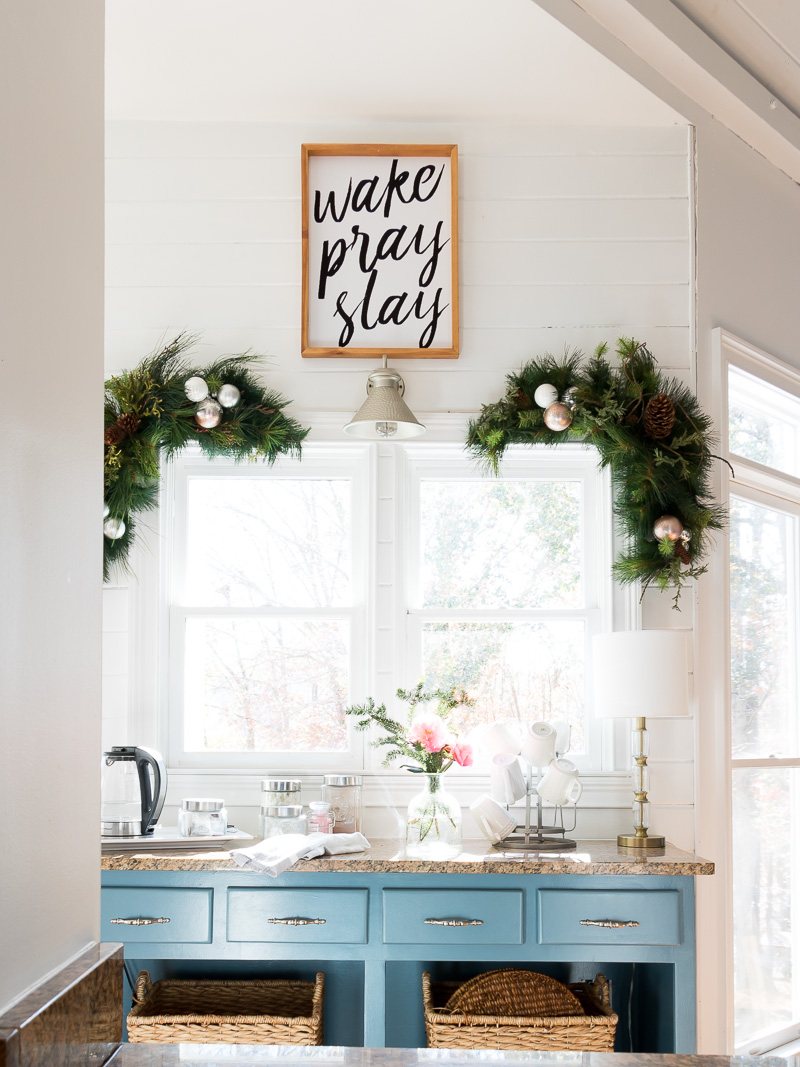 You can see how I whipped up these stockings here. Not bad for someone who doesn't exactly sew and $17.00 for 5 stockings.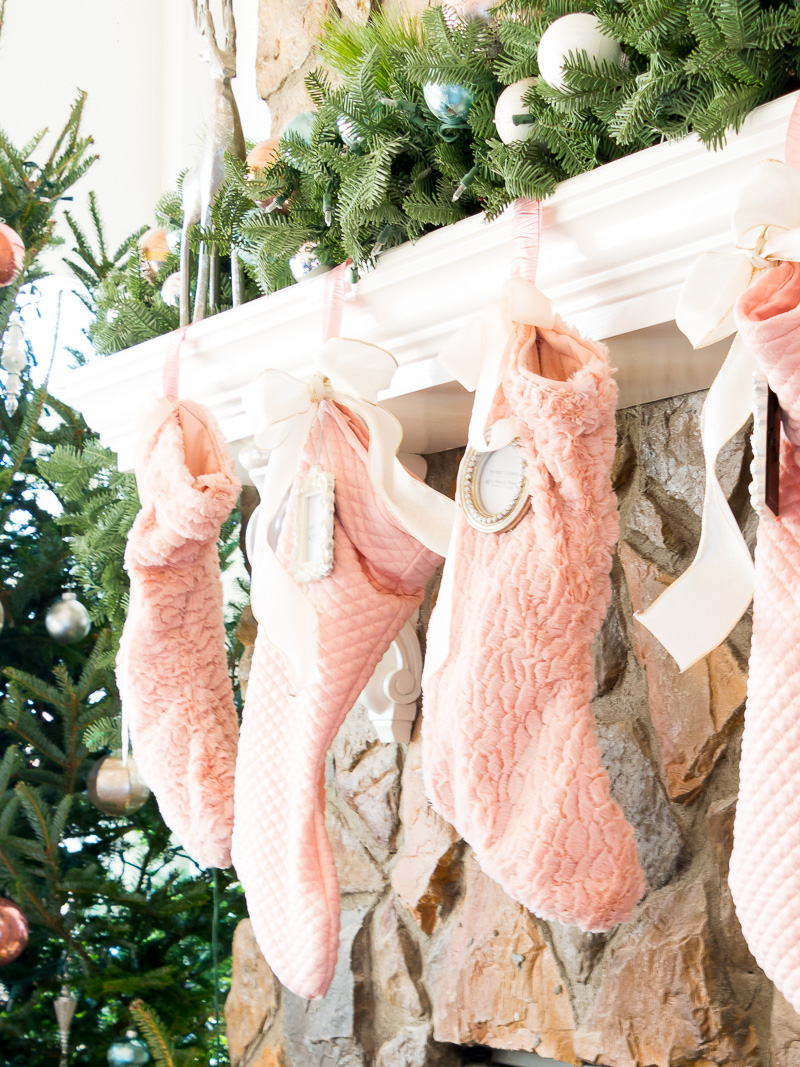 See more of this space and my kitchen here
Guest Bedroom
This is the smallest, coziest guest bedroom you will ever see. It actually use to be my husbands office for many years until I decided to cram a pretty queen bed in the room. A seasonal pillow, throw and a wreath is all it needed to turn it into a holiday space for my overnight guests.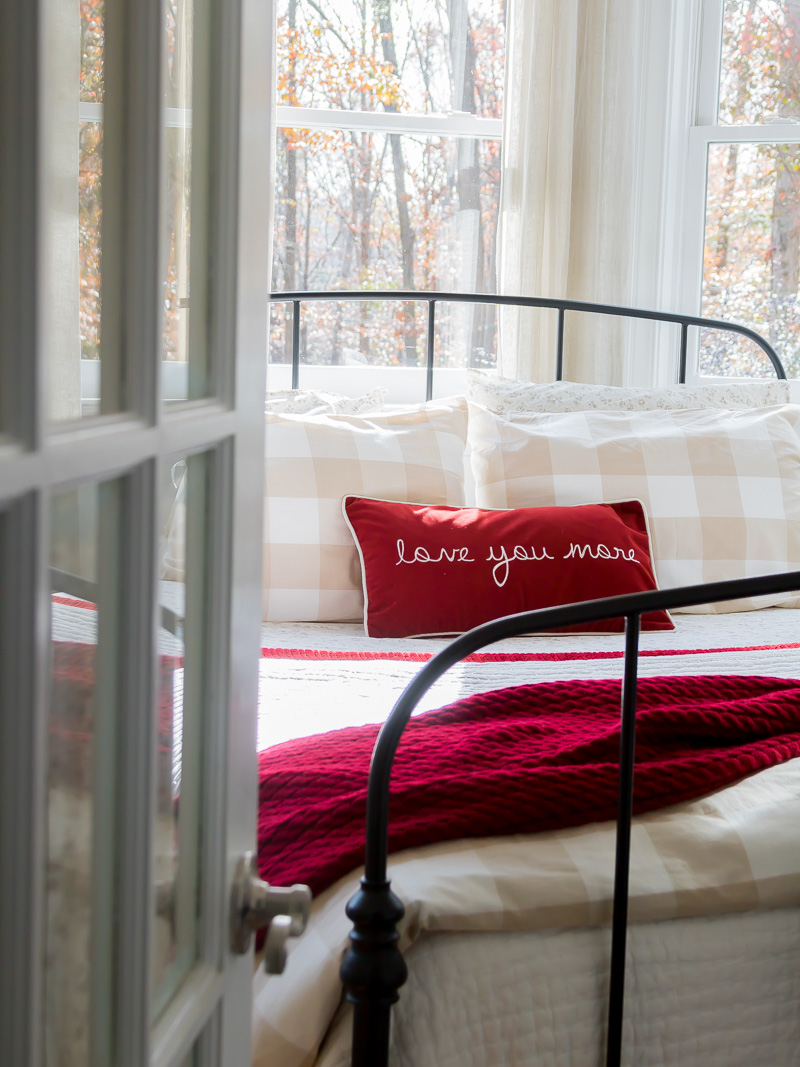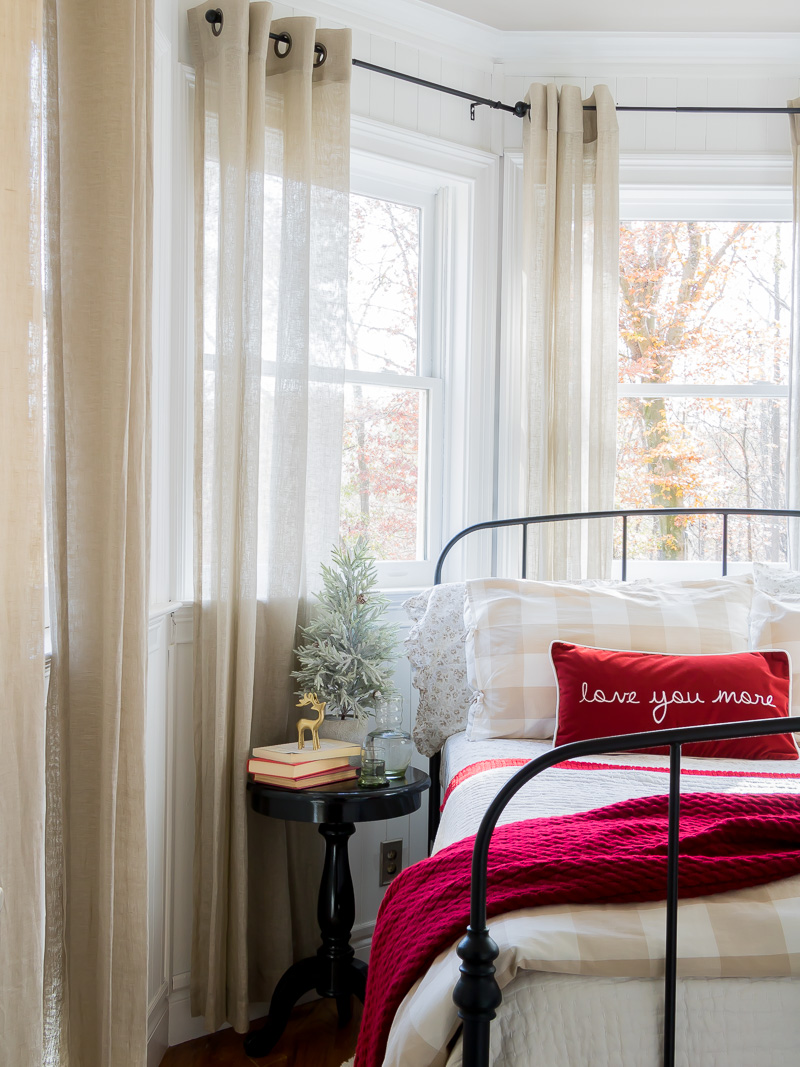 You can see more pictures of the guest room here.
Den
I restored the kids faith in 'red' Christmas trees when they walked into the Den. Basically everything in here is what I used in the Keeping Room last year. The tree is filled with ornaments that have been on my tree since I have been married and one's the kids have made. I'm surprised that this artificial tree that I bought 17 years ago still looks as good as it does.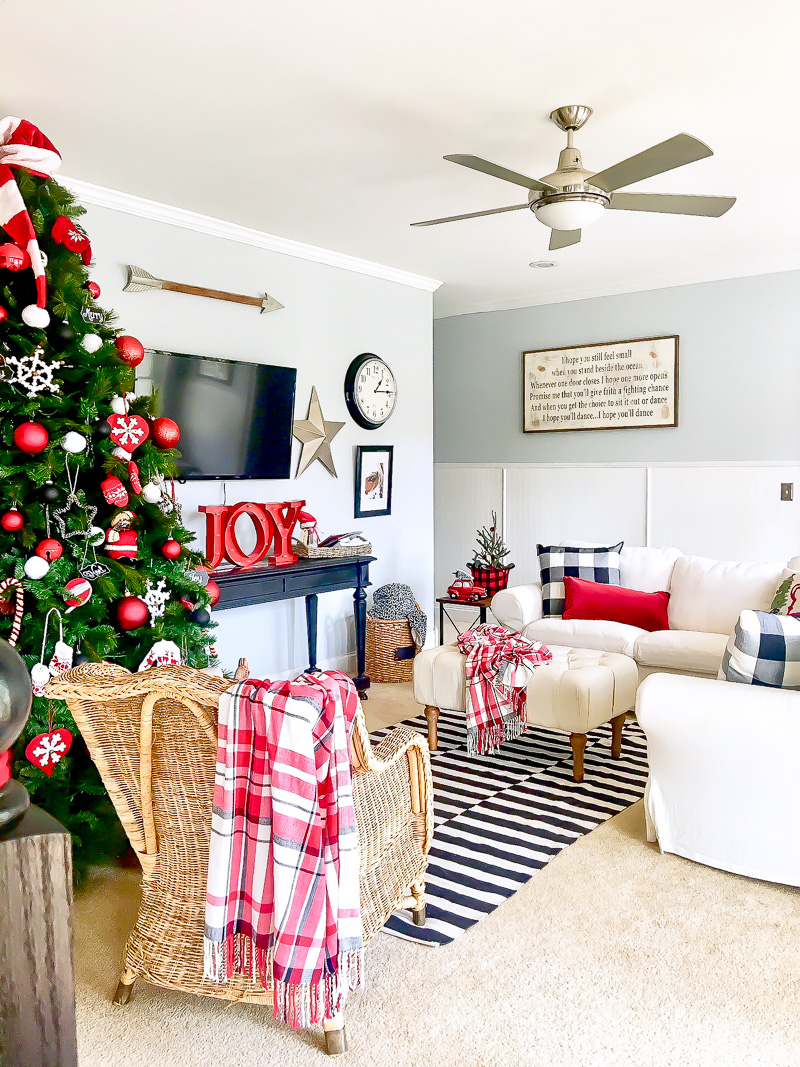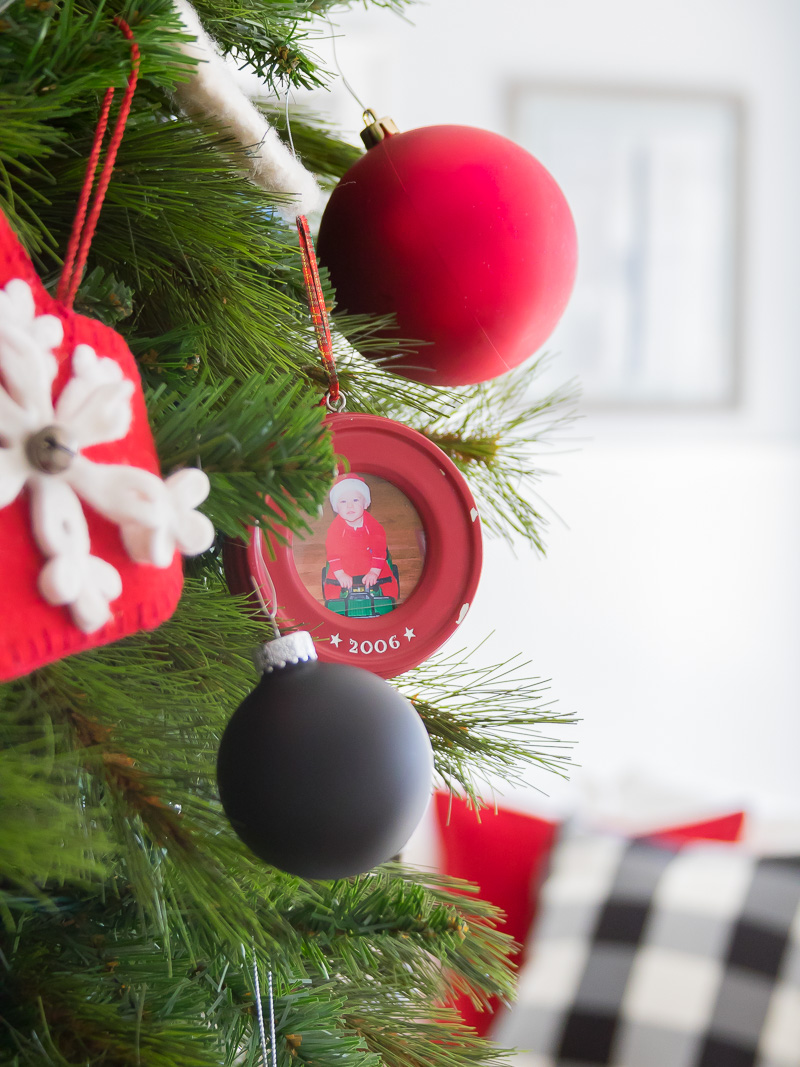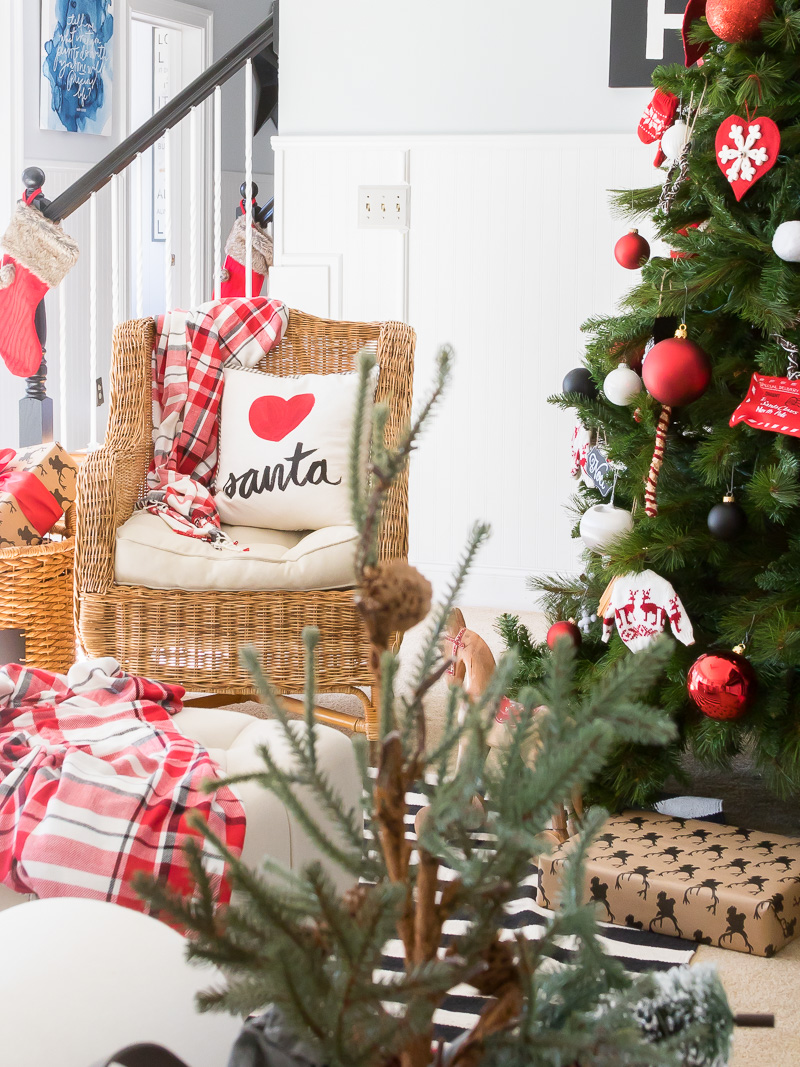 See more of my festive den here.
Screen Porch
We love this space so much that it had to get in on the holiday action too. The temps are still mild enough to enjoy this porch that we built over the summer. You can see all the fun deets here. To create a festive vibe in here I changed out the pillows, added my love sign and brought in 2 trees to light things up.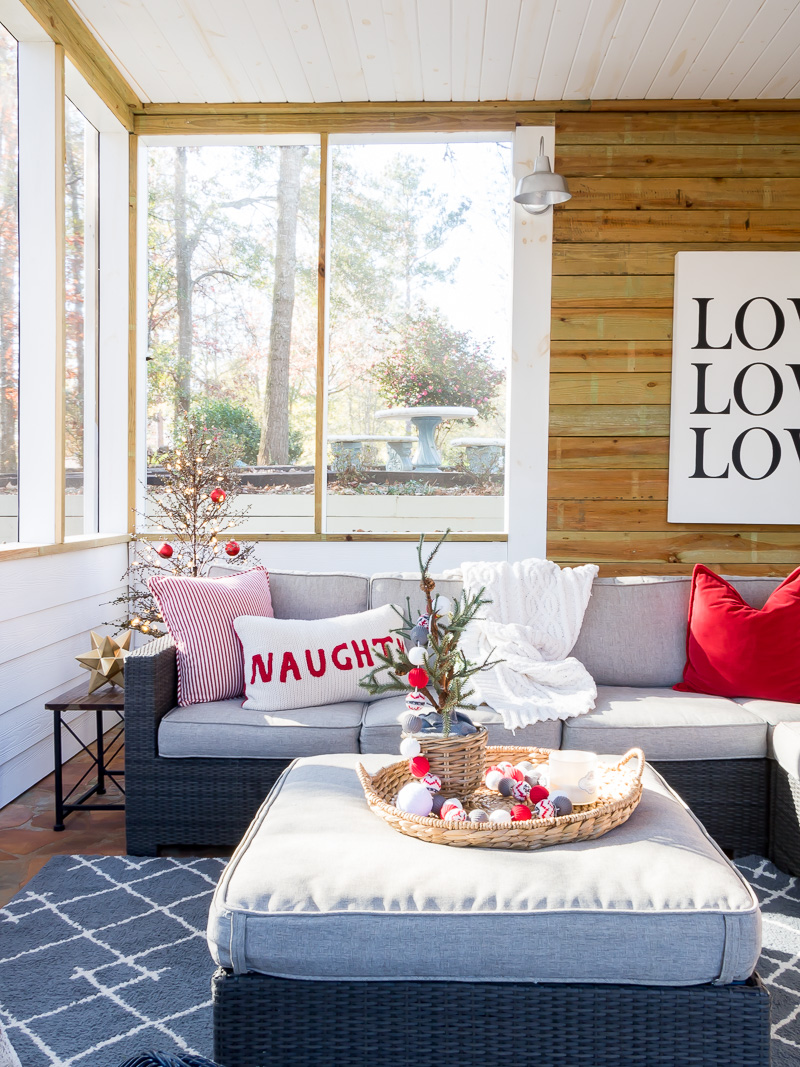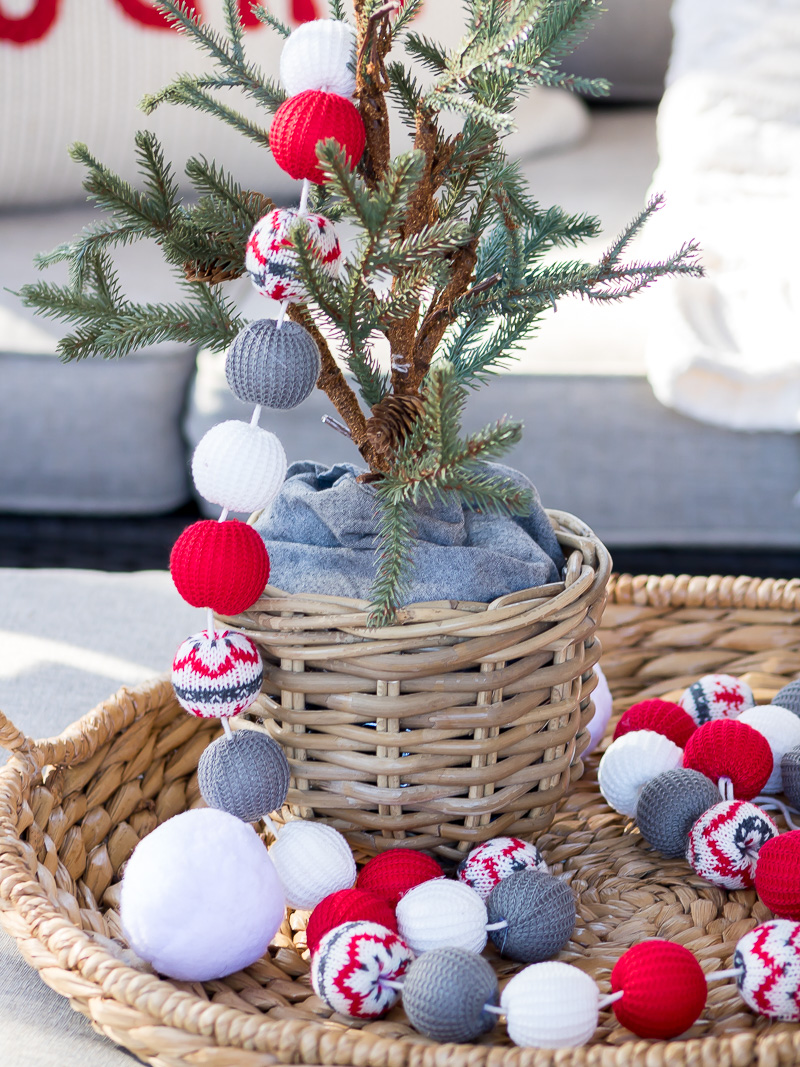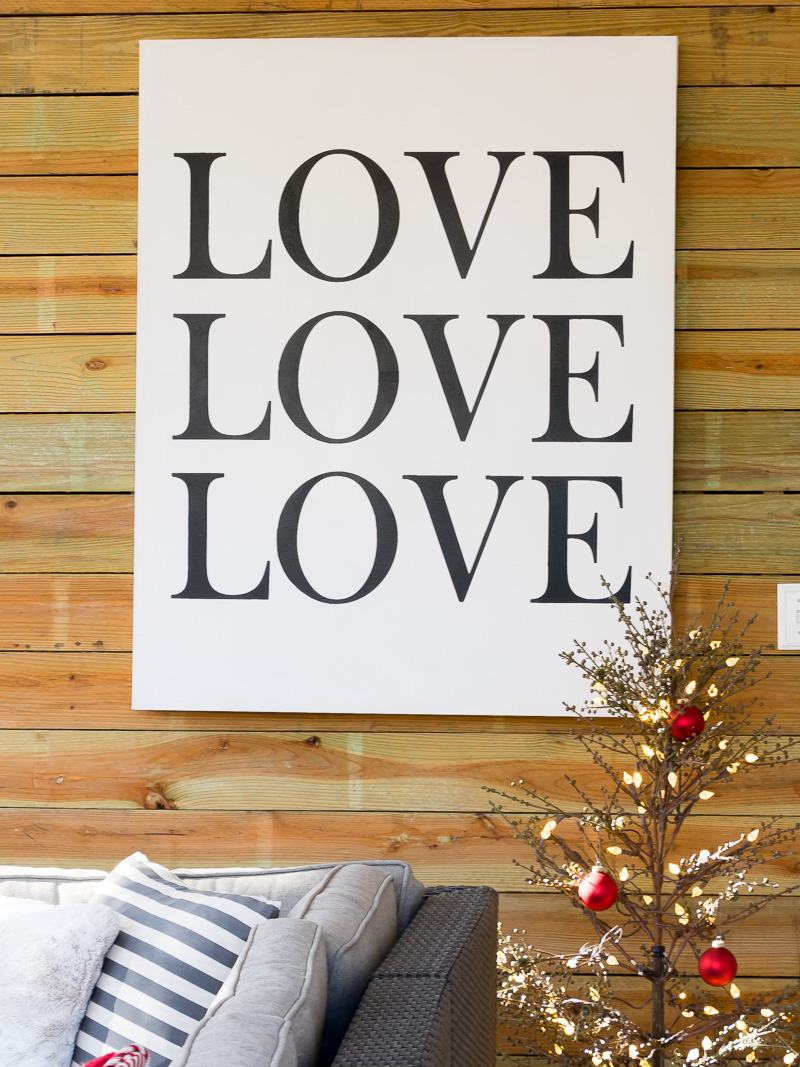 Speaking of love, I will leave you my kids and the 100th shot on the 2nd day outtake for our Christmas card.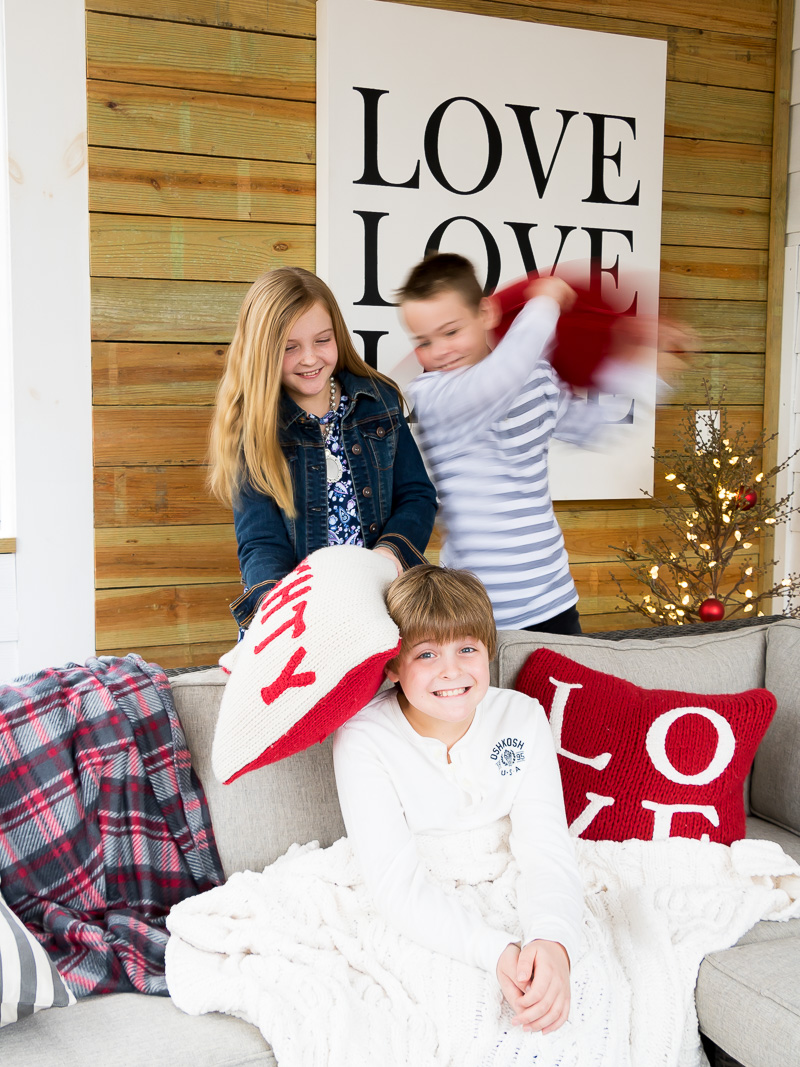 Well…. at least they were all smiling.
Next on up on the tour is Allison and her precious pup Charlie at the The Golden Sycamore.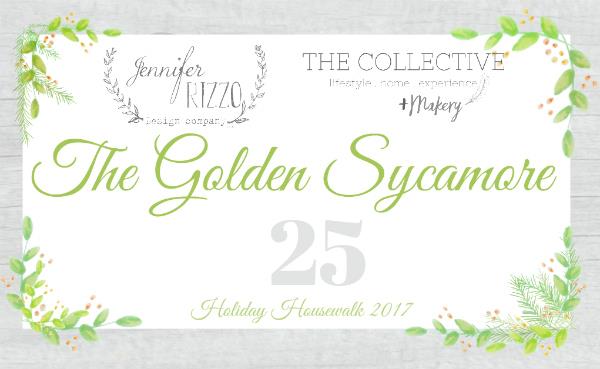 Don't forget to follow Duke Manor Farm on Instagram and Facebook where I share tips, projects and behind the scenes of Duke Manor Farm. Or sign up for my emails or newsletter to never miss a post.
Cheers for a wonderful holiday season!